hi, guys! whew.. already wednesday night? this week is whizzing by for me. actually, this month is. november is halfway over?? what? 
while i am incredibly busy with work and other projects, i still want to try to make time to blog! it's turned out to be pretty difficult, but things slow down in december.. so i should be back to basic blogging soon. haha.. i say that now, but something always comes up, right?
well, marshall and i are just sitting here watching the jazz game. so far they have a perfect record this season! a perfect losing record, that is. yikes. hope they win one soon! we are also devouring enchiladas. i had a carne asada burrito for lunch and now enchiladas for dinner. i never tire of mexican food! these were super simple to throw together after the gym because of a key ingredient i recently came across…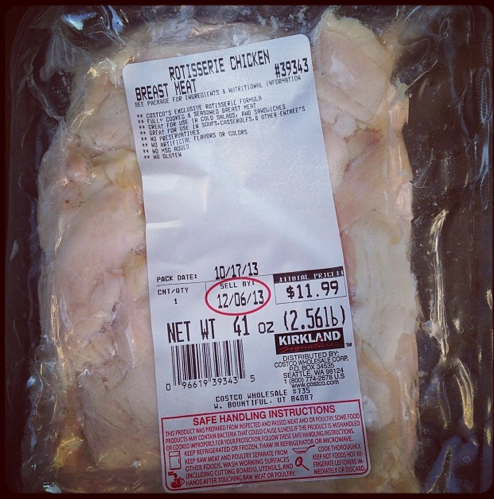 preshredded rotisserie chicken breast! thank you, costco! if you follow me on instagram you saw me post this on sunday. (i post on instagram waaaay more than i post here on the blog…) i had heard that costco sold the chicken like this from my friend who lives in oregon, and i was stoked to see it's here in utah, too! now if only they'd hop on the $5 for 24 PEELED hard boiled eggs that my sister's costco in cali has…. 
anyway, i threw some of the chicken in with some red enchilada sauce, diced green onions, and chopped cilantro. i put cheese in marshall's. i rolled the filling up into tortillas and topped with more enchilada sauce, threw them in the oven, and 30 minutes later dinner was ready. i can't wait to see what other uses i find for the chicken!
speaking of recent food finds.. i thought i would share some more products i am LOVING lately that get my seal of approval!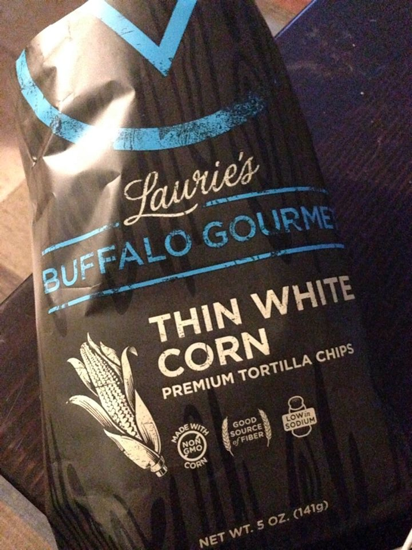 i am actually munching on these alongside my enchiladas right now! laurie's thin white corn chips are a utah local product, so i am not sure if they are in other parts of the country. i bought them at harmon's but i think they're also at whole foods. anyway, these are the ONLY bagged chips i have found that rank as high as restaurant tortilla chips. thin, crisp, perfectly salted.. it's like my living room is a cantina minus the ridiculously colorful mexican decor. yum.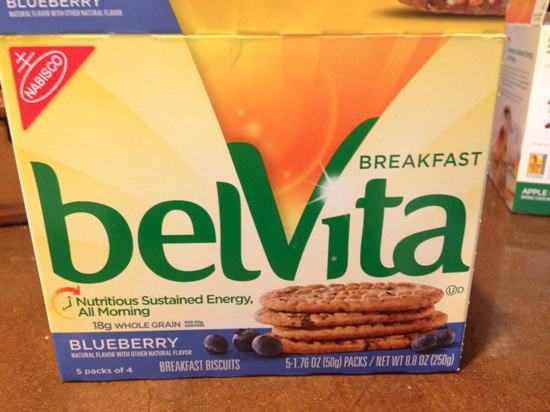 so, i had tried belvita breakfast biscuits a couple years ago (received them for review) and LOVED them. then, as i do with most things, i forgot about them. thennn i saw them at costco! i bought a box.. it was the golden oat flavor, which is good.. but not nearly as good as the blueberry flavor. we ate our way through the costco box of them, then when i went to buy more, they weren't there! why does costco do that to us?! maybe it was a blessing in disguise, because i was then on the hunt to find them at the regular store. after striking out at smith's and fresh market, i finally found these babies at harmon's. i swear, that's the best store ever. anyway, these taste just like a blueberry muffin! they are super good dipped in coffee or crushed up and sprinkled over yogurt.. or just eaten straight up. they're my bedtime snack lately.. who says they have to be for breakfast? they probably aren't the healthiest option for breakfast (they do have whole grains and stuff but also have sugar) but they definitely are a better choice than all those oatmeal chocolate chip cookies i was eating every night last week…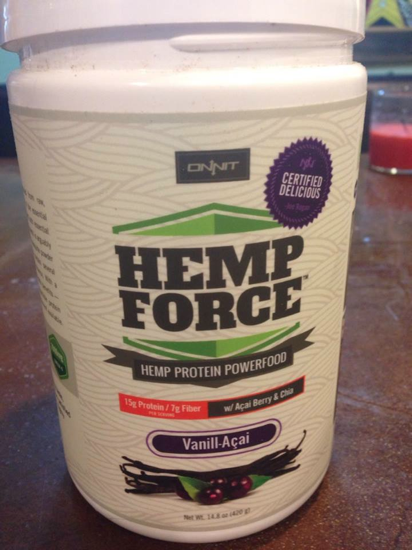 yay! my fave protein powder, hemp force, comes in a new flavor! the vanill-acai (love how they named it that with the last A in vanilla being the first A in acai–word nerd alert!) is so flipping delicious. i mean.. see that label? "certified delicious"! and it is. i was surprised to see that it's actually GREEN when i opened the container. but it is packed with 7g of fiber and 15g of hemp protein. it's also loaded with healthy fats from flax seed, chia seed, almonds, and hemp hearts. it may be a little spendy, but TRUST ME, it is worth it!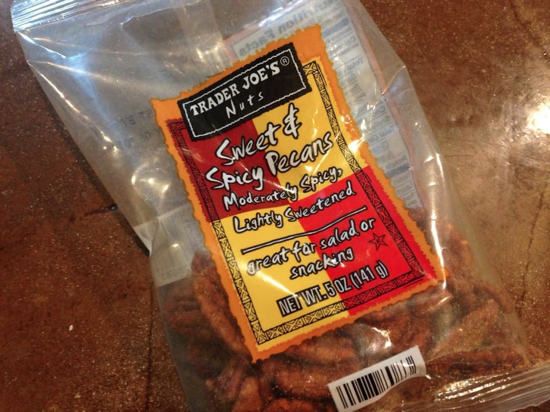 speaking of healthy fats… i have found my new favorite nut. trader joe's got me in the check out line on sunday with these spicy, sweet, salty pecans. they are a flavor explosion packed tightly into every little nut. i initially bought them to put on a salad.. but i haven't eaten a salad in weeks and i have managed to eat almost the whole bag. by myself. i figure that's okay, because the package says great for salad or snacking! totally appropriate. anyway, if you have a TJ's near you, snag a bag of these. they're incredible!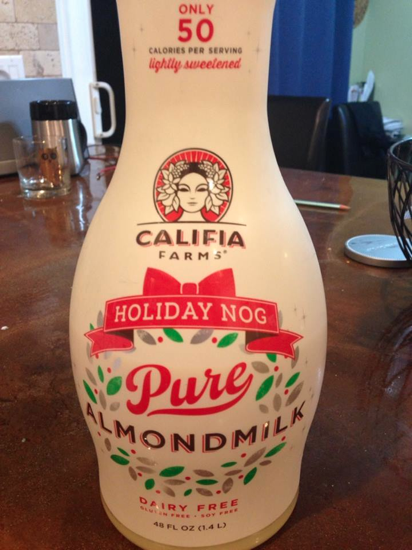 who else likes egg nog?! i loooove it. i don't consume much dairy, so regular egg nog is out for me. i have tried silk nog and while it does the trick, nothing compares to this almond nog. sometimes i find the real deal egg nog to be a little thick and it needs to be mixed with some milk to achieve the perfect consistency and flavor. however, this stuff is spot on! it's smooth and creamy and has just the right amount of nog flavor. yeah, i just made that up.. nog flavor. what's nog, anyway? i should google… anyway, this is at whole food's and it's top notch. i actually have fallen in love with all califia farms milks. i buy the coconut almond milk regularly and there is also a delicious mocha flavor. the fancy bottle definitely sold me initially (i am a sucker!) but the taste keeps me buying it week in and week out!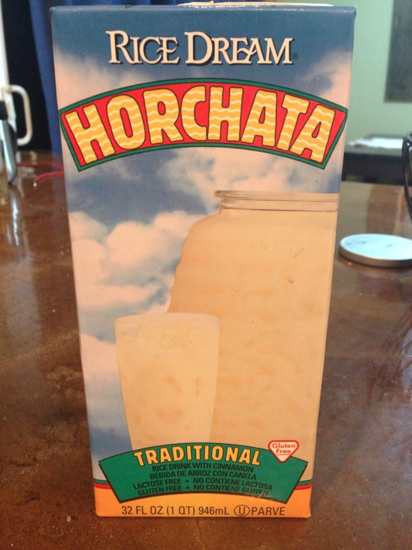 another whole food's beverage find–horchata! marshall LOVES horchata and orders it whenever we are out for mexican food. however, all of the packaged horchatas at the store are loaded with HFCS and funky ingredients. i have made it myself before, but it is a lonnnng process that i really don't care to do ever again. i was so excited when i found this! this stuff is natural and, more importantly, super tasty. i have been putting it in my pumpkin tea and pumpkin coffee for a delicious combo. 
uhh.. yeah.. based on the products above, can you see why i can't follow a strict meal plan?! i just can't, guys. but one thing i DID fall in love with from my old meal plan was this…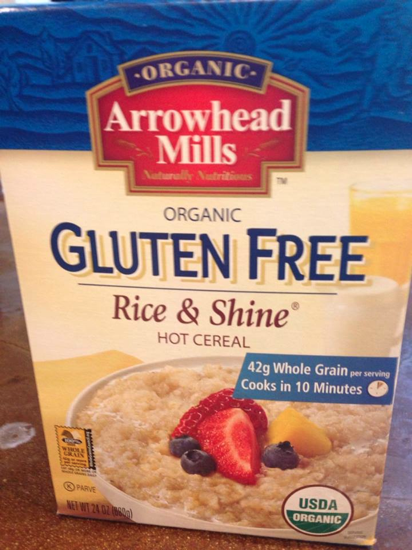 how did i not try cream of rice until i was 30 years old??? it's so good! it is a great alternative to oatmeal. i have actually had it for breakfast every single day for a month now. i really enjoy the texture and how easy it is to cook. i throw it in the microwave at work and then top it with cinnamon and sugar free syrup. it's definitely become a new staple for me.
oh, man, i sure have missed rambling about food! this is why i love to blog. i love sharing food and recipes and stuff i like! i hope to make more time for blogging soon, because rambling is my therapy. thanks for reading :) 
Qs~
1. what are some products you are loving lately?
2. is there a type/ethnicity/kind of food you could eat multiple times a day and never tire of?
xo. janetha g.