hey, hi, hello! been a minute since i've devoted time to the blog, i should really not neglect it so often.. but life has been busy and fun and good so it's fine. 
i have been doing a lot of thinking about my current plan–or lack thereof–and wanted to share my thoughts with you all. maybe one of you will relate. and if not.. i sure will feel better by getting all my thoughts into words. writing is therapeutic!
so, as you may know, i completed the advocare 24 day challenge and finished it on september 24. i LOVED every last bit of the challenge and the results i had–both inside and out.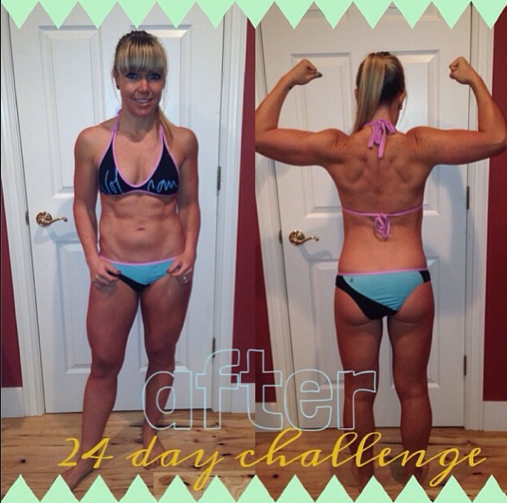 my digestion issues are GONE and i was also able to drop some fat and gain some muscle. it was a winning situation all around. speaking of winning, i did the challenge as part of a competition that my friend michelle davis (better known as mshell) was hosting. turns out, i was one of the three lucky winners! my prize? a month of online nutrition and fitness training from mshell fitness. this is a very sought-after plan and it's very hard to become one of her clients. in fact, she has so many clients that the only way to get "in" is to win one of her challenges. i was suuuper stoked that i won the free month! not only because it is a $300 value, but because i look up to michelle and am always astonished by the ladies who are on team mshell. i was thrilled to be a part of the team!
i didn't receive my plan until a couple weeks after i won, but i wanted to keep up my progress and maintain my "after".. so i just kept up with the advocare meal plan, my GPP workouts, drinking my water, and living a healthy lifestyle. my results were easy to maintain, as the 24 day challenge had ingrained a new lifestyle in me that became second nature. when i received my plan from michelle, it was the week of marshall's birthday. i knew i would be indulging much more than usual and so i decided to hold off on starting the plan.. especially after seeing how intense and involved it was. 
a week later, i started the plan. i told you guys all about it, did my meal prep, planned my workout schedule, and was ready to give it my all. i figured i SHOULD give it a shot, because it was handed to me.. something people pay a lot of money for, i received for free, and i wanted to make the most of it. unfortunately, on day two of the plan is the day i had my seizure during my hysterosalpingogram. that really threw me through a loop and i was down and out for almost the rest of the week. i didn't want to follow the meal plan (i wanted crackers and soup!) and i couldn't really work out, so i followed it half-assed and decided i would give it 100% when i got feeling better. side note–those who have asked about my test–the results were good! there is nothing wrong with my fallopian tubes, cervix, or uterus.. which is what the test was looking for. yay.
one thing i found during that first real week of the plan was that while i CAN eat the same meals over and over and i CAN stick to a program, my heart really wasn't in it. i enjoy making dinner for marshall and myself and sitting down and eating it together. this is very important to me, and my new meal plan wasn't allowing that to happen. i was having to make him something else and then eat my two small meals from my plan in the evening. it was a hassle and also not very fun. so, that was my first decision in straying from the plan…
i know how to eat clean. i've been doing it for over five years. i know what macros are. i know what is good for my body. i can make a different delicious, healthy dinner every night with confidence that what i have cooked will only contribute to maintaining my results and even yield more improvements. so i decided i would follow the meal plan for the first part of the day–eating the same breakfasts and lunches and snacks is easy for me and it was really nice to have a healthy meal plan outlined and ready to go. but in the evenings, i would combine meals 4 and 5 and have my own dinner rather than those two meals on the plan. that's what i have been doing and it's working fabulously. i am not hung up on my weight, but i do weigh myself occasionally and have lost 2 more pounds since i finished my 24 day challenge. feeling fab and fit!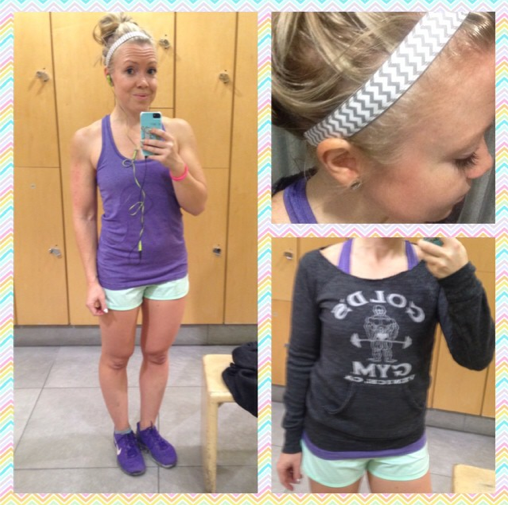 then there are the workouts.. you guys, i went from working out at GPP for under 30 minutes each day to doing the lifting and cardio workouts on my new plan.. where i was in the gym for up to two hours some days. there is also morning cardio on the plan, but i DON'T do mornings.. and i have to admit i still haven't completed a single morning cardio workout on the plan. i LOVE LOVE LOVE the lifting routines. she has me lifting heavy with single body part splits each day and that is something i had actually missed quite a bit when i switched to GPP.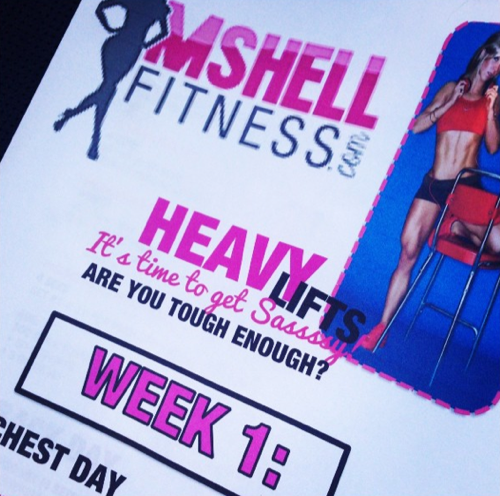 i have hit those lifting workouts hard and have really enjoyed them. i have done about 1/3 of the cardio called for on my plan.. i just can't hang mentally even though i KNOW it's good for me. i struggle with cardio and always have. i am a HIIT junkie because it's fast and effective. but i have been trying to do the cardio routines on my plan as much as i can handle.
let's take that last phrase.. "as much as i can handle." i KNOW i can PHYSICALLY do the plan–both the nutrition part and the workouts–i can do it. i have the skills, knowledge, obedience, strength, and willpower to do all of it. but i can't handle it because of one reason: i don't want to.
i don't want to spend 2 hours at the gym or do 2-a-days. i don't want to wake up early and work out when i have plenty of time after work for the gym. i don't want to eat the same stuff every day. i don't want to skip out on dinner with my husband. i don't want to worry so much about eating something not on my plan.
let's talk about what i DO want.
i am a full-fledged foodie.. i want to create recipes and share them. i want to eat a different dinner every night. i want to gain more muscle and get stronger. i want to eat clean 80% of the time. i want to enjoy myself on the weekends and go out to eat, get drinks, and sleep in. i want to maintain my current results. i am HAPPY with the photo above.. i LOVE my body. call me vain.. it's okay. i'm still stoked.
i'll be honest.. i felt a little guilty when i decided i wasn't willing to do the plan i was given. this is an AMAZING plan that MANY women wish they could receive. i received it and wouldn't even follow it for an entire week let alone four weeks. i felt like i was taking something that is solid gold and tossing it aside. but one thing i didn't feel was disappointed or ashamed. i felt bad for not following the plan to a T because i always like to give things my all, but i also know myself and i realized that plan was not something i was after. not right now at least. it's just not for me!
i have several friends who are fitness competitors. in fact, one of my very best friends, kerryne, just took FIRST PLACE at the las vegas classic NPC show yesterday in a class of 40 women (BRAVO!) i work with her and talk to her 24/7, and i know what it takes to do what she does. she makes a different dinner for her family. she does a lot of cardio. she eats the same meals day in and day out. and she won first place because of all that. michelle's training produces the results needed to win fitness competitions. she has trained countless incredible ladies who continue to amaze me with their hard work, constant effort, and incredible results…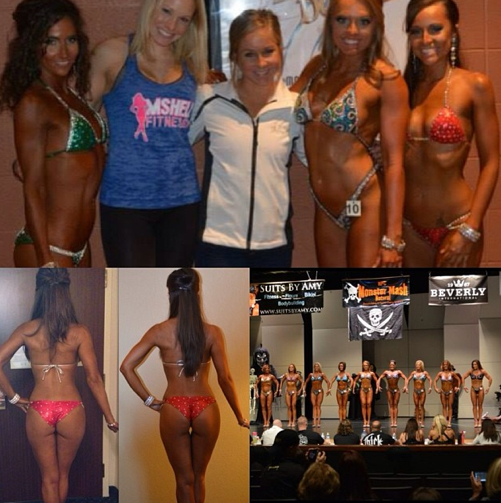 source: http://instagram.com/mshelllll
…but i don't want to be a fitness competitor. i look up to these ladies, and YEAH.. who wouldn't want to look like them and have the strength and determination they have? but i am not willing to put in the work it takes, because i simply don't want that lifestyle. and there's nothing wrong with wanting something different than the next girl. everyone is amazing in their own way. my friend, kenzie, just ran a FIFTY MILE RACE in, like, nine hours. i told her i could never do that. she insisted i could.. to which i replied that i simply don't want to. but i admire her skill and strength and perseverance. just as i admire all of michelle's clients and all my other fitness competitor friends who are knockin' it out of the park with their progress and results. freaking rock stars, i tell you.
but i have a different kind of life in mind. take this weekend, for example.. friday night i went out to dinner and had a turkey avocado wrap, french fries, and a beer. i went out to a few bars and drank some fireball. i enjoyed a late-night run to del taco. i went to einstein's and had a bagel egg sandwich with marshall saturday morning. i tried the new barbecue restaurant in town with marshall last night and we also got frozen yogurt at yogurtland (i'm obsessed with the pumpkin+plain tart froyo with graham crackers!) and i had some bacon and a deep fried scone with honey butter this morning. but i also hit the gym for a killer shoulder workout and some HIIT. i did some healthy meal prep. i ate healthy snacks and lunches all weekend long. i took my vitamins and supplements and drank a gallon of water a day. and i'm still here.. healthy as ever.. shoot, my abs are still visible and i was able to lift heavier weights today. that's what i'm talking about!! living a little on the weekends is not the end of the world for me!
so, bottom line? what's next? what's the big deal, janetha? 
i am just going to continue doing my thing, eating clean, completing workouts i enjoy, and living the life i choose to live. i am going to continue taking my favorite advocare products that have helped me get to where i am today. they continue to keep my digestion issues in check and maintain my current physique and aid me in building muscle and getting stronger… which is exactly what i am after. i am SO stoked that i did find the 24 day challenge, because i found something that works well for me and is totally manageable to do while still enjoying the things i love (see my "what i DO want" list above.) that's the thing.. when i did the 24 day challenge, it was so do-able and yielded awesome results. the meal plan had variety and flexibility and i thrived on the plan. when i had the new plan introduced to me, it was just too much. too serious, too dialed in, and not what i was after. so i am going to revert back to the advocare meal plan and keep up with michelle's workouts and some of the meals on her plan. i have found a balance where i can live life but still have the results i am personally after. not everyone is after a stage-ready bikini body or tackling a 50-mile race.. and, hey, that's OKAY!
i guess i wanted to write this post because i know how it is. you read blogs and scroll through instagram and wish you had the things other people have. the stage-ready bikini body. the medal from a marathon. the perfect, on-point eating habits. but stop comparing yourself to others and wishing you had what they had. also, remember what it takes to have those things. recognize the hard work those people are putting in to get those things. it's not a walk in the park and they earned those results. if you truly want those things, good for you, GO AFTER THEM. put in the work, you will get the results. but don't feel bad if you don't want those things. don't feel bad if you choose a different path. be happy with your decisions. make your own goals and go after them and be happy when you reach them. and find what works for YOU.. because we are all different. and that's completely okay.
mmmkay.. deep thoughts are over. THANK YOU for reading, if you read, it means a lot that you took the time to hear me out. i'm grateful for each and every one of you!
p.s. i just made some delicious (healthy) mushroom beef stroganoff for dinner.. recipe to come!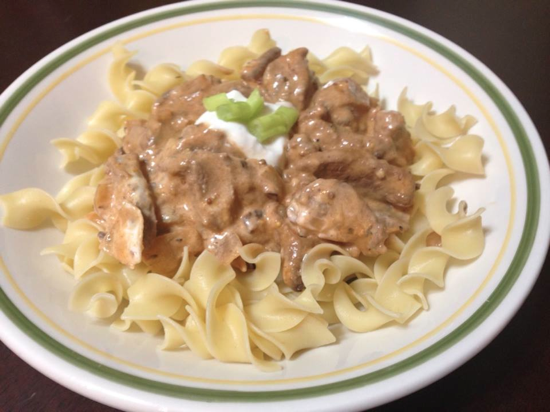 p.s.s. i am off to give these pumpkin cheesecake brownies a whirl.. hope they turn out!
share your thoughts! what works for you? what are your goals and what are you doing to reach them?
xo. janetha g.