hey, guys! halloween is tomorrow.. who's doing something fun?? this is actually the first year i am not getting decked out and dressed up! like, the first year of my life! i guess that means i turned 30 this year, aye? haha.
i might go to a costume party on friday, but by then the holiday is over and i don't know how jazzed i am about dressing up. i guess i will play it by ear. i thought it would be fun to flash back to some costumes of years past..
probably my FAVORITE costume ever was a viking. we had a huge party and ran around doing viking things all night. fun stuff.
the first halloween marshall and i celebrated together, i actually got him to do a couple's costume. that'll never happen again, mark my words. we were a greek god & goddess.
you can see he was thrilled about it.
when i was a kid, i wanted to be a cat EVERY SINGLE YEAR. and i was.. several of the years.. i was cat OBSESSED in my younger days.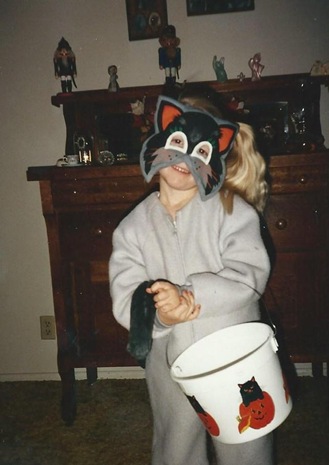 need proof? yes.. that is me, swaddling a stuffed cat, surrounded by other stuffed cats, with cat posters on my wall, sitting on a cat blanket. and can i get three cheers for my pet net?!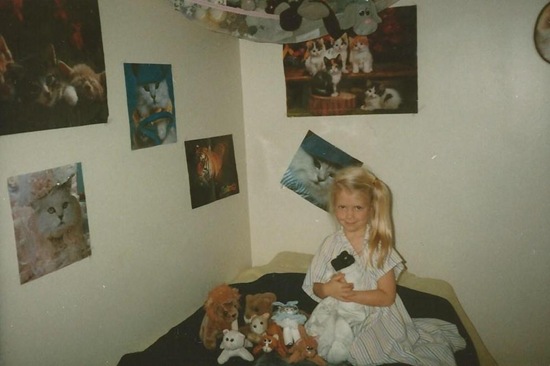 another rad one was when my friends and i were pirates. we told people to walk the plank all. night. long.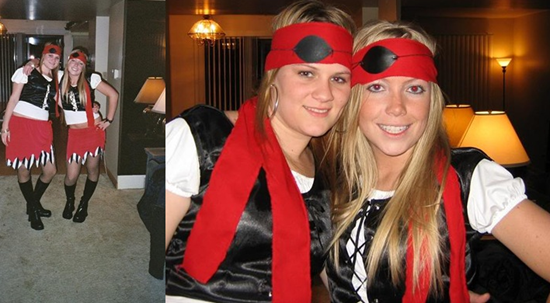 i never got TOO into the "sexy" halloween costumes.. but we were pin up girls one year and that was SO fun.
and, because it's cute, here's puppy penny in 2008 as a ladybug :)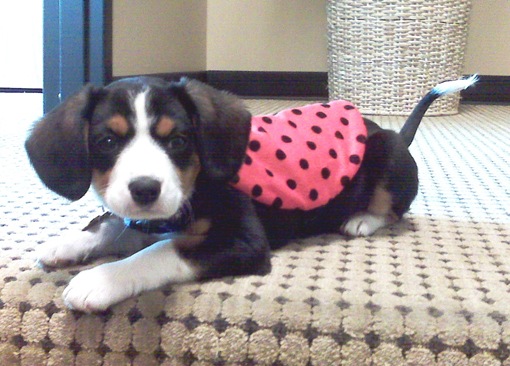 i have always loved pumpkin carving, too. if you are curious about why we carve pumpkins on halloween, you can read the story HERE. i got curious so i googled. pumpkin carving is such a fun group activity! back when i lived with roomies, we did it all the time.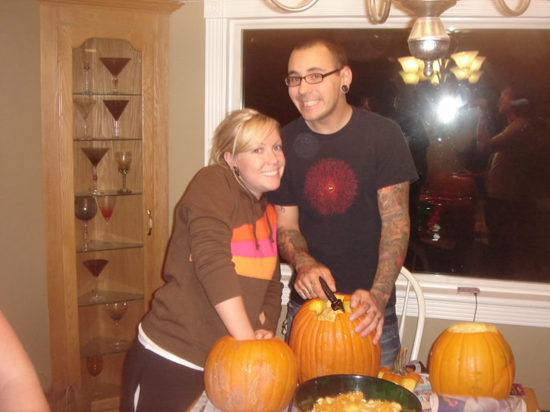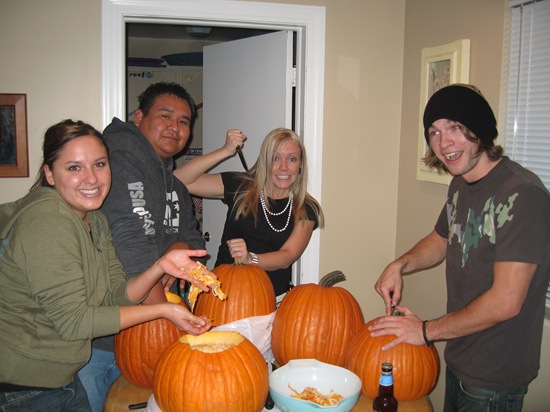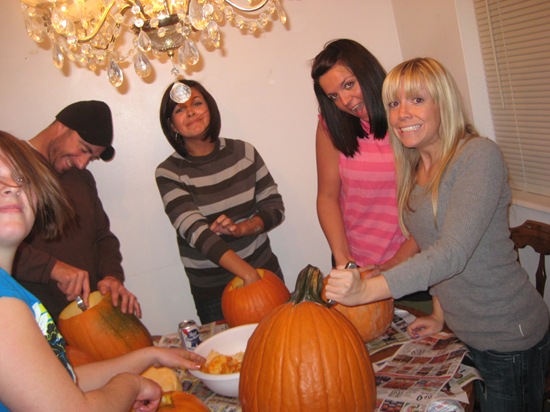 try to tell me that puppy penny in a pumpkin carved with a P isn't the cutest thing ever…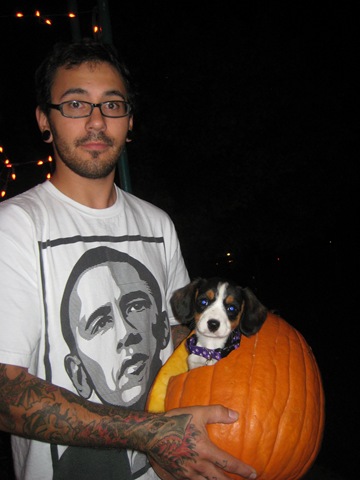 gah!
costumes and carving aside, another big part of halloween is CANDY. are you a big fan of eating halloween candy? i am not a big candy-eater.. give me ice cream, toast, or cereal (my three favorite foods!) and i am all about it.. but candy i can typically take or leave. that said, i probably will eat a piece or two tomorrow because when in rome.. or something like that ;) plus i have this candy basket sitting on my desk at work…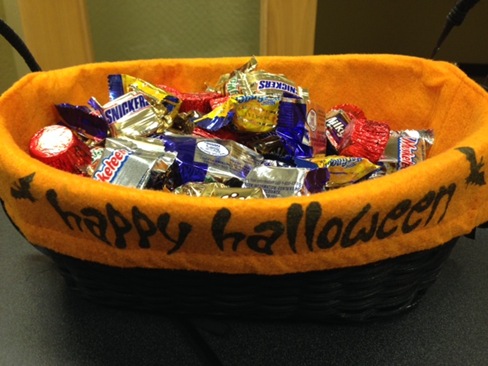 i've got my eye on that snickers. but, if we are talking candy, my #1 favorite is twix! i actually made homemade twix awhile back (also known as millionaire shortbread) and it was really good! but there's nothing quite like a real twix right from the package. actually, for marshall's birthday the other weekend, i found TWIX CUPCAKES from my sweet tooth fairy and ohhh they were divine. might have to recreate that one.
last week i received an email from sport chalet with an article about calories in halloween candy and what it takes to work a piece off and thought i'd share. as someone who doesn't count calories or look at calories as something i have burn off depending on how much i eat, i kinda rolled my eyes at first.. but this was actually fun and interesting! (can i just give a *disclaimer* here and say i don't think  you should go run a mile for every piece of candy you eat and i don't think there is anything wrong with eating candy! this is just a halloween candy article that intrigued me. i feel like i have to put these disclaimers when talking calories and working out so you guys don't get the wrong idea. the end.)
*************************************************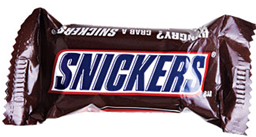 · Snickers bar fun-size—Every mini bar of this chocolate goodness is 80 calories. To burn off at least one fun-size Snickers, put on your walking shoes and take a half-hour stroll around the block. If you're already taking your kids around the neighborhood to trick-or-treat, this will be no problem!
· Mini Reese's peanut butter cup—As one of the least offensive fun-sized candies, these mini cups have 40 calories each. Pick up your dumbbells and weightlift for 12 minutes to get rid of those extra calories.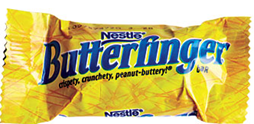 · Butterfinger fun-size—These little pieces of heaven will cost you 100 calories. That's a small price to pay when you can burn the calories off with only 25 minutes of Pilates.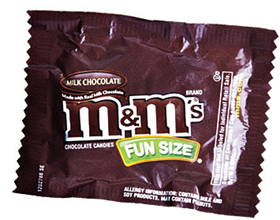 · M&M fun-size—One package of these melt-in-your-mouth, colorful candies is 93 calories. Burn them off by grabbing your kettlebell and doing just five minutes of kettlebell squats!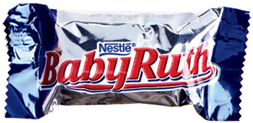 · Baby Ruth fun-size—One fun-size Babe Ruth is 95 calories. Enjoy the gorgeous fall scenery and take a 15-minute hike to burn those calories.
*************************************************
the article reminded me of this ecard.. makes me laugh every time i see it!
side note.. why are the small sizes of candy called "fun size"? it's way more fun to eat the full size ones.. right??
if you ask me, i don't think calories on holidays or vacations (or weekends.. in my case..haha..) count. they are just eaten and somehow lost in space and your body doesn't even recognize the fact that you ate them ;)
well, that's enough halloween rambles for one post. whew, kinda got carried away! hope you all have a fun holiday tomorrow! we get to close up early at work, so that's reason enough for me to celebrate.. costume or not!
Qs~
1. are you dressing up this year? as what? or what has been your favorite costume in past halloweens?
2. what is your favorite/least favorite candy? me: twix/butterfinger
xo. janetha g.