hey, guys! hope your weekend has been wonderful.
mine has been both productive and exciting. and delicious. i will tell you the deliciousness in reverse from today to friday. i just got home from my sister's where i devoured some coconut cake and pumpkin bread. both excellent choices for a birthday celebration. earlier today marshall and i went to brunch with his parents at our fave–sunshine cafe. SUCH a great little diner in north salt lake. it's pretty small, you may have missed it.. but now that you know about it, you should go there. i had the french toast and bacon and an over medium egg. am i the only one that loves syrup on the bacon and eggs as well as the french toast?? so good. ok rewind to last night.. marshall and i didn't want to cook so we went to the best mexican restaurant ever: the red iguana. chips & salsa & tacos made a perfect saturday night date! should we rewind again to friday? yes, lets.. because i discovered the deliciousness that is pumpkin frozen yogurt + plain tart frozen yogurt + graham cracker crumbs… ummmmm.. it's like pumpkin cheesecake froyo. do it. 
sooo.. no pictures of any of that jazz. whoops. i think i forgot about my food blog over the weekend! and i forgot about my meal plan.. crap.. you know, it's a lot harder than i expected and i will be 100% honest, i was all over the place with my eating. and i also don't even mind. my head is elsewhere at the moment and sometimes you just want fro yo and mexican and brunch with bacon. and this was one of those times. life goes on.. tomorrow is monday… another week to give it a go! no regrets and no excuses. 
ohhh.. remember how i told you i have a delicious banana protein muffin recipe? here it is! this makes 6 muffins, which is nice because you don't always need one or two dozen muffins on your hands, do ya?? i made these up on a whim because i had black bananas.. so i didn't even document them the first time. luckily they were delicious and worth making again and again!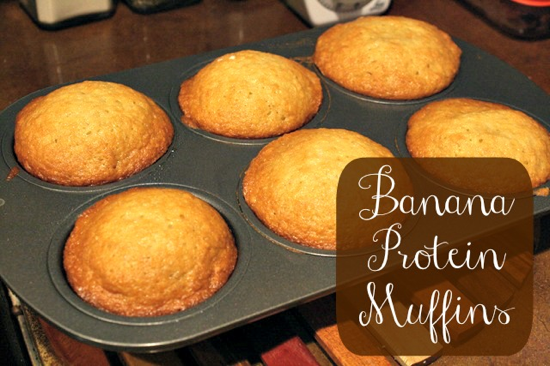 small batch banana protein muffins
makes six muffins
prep time: 5 minutes, bake time: 15 minutes
ingredients:
1/4 cup whole wheat flour
1 tsp baking soda
1 tsp baking powder
1 tsp ground cinnamon
1/4 cup almond milk
2 TB applesauce
1 egg
2 TB honey
1 tsp vanilla extract
2 medium overripe bananas, mashed
directions: 
preheat oven to 375* and line a muffin tin with liners OR use a silicone mat OR spray a tin with cooking spray (which is what i usually prefer so they don't stick to the liners!)
combine protein powder, flour, baking soda, baking powder, and cinnamon in a bowl and mix well.
add milk, applesauce, egg, honey, and vanilla. stir until just combined–do not over-mix!
fold in bananas until just combined.
distribute batter evenly into muffin tin.
bake for 15 minutes or until a toothpick comes out clean.
here are the stats per muffin using the ingredients listed above: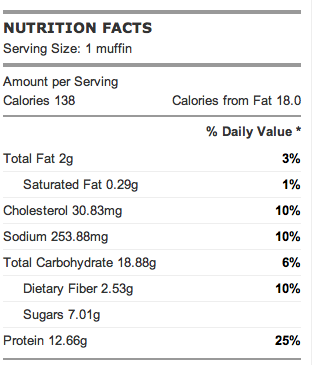 not bad at all! in fact that leaves you a little room for a pat of butter ;)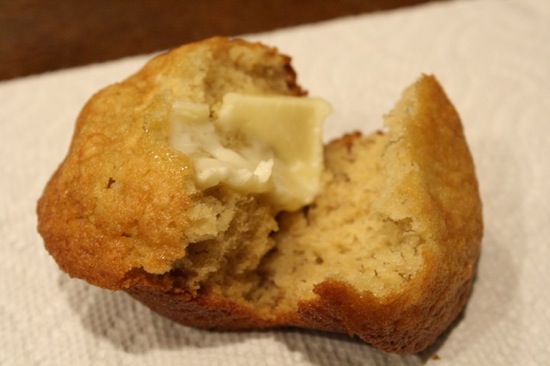 have a great week! oooo.. halloween week! crazy that october is nearly over! is anyone dressing up??
Qs~
1. what's your fave muffin?
2. what was the best thing you ate over the weekend?
xo. janetha g.