hi, guys! i have been quiet around here lately. we've been having a fun birthday week and weekend for marshall's 30th. thank you for all your kind comments on my last post devoted to him. so sweet! 
we just got home from park city, where we had a fun celebration for him with his friends. we were even able to take the pups! now it's already 4 o'clock on sunday.. and i still have grocery shopping to do. yikes, those weekends fly by.
i wanted to pop in and let you know about a 24 day challenge some local advocare folks have put together.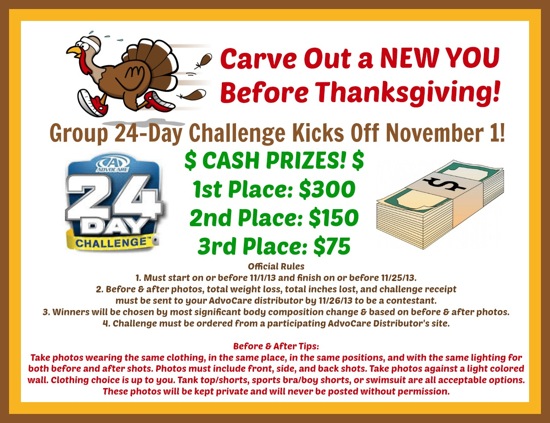 i have signed up to be one of the advisors who participates, meaning anyone who signs up for the 24 day challenge and finishes it before november 25th is eligible for the prizes! all you have to do is purchase the challenge from my site HERE and then make sure you take your photos, weight, and measurements on day 1 and on day 24. once you finish, you email me your results and i will submit them to the gal in charge of the challenge. 
you can read more about my own 24 day challenge and the results i had HERE. you can ask me any questions regarding the challenge or anything else by clicking HERE. for those of you who have been wanting to do the challenge before the new year, this is a great opportunity. we all do better when there is accountability hanging over our heads, right? and when there is cash to be won, we try even harder! although i am not personally hosting this challenge, i will be here to coach you through your 24 days, i can supply you with an exclusive 24 day gym routine (for free), and answer questions throughout the challenge that you may run into. i am here for you! the challenge is a great way to reset yourself, jump start weight loss, break through plateaus, and just get into better shape. what better time to do it than RIGHT NOW? give it 24 days before thanksgiving arrives, i promise you will be thanking yourself come thanksgiving. 
well.. time to grocery shop and meal prep for the week! hopefully this coming week won't be as busy and i can find more time to ramble here on the blog! hope you guys are all doing well and had a fabulous weekend!
xo. janetha g.