hi, guys! how was your tuesday? mine was L-O-N-G. longer than randy the basset hound.. and that dude is long.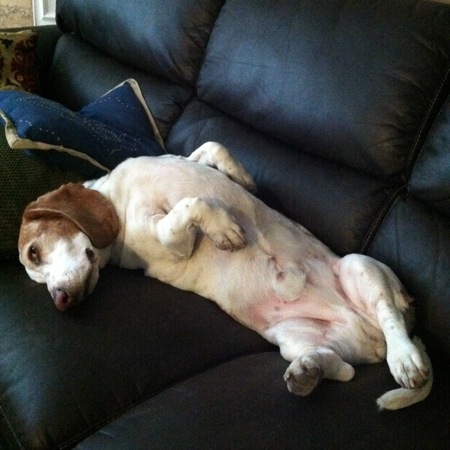 i won't bore you with the details of my day. i will tell you i had a repeat of the breakfast, lunch, snack, and pre-workout drink from yesterday's post. it was all so fantastic that i had to do it again!
i did power clean and jerks at the gym tonight. we don't do these often, so it was fun to work on them. power cleans are one of my FAVORITE movements. there's just something about them that i love. it takes strength, power, and coordination.. so when i do them i think i feel extra awesome. haha.. jokes.. but i do love them!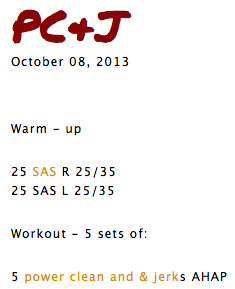 the workout consisted of some single arm snatches to warm up, which i did with a kettlebell. using a kettlebell makes them a little more challenging than using a dumbbell because of how the weight is distributed in a kettlebell. it adds that whole balancing factor and makes them a little tougher.. but you definitely get more out of it that way.
then i moved onto the power clean and jerks. it was five sets with five reps each. i started light at 75 (my 1 rep max power clean is 105) and then worked my way up. i did a set at 85, one at 95, and then my final two at 100. doing 100 pounds for 5 reps had me pretty jazzed, considering my 1 rep max is 105. something tells me i should probably see if i can do a heavier 1 rep since i was able to do the 5 at 100.. but i was beat after these five sets so i called it a day. maybe next time!
i came home and fixed dinner.. pork chops with apple cranberry chutney, mashed potatoes, and steamed asparagus.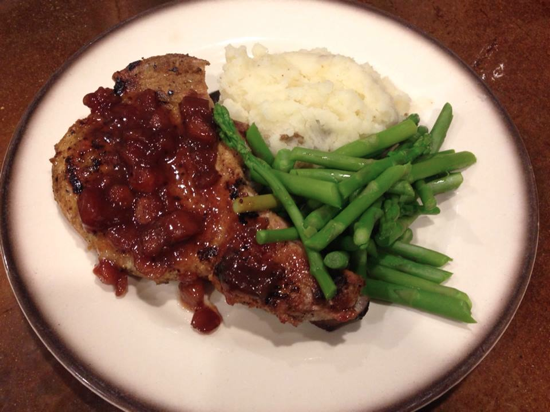 i had told you guys i'd share my recipes this week. i cheated with the chutney…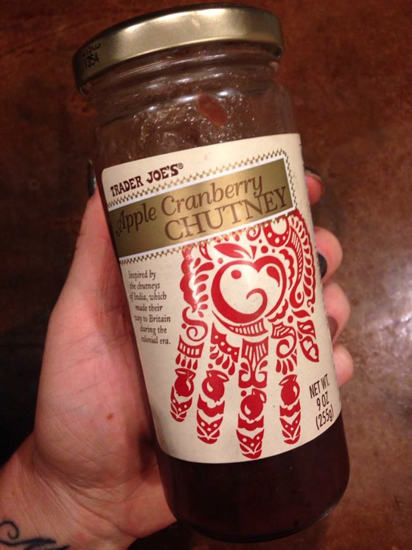 but i actually made my own dry rub for the pork chops!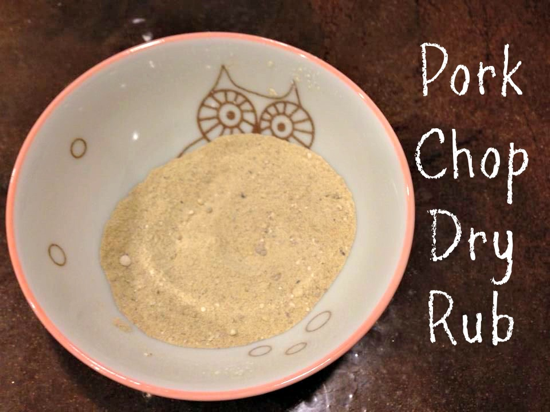 i had never made a dry rub before, but i made this up last week when we had this same exact meal for dinner. we loved it so much that i decided to make it again tonight! it's really simple and you probably already have everything you need for it…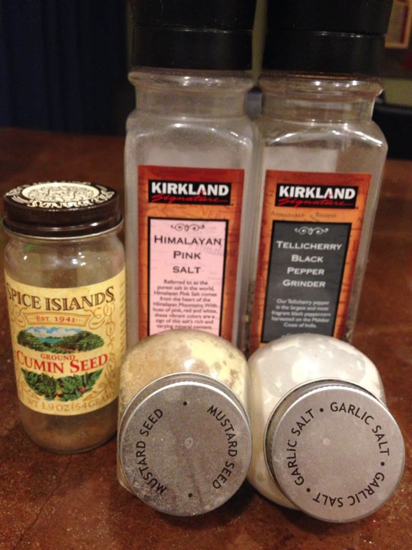 1 TB groung cumin
1 TB garlic powder
1 TB ground mustard
1/2 tsp black pepper
1/2 tsp sea salt
that's it! simply mix it all together and it's ready to go.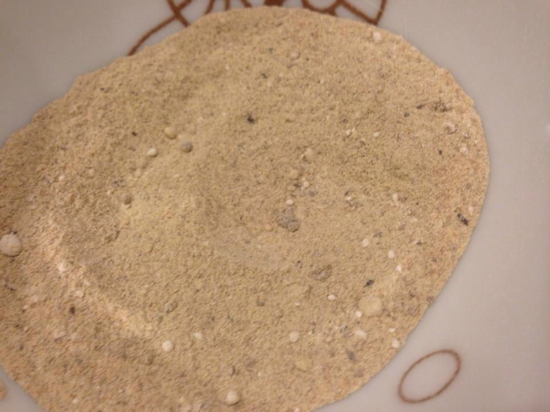 this recipe makes enough for two large pork chops.. so i whipped up the small batch of dry rub and used it all. you could always make more and keep it in a jar. when you are ready to use it, simply rub it on your dry pork chops.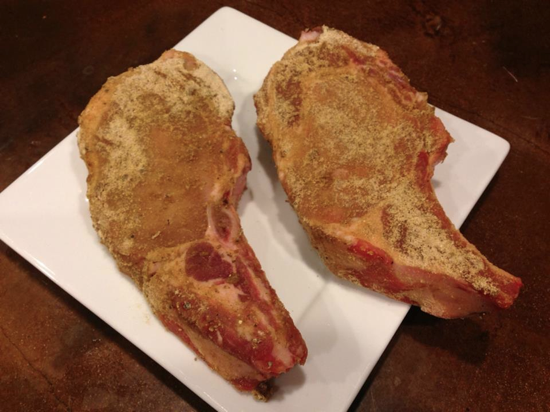 to make the pork chops, i seared them on each side in a cast iron skillet over medium heat.. about 2 minutes each side. oh, there was some olive oil in the skillet before i put the pork chops in there.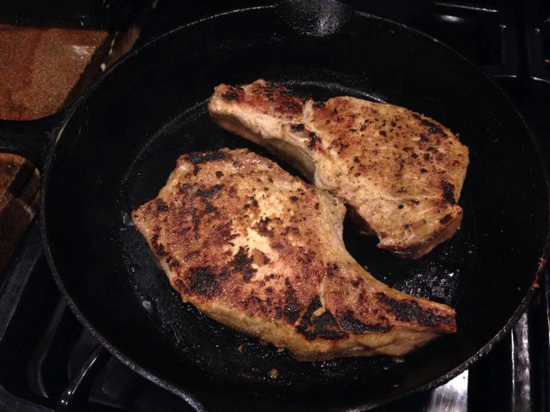 i then transferred them to the oven and baked them at 400* for 8 minutes. this time will vary depending on the thickness of your chops.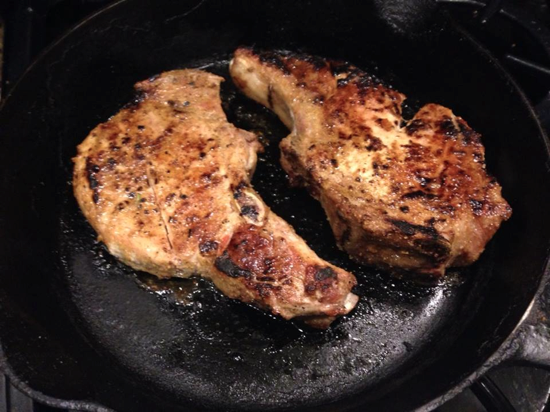 meanwhile, i steamed some asparagus and whipped up some mashed potatoes. 
for the potatoes, i peeled a couple of large russet potatoes. i diced them into 1″ cubes and boiled them until tender–about 10 minutes. i mashed them with a potato masher and then whipped them with a pad of salted butter, a splash of milk, some fresh ground sea salt, and a dollop of plain greek yogurt.  perfection!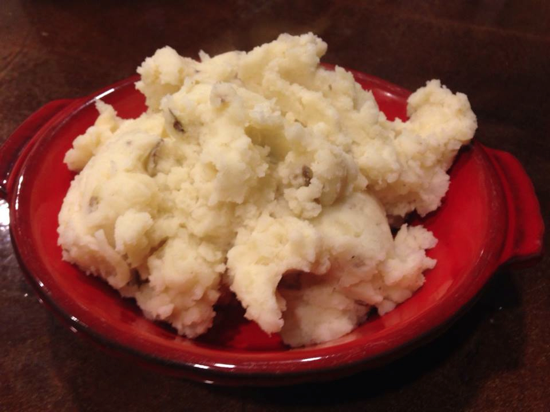 this is a pretty simple meal. it has a fancy name and i used to be intimidated by pork chops.. but they are actually pretty easy to make! quick, too.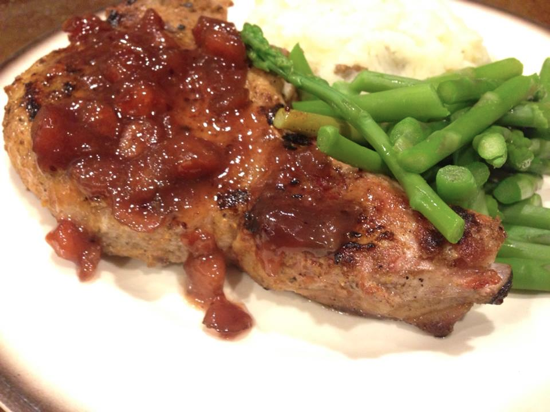 we usually eat chicken in our house, but pork will definitely be showing up on the menu more often. it's got some great stats and reasons to eat it! check it out…
what's that they say.. pork, the other white meat? yeah. it's good stuff.
anyway, it's nine PM which means it's time to unplug and hang with the husband. hope you all have a great wednesday!
Qs~
1. what menu item(s) are you intimidated to make?
2. do you like pork?
xo. janetha g.