HI! wow.. i've been MIA for a week! life has been crazy, crazy lately. i'm not complaining, i'm just sayin'. hope you are all doing well! and hope you guys are still out there, haha. 
well, i finished my advocare 24 day challenge on tuesday. i gotta say, those 24 days flew by! probably because i am used to doing challenges that last 12 weeks–like body for life and jamie eason's livefit trainer. i mean, it wasn't an overnight change, but it definitely went by quickly.
so, i wanted to tell you guys about how much i loved the challenge and WHY i loved it. first of all.. here are my before & after photos..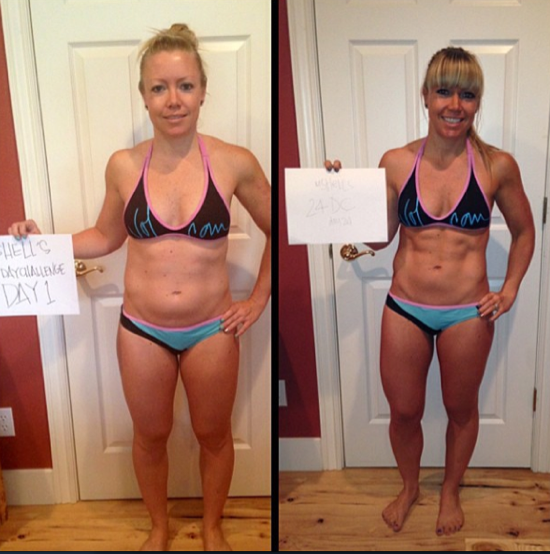 oh, gotta love those before pics, right? haha. i am super stoked with the visual results. let's be honest, we all have a little vanity in us and like to look good! i ended up losing 7 pounds total in the 24 days. i lost a few inches off my stomach, waist and hips. each thigh came in a couple inches smaller. i definitely lost the overall "puffiness" i was feeling before the challenge.
what i really want to tell you guys about, though, is what happened on the inside. as you know, i have struggled with GI issues for years and years and YEARS. i experienced stomach pains at least five out of the seven nights each week. my stomach was always distended to the point where i looked pregnant. and, sorry if TMI, but i never pooped. once a week, on average. i've tried MANY things.. many of which i blogged about in the past. i started by trying everything i could think of.. more fiber, less fiber, magnesium, natural calm, metamucil, you name it.. i tried it. i have paid thousands of dollars for medical tests, i've tried acupuncture and colon hydrotherapy, and i even had doctors tell me i should remove my colon. no thanks. the acupuncture definitely helped, but it got pricey and then my acupuncturist went to china for a few months.. so i just never made it back. 
so, because surgery wasn't an option for me, and acupuncture was a little too expensive to keep up weekly, i decided to suck it up and deal with the pain, bloating, and constipation. sigh. 
anyway, i started the 24 day challenge because i wanted to get my clean eating on track and, well, just do it because i like to do things like that. i had NO IDEA that the challenge would, quite literally, change my life. i am happy to report that i have pooped every. single. day. since starting the challenge. sometimes twice a day! what the?! i had no idea what i had been missing, ha! seriously, i am astonished and so grateful that i have FINALLY found something that has helped my GI issues. you might think it's weird for someone to get so excited about poopin'..  but you try not going for a week and see how you like it. 
i was absolutely thrilled that and the end of every day during the challenge, my stomach was still flat. i wasn't in pain, uncomfortable, or discouraged.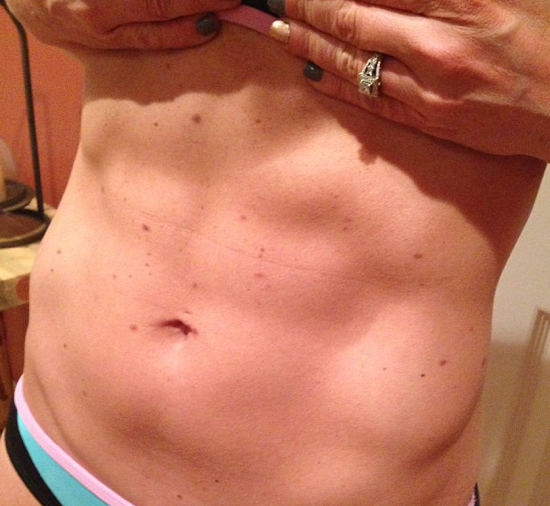 i never thought it would be possible, but it is! we are all different, so i don't want to say this will work for you like it worked for me, but i wanted to share that it DID work for me. GI issues are a tricky thing. what works for one does not work for another. TRUST ME, i had many suggestions from people when i was trying to find a solution. but, because we are all different, there is no one answer to the problem.. unfortunately. but, fortunately, this worked for me and now i'm not only happy and healthier.. i'm regular, too. ha! ok, ok, poop talk over. sorry, but it had to be noted!
i think a couple of big reasons the challenge products helped me become regular was the probiotic in the 10-day cleanse. there is also a probiotic in the MNS max3 vitamin packs. i am actually going to keep taking the vitamin packs from here on out, because i love them. it takes the guesswork out of when to take your vitamins and which ones to take. it's really a simple way to make sure you are getting all your vitamins and minerals in on a daily basis.. something i was bad at doing before! i also believe the nondairy meal replacement shake played a role in my healthy digestion. i am going to continue to use the shakes when i need a quick & healthy option. you can also purchase the probiotic separately, which is something i may do in the future.
another thing that happened on the inside during the challenge was my ENERGY level. i gave up coffee. haven't had coffee since august 31. (i have had some decaf espresso in the evenings when at coffee with a friend because i like the taste of it.) you don't drink coffee on the challenge, and instead you drink spark, which is a delicious drink that contains 21 vitamins, minerals, and nutrients. i drank the spark in the mornings to replace coffee and then again mixed with my arginine as a pre-workout.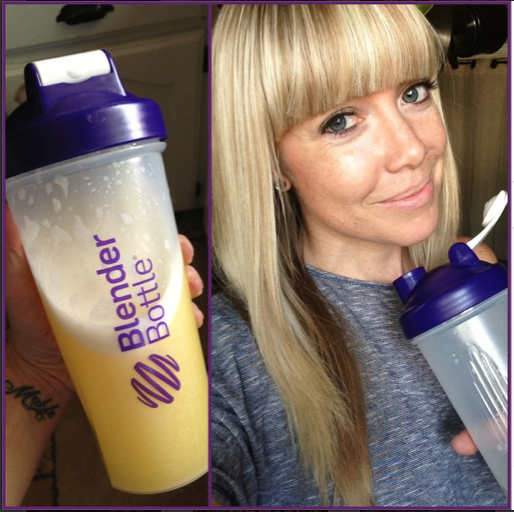 i don't miss coffee at all and i have plenty of energy in the mornings. one thing i noticed is i am not RELIANT on the spark. why replace one thing with another, right? but there would be mornings i would forget to drink my spark and i was just fine. that's how i know the rest of the challenge was working.. i was feeling energized and amazing without the aid of anything. 
something nice about the challenge was that the meal plan was so darn easy to follow. i KNOW how to eat clean. i ENJOY eating healthy foods. i just wasn't DOING it before because i was being lazy. cereal is easy. and delicious. so are cookies. and ice cream. and seven pieces of buttered toast… BUT, i knew i was overdoing it in the unhealthy eating department. i'd say i was eating 60-65% clean before the challenge. i cleaned my diet up and was eating 95% clean for the 24 days. super proud of that diligence. i did eat marshall's pizza crusts one night and had frozen yogurt another night.. but other than that, my eating was on point. i had invested my money into the challenge, i wanted to get the most out of it that i could.. so i wasn't going to mess up by eating stuff that wasn't on my meal plan!
my breakfasts for the first ten days were a good balance of protein and carbs with a piece of fruit. i would typically have some scrambled eggs, toast or oatmeal, and a peach, a pear, or an apple. lunches were always a big salad with chicken and garlic toast or else some fish, steamed veggies, and rice cakes with peanut butter and jam. dinners were different every night, because i like to cook and i like variety. i always made sure to have around 25 grams of protein at dinner and sometimes limited my complex carbs in the evening–but not always, since i work out after work. i am a firm believer in eating carbs–your body needs them to function! just don't overdo it.
anytime i was faced with an unhealthy food option, i remembered this quote that i love: "taste is temporary". don't get me wrong, i am all for enjoying what you eat. but you CAN eat  healthy options and enjoy them. my tasted buds were never once deprived during the challenge. i enjoyed everything i ate. yes, i enjoy cookies and ice cream and pizza and fries and burgers.. but i also enjoy salads and fish tacos and omelets and sweet potatoes. and, once i eat whatever it is i decide to eat, i am full.. and the taste on my tongue is long gone. so it's important to make choices that contribute to a healthy body, not take away from it. because taste is temporary, right? and, yes, it's totally OK to eat the bad stuff.. IN MODERATION. not every day! i am big on the eat-clean-all-week and enjoy a dinner and dessert out on the weekend. it works for me, and that's what i am doing now that the challenge is over. 
the 24 day challenge isn't a one and done deal. yes, it helped me bust through a plateau and reintroduce consistent healthy habits in my life.. but i have to keep up those habits if i want the results to stick around!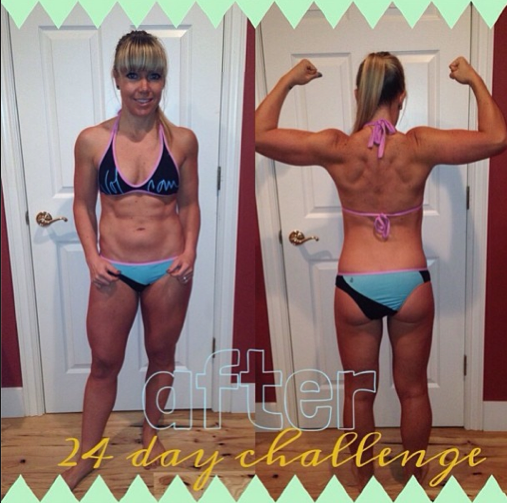 my plan is to continue eating clean and exercising 5-6 days a week. i will back off from 95% clean to 80-85%. but, honestly, if i like the way healthy food tastes, why not eat it?? i ate a couple cookies from ruby snap cookies the day after my challenge was over. i got a horrible, terrible, throbbing headache. ummm.. what does that tell me? all that sugar isn't a good thing! my body became accustomed to healthy eating and when i overloaded it with sugary sweets, it was like, "HOLD UP, what are you doing?!" 
i feel like my metabolism is on fire, which is awesome. i also like that my body has reset and remembers how important it is to make healthy eating choices. i fully intend to enjoy the foods i love, but in moderation. i am basically going to keep up the meal plan that was outlined in days 11-24 of the challenge, with a few cheats and treats thrown in when i want them. as far as the supplements and vitamins, i will continue to do the MNS max3 packs because, like i said above, it's an easy way to remember to take your vitamins and it's got everything portioned out and packaged up. they are even labeled with what time to take them. i am a sucker for convenience. i will continue with the meal replacement shakes occasionally–not every day, but i definitely will have them on hand and enjoy one for breakfast a couple or few times a week. i LOVE the taste of the nondairy dark chocolate meal replacement shake! it's freaking delicious. i also plan to continue using spark in the mornings and as a pre-workout mixed with my arginine. 
i have since discovered a few other supplements from advocare that i like, and i will definitely use them moving forward.  i have found one that helps me fall asleep, one that preserves my muscle and helps repair muscle tissue (which=muscle growth!), and one that prevents the absorption of carbs.. i take this before super starchy meals. maybe i'll do a post about my favorite products in the future.
SOO.. that's what's next for me! 
as you may or may not know, i am hosting a 24 day challenge of my own here on the blog.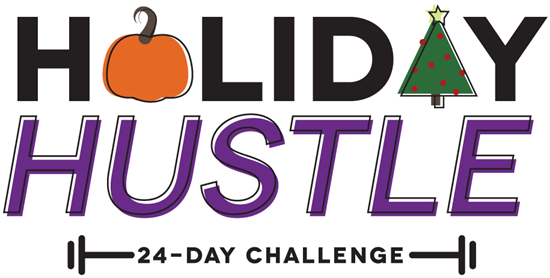 the holiday hustle is the 24 day challenge from advocare, but has LOTS more. i will be giving away $1200 in cash, prizes, and gift cards to the participants. i will also be sending out emails with recipes, workouts, tips, tricks, ideas, and other healthy, helpful stuff. we are going to have a facebook group for community support. it should be a good time! there are about 40 people doing the holiday hustle so far. it starts october 7, a week from tomorrow, so there is still time to sign up and get all your products before the start date. check out the full holiday hustle post to read more about it. and, as always, you can use my contact form to email me with questions!
well, that's enough out of me. marshall and i are having a lazy sunday together and so i am going to power down the laptop and go enjoy the afternoon. i hope you all had a great weekend! i will try to blog more this week!
xo. janetha g.