hi! i have something super exciting to share with you all today!!
as you know, i am currently doing the advocare 24 day challenge and LOV-ING it. i am on day 16 and could not be happier with the results i am seeing. several of you have asked me about the challenge and are interested in completing it.. so i thought i would HOST a challenge here on meals & moves!
there are 24 days between monday, october 7th and halloween. those are the last 24 days before the holidays hit. the advocare challenge is 24 days long. coincidence? i think not. do you see where i am going with this?  i'd like to introduce to you…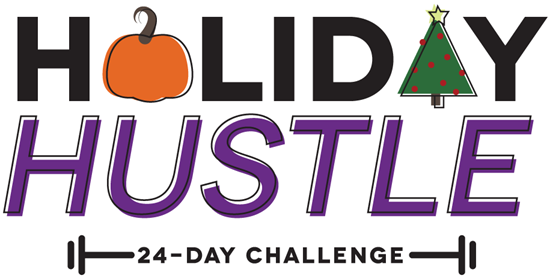 the holiday hustle! that's right, it's time to get your butt into gear and hit it hard before the holidays hit you! we all tend to overindulge during the holidays and run low on time for exercise, so you definitely want to head into the holidays with optimal health.  furthermore, you want to develop healthy habits and have a strong base going into the new year so you aren't making new year's resolutions to work out or eat clean (like the majority of folks do!)
as an advocare advisor, you can sign up for the challenge through me at any time.. but i want to get lots of people together to participate in it at the same time. it's always more fun to do something together!
first off, let me tell you WHAT the 24 day challenge is.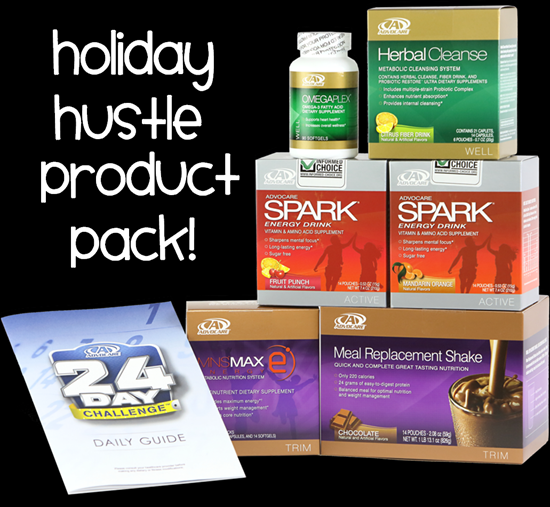 when you sign up for the challenge, you receive 24 days worth of advocare products along with a nutrition guide and challenge planner/checklist. the products include the 10-day herbal cleanse complete with probiotics, herbal cleanse tablets, and the fiber drink, 14 meal replacement pouches, two boxes of spark energy drink, 56 MNS pill packs for the max phase, and a bottle of omegaplex to last the entire challenge. basically, it's a lot of product. at a cost of less than $8 a day, it's a screaming deal and a sound investment for your health and happiness.
the challenge has two phases: the cleanse phase and the max phase. the good news is you get to EAT the entire time! i never do well with cleanses where you can't eat.. so this one is perfect for me. in the first 10 days i personally lost five pounds and 13 overall inches. the cleanse consists of a fiber drink, probiotics, herbal cleanse tablets, omegaplex, and spark energy drink. the max phase is days 11-24 and it is what i am currently doing. the phase consists of a meal replacement drink in the morning, spark energy drink, MNS pill packs , and omegaplex.
there are also companion products that are available to take while doing the challenge. i personally have opted to take three of the companion products: thermoplus, catalyst, and carb-ease.  the catalyst is taken for the full 24 days and the other two are taken during the max phase only. the products aren't required for the challenge, but many people do use them in conjunction with the challenge. i have found the companion products to work well for me!
i want to let you all know that advocare products are informed choice approved, which means they have gone through rigorous testing to make sure they are all SAFE for you to use. this is an edge advocare has on most other supplement companies out there. you can take these supplements with peace of mind and know you aren't harming yourself. click here to read more.
i mentioned the challenge comes with a nutrition guide. it does not dictate your meals for you exactly, but it gives you guidelines of what to eat, when to eat, and.. most importantly.. what not to eat! it is very simple to follow and leaves room for customization if you have dietary restrictions or social events that force you to eat out. it seriously is the most flexible challenge i've ever done, and i am seeing so much success!  you can see my first day of the challenge here to see the type of things i was eating (although i didn't include snacks in that post.) i will also be sharing more of my meals and snacks in the future!
so, that's the stuff you receive from advocare when signing up for the challenge.. but i am making the holiday hustle extra special, so you will receive even MORE if you sign up!
email support throughout the full 24 days—have a question? concern? problem? i am here to help!
periodic emailed newsletters and videos throughout the challenge guiding you through everything.
exclusive healthy recipes to fuel you through the challenge as well as meal plan ideas and tips.
workouts for in the gym and at home along with demos, ideas, and tips.
supplementation information including benefits and how to implement certain supplements to reach your goals.
fun food and fitness-related challenges for all participants with over $250 in prizes up for grabs.
strong sense of community and full access to a private facebook group so you can interact with others during AND after the challenge.
now, no challenge would be complete without INCENTIVE, right? i know we all have a little competitive edge in us. sometimes that's what it takes to keep me accountable and on point. so here is how the incentive of the holiday hustle will work…

all participants will send in their day one photos to me on monday, october 7th. challengers will also weigh and/or measure and write that down for day one (optional but encouraged.) after day 24, challengers will take photos and also weigh and/or measure again. all participants will send in final photos and any changes in weight and inches to me along with any notes about how the challenge affected you. i will use this information to select three winners.
we call ALL use extra cash for the holidays, so i decided to take money out of my pocket and give it to you! plus a few fun prizes to make the awards extra special!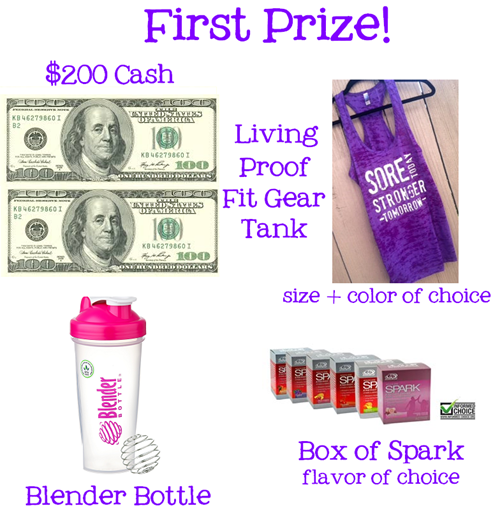 $200 cash, living proof fit gear tank top, a blender bottle, and box of spark energy drink ($315 total value)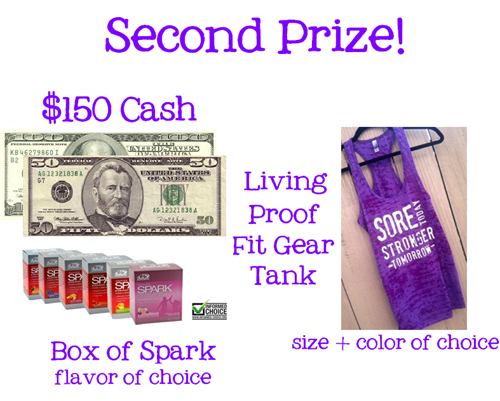 $150 cash, living proof fit gear tank top, and box of spark energy drink ($200 total value)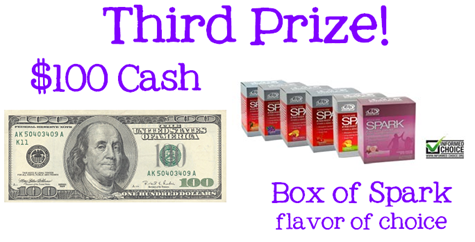 $100 cash and box of spark energy drink ($125 total value)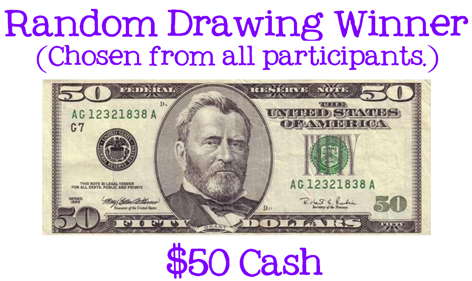 like i said above, in addition to the awards i just described, there is more chance to win stuff just by participating. throughout the 24 days, i will be holding various fitness and food challenges with prizes, random gift card drawings, and other fun incentives for all participants to have a chance to win.
ready to sign up?? CLICK HERE to get the challenge! once you have ordered the products, send me an email to—> mealsandmoves @ gmail.com with HOLIDAY HUSTLE in the subject line. let me know you are IN for the holiday hustle! i will immediately put you on the email list to receive all the inside info for the challenge and to be added to the facebook group. once on the list, you will begin receiving emails from me regarding the timeline of the challenge, details about the drawings, mini-challenges, healthy recipes, workout ideas, tips, and other important participant info.
FOLLOW ALONG WITH THE CHALLENGE
ON TWITTER AND INSTAGRAM!
hashtag = #holidayhustle
if you have QUESTIONS about the holiday hustle, the 24 day challenge products, the 24 day challenge itself, or the companion products.. please shoot me an email and i would be happy to answer anything before you sign up!
this is for USA ONLY. unfortunately, advocare does not ship outside of the USA. if you have a USA address, you can join! the products do take anywhere from 3-6 days to arrive (advocare is based in texas so it depends where you live) so plan accordingly and place your order enough in advance to receive your products prior to the challenge start date—october 7!
SIDE NOTE.. if you have any interest in becoming an advocare distributor like me, SHOOT ME A NOTE before signing up! there is a fee to become a distributor and i realize this is not for everyone, but if it interests you.. it's DEFINITELY worth taking a look into! the company is awesome and it's a great opportunity. distributors receive 20% off the product initially (and can work up to a 40% product discount.)  if you decide to become a distributor rather than simply ordering the challenge straight up, you are STILL eligible to participate in the holiday hustle and receive all the benefits and will be entered to win all the prizes!
okay, i think that covers all the bases! i can't WAIT to see you all have success with the HOLIDAY HUSTLE and head into the holidays hot & healthy this year! let's do this!
xo. janetha g.