the other day marshall and i saw a commercial for these new little kit kat bites.
i immediately declared i needed to go buy them and put them in a baked good.
so i did.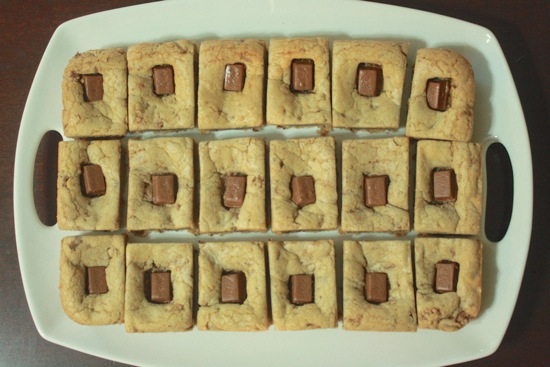 24 day challenge be damned, it's my kitchen and i'll bake if i want to! i am actually quite amazed that i didn't have even a lick of the batter. cookie dough is my favorite, that took some serious willpower. yup, patting myself on the back here. but you better believe these beauties will be made again once the challenge is over!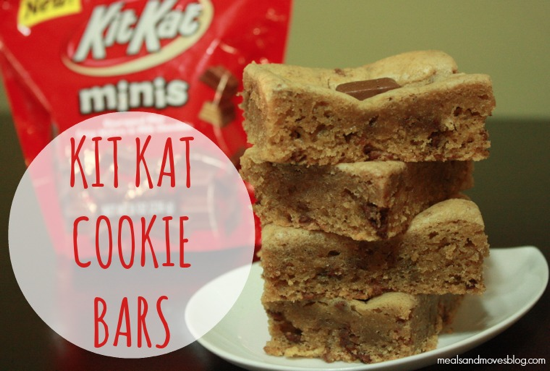 kit kat cookie bars
prep time: 10 min, bake time: 25 min
yield 18-24 bars or 2 dozen cookies*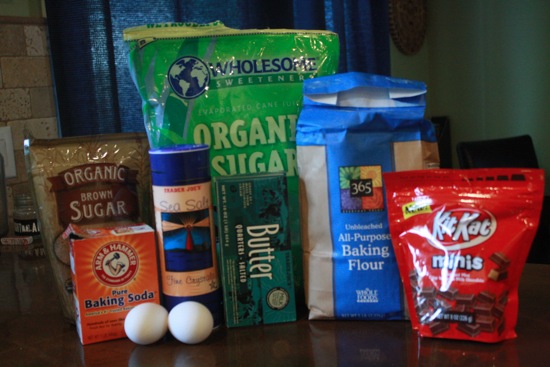 ingredients
3/4 cup salted butter
3/4 cup unrefined granular sugar
1 cup brown sugar
2 large eggs
2 tsp vanilla bean paste or extract
3 cups all purpose flour
3/4 tsp baking soda
3/4 tsp salt
one 8 oz bag mini kit kats plus more for topping (if you want)
directions
preheat oven to 350* F.
using a hand or stand mixer, cream together butter and sugars.
add eggs and vanilla, mix well.
sift together four, soda, and salt in a separate bowl.
slowly add flour mixture to the mixing bowl until fully incorporated.
fold in kit kats.
spread dough evenly in a 9×13 pan**/*** sprayed with cooking spray. 
top with additional kit kats if that's your thing.
bake for 25 minutes until edges are golden brown.
let cool completely, slice into squares, and enjoy!
*these can also be made as cookies, simply swap out the baking pan and scoop 2 TB sized balls onto a cookie sheet. bake for 11-ish minutes.
**i use THIS PAN for the bars (great for brownies, too!) which allows them to be sliced before baking into perfect sized bars. i love this pan so much!! i highly recommend it. (pic of prebaked/postbaked bars)

***for thinner bars, you can use a cookie sheet and press the dough out all over the sheet. just make sure you reduce the baking time.. i would start with 15 minutes and keep my eye on them for the remaining time until they are golden brown.
i love how these are thick and chewy like brownies, but doughy like cookies! they have the perfect consistency.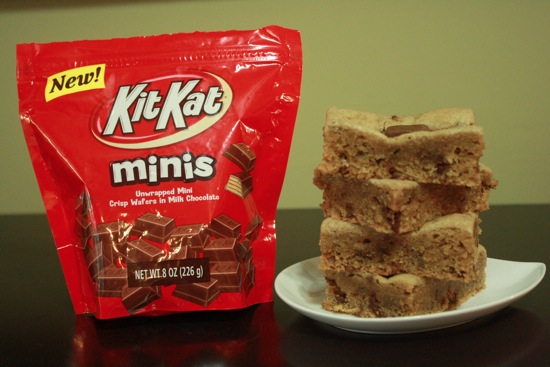 the bars are pretty filling if you make them into 18 bars.. you will definitely need a glass of milk to wash one down.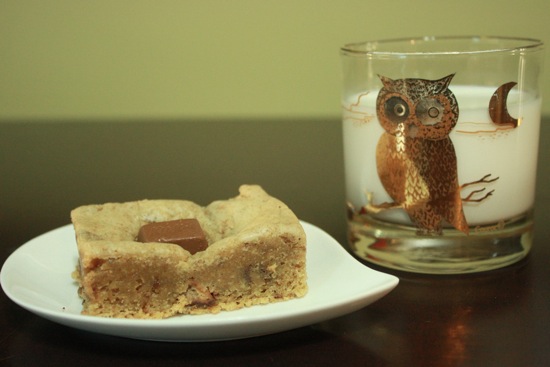 the possibilities of mix-ins are endless for these! if you don't like kit kats (then you are crazy..) you could use twix, reese's PB cups, or any other mini candy! 
Qs~
1. what is your favorite candy bar?
2. quick! pick! cookies or brownies?
xo. janetha g.