yellow! it's sunday night and i am still kinda baffled that it's september. it was six years ago today that my dog, mable, was hit and killed by a car. <3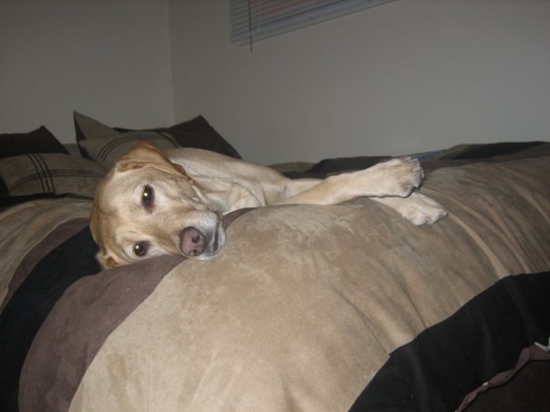 not a day goes by that i don't think of her (i actually have her name tattooed on my wrist.. my first and last tattoo in life.)
how about i tell you about my day?! sooo.. as i mentioned, it was day one of the 24 day advocare challenge. everything went according to plan. i took all the prescribed supplements and ate according to the meal plan. i didn't stray at all and i even stayed away from my nightly dose of fruity pebbles!  i got a workout in since i took yesterday off. i drank my gallon of water and didn't miss drinking coffee. i feel great.. so far so good. i will give you a glimpse into my day and show you my main meals.. but i couldn't be bothered to snap pics of any snacks.
first of all, i headed up to my mom's this morning so she could take some "before" photos for me. please don't cringe at my lack of a tan and the weird farmer-ish tan line on my legs. i probably should have filtered this, haha, oh well..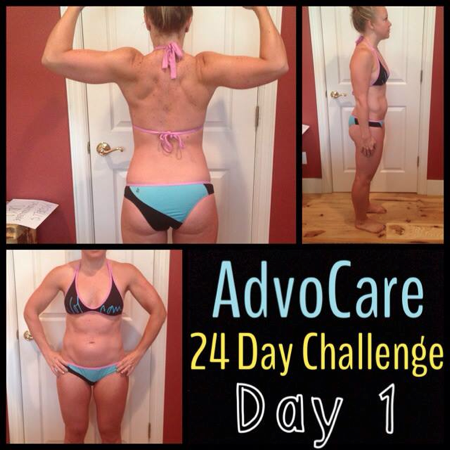 i weighed in using the zero scale (since i don't keep track of the actual number that i weigh) and took my measurements. i will report in with the changes as the challenge goes on!
i was a little off today since it was sunday but felt like saturday since tomorrow is a holiday. instead of getting a jump on my usual sunday stuff, i was actually pretty lazy. i fixed a late breakfast (around 11) for marshall and myself.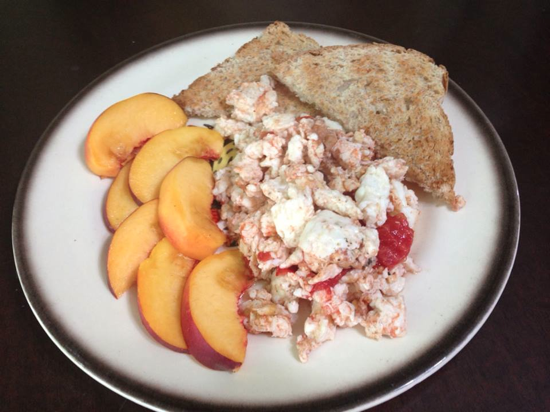 eggs scrambled with tomatoes fresh from my sister's garden (marshall's had cheddar mixed in, too), toasted jack sprat wheat bread, and a juicy brigham city peach. loveee peaches.
i lazed around for awhile, then decided to go to the gym around 1:55. i actually had to make myself go at that time because the gym is only open until 3 on sundays. i didn't really have a workout in mind, so i made it up as i went.. here's what i did!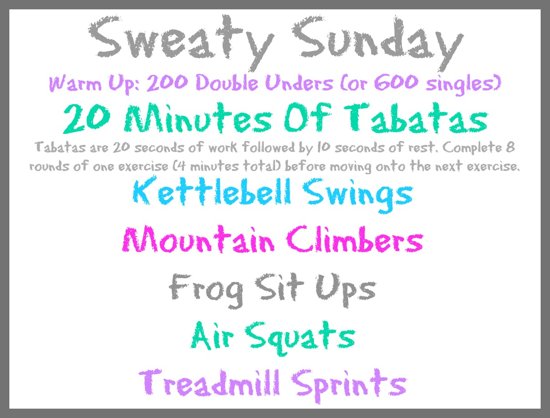 this was actually a fun little routine and took under 30 minutes.. my kind of cardio! i left the gym and when i got out to my car i noticed marshall had sneakily put a new sticker on the back. go pack go! he's real excited for the season to start.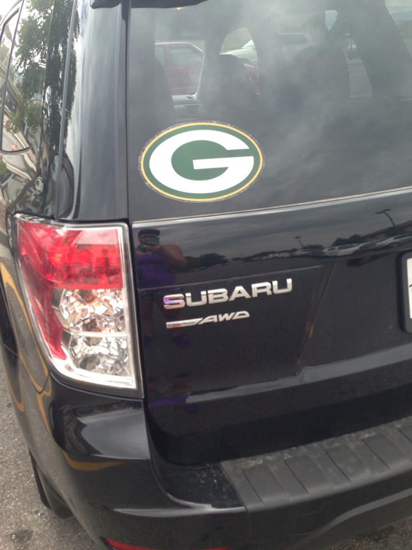 when i got home i fixed lunch. i definitely needed groceries and didn't have a lot of options, but i managed to throw this together using what i had on hand.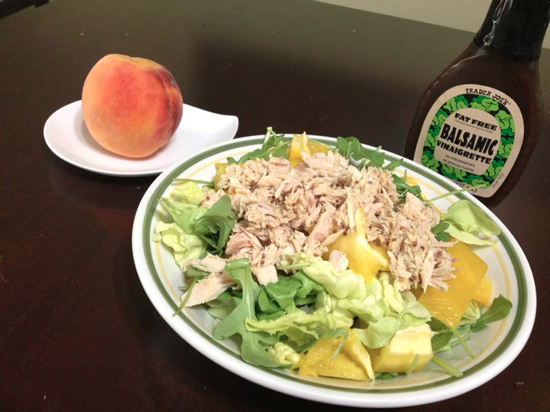 i made tuna salad with a little light mayo and whole grain mustard and put in on top of butter lettuce, arugula, and a lone yellow bell pepper that was in my fridge. i topped it with balsamic dressing and ate another peach. i had a lunch beggar. those eyes.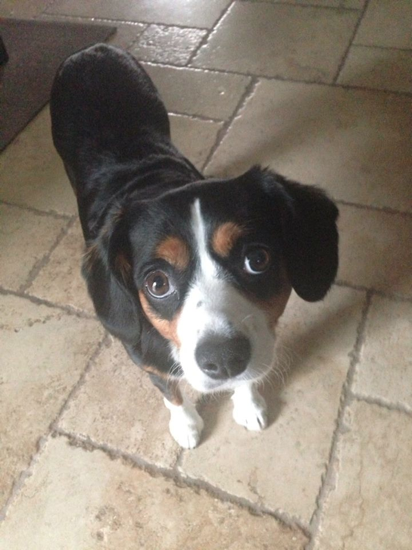 the next few hours were way lazy. way. way. way. lazy.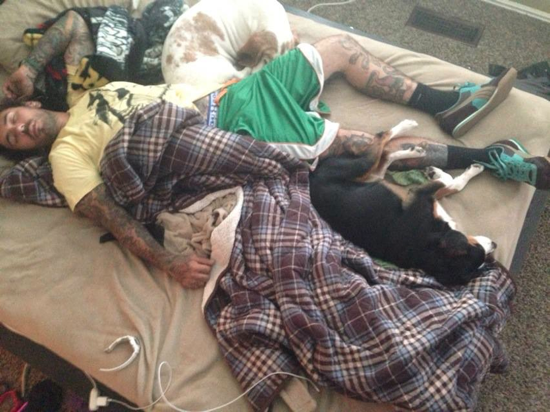 told ya.
i finally cleaned up and headed out to trader joe's and whole foods around 6. i took my sweet time grocery shopping because that's what i do.. and then got home around 8 to cook dinner. i made sweet potato shepherd's pie. it never looks great in photos, but i promise it is one of the most tastiest dishes i make! sooo good.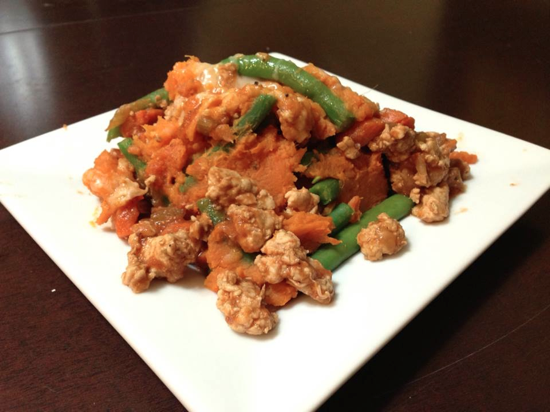 randy thought he could stand on my legs to get a good view of marshall eating his dinner. i mean, you can't see much down on his basset hound level.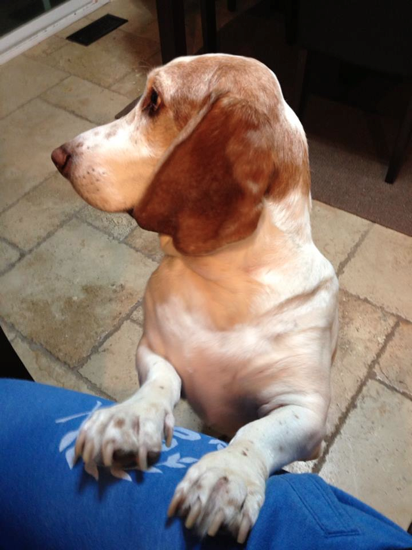 it didn't win him any bites. but he sure is cute!
now i am typing this and celebrating the fact that i don't have to wake up at 5:30 in the AM tomorrow! can't wait to sleep in, take the pups to the park, and maybe do some labor day shopping. hope your labor day is fantastic!
Qs~
1. what is one of the tastiest meals you make?
2. do you have any goals for september?
xo. janetha g.