hi! happy labor day weekend to you. i woke up this morning at 7 AM thinking it was time for work, but realized it was saturday and got real happy and went back to sleep for two more hours. i also woke up with my head at the foot of the bed.. no idea when i turned around in the middle of the night, but marshall is guessing it's because this monster was snoring in my ear so i flipped around.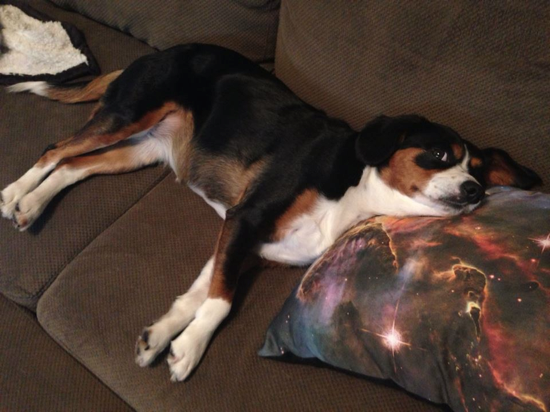 she is the snoring QUEEN. and she insists on laying on our pillows.. sawing logs right in our ears. of course, we are too big of pushovers to do anything about it. she and randy basically run this place. 
after i rolled out of bed around 9:30, i got ready and we hit up the farmers market to get peaches! they are sooo good right now. peaches are my favorite fruit, so i am super stoked that it's peach season.  we also got some basil, cilantro, and onions. i need to start doing my meal planning on friday night instead of sunday, so i can pick up produce at the market rather than wander around with no idea what i need. 
marshall headed to his third (and final.. i think) fantasy football draft and ALL my laundry is folded. that never happens.. so i have found some spare time on my hands! i decided to use my spare time to tell you guys all about the advocare 24 day challenge that i am starting TOMORROW!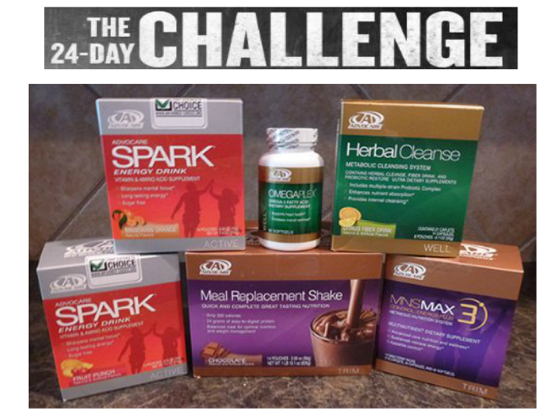 a little note on me doing a new challenge… if you have been reading here for awhile, you know i am a challenge junkie. it all started with body for life, then i did insanity, jamie eason's livefit trainer, fitmixer bootcamp, and probably some others i can't think of at the moment. in the past, i have been criticized for my participation in challenges–people have said it is ridiculous to do a new challenge and claim that i am "never satisfied" with myself. not true. 
some people train for marathons. others practice and compete in sports. i like to pick random fitness challenges and do them–it's the same concept. i told marshall, "you like to get the latest video game and beat it. i like to try the latest challenge and complete it." it's fun for me. we do things that challenge ourselves because it's rewarding to accomplish hard things. i get very bored with my daily routine and sometimes i like to throw a new challenge into the mix to liven things up and see how i do. 
do any of you read the great fitness experiment? charlotte wrote a whole book about doing different fitness programs and challenges, just for the sake of doing them. that's something that is totally up my alley! i like to try things, know what they are all about, and if i love them.. then i like to share them with others. i dunno, maybe i am weird for being super into various challenges, but we all have something and this is my thing. so that's that.
so! let's talk more about advocare and the next 24 days ahead of me. i initially found out about advocare through michelle davis, a very inspirational fitness professional that i follow on instagram.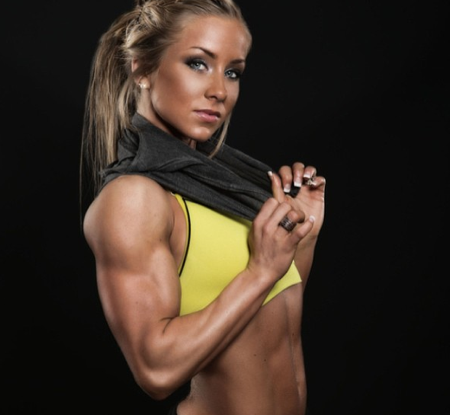 isn't she gorgeous?! not only that, she's hilarious, full of useful information, and really down to earth. for months i have seen her talk about advocare, the challenge, her use of the brand's supplements, and her clients' success with the challenge. after seeing several more people i know try the challenge and love it, i decided i may as well give it a shot. 
i talked to michelle on the phone prior to ordering my challenge pack, and she explained more about advocare and their products to me. something cool about advocare is that they are informed choice certified.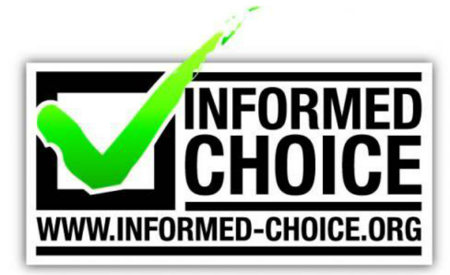 this means all advocare products have been tested for banned substances by the world class sports anti-doping lab, HFL sport science. this is a rigorous certification process and advocare's stuff has passed the test. this was great news to me, as we buy a lot of supplements at GNC that we don't necessarily know EVERYTHING about. michelle informed me that companies aren't required to label products that have harmful substances in them and she knows athletes who have unknowingly taken steroids or other harmful ingredients in their supplements. yikes. the informed choice checkmark gives me peace of mind that i am not taking anything with sneaky ingredients. 
advocare has several different product lines and SO many different products to offer. here is just a small sampling of what they sell. 
on our phone call, michelle also explained to me that i could become an advocare distributor in order to get 20% off the purchase of the challenge. there was a sign up fee to become a distributor, but because i buy lots of other supplements for marshall and myself and because the distributor welcome kit comes with some free supplements, it balanced out.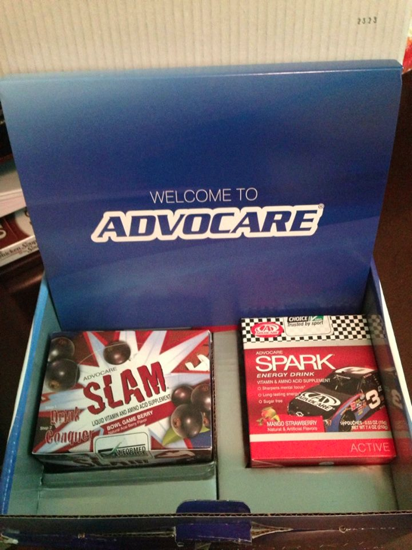 i was already planning to order the challenge, two companion products for the challenge, some arginine, and nighttime recovery in my first order alone. sooo.. in the long run it was totally worth it for me to go the distributor route rather than buy it right out. i think it is dependent on each person and how much you want to buy from the company. if you are just doing the challenge and nothing else, i'd probably say just purchase it as a one-and-done thing.. but if you plan to buy other products throughout the year (the distributor fee renews every year) then it's worth it to become a distributor. 
enough about the company, let me tell you more about the actual challenge. there are two phases within the 24 days: the cleanse phase and the max phase.
the cleanse phase is 10 days long and is designed to remove waste, rid your body of toxins, and prepare it for maximum nutrient absorption. this is a three-part supplement regimen. the herbal cleanse is taken morning and night and it cleanses the digestive system and removes any accumulated toxins. the omegaplex is a blend of fatty acids that help with heart, nerve, muscle, skin, bone, and immune health. finally, the spark energy drink mix promotes mental focus and increased energy. it replaces coffee or other caffeinated beverages you may be drinking.. yep.. giving up coffee for awhile. gulp.
the max phase (days 11-24) gives your body the best tools to achieve your goals. this is a four-part supplement regimen. 
the MNS vitamin pack comes in three versions–max C (appetite control), max E (added energy), or max 3 (C and E combined along with overall wellness.) i went with max 3 per michelle's recommendation, since i am not necessarily trying to drop a lot of weight–i just want to feel good (and, yep, look good. who doesn't?) the max phase also has a meal replacement shake. it comes in several flavors, but only one of those flavors is plant-based. since i am still mostly off dairy, i went with that one. it is dark chocolate. the stats on the shake are great–balanced protein and carb grams with a little fat. reminds me of my body for life days. you continue to use the spark and omegaplex throughout the max phase, which were both included in the cleanse phase above.
here are a couple challenge result photos from michelle's clients: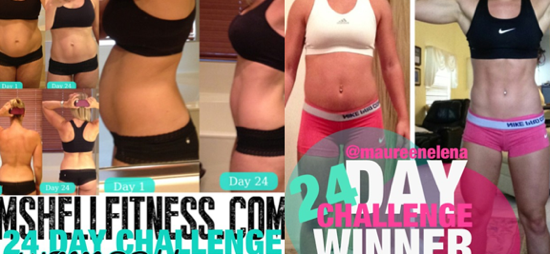 pretty sweet! the challenge comes with a guide that walks you through each and every one of the 24 days. they suggest a nutrition plan with both food options and timing.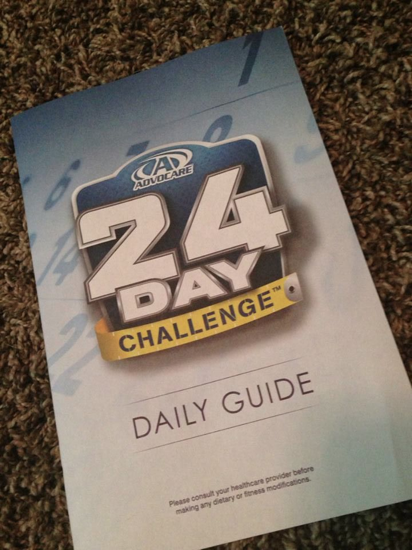 i love things like this.. i can write in my workouts, meals, supplement intake, and other notes for each day of the challenge. i am one of those losers who loves the office store. yup.
the challenge itself doesn't have any specific workouts to go along with it. there was a 24-day workout DVD available to purchase with the challenge, but since i am already in my own fitness flow i decided to stick with  my daily GPP workouts and call it good. they are definitely intense enough and i think the challenge will go hand in hand with my current workout schedule. 
 like i said i ordered a few more things to go along with my challenge and with my training in general. i bought two challenge companion products (of the three they suggested): thermoplus and catalyst.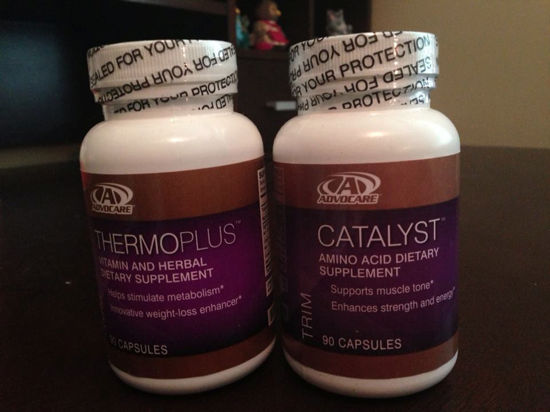 i am a fan of thermogenics (have taken them in the past) so i ordered thermoplus. it aids in converting fat into energy and promotes a healthy metabolism. catalyst helps maintain muscle mass and helps repair and protect muscle tissue.
after talking to michelle about my lifestyle, workout regimen, and goals, she suggested the arginine and nighttime recovery.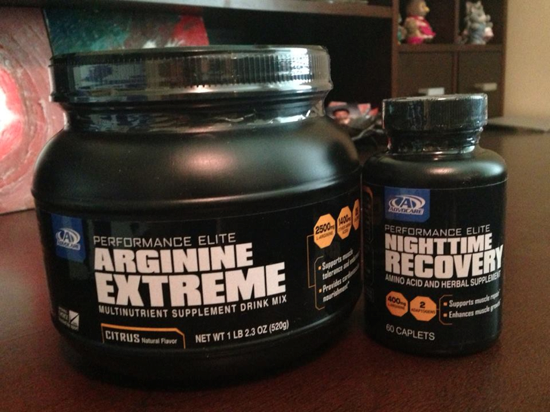 arginine is an all around amazing supplement for athletic performance. it supports a healthy cardiovascular system, helps enhance strength and stamina, aids in delivering nutrients to the muscles, and even helps enhance reproductive function.. which is cool for me right now. nighttime recovery promotes muscle growth and repair while you sleep. it is taken before bed and helps your body respond more effectively to the demands of physical activity. it also helps with the stress you can put on your body from exercise.
SOOO.. that's the plan! if you would like to hop on board and do the challenge with me, you can go to my advocare store and order it HERE. you can also find all the other stuff i talked about in this post, along with many, many, many more items. if you have any questions about the company or products, please let me know! i am happy to answer what i can, and what i can't answer i can ask michelle and get an answer to you ASAP. also, if you are thinking of becoming a distributor like i did, shoot me a note using my contact form and i can fill you in on all the details. 
have a great holiday weekend!
xo. janetha g.