hi! first of all, thank you all so much for the support you have shown for dear little cami and her fight against cancer. the power of community never ceases to amaze me.
yesterday i was in for a real treat. there's a gym in sugarhouse (an area of salt lake city) called BIFG (boxing is for girls) where my boss' sons have been going for a few months. yes, sons.. boxing is for girls is for boys, too. anyway, my boss has been telling me and my friends/co-workers kerryne and amanda that we have GOT to get in there for a workout.
we heard the type of training offered at BIFG and also checked out some videos on their website. it definitely looked super tough, but the three of us are always up for a new challenge.. especially when it comes to fitness. we accepted the challenge but with me being out of town recently and with the other girls' schedules, it kept getting put off. lucky for us, the cards finally fell right and we got in for a workout last night.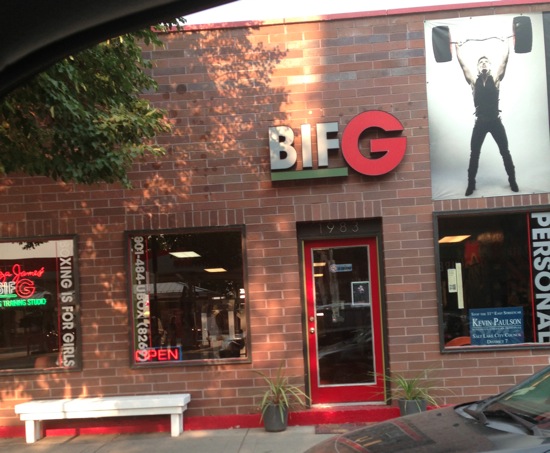 i had never tried boxing before, but it had always been on my bucket list. my boss had told me the BIFG wasn't just boxing, but a ton of cross training and cardio and strength training, too. he described a few of the workouts to me so i knew what to expect… but, really, nothing could have prepared me for the solid hour of intensity that we went through last night!
we arrived and the first thing we did was wrap up our hands. fortunately, eliza, the gym owner, showed everyone else how to do this by using my hands… so i didn't have to wrap my own. surely i would have messed up more than once, haha. the class was a private one and it was just me, amanda, kerryne, nick (my boss' son), and two employees, MJ and jessie. once the six of us were wrapped up she went over the boxing stance as well as four punches: jab, cross, hook, and upper cut. (geez, i hope i got those right. you know me and my memory…)
once we felt good about those moves, it was time to start the workout with a (not even a little bit) easy warm up. we had to bear crawl across the room (maybe 40-ish feet?) and then bear crawl backwards back to the starting line. have you ever tried to bear crawl backwards? you should get up right now and give it a shot. it's crazy hard. we had to go forward and back once in the first minute and got the remainder of the minute to rest. the next minute we had to do it twice and got the remainder of that minute to rest (which was, like, 15 seconds for me.) we did it a third and fourth time, and i don't even know what happened. i was bear crawling all over the place… falling on my face, for sure.
then the real fun started. can you sense the sarcasm in my tone? this next routine was brutal. (and, okay, it was actually a little bit fun.) we put on our boxing gloves…
…and started an intense circuit. here's a little diagram to help with the explanation.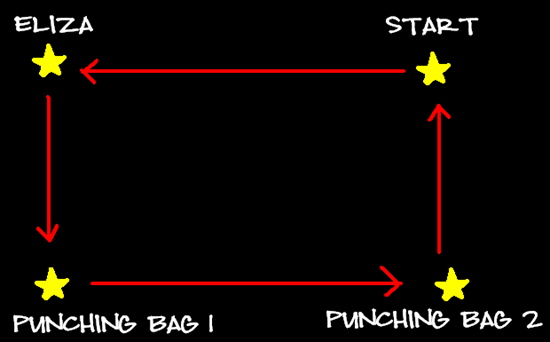 we lined up at the start. each time it was our turn, we did one burpee with a knees-to-chest high jump and then sprinted to eliza, did one jab, sprinted to punching bag 1 and did one jab, then to punching bag 2 for one jab, and then back to the start. then we did it again with two jabs—all the way up to five.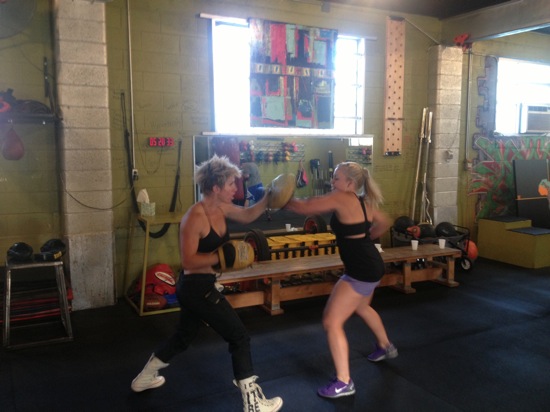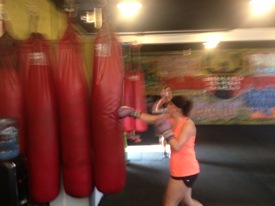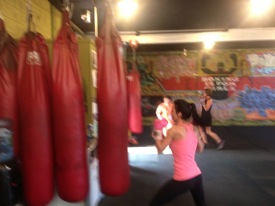 THEN we did the whole thing over again, from one to five, with a jab and a cross. don't worry, that wasn't the end. we repeated the jab one through five again followed by the jab cross one through five again. oy. lots of jabbin' and crossin' and runnin' and burpin'.
we had a very short water break and then it was back to business. the punching bags came out and we were partnered up. i was with jessie, who has been in the boxing bizz for thirty years. that's nothing to sneeze at.. she is one tough chick. we did a series of drills where we'd punch the bag for one minute straight.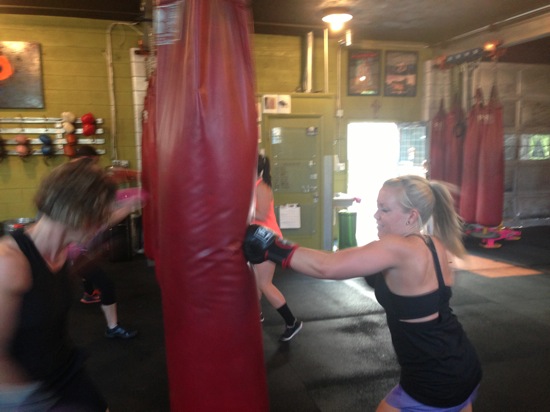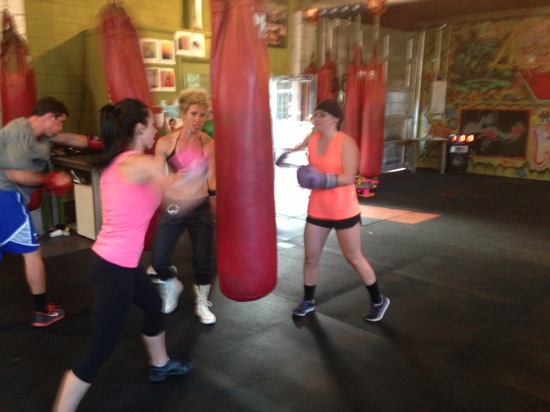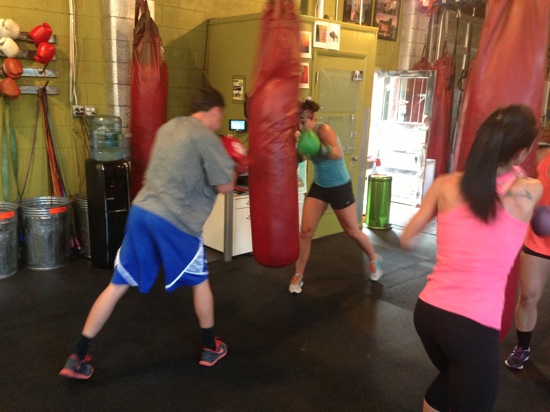 after a minute, our partner had thirty seconds to get to the other side of the room while we tried to hold them back. then there was thirty more seconds where we tried to push back to the side with the bags and our partner tried to hold us back. this was rather comical for me, as i could not get jessie to budge and she did an incredible job of holding me back. it was like i was trying to push a boulder across the room. rock solid.
that was actually a lot of fun and we laughed a lot—even though it was incredibly tough.
the next phase was a game of fetch! half of us threw boxing gloves across the room and our partner had to sprint to retrieve the glove and bring it back. sounds easy, until you throw eliza into the mix. she worked hard at defense and sabotage. she'd pick up the gloves just before we got to them and toss them outside or across the room. she would tackle us and block us and make it very hard to retrieve the gloves.
after the game of fetch, it was time for some more boxing drills. we took turns playing offence and defense with our partner. i was on the offence first and practiced my jab, cross, and hook. i am not the most coordinated gal, so this was really hard for me mentally. i kept messing up which hand threw which punch. i knew it would be tricky for me because i always have a hard time getting the moves down in the body combat class at gold's. i'd be totally screwed in the real boxing ring, ha!
after awhile we switched and i was on defense. i was actually surprised what a good core workout it was to "slip" (which means to dodge the opponent's punch rather than block it.) i was slipping left and right and definitely felt the burn in my abs. in addition, i was getting a good coordination workout! i liked this drill a lot.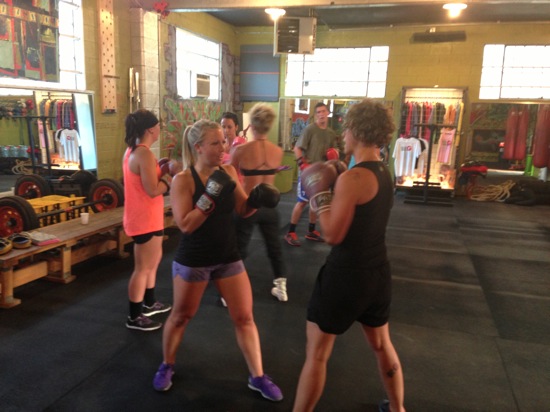 you'd think we would be almost done after all that.. but there were still a couple more fun-filled activities left. next we did a set of tabatas with knees-to-chest high jumps. for those who don't know, tabatas are 20 seconds of work followed by 10 seconds of rest for eight rounds.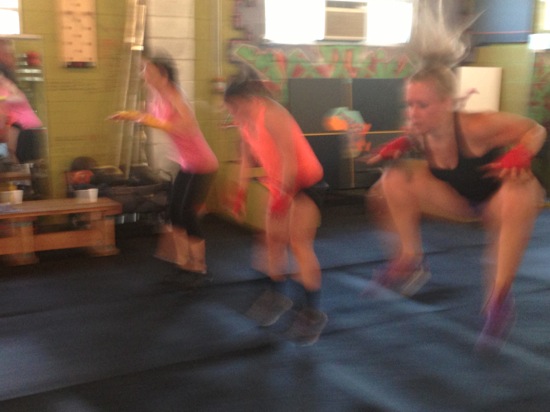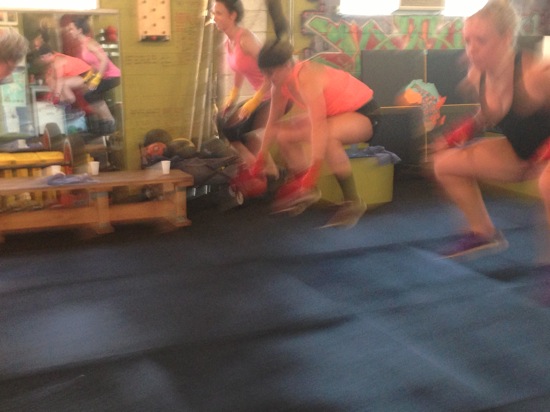 my first round i managed to get 15 jumps, but that number plummeted quickly and on the last round i only managed to get six in. it was such an intense workout in a very small amount of time!
our FINAL task was a little body-weight strength training. we had to do twenty five rounds of a push-up followed by a pull-up. i was pretty beat by this time, so every single rep was taxing. i made it through, though, and was so happy that the workout was finally over. it was nonstop intensity and it felt good to finally be finished! we were dripping in sweat, but still smiling.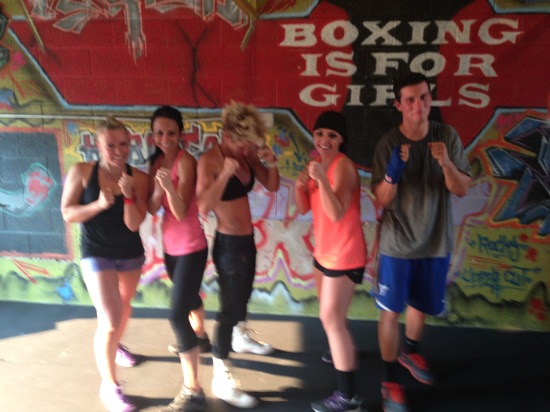 PS sorry all the photos are pretty blurry.. my boss isn't the best photographer, haha, but i was stoked he was there taking pics for us!
i definitely LOVED working out at BIFG and really want to go back. while it was tough and brutal, it was a new kind of workout and it was a lot of fun! we were constantly doing new things which made the time fly by and it didn't seem like we were just at the gym to get a workout. we were there to have a good time and try new things, and getting our butts kicked was just the added bonus.
i left and headed straight to whole foods to grab a few things for dinner… and 24 ounces of watermelon that i inhaled in the car before driving home. yum.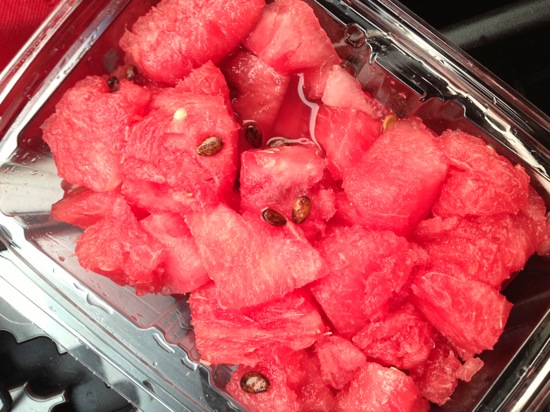 thanks to my boss for lining up the training session for us. hopefully we will get back there soon! they have a group class at 7 PM every night for $15.. i want to check that out. other than that, everything they offer is one-on-one personal training or small group training like we did yesterday. not sure how much that would run, but if it's reasonable i may have to see about purchasing some sessions. i would love to do workouts like this on a regular basis!
Qs~
1. what is the last new-to-you workout you tried? did you like it?
2. have you tried boxing or kickboxing? 
xo. janetha g.