hey, guys. i have something super important to share with you today, so please take a moment to read (and help) if you can!
i have a couple of friends, chelsea and pat carver. i've been friends with chels since junior high and with pat since high school.. and these two ended up marrying each other and making a couple of super cute kiddos. i hadn't seen them for years and years, until i started going to GPP. chels and pat both go to GPP, so it has been fun to reconnect with them.
chelsea and pat have the most adorable little girl, cami. in july of 2010, little cami was diagnosed with leukemia at the age of four. after a long battle, she kicked that cancer to the curb and was cancer free as of september 2012.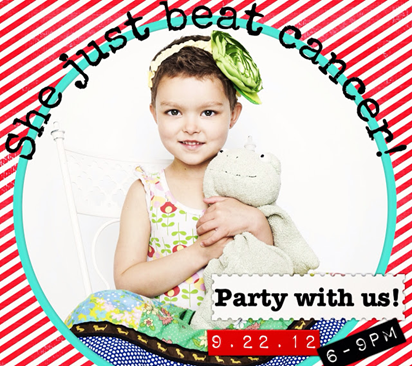 in the midst of all this crappy cancer stuff, chelsea co-founded the website PS i adore you. it is a daily deal website that donates profits to children with cancer. it's a wonderful website and company. (they were actually a sponsor for blend retreat! if you were there, you may recall a cute chevron headband in your swag bag. that was donated by PS i adore you!)
it's incredible to see what the carvers have done to help kids with cancer, they are very passionate about making a change and doing whatever they can, whenever they can. they are some of the best people i know.
last week, the carvers got some sad news. after almost a year in remission, cami's cancer had returned, and this time she needs a bone marrow transplant. you can read the story in chelsea's words on the kisses for cami blog.

cami waiting in the ER
in cami's first day of treatment, she went through a lot.
in chelsea's words:
It all started early Thursday morning, Cami went in for surgery to have her central line (broviac) placed then we were admitted to the cancer unit.  That day was overwhelming and exhausting.  Cami went through surgery, a back poke with chemo, an EKG, an EEG, another MRI, she started the dreaded steroids and 3 different chemotherapies.. all in the first day!  We were blown away by Cami's attitude through the entire thing!  She was so brave and strong and just all around amazing, oh I love her so!
doesn't that just touch your heart? she is quite the brave and strong little lady.
as if dealing with the emotional and physical hardships of her cancer returning isn't enough, there is the financial aspect of it all. the cost of the bone marrow transplant along is close to $300,000 and their insurance will not be covering all of that. additionally, the cost of a second round of hospital stays is going to add up.
one great thing about bountiful, utah is the community is very strong and supportive. within days, several have reached out to see what can be done to help cami and the carvers with this newfound situation.
on saturday, september 7th, there will be an event held to raise money to help with the medical bills.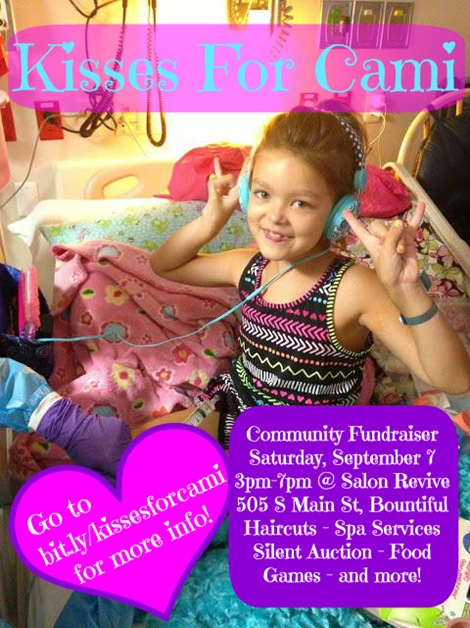 there is a facebook event with more information about the fundraiser —-> HERE!
the event will be held at salon revive on 505 S main street in bountiful from 3-5pm on saturday the 7th. there will be haircuts, spa services, a silent auction, food, games, and much more.
be the match, a national marrow donor program, will be at the event as well.
they will be swabbing mouths in order to match cancer patients with donor matches. i had no idea that it was as simple as a swab in order to find marrow matches. i am thrilled to know be the match will be there! once tested, your information will be listed in the registry and will become part of every patient's search for a matching marrow donor. you can even send your swab in through the mail if you can't attend this event. i think this is amazing!
i know the majority of you are not local and will not be able to attend the event, but if you ARE local, i wanted to let you know all about this. please save the date and come if you can!
if you would like to donate an item for the silent auction, i am helping collect anything under the sun. if you have a company that would like to donate something or if you simply want to donate a gift card or item to auction off, please let me know in the comments or you can email me using my contact form. every little bit helps!
if you would simply like to make a monetary donation to cami, you can do so via paypal. click the image below OR simply go to childrenandtheearth.com, click the upper right link that says "donate", and then specify that the donation is for "cami carver" when finalizing your paypal payment.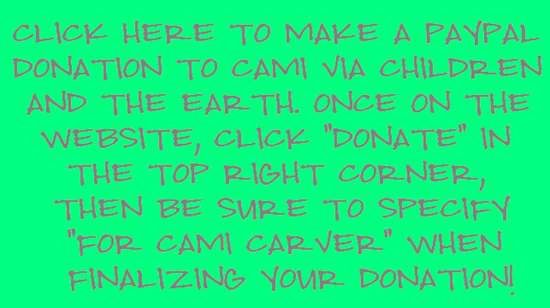 i know not everyone can help financially, that is definitely understandable. but another way you can help is to simply send cami some cheer during her hospital stay.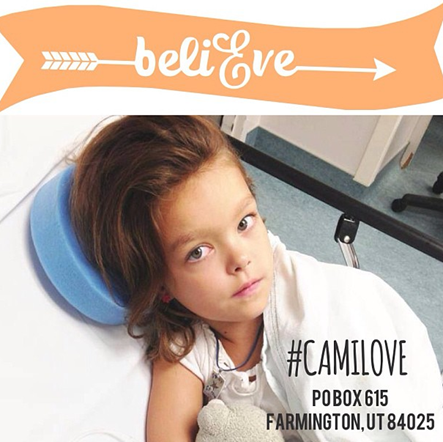 PS i adore you has asked everyone to reach out to little cami:
Cami will be living in the hospital for the next month and we want to do all we can to make her smile! We want to flood her room with gifts, letters & treats. It can be as simple as a little note! She loves arts and crafts, littlest pet shop, and all stuffed animals! Please help us spread the word! Send 'mail love' to Cami Carver at PO BOX 615, Farmington Utah 84025. Together we can make a BIG difference!! #camilove
i have been working on building a website for donations for cami and for the big event. there is a lot of content to be added, so it may be about a week before it's done. once it is finished i will let you guys know so you can follow the action there!
so that's my plea for the day. we are all rooting for cami to kick cancer's butt this second time around. please help if you can, and if you are a prayer.. keep her in your prayers. thanks so much!
xo. janetha g.