the following post is sponsored by FitFluential LLC on behalf of PUMA.
i am an equal opportunity consumer and i love all brands of shoes.. but there is one particular brand that i hold close to my heart… puma.
you see, my husband (marshall) is really fond of puma. he used to wear only puma shoes exclusively (and has only branched out to other brands in the past couple years.. but still sticks  to puma 99% of the time.) he and our groomsmen wore custom pumas in our wedding. he even has a puma tattoo. what can i say, he loves puma.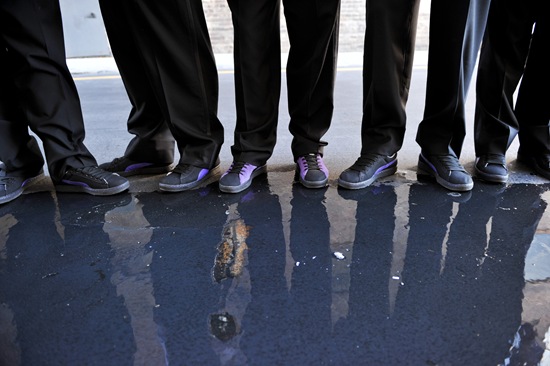 so, naturally, i love puma, too. that's what happens with marriage. you love the things your spouse loves because you love your spouse. like puma. and the green bay packers. and eating cereal before bed. oh—wait—i already loved that before he came along.
but, yeah, i love puma. i have puma flip flops and puma tank tops and puma pants and puma shorts and puma purses and puma running shoes and puma hiking shoes and puma cross training shoes and puma casual shoes and puma shoes penny has chewed.. i have lots of puma stuff. but, still, that is only like 13% of the amount of puma stuff marshall has.
anyway, i have been blogging for 4 years and some change. i have done lots of reviews. marshall always asked if i was ever going to get to review some puma gear. i heard about the puma campaign through fitfluential and immediately applied. you can imagine how stoked i was when fitfluential selected me for the campaign. i was pleased as punch!
so, now that i have spent fourteen hours and twenty-six minutes explaining how much puma means to me, i will tell you all about the gear they sent!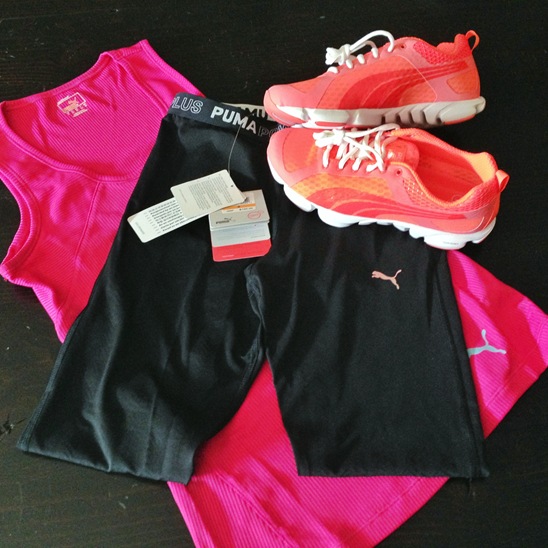 i received both an outfit and a pair of shoes from puma. they sent a pink ribbed performance tank top (which is actually on sale right now) and a pair of the ACTV compression tights. the shoes are the formlite XT ultra fluo training shoes.
i wore the tank and shoes just minutes after receiving them because i was headed to GPP for a workout. since it's so hot this summer, i opted out of trying the tights out immediately.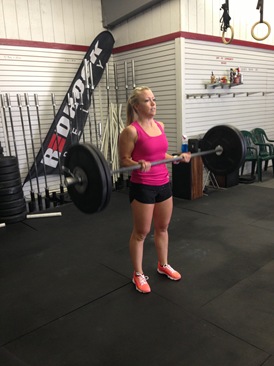 i really like how long the tank is. the ribbing makes it more stretchy than most tanks so it has more give. it's very flattering and comfortable. i wouldn't typically purchase a pink top myself, but i think it's a fun addition to my workout wardrobe. it also comes in white, black, and blue. as i mentioned above, it's on sale for $18, which is very affordable for a workout top.
i was so surprised at how light the shoes are! looks are definitely deceiving on these ones as they definitely don't look like a minimalist shoe. in addition to being feather-light, the outsole design was actually inspired by a feather. here, take a look: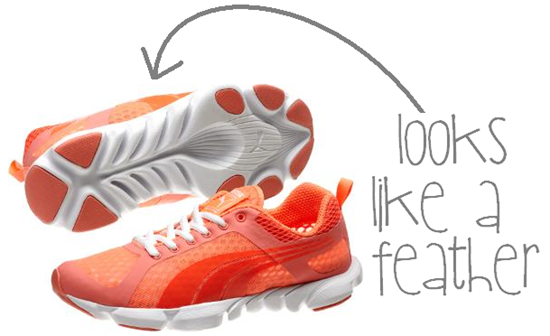 these shoes are both breathable and form-fitting and, most important of all, are very comfortable. they also provide a great deal of stability. i have used them for sprinting, kettlebell work, jumproping, heavy weight lifting, box jumps, and several other complex movements. they provided the perfect support for all movements, without weighing me down a single bit. they are aerodynamic and very flexible. the florescent peach color is an added bonus—i love bright colored shoes!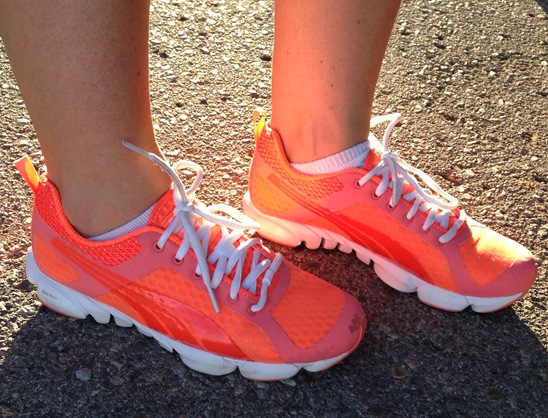 these also come in blue and purple (swoon) and will run you $70. i think that is a very reasonable price for a good pair of training shoes and they are definitely worth their price tag. i have found that puma products are always fairly priced. everything is also quality-made, so you know it is a sound investment whenever you purchase anything from puma. it's made to last.
like i said, i didn't try the compression tights out (yet.) it's wayyy too hot here in utah for anything but shorts. i haven't even been wearing crops, let alone pants. i do look forward to wearing them this fall and winter, though! here is a little bit about the tights for those interested (taken from puma directly):
Puma ACTV Technology integrates athletic tape right into the interior of the garment, in anatomically strategic positions, to help you maximize your workout. powerCELL Level 3 advanced compression apparel: next to skin layers are designed to work with your body's natural systems to help you enhance and maximize your performance during and after exercise. Lycra content provides long lasting elasticity for enhanced freedom of movement.
click the links to see the technology and benefits of ACTV compression gear. these are not just your average training tights! head to their online shop if you want to pick up these sweet kicks, some compression gear, or anything else from puma.
puma is all about making fitness FUN and asked me to make up a fun workout to go along with this post. now, you may know i am a word nerd. i love acronyms and palindromes and anagrams. so it's only fitting that i made an acrostic workout using the letters in "puma fitness"!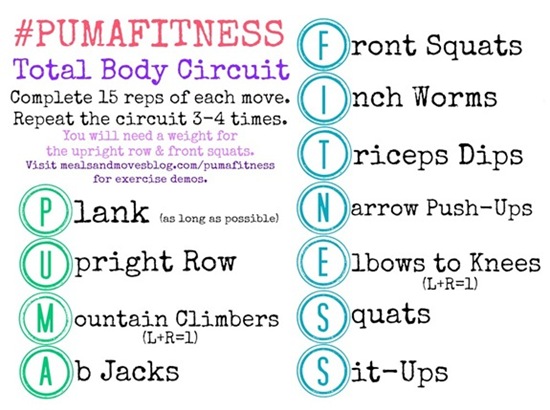 this workout will challenge your endurance and will hit your abs, shoulders, legs, chest, arms, and glutes. it will also help improve your flexibility and strength. it's an all-around butt kicker and you can adjust it to your ability level.
you will need a little bit of equipment for two of the moves. pick a weight that is challenging for you to complete 15 reps, but not impossible. the weight can be a kettlebell, a set of dumbbells, a barbell, or even a sandbag.
the first move is a plank, which you will hold for as long as possible. you will then complete 15 reps of the remaining 10 moves one after the other. rest for a few minutes (if needed) and complete the circuit 3-4 times. if you can complete multiple rounds without resting, go for it! keep that heart rate up!
here's a breakdown of the moves:
click the hyperlinks to view youtube video demos of each move.
P is for plank. hold this for as long as possible. if you want to take it up a notch, try these!
U is for upright row. you will need a weight for this move. choose one that challenges you.
M is for mountain climbers. complete a rep on the left and a rep on the right to equal one full rep.
A is for ab jacks. keep your butt down!
F is for front squats. you will need a weight for this move. choose one that challenges you.
I is for inch worms. these really get your hamstrings! go slow and focus on the full range of motion for the most benefit.
T is for triceps dips. see progressive options in the video.
N is for narrow push-ups. you can do these strict from toes or knees or you can snake them.
E is for elbows to knees. complete a rep on the left and a rep on the right to equal one full rep.
S is for squats. these are bodyweight. try to get to below parallel.
S is for sit-ups. if you want more of a challenge, try weighted sit-ups.
this workout is a lot of fun and is a great way to mix it up and challenge your body to new moves. give it a shot!
thanks to puma for sending this fun gear for me to try. we will continue to support puma forever and always. if only they made dog collars…
your turn for acrostic fun! take your initials and list a move for each letter.
xo. janetha g.