hi! happy friday! man, it's hard to believe that a week ago today i was enjoying myself in maine. now i am back in the 84087 just doing the daily grind… sigh. sure wish my job was to be a traveling food critic. that would seriously be my dream job!
anyway, the last day of our boston & maine trip.. let's talk about it.
i woke up super early—the earliest i'd woken up the entire vacation—6:30 in the AM! and, yes, that's super early in my book. the reason i popped out of bed was that i wanted to go check out the local crossfit gym. i hadn't worked out the entire trip (even though i had packed no less than four workout outfits… ) and i thought it would be a fun thing to try out. i had never done crossfit before, but GPP has a lot of similar movements and so i was confident i would enjoy myself.
i headed to crossfit beacon, which was on the other end of town, for the 7 AM class.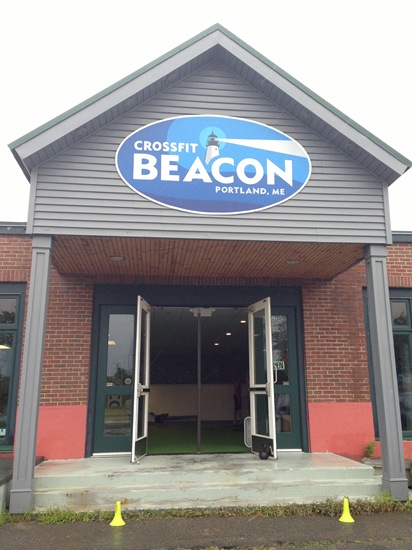 the drop in class was $25 and it came with a free t-shirt, which is a pretty great deal if you ask me! i showed up 15 minutes early so i could fill out any paperwork required. as i waited for the class to start, about ten new people came through the door. i thought that was pretty out of the ordinary, and i was right. as it turned out, a girl was getting married that day and she had her whole wedding party coming to the class to workout together before the wedding shenanigans got started. how fun!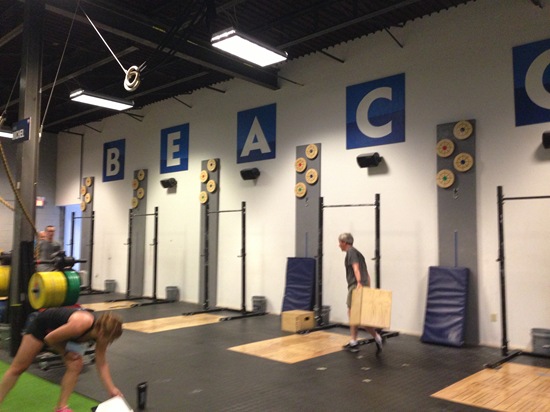 the WOD included moves that i was already familiar with, which was nice.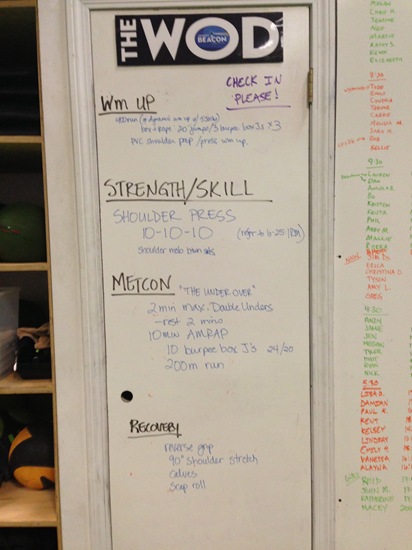 one impression i had about crossfit was wrong—i figured the workouts were pretty quick. as it turns out, there is a warm up, a strength session, a metabolic conditioning session (metcon), and a cool down. when all was said and done, the WOD took just over an hour. it was definitely a change for me, since my GPP workouts take an average of 25 minutes. (some are as little as 10 minutes and others take up to 45—but the majority last 25ish minutes.)
anyway, after our warm up we moved onto overhead presses. i teamed up with a couple of girls and we shared a bar. they were strict, so i only ended up with 60# as my max. then we moved on to the metcon which was two minutes of double unders (which i struggled with because my rope was too short and all the longer ones were being used) followed by 10 minutes of burpee box jumps and sprints. the Rx box for ladies was 20", but the box at my gym is 15", so it was a little different. i actually liked the higher box. i managed to complete five rounds in the ten minutes. not bad! it was rainy on the sprints, but i was still smiling afterwards.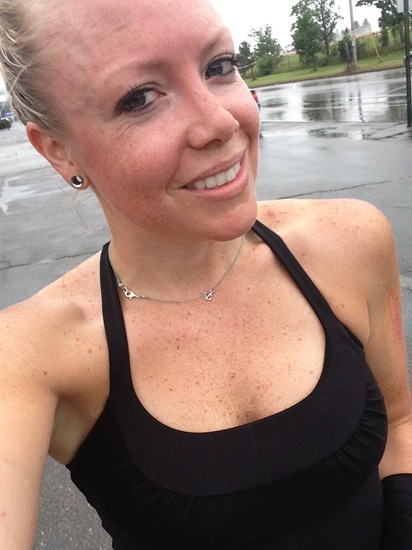 i definitely enjoyed the crossfit class all around. the environment, the people, and the movements were all great. it would be fun to go again the next time i am traveling. it's fun to meet like-minded locals!
i headed back to pomegranate inn just in time for the breakfast. i met up with marshall and we headed to the dining room for another three-course meal. we had coffee and the same greek yogurt/granny smith apple/orange juice as we'd had the day before. the first course of this meal was roasted pineapple with pistachios, mint, and crème fraîche.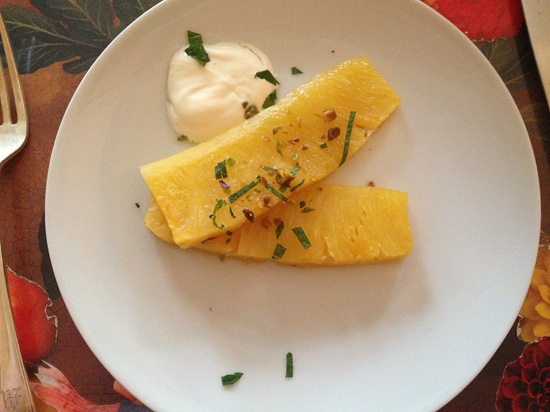 the second course was a delicious cinnamon streusel coffee cake. it was so M-word.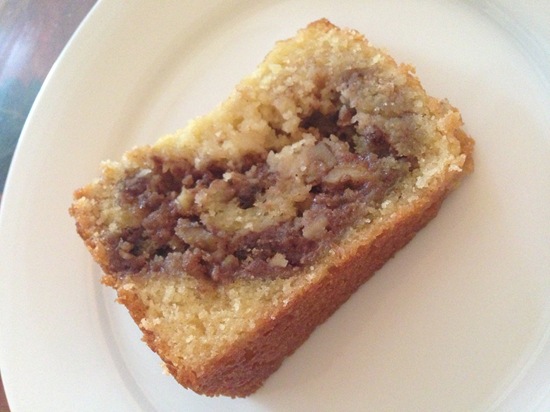 the third course we had the option of an omelet or buttermilk waffles with berries and bacon. since i'd ordered an omelet the day before, i went with the waffles. i was kind of on sweet overload from the first two courses, but i figured the savory, salty bacon would balance things out.  plus, marshall let me eat his bacon, so it worked out well.
the entire meal was incredible. i lingered a bit afterward, chatting with the innkeeper about traveling. i am so envious of his job—hang out in a beautiful city and serve people breakfast. that's my idea of a great career.
after breakfast we packed up our luggage and checked out of the inn. i was sad to go! but we had a fun day planned before heading back to the airport in boston. if you are looking for a place to stay in portland, i definitely suggest pomegranate inn. we were very impressed!
we headed to cape elizabeth to check out the well known portland head lamp. it was overcast and cool, perfect for walking around the area and taking in the beauty of it all.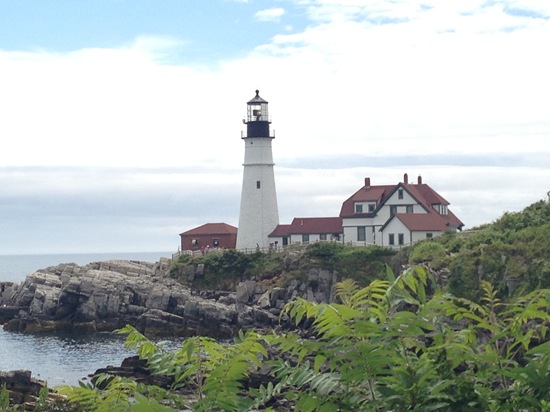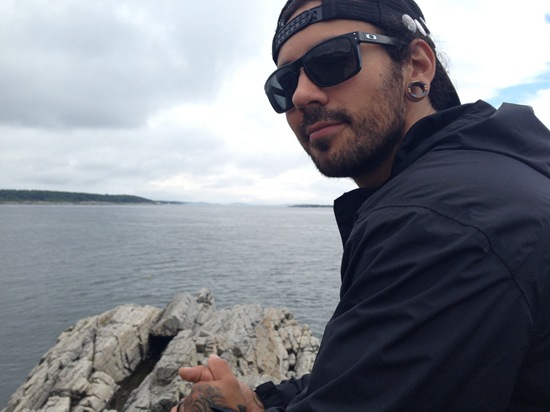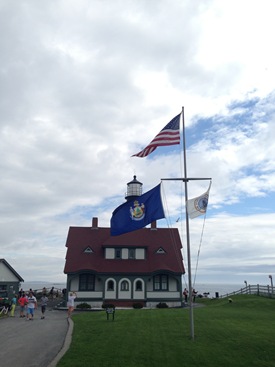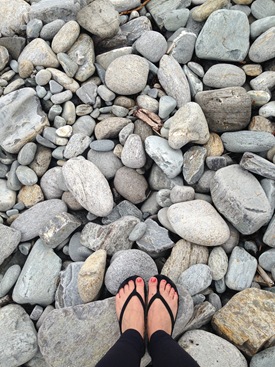 apparently there was a race (beach to beacon) the next day, so there were lots of people there setting up for that. i had no idea! a few of my blog friends were actually running the race and were getting into maine later that day—i just missed them. shoot.
after cape elizabeth, we headed south to old orchard beach. i am so glad we decided to make a pit stop there because it was a super cool beach!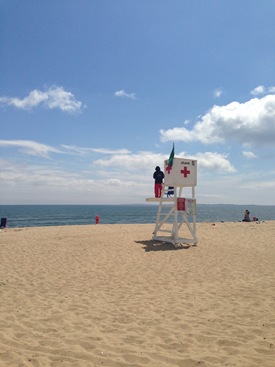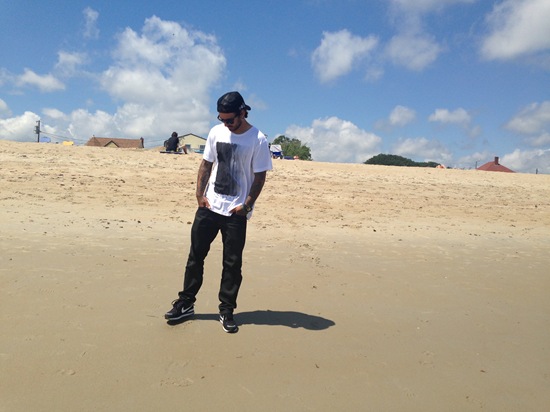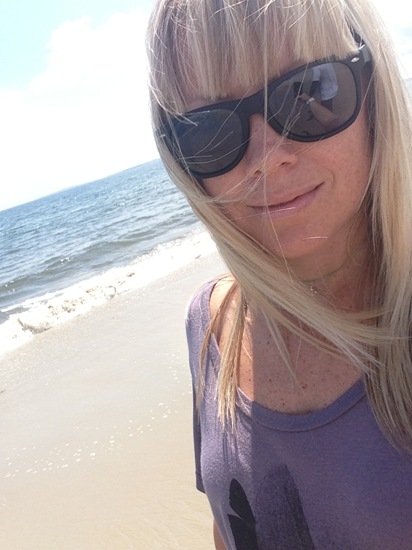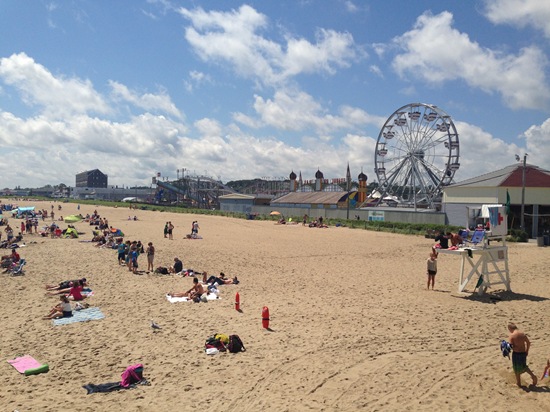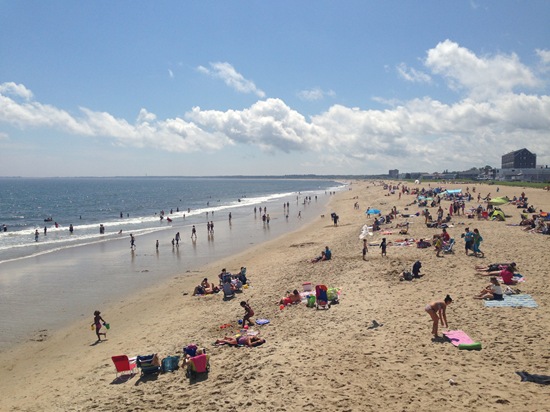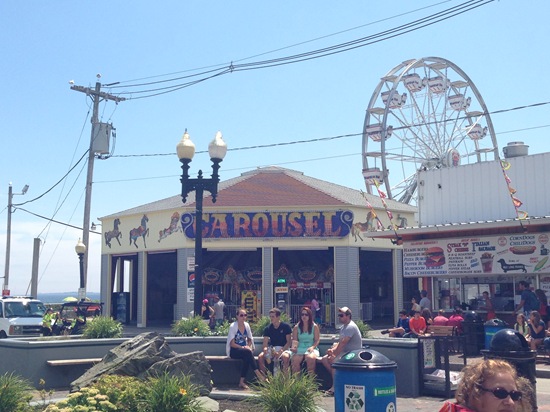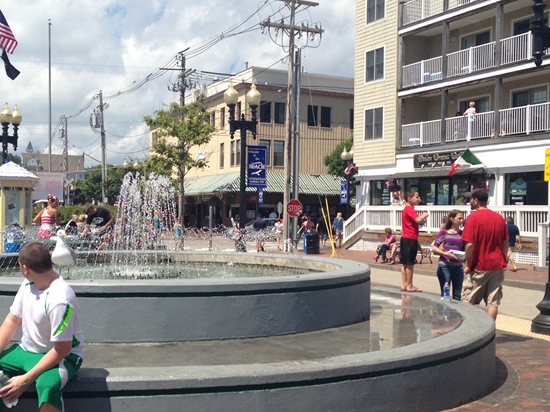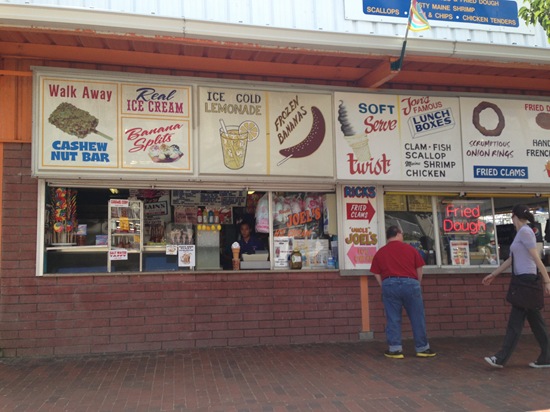 there were lots of people, carnival rides, cute shops, and lots of food. marshall grabbed some pizza and shared it with the seagulls. fun fact, did you know the seagull is the utah state bird? yeah.. we don't have a sea anywhere near us.. but the great salt lake is even saltier than the sea.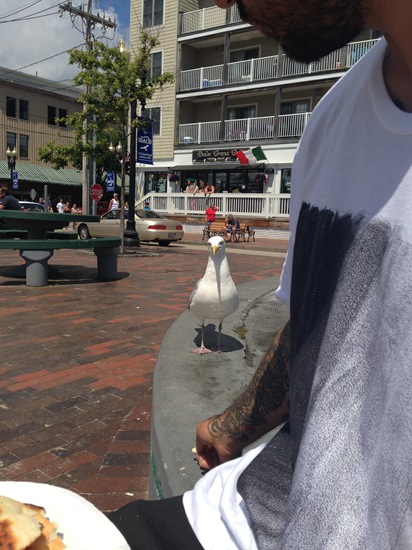 i didn't eat anything (although i did get a huge lemonade to quench my thirst) because i was saving my appetite for a lobster roll! i can't believe i waited to the very last meal of the trip to try one. it was on the top of my list the whole time! marshall isn't a fan of seafood, though, so we always went to restaurants where we both would enjoy what was on the menu. (not complaining, because everything i ate the whole trip was remarkable!)
we stopped in kittery at bob's clam hut so i could get my much-anticipated lobster roll.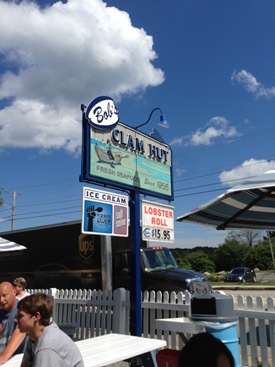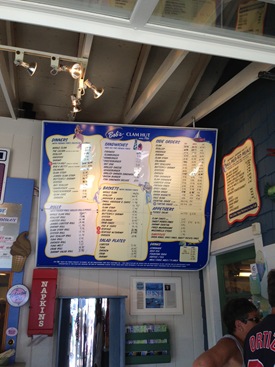 i got it to go and enjoyed it in the car on our way back to boston. i loved each and every bite–it definitely did not disappoint! i immediately consulted yelp to see if i could get a lobster roll anywhere in utah. sadly, i can't.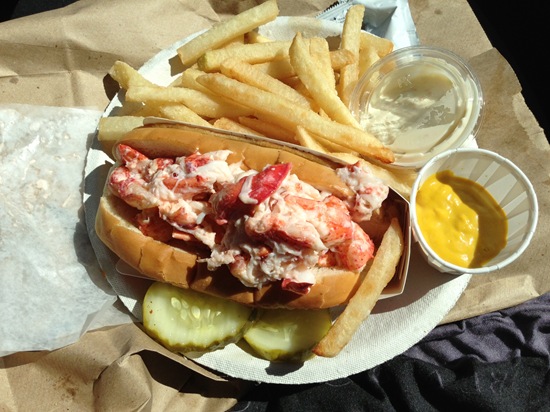 we made it to the airport right on time. we grabbed some coffee and then boarded our flight. five hours later, we were back in utah… and our adventures in boston and maine were already just memories.
i am so glad we decided to take this trip! initially we were planning to go to europe for our summer vacation, but then our relationship got a little rocky and we called that trip off. (i had asked for time off for europe two YEARS in advance.. not even joking! we will definitely be going there within the next year or two.)
we decided to take this trip on a whim because we wanted to see beach house in concert. i had NO idea that i would love portland, maine so dang much. that just happened to be where they were performing. i am so glad they led us there, because it is definitely one of the greatest places i have been (and i have been lots of places.)
thanks for reliving my trip with me! i hope you have enjoyed the recaps. i will be back to regularly scheduled blogging (whatever that even means) on monday. i might pop in over the weekend.. but i have lots to do. i still haven't unpacked my suitcase completely (I KNOW) and i have a 2-hour-long workout in the morning to finish off Rx+ week. it should be fun!
i hope you enjoy whatever you do this weekend! have a good one!
Qs~
1. if you could have ANY job in the world, what would it be? me: traveling food critic, doggy daycare owner, b&b innkeeper, or something where i can make people food all day.
2. do you go to the local gym when you are out of town? or do you work out on your own when traveling?
xo. janetha g.