the following post is sponsored by fitfluential LLC on behalf of polar.
i recently received a polar RC3 GPS heart rate monitor from polar. i hadn't used a heart rate monitor in a looong time, so i was super pumped to be picked for this campaign.
back in the day, i lived and died by my heart rate monitor. long time readers will remember when i used to post EVERY meal and EVERY move, along with the HRM stats for each workout. i am a big numbers gal and i loved seeing the stats of my workouts.
i also liked working out according to my heart rate, and even wrote a post about it back in 2010. i am a big fan of interval training. i believe it is the most beneficial type of training when trying to shed fat. i mean, when i did body for life back in 2008, i only did interval training (and only three twenty-minute cardio sessions a week) and dropped nearly 10% of my body fat.
yep, 720 minutes of high intensity interval training over the course of twelve weeks did the trick. that's an hour a week. well, and a clean diet and a bit of weight lifting—but i am talking about the only cardio i did.
anyway, i am a mess and of course i lost my heart rate monitor watch. then momma b gave me hers because she's my mom and that's the kind of nice things moms do… so i was back in business. until, of course, i lost my heart rate monitor strap. bah. told you, i am a mess. i lose everything! i actually lost my debit card five times in six months once. i know.
i have gotten a lot better over the years and have held onto the same debit card for over two years. i am pretty confident i will keep track of my new polar RC3 and the strap that goes along with it. it's too cool NOT to keep tabs on.
here are some of the reasons this particular heart rate monitor is so cool:
it is rechargeable via USB cable.
it is light and slim and comes with a comfortable chest strap.
it is integrated with GPS so in addition to tracking your heart rate, it tracks speed, route, distance, and altitude.
you can select different tracking programs depending on your activity.
after your session, the "smart coaching with training benefit" feature tells you WHY and HOW your workout benefitted you and how you have improved since the last workout. see more about this feature here.
files are saved in the watch for reference. you can look at each file, daily files, weekly files, and summaries of benefits.
you can upload your files to polarpersonaltrainer.com (using the included USB cable) and use the information to map routes, graph GPS altitude, share training with friends, and track your progress.
the watch is super easy to set up. first off, it is charged with a USB cable—both initially and for time and all eternity. hooray for never having to buy replacement batteries! after it is fully charged, there is a very simple set up process where you program the watch settings (time zone, etc) as well as the user settings (height, weight, age, gender, etc.) they have provided a detailed quick start video in case you need guidance in setting it up. that video also goes over all the functions, buttons, and menus.
it is important that you enter your personal data because polar uses this for the smart coaching feature. it combines your training data with personal data and then gives you personal training guidance that allows you to reach your goals faster and more efficiently. they actually have a very informative video on this concept here. your personal data also helps the watch track accurately as calorie burn will vary from person to person.
once programmed, you are ready to rock!  you have to put on the chest strap which is what reads your heart rate and then syncs up with the watch. the chest strap that comes with the RC3 is so soft. my old HRM strap was stiff with sharp edges that would dig into my skin.. but not this one! the strap is so comfortable and i can barely notice it is on.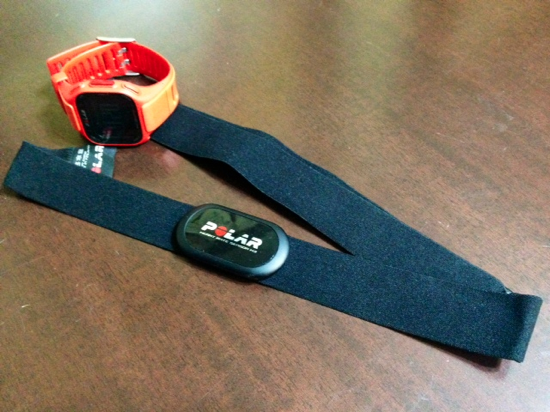 once you have the chest strap securely in place, you can press start on the watch so the two sync up. the watch clearly displays check marks when the sensors have synced successfully. (it will also show you a warning symbol if something went wrong.) the GPS satellite is also detected at this time. what i like about the RC3 is you can select the activity you are doing before you start recording. the options are running, cycling, other sport 1, and other sport 2.
it's awesome that the RC3 is both a heart rate monitor and a GPS device. combining these two gadgets is brilliant and, in my opinion, totally worth the $349.95 price tag. i know comparable GPS devices alone can cost up to $450.
you all know i am not a big runner. although i work out five or six times a week, the only running i typically do is whatever is called for in my GPP workouts. however, when i was in maine, i did decide to *gasp* go for a run. erm.. it was more like a jog. with lots of breaks to walk and sight see.
for my jog in maine, i selected running. it tracked not only my heart rate, but my distance and pace. it also let me know the calories i burned and what percentage of those calories came from fat.
i always select "other sport 1" for my GPP workouts. it does not track distance using this mode, but that's just fine because i am typically doing some sort of high intensity circuit training that involves weights, body weight exercises, sprinting, or a combination of them all. my gym is constantly throwing different workouts at me each day, so i never know what to expect.. but i can always count on the RC3 to properly track my heart rate during the workout.
what i find interesting is the big difference in the percentage of calories burned from fat. when i am doing high intensity stuff at GPP, the majority of those calories burned come from fat. during a jog or run, the percentage is substantially lower. of course, i already am a big believer in high intensity training for fat loss, so it's just cool to see that confirmed on the watch.
i look forward to continuing to use the polar RC3 in my workouts. i always said red isn't my color.. but this thing has really grown on me!
good news–polar is offering a 25% discount off MSRP to readers through august 10, 2013 on all RCS GPS watches! visit ShopPolar.com and enter in the code "fitfluential" during checkout for the 25% discount.
if you want to learn more about polar or check them out on their website, facebook, twitter, instagram, or youtube channel.
Qs~
1. do you use/have you used a heart rate monitor? thoughts?
2. do you prefer high intensity training or steady state training?
xo. janetha g.