hey, guys! hope you had a fantastic sunday. mine was packed with fun stuff. i went to breakfast at cafe niche with some friends this morning. then marshall and i took the pups to the dog park where they splashed around in the water, rolled around in the dirt, and had the time of their lives. they are so happy we are home! after coming home and bathing them, we headed up to my parents' house for dinner and cake–my dad's birthday was yesterday so it was a celebration. happy birthday, dad! it's my mother in law's birthday today (she lives in iowa), so happy birthday to her, too!
i want to pick back up on my vacation recap–day two in boston!
we had a good night of sleep so we were able to get up around 8 AM to get a jump on the day (as opposed to our past-noon wake up time the day before…) we got ready and walked to a nearby coffee shop, thinking cup, for some java.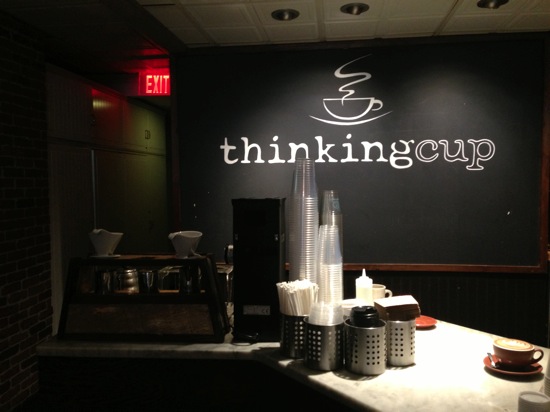 someone had suggested i try their hazelnut latte which had bits of hazelnut in it.. OHHH my goodness, guys, it was so incredible! i have no idea how the barista made it, but i really need to find out.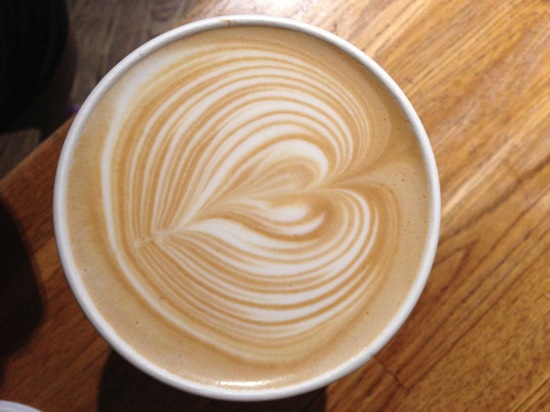 we continued on our way and walked over to quincy market and faneuil hall. it was still pretty early and things were dead. we were hungry, so we stopped into anthem kitchen & bar for breakfast because it's the first place we saw. little did i know there were TONS of places to eat breakfast in quincy market.. kind of kicking myself for not checking in there, first. we ate on the patio of anthem and the location was nice, but the food ended up being overpriced and just so-so. i should have known, though, because once i consulted handy dandy yelp, i saw that it only had three stars. i'm telling you, when ever i consult yelp and go for places with four or more stars, i am not let down. 
anyway, i ordered the lobster benedict. it was just okay. the lobster was a little dry and the eggs were overdone, but the potatoes with caramelized onions were good.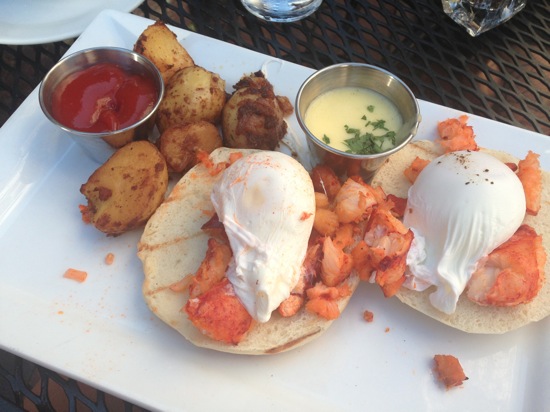 and the company was good, too. :)
marshall had the breakfast sandwich and wasn't impressed. the meal came out to $50 after tax and tip.. definitely a let down and we wish we'd eaten inside quincey market. oh well, live and learn! 
we did some shopping after breakfast–we fell in love with newbury comics the day before and were excited to see another location there in the marketplace. there was also a harley shop where we picked out some Ts for our dads–both are harley guys. we stumbled upon the public garden and decided to wander through.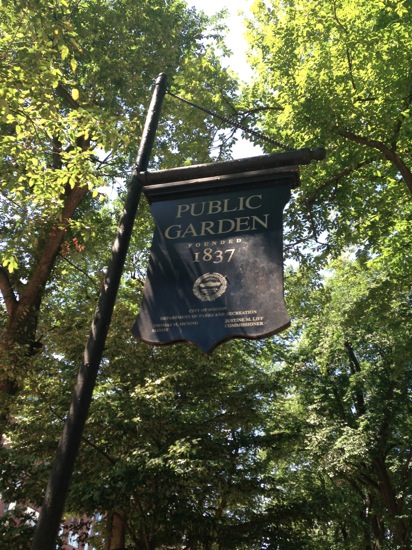 the garden was gorgeous! the weather was perfect and we really enjoyed taking our time walking through. i snagged a fresh squeezed lemonade and it was the perfect thirst-quencher.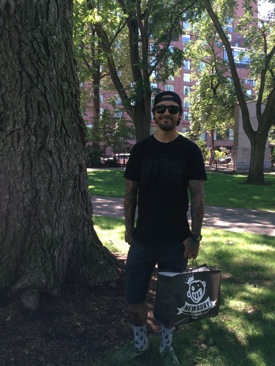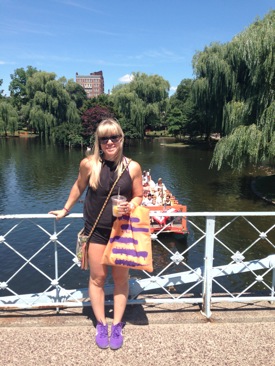 it was such a pretty day!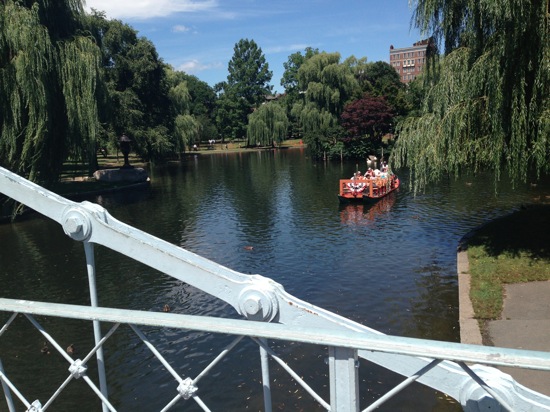 after the garden we decided to walk to a boutique store called bodega because my friend had said it was pretty dope. he owns fice gallery & boutique here in SLC and i love fice, so i trust his judgement.
i love that everywhere we walked in boston, there was something beautiful to see. the old buildings and churches are incredible.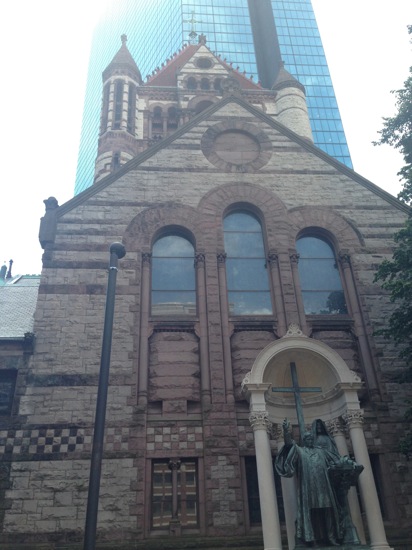 on our way to bodega, we ran into a farmers market in copley square. we took some time checking out the local goods. we tried some tasty pickles and marshall snacked on an heirloom tomato.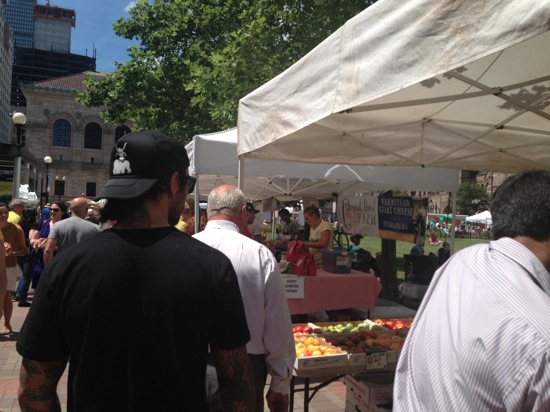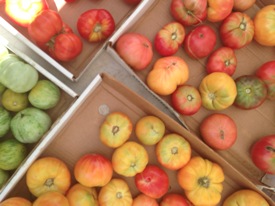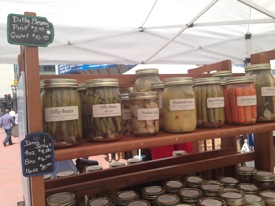 we finally made it to bodega and it's pretty cool–it looks like a run-down shop on the outside. you go in and it's looks to be a typical old bodega.. but then the pop machine slides open to reveal an upscale boutique! if you didn't know about it, you would never guess. sadly, they didn't have any women's clothes.. but it was still fun to browse!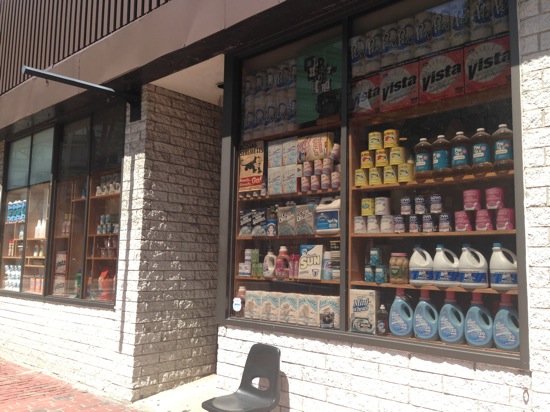 we decided to walk back to our hotel and took a different route. as expected, the sights were sweet and we loved every step of the way.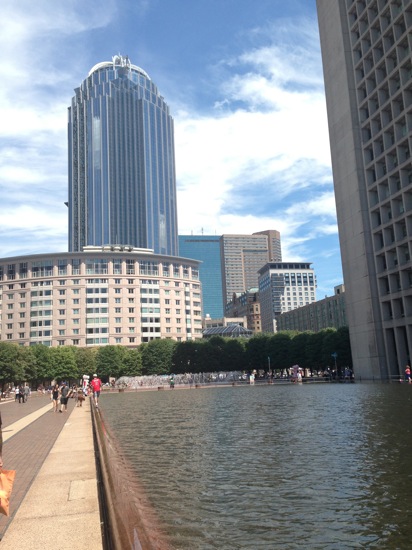 we ran into a vegan taco truck (taco party) on our way back to the hotel and decided to get some lunch.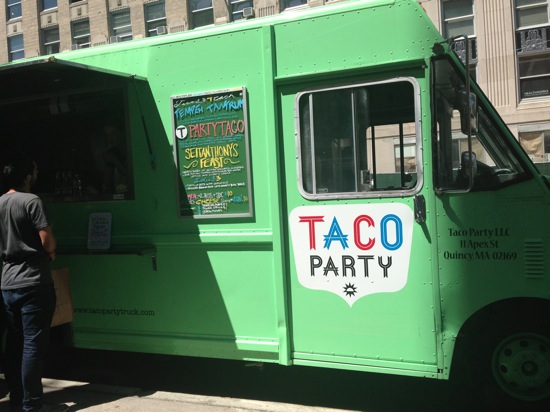 marshall and i shared a tofu taco and a tempeh taco along with rice and beans.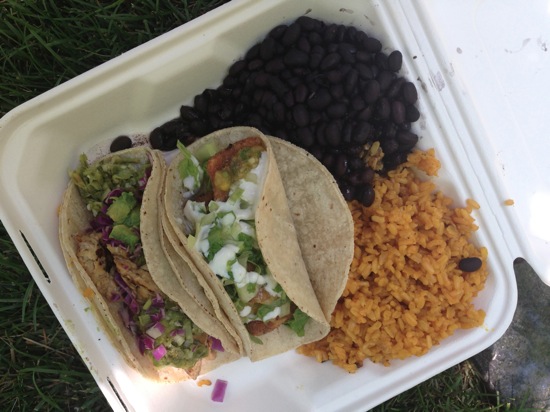 we also got a chocolate blueberry donut for dessert.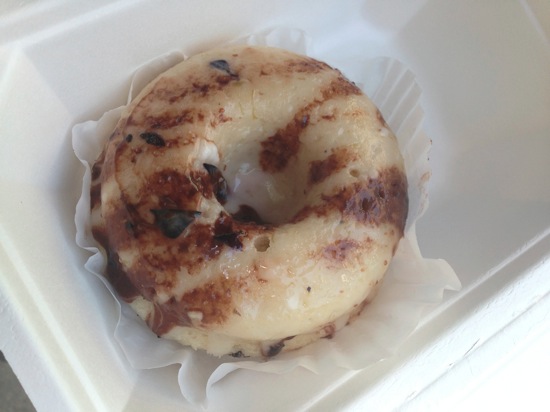 our impromptu lunch was delicious! i liked the tofu taco best and marshall liked the tempeh one. they both were really good and i'd definitely recommend taco party. 
we lounged around for a bit before heading out again. we were exhausted from walking all day, but we didn't have much time to rest because we had tickets to the red sox game! we decided to walk to fenway. once again, the walk was beautiful! i love boston! particularly the churches and giant trees.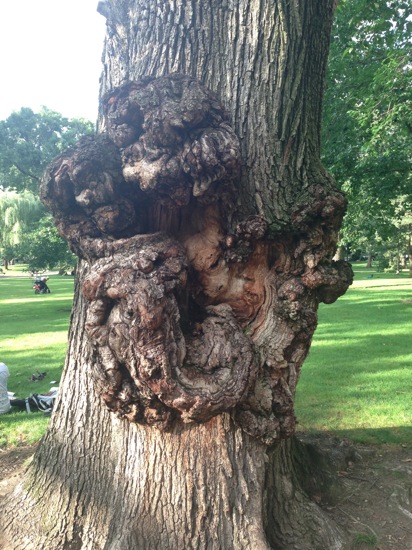 we got to the game, snagged some pizza and beer, and enjoyed ourselves.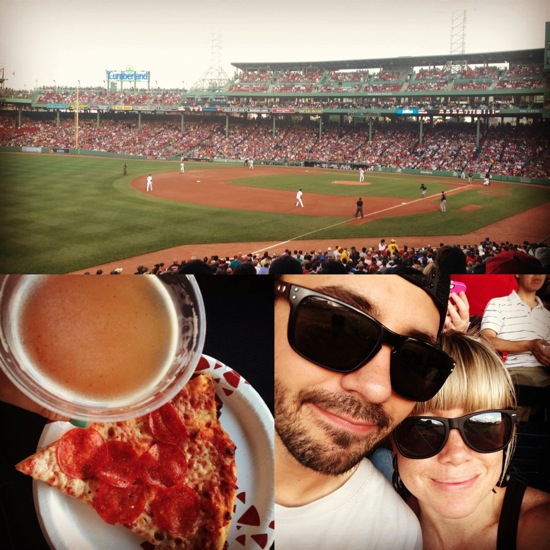 we left just a bit after the seventh inning (the red sox were waaay ahead!) and stopped in at JP licks for some ice cream on our way back to the hotel. i had a scoop of oreo and a scoop of coconut almond. mmmmm.. i never eat ice cream because of my dairy intolerance, but i was poppin' lactaid like it was my job. dairy be damned! ice cream is my favorite!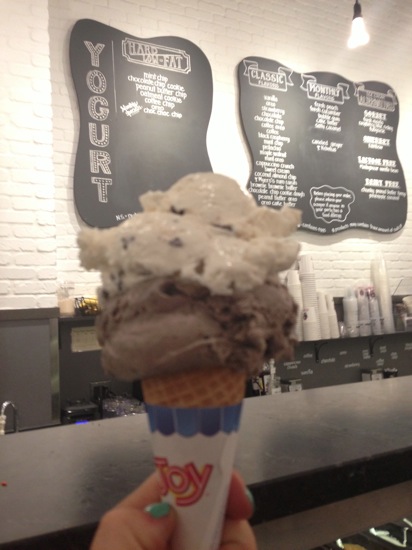 this was the perfect ending to a great day in boston. we had so much fun! 
the next installment of my trip will include the final morning in boston and our road trip up north to portland, maine. can't wait to share that part of the trip with you guys!
i am going to call it a night.. it's been a long day and this week is going to be brutal. it's Rx+ week at my gym, which means we will be doing 2-a-day workouts for five days followed by a super intense final workout on saturday. there was a diet part that went along with it last year, but this year we are just supposed to eat clean and follow what diet works best for our bodies. after a (very) indulgent vacation and eight days off from working out, i think it'll be a good kick in my butt. perfect timing! haha, i didn't even plan it.  i participated in Rx+ week last year and loved every bit of it. it's hard, but it's fun. i like a challenge and enjoy proving to myself that i can do hard things. plus, i am excited to see my friends during the night time workouts (because we work out at different times usually… oh, the joys of having a day job when your friends are stay at home moms.. hah!)
anyway, that's a wrap. enjoy your evening and i hope you have a great monday! 
xo. janetha g.