growing up, ginger ale was always such a foreign drink to me. i had actually never tasted it until just a few years ago. i drank every soda under the sun—dr. pepper, root beer, sprite, coke.. but ginger ale never made its way past my lips for some reason.
after i eventually tried it, i finally realized what i was missing! i am a big fan of ginger—in sushi and other asian cuisine, in smoothies, in juice, in cookies, and even some of those ginger candies. i like the bite ginger gives to anything you put it in. so, naturally, i became a fast fan of ginger ale.
i recently received some seagram's ginger ale to try out, review, and give away here on the blog.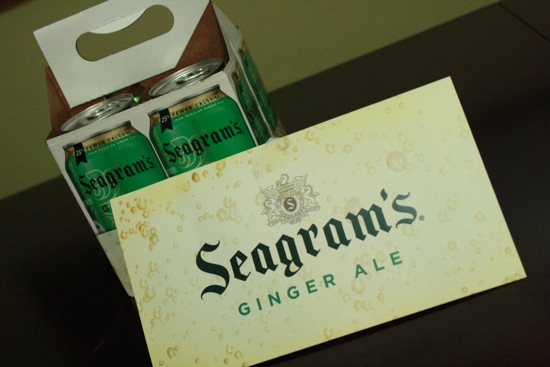 they've redeveloped their formula and the new version contains 25% fewer calories than before. i hadn't tasted the previous formula, so i am not sure how it compares, but i found this ginger ale to be flavorful and refreshing—but maybe a tad sweet for me.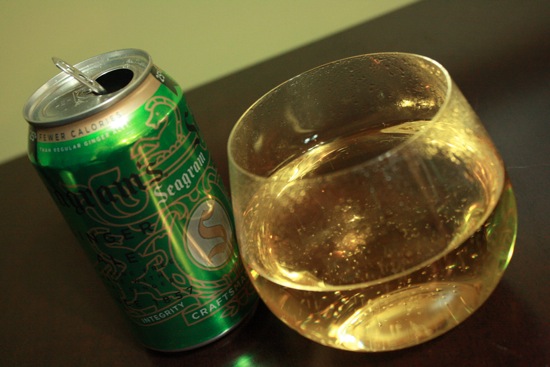 speaking of the sweetness…
when i was recruited for this campaign, i readily agreed because i love ginger ale. however, upon receiving the product, marshall noticed pointed out the fact that it contains HFCS. whomp, whomp. while i don't think a little HFCS is going to kill me, i typically avoid purchasing products that contain it. i said "avoid"—not rule out completely. my kitchen definitely has a handful of HFCS-laden items and i still consume it if it happens to be in something. i used to refuse to eat anything with HFCS in there, but i have loosened up on the matter over the past couple of years. pick your battles, i suppose. BUT.. it also contains sucralose, which surprised me. why would a non-diet drink contain sucralose.. in addition to HFCS? kind of a bummer and i really don't enjoy the aftertaste of sucralose.
honest opinion, folks! so instead of drinking the stuff straight up, i decided to get a little crafty with the ginger ale. i made a couple of things.
for my first recipe, i had to whip up a cocktail. it's summer. it's hot. a boozy, ice cold drink makes you not realize how hot you are.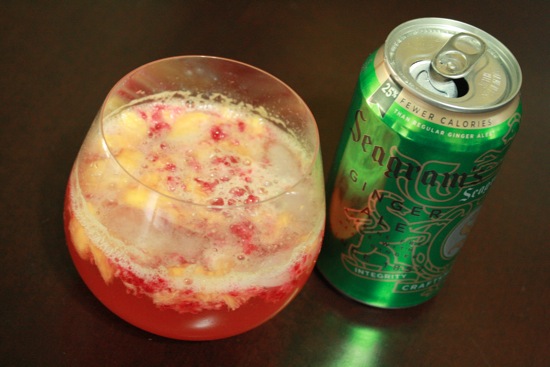 raspberry peach ginger ale refresher
8 oz seagram's ginger ale
4-5 fresh raspberries, muddled
1/4 of a peach, diced & muddled
ice
fresh ginger shavings (optional)
1 oz clear liquor such as vodka or rum (optional)
directions: place muddled fruit in a glass. in a separate container, shake together the ginger ale, ice, and liquor. pour into glass over fruit. garnish with fresh ginger, if desired. enjoy!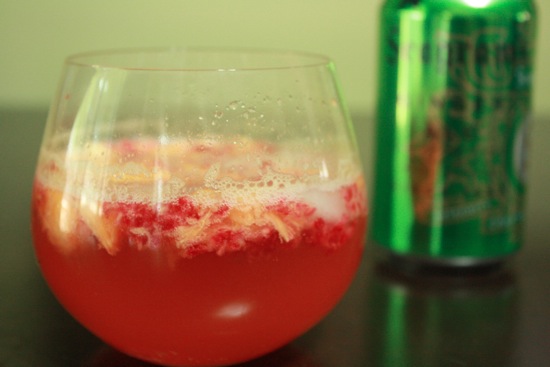 for my second recipe, i decided to try something i've always wanted to try—make a cake with a can of soda!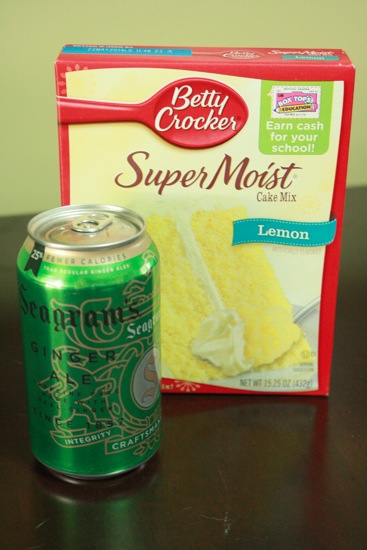 it's so cool that you can leave out the oil and eggs and just use soda and the cake mix. i was skeptical, but it worked perfectly!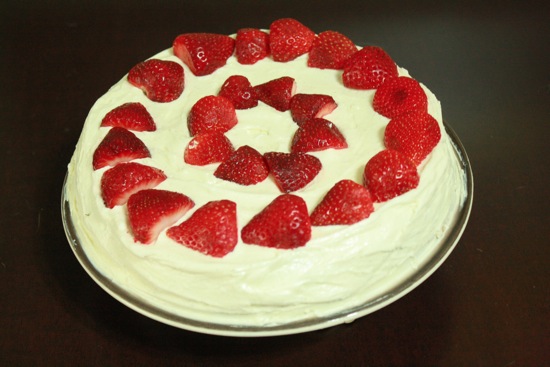 lemon cake with vanilla bean buttercream & fresh strawberries
long name. super simple recipe.
for the cake:
1 box lemon cake mix
1 (12 oz) can seagram's ginger ale
directions: mix cake mix and ginger ale in a bowl (nothing else!) and bake according to box directions. let cool completely before frosting. i baked mine in one round layer using a dutch oven.
for the vanilla bean buttercream:
1 1/2 cups powdered sugar, sifted
1/2 cup unsalted butter, softened
2 TB vanilla bean paste
1-2 TB liquid (milk or water), as needed
directions: using a stand or hand mixer, beat sugar and butter together until they are creamy. add vanilla and liquid and beat for another 30-60 seconds.
frost the cake (once it is completely cool) and top with fresh sliced strawberries.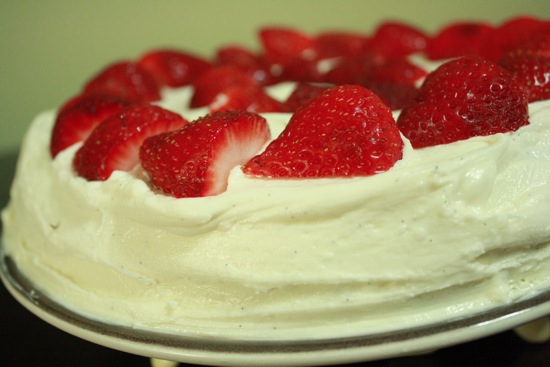 enjoy!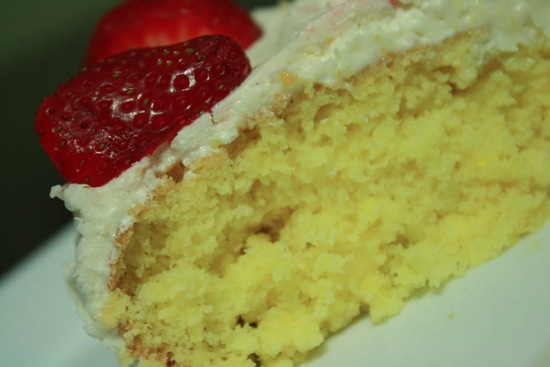 both of these recipes were great! if you are looking for the perfect summery cocktail or dessert, i suggest you give these a shot.
as i mentioned, seagram's has supplied ginger ale for a giveaway! one commenter will receive a shipment of ginger ale.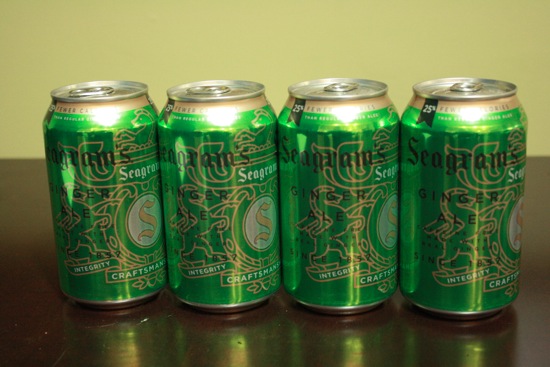 to enter:
leave a comment telling me your favorite childhood beverage (bonus points if you tie a memory to the drink!)
for up to THREE extra entries:
head to seagram's facebook page and mention that meals & moves sent you. leave an additional comment below stating you did this.
head to seagram's website and check out the ginger ale serving ideas. leave an additional comment stating which one you'd like to try.
leave a comment with your thoughts on ginger ale. love it? hate it? never tried it? (although, if you hate it, i really don't think you would be entering…)
the giveaway will run until sunday, july 28th at 11:59 PM. USA only.
xo. janetha g.
Promotional consideration for this content was provided by The Coca-Cola Company. All opinions expressed in this content are my own and not those of The Coca-Cola Company.