so, here's a story.
i asked marshall if he wanted to hit up the high school track to run some bleachers tonight. he agreed. yay. we don't typically work out together, so i was really excited to exercise with him tonight.
i was on dinner duty for my brother, sister in law, and their kiddos (thanks for all the prayers for my baby niece, nora, by the way. she's doing much better! still in the NICU but getting better every day) so i made some chicken caesar sandwiches. i didn't estimate correctly and didn't make enough for me and marshall, though, so i had to whip up another batch. i did this just before we headed out to the track. i left the chicken on keep warm in the crock pot and we headed out.
we came home, suuuper stoked to eat dinner, and saw an EMPTY CROCK POT.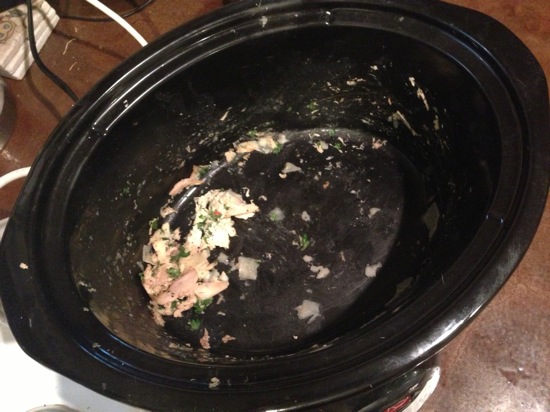 yeah.. guess what my two hooligan monsters learned how to do? hop up on the bar stool and then onto the counter.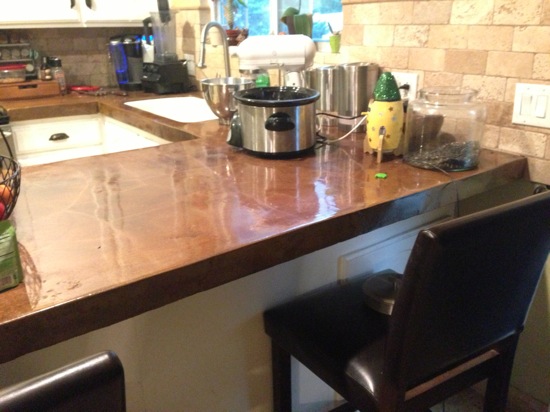 i guess it was eventually bound to happen.. but this is the first time in our 3 years at this house that they've ever gotten in to the freaking crock pot on the counter!  ugh. we had grilled sandwiches and soup instead. so mad. they are locked outside right now… guess we will have to scoot the stools away or put them outside next time i've got something cookin' in the crock pot.
anyway! what i wanted to blog about tonight was the track workout marshall and i did. it was twenty minutes long and a lot of fun.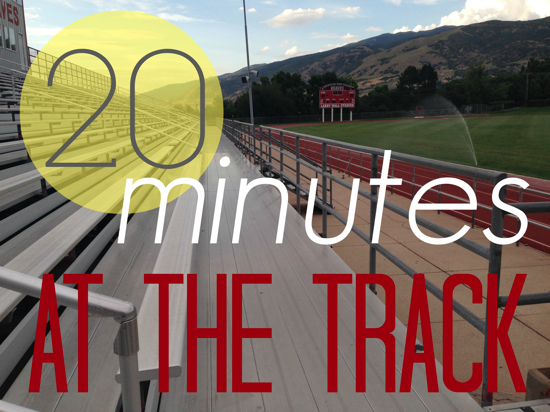 luckily the sun had started to set, which made the 93* heat bearable. the sprinklers were on and, when combined with the light breeze, they made it somewhat refreshing! we started with an easy warm up lap around the track (400m) at an 8:00/mile pace.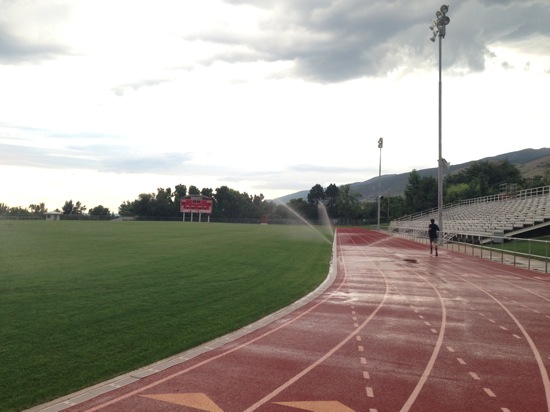 the actual workout was done on the bleachers. the particular bleachers we used had fifteen steps and we went up and down each aisle. there were six aisles. we started at one end of the bleachers and did a little strength training before hitting the stairs. i thought of a few body-weight strength moves to incorporate into the workout.
first up was triceps dips.. 30 reps.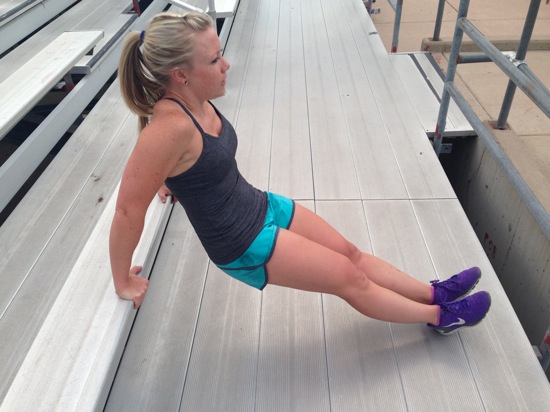 after the dips we sprinted up each aisle (15 steps) and ran down (15 steps) and then jogged across to the next aisle. when we reached the end of the row of bleachers, we did another 30 triceps dips before jogging back to the beginning.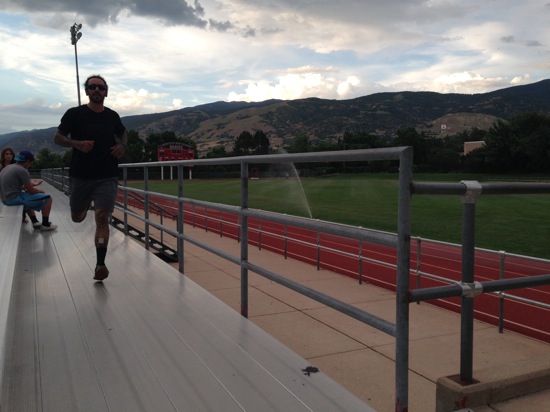 we rested one minute before round two.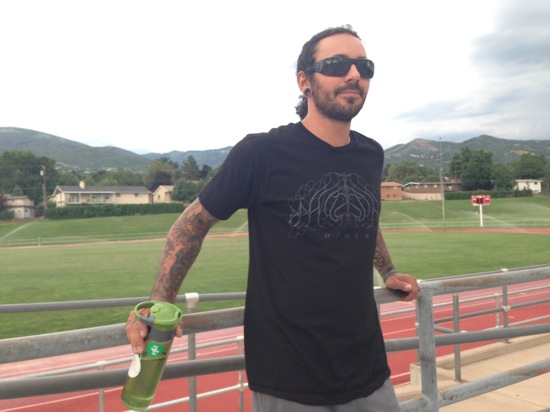 the next round was pushups. we did the same routine–30 pushups on either end of the bleachers with the sprints up/run down/jog across in between. marshall did strict pushups and i did them on an incline.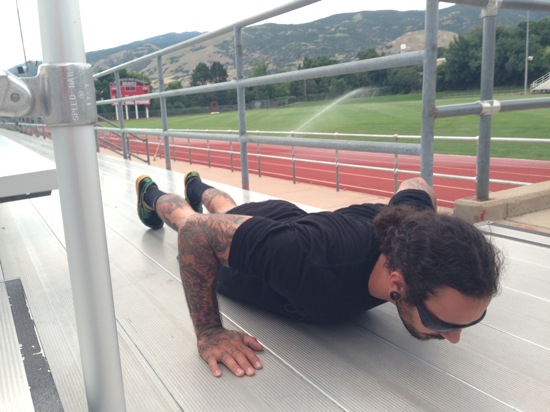 we rested another minute before round three.
the final round was the same routine once again, but with 30 squats on either end of the bleachers.
we took a breather after the third round. it had only been about 16 minutes but we were definitely winded.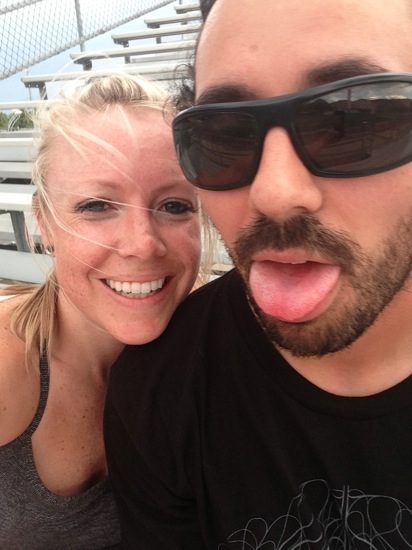 we finished up the workout with another easy lap around the track to cool down.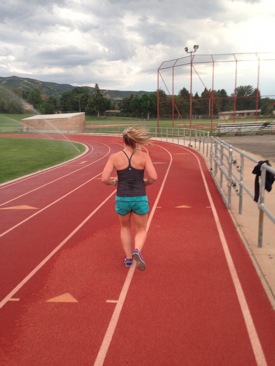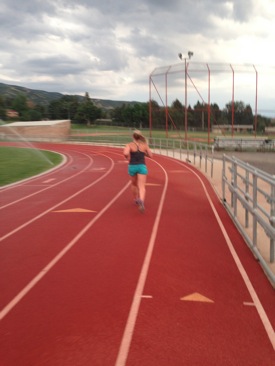 even though the workout was only 20 minutes total, we felt like it was challenging and effective! plus, we had a good time together.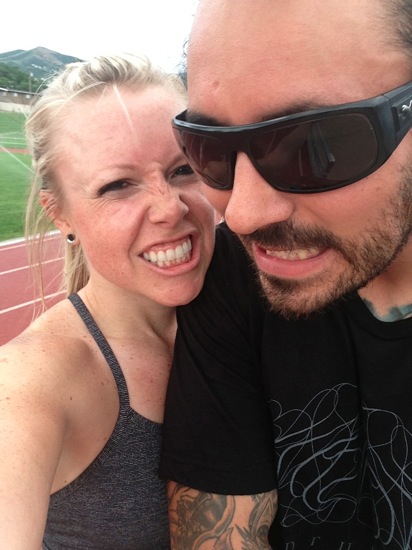 here is a rundown of the entire workout: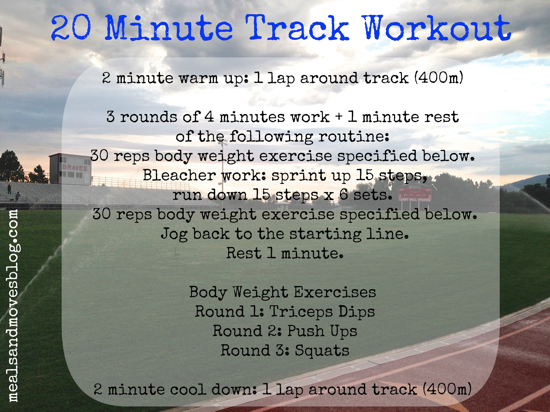 give it a shot! it's tougher than expected.
now we are winding down, eating popcorn, and watching under the dome.. our new favorite show! minus the dinner debacle, i'd say it was a pretty perfect evening. hope yours was fabulous, too!
Qs~
1. what's your favorite body-weight strength training move?
2. do you have a workout buddy?
xo. janetha g.