hi! so, you may remember weeks ago when i joined the under armour what's beautiful campaign.
i initially set a goal to complete a five-minute plank and fifty consecutive double unders. whelp, should we talk about how that's going? or, rather, how that's not going…
i took a step back and realized that such a specific goal was too much for me to handle at the time. i was juggling so much in my life and didn't have the time to properly dedicate enough practice to achieve this goal.
so i changed my mind.
and, guess what? that's OK. i felt a little bad at first about abandoning ship, but then i realized it's better to be able to know where your priorities lie and also admit when you just can't hack something.
i thought more about the what's beautiful campaign in general. it was made to make women everywhere feel good about themselves. to be proud. to feel strong. to be happy. to feel beautiful.. no matter what.
no matter how long you can hold a plank.
no matter how many double unders you can do.
no matter how fast you can run a mile.
no matter how heavy you can lift.
no matter what your weight is.
NO MATTER WHAT.
so i changed my what's beautiful goal…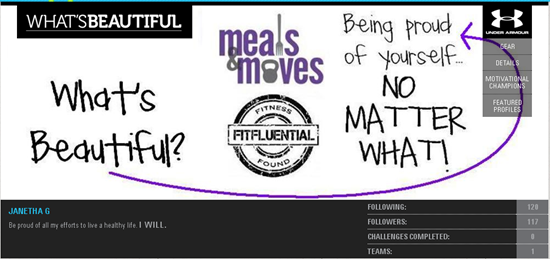 a closer look…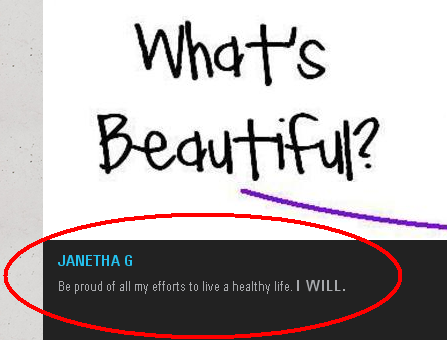 i feel way better about this goal. the last thing i need is added stress and a reason to feel defeated. and i think this goal reflects the message of the what's beautiful campaign MUCH better.
so, that's that.
now, the fun part! to help you get motivated to reach your goals, whatever they may be, under armour has offered up an amazing prize pack of gear to one of you!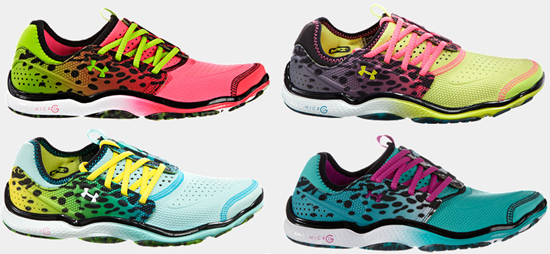 the winner will receive:
to enter:
go to the what's beautiful website, sign up, and declare your goal! leave a comment below with what your goal is and your UA what's beautiful profile link (mandatory!)
earn an extra entry if you join a team. leave an additional comment with the name of the team you joined (optional!)
remember, the goal can be specific OR it can be general. just do what works for YOU.
giveaway runs now until friday, july 12th at 11:59 PM MST. winner will be notified this weekend.
xo. janetha g.
i am working with under armour and fitfluential on the what's beautiful campaign. the giveaway items have been provided by under armour via fitfluential. no compensation was provided for this giveaway and all opinions, as always, are my own.