hey, guys! thanks for all the kind words on my last post!
tonight i am going share some things i have been loving lately.. enjoy!
under the dome.
i am not a huge TV person. i love to watch the food network and the game show network, but that's about it! however, every once in awhile marshall and i will get sucked into a series. our newest interest is "under the dome", a series based on the stephen king novel. it's on on monday nights. last night was the second episode, i am hooked!
i am also hooked on a new drink…
starbucks green tea peach lemonade.
the other day, mandy snapchatted me a photo of her sucking down this new starbucks beverage. being the peach lover i am (it's my favorite fruit!) i HAD to get it. immediately. i tried one on sunday and, dang, that's refreshing. it's so good. i went back to get another one last night and they were out of lemonade and asked if i just wanted green tea with a shot of peach.. so i agreed. word to the wise: DON'T DO IT. it was gross. moral of the story? the lemonade is what really makes this drink shine. mmmm.
while i was at starbucks, i was ooo-ing over their cold beverage cups. i had some money left on a gift card, so i picked one up.. which brings me to item #2 i am loving!
starbucks geometric insulated tumbler.
with a side of cute randy, of course! this cute cup not only is appealing to the eye, but it keeps your drink cold for hours. win. it's perfect for the pool.. because it's bee over 100 degrees here lately. which brings me to item #3 i am loving…
swimming!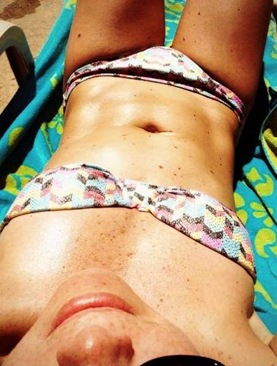 don't so much love all the freckles i am getting, but i am loving the pool. last year i think i went to the pool ONCE and the year before that i am not sure i went at all! such a fail on my part. this summer i have already been swimming a dozen times, and plan to go approximately 587 more times. give or take. it's hot well into the evening right now, so going after work is totally an option. i love how light it stays!
which brings me to #4…
daylight.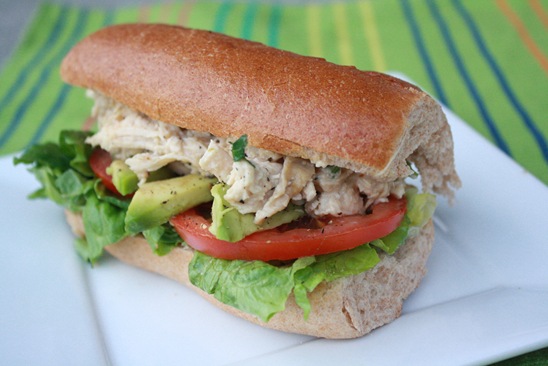 i love how light it is at night! we had dinner around 8:45 and i had plenty of daylight to snap photos outside. yeah, can you believe it, i actually took photos of my dinner.. i will have a recipe post up this week for these delicious chicken caesar sandwiches.. sooo good. my next thing i am loving is actually an ingredient in the sandwiches…
fresh herbs.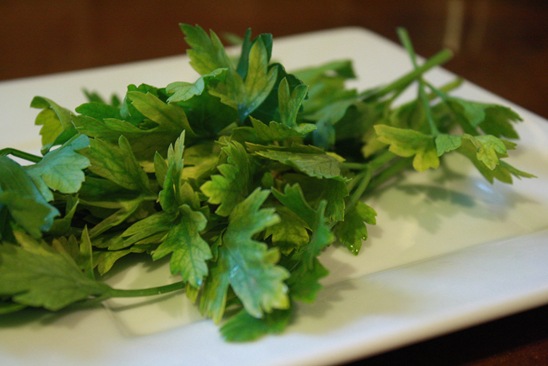 my gym has a community herb basket and i stole a bag of fresh parsley last night. the farmers market is up and running, so i can't wait to buy all my herbs there rather than at the grocery store. i actually want to grow my own, but how does that saying go.. the road to hell is paved with good intentions? yeah, that doesn't really apply here since i won't go to hell for not growing my own herbs.. but anyway.. this is really getting off track. i want to grow my own. that won't happen. but i love eating the ones others grow!
i am also loving a few more delicious things made by others…
chobani flips.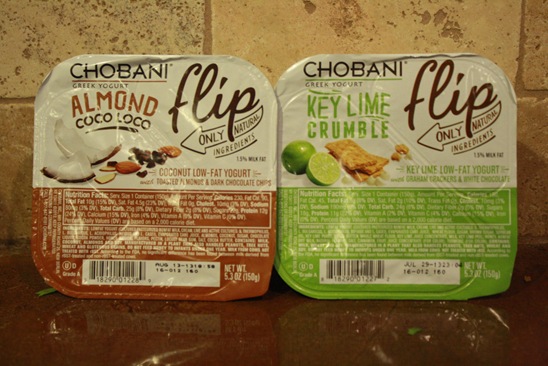 specifically the coconut and key lime flavors. SO GOOD. and rumor has it the new mystery flavors may or may not include coconut and key lime. eep! speaking of the mystery flavors, i need to announce the winner of a mystery case of chobani! random.org picked #5, melissa R. congrats!
another snack i am loving…
trader joe's kale chips.
spotted these on the shelf the other day. they are DELICIOUS! and way cheaper than kale chips at whole foods. and way easier than making your own.. even though that IS really easy. buying a bag is way easier, haha. sold.
i am actually a sucker for anything that catches my eye at the store. i have a shopping problem. which brings me to the final item i'm loving lately…
american eagle trouser shorts.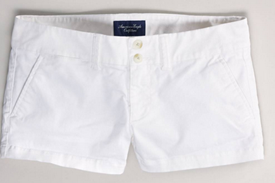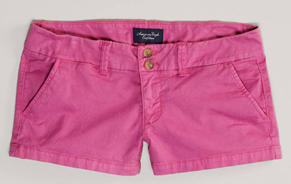 i bought these shorts the other day in white and pink. they were having a sale for buy one pair, get another for $10.. so i got both for $40 total. i want to go back and get more colors! they are so comfy and a fun change from denim.
i'm off to watch some more twin peaks and eat some taquitos! i just might take photos and share that recipe with you soon.. we'll see ;)
Qs~
1. what are you loving lately?
2. do you have a garden? if so, what do you grow? if not, what would you want to grow?
xo. janetha g.