hey! happy middle of the week. i don't say the H-day word, it bugs me.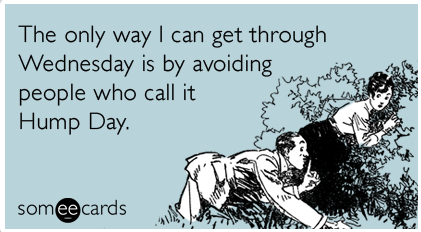 i thought i would share some hits & misses!
hit: i bought this BB cream on a whim at target the other day. apparently the BB stands for "beautifying beads" and it does a whole bunch of cool stuff like moisturize, prime, conceal, correct.. the whole ball of wax. anyway, it was a hit on my face in a good way and i like it! i'd never tried a BB cream before, i gotta say.. i am a fan!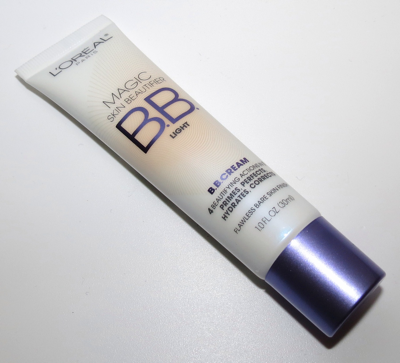 miss: i also bought this new trader joe's popcorn on a whim the other day. blech. it tastes like lemon dish soap. i was so hopeful with the browned butter and the thyme.. but then the lemon hits your taste buds and BAM, dish soap. sick. personal opinion, i am sure.. but i really urge you not to buy it. sounded good, tasted bad!
popcorn drizzled with a brown butter, parsley, and lemon flavor seasoning
hit: i have to give trader joe's a hit, because most of their products are amazing.. including this other on-a-whim purchase! the cheddar horseradish chips are deeeelicious and they taste exactly like when you dip arby's curly fries in horsey sauce. please tell me i am not the only one who loves that combo?? yummy.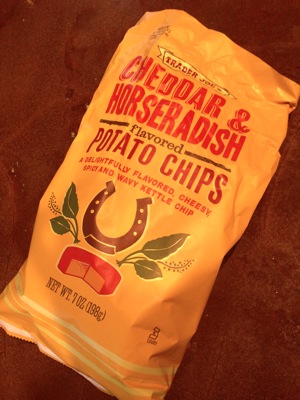 miss: i found a bottle of suja juice in my fridge today that's well past the expiration date. whomp, whomp.. $8 down the drain. lame. i found it when i was cleaning out the fridge drawer to make room for the next hit…
hit: special delivery from chobani! they have some super secret new flavors and i was lucky enough to receive a batch. the flavors are classified and i get to taste test them and guess what they are!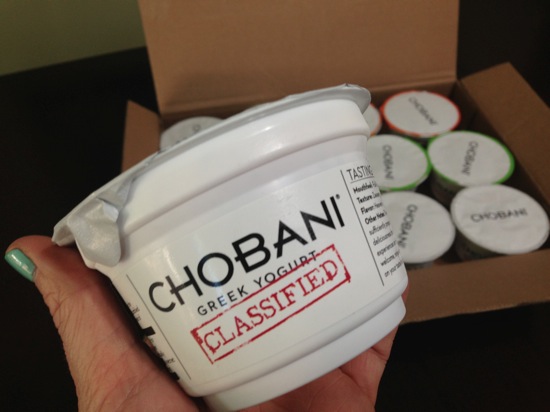 i got a huge kick out of the disclaimer…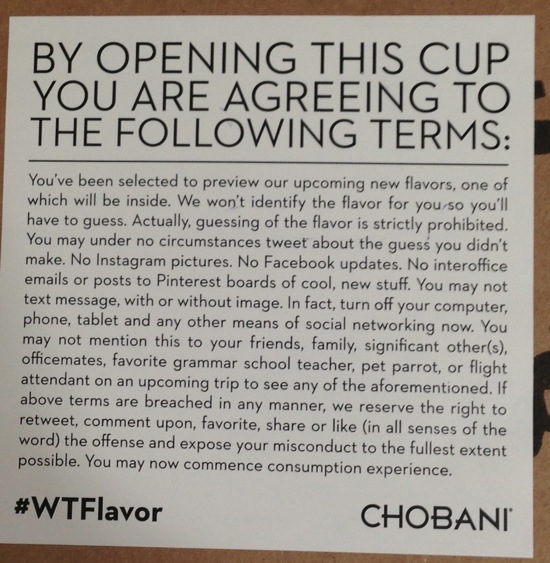 hehe.. those CHOlks.. so funny!
marshall and i tried one tonight and we were stumped! we are thinking maybe nectarine or apricot.. it was a lot like the peach, but had a distinct difference. hmmm.. it's a mystery for now! i can't wait to try the other flavors.
double hit: chobani wants to give one of YOU a case of the mystery flavors! simply leave a comment on this post and i will pick a winner on friday. (USA only!)
miss: speaking of giveaways, i totally forgot to pick a bestowed box giveaway winner. anyway, i did, and it was #87 ashley and i let her know. congrats! remember, you can still get $5 off your first bestowed box by clicking here and using "5OFFBSTOWED01" at checkout!
hit: in other fun mail news, i received my purchases from the victoria's secret clearance sale and i love it all! that doesn't happen too often. the best part is the sweat shorts.. i have been looking for a pair of sweat shorts that AREN'T gym shorts and AREN'T pajama bottoms that i can pull off wearing to coffee or the occasional errand when i don't want to get dressed (lazy alert) and these fit the bill!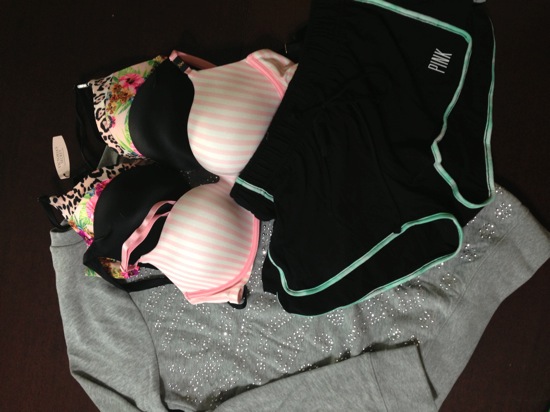 miss: i had to get my blood drawn today at the doctor. they missed my vein in my left arm and ended up having to poke my right arm, too. so, this was a literal miss.. and it hurt real bad! i HATE needles, shots, anything like that.. it's a wonder i was able to pierce so many holes in my body in my younger days. for the record, i had my belly button, both traguses, an industrial on my right ear, rook on my left ear, and also halfway down the cartilage on the outer rim of my left ear. if you asked me to get something pierced today, there's no way i would!
hit: this apple pie quest bar i ate on the way to the gym today. it's a good one!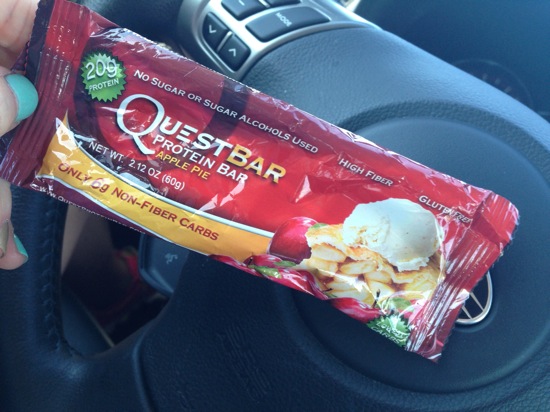 miss: got stuck at a train on my way to the gym. i spend approximately 27.346% of my life waiting on trains.
hit: i made it to the gym just in the knick of time, right as the class was starting, and got in a (really hard) tabata workout! it had 400m runs between the movements and it was 96* outside, so that sucked. hey, maybe this one should be a miss? i was beet red afterward! but in good spirits.. so it's a hit and a miss, i s'pose.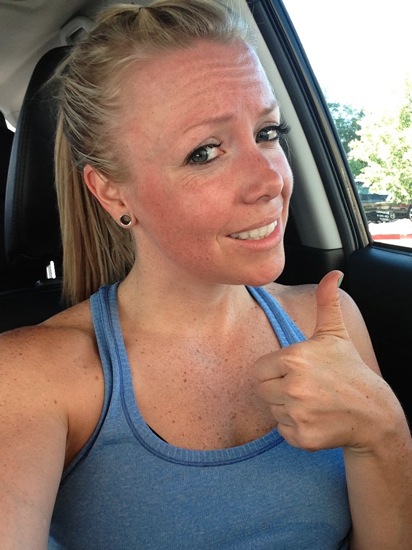 hit: right after the gym, got my lashes filled! they will be nice and full for kristen's wedding THIS SATURDAY! eep! so close! and i am a freckle face.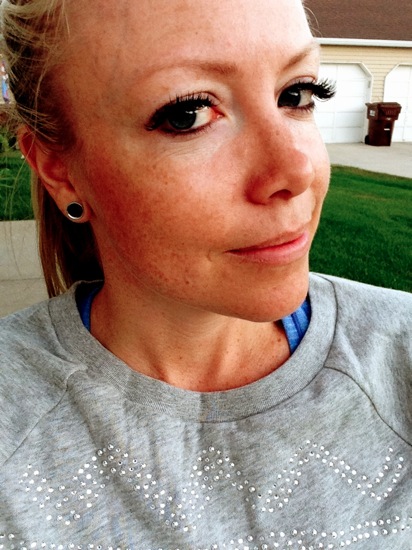 miss: marshall had a rough installation job today and was at work until 8. the only good part about this was that i was getting my lashes and wasn't home yet to make dinner, but still.. that sucked for him! poor guy.
hit: we had a quick & easy dinner since we both got home late! burgers from the whole foods butcher and alexia sweet potato fries and canned baked beans. from kitchen to table to mouth in about 20 minutes flat. i had my burger over salad because i wanted my carbs in the form of beans and sweet potato fries!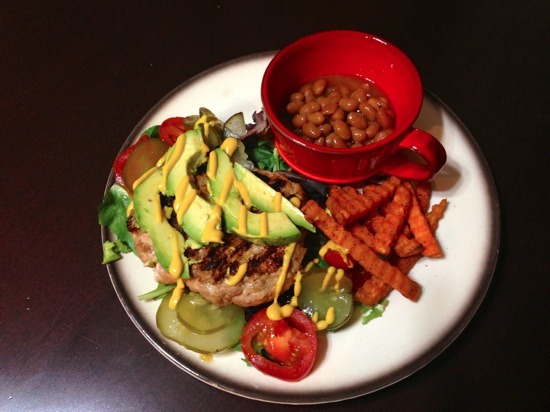 miss: google reader's days are numbered. i remember hearing the news (months ago!) that it was going away on july 1st. that sounded like AGES, so i didn't worry about it. i got another reminder in my google reader the other day and realized that july 1st is next week! eep. i will miss you, google reader.
hit: i have switched to feedly as my new blog reading service. they have actually made the transfer process from google reader to feedly easy peasy and super quick. also, feedly looks almost identical to google reader. i don't know why i was so nervous about switching, it was a breeze! katy wrote a post about this awhile ago if you want to check it out!
miss: i got stuck at another train tonight heading home from the store. ughhhh. told you! this was actually the fourth today.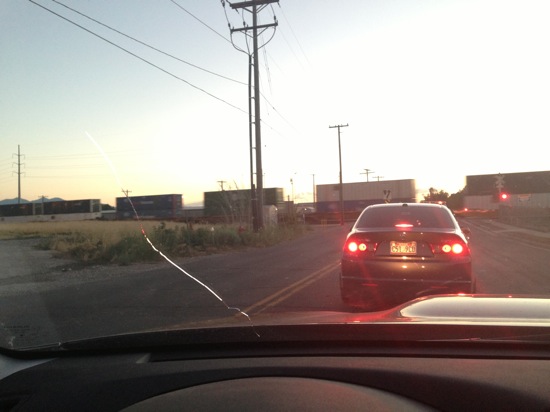 (another miss? that crack in my windshield!)
hit: i was going to the store to get chocolate chunks to make heather's banana bread chocolate chunk cookies. it has been TOO long and i had some black bananas! a bonus hit was that marshall helped make the cookie dough. with no shirt on.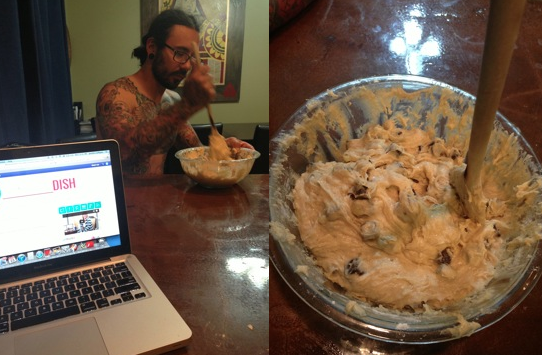 miss: i forgot that the dough has to chill for thirty minutes… sooo, it's 10:36 and i still have to bake those bad boys. oh well, it'll be worth the wait!
sure to be a hit: handful's crowdfunding campaign! handful, aka one of the best bra brands ever, is working to bring their manufacturing back to the USA from china. word. their sports bras are awesome and they are also approved mastectomy bras as well to help women who've fought breast cancer get back in to fitness. double word.
the campaign runs through july 1st and they would love your help. they are already 80% to their goal, but these last few days are crucial to hitting the 100% mark! if this cause is a hit with you, please head over to the campaign pageto learn more and possibly donate to the fund. there are cool goodies you get with each pledge level, like totes and bras and Ts.. check it out!
mmmmk.. i am off to bake those cookies! yay. make sure you leave a comment to enter to win the chobani!
your turn! give me a recent HIT and a recent MISS in your life.
xo. janetha g.
note: chobani kindly sent their new flavors my way, without compensation. all opinions expressed are my own original thoughts.