hey, guys! long time no blog. hope you had a great weekend and a nice start to your week! i've been battling quickbooks issues at work. it's mentally draining, to say the least. i let out my frustrations at the gym this evening. it was SUUUCH a fun workout!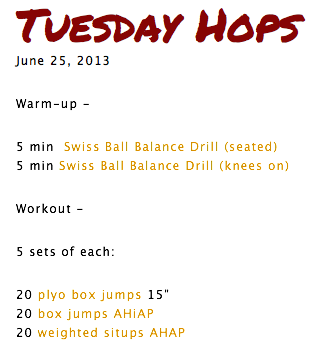 i didn't really know the difference between plyo box jumps and regular box jumps until my training session yesterday. most of us already know what a standard box jump is–you jump from the ground onto a box, fully extending at the top of the box, and then jump off (or, if it's real high, you can step down.)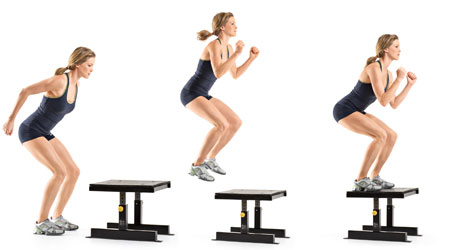 but do you know what a plyo box jump is? for a plyometric box jump, you begin at the top of the box. you jump down to the floor and then use that spring in your step as momentum to bounce yourself back up, pausing at the top of the box each time. that spring is called the "pre-stretch response" i helped film a video where my trainer, neil, explains this movement thoroughly.
the point of incorporating plyo box jumps into your routine is to gain more power, which leads to the ability to be a better athlete all around–you'll run faster, jump higher, and have that extra spring in your step!
although i only recently learned plyo box jumps, i have actually been a huge fan of plyometrics in general for a long time! i did a LOT of them when i did the insanity 60 day challenge back in 2011. if you are looking for some plyo ideas or for a fun plyo warmup routine, you can check out my old post & video here.
for today's workout, i started with the five sets of plyo box jumps and then supersetted the other two moves: weighted sit-ups as heavy as possible and box jumps as high as possible.
i started with the weighted sit-ups and they were actually really challenging! i broke a serious sweat from holding the barbell above me for all twenty reps. here is a demo video explaining how to figure out how heavy your "as heavy as possible" is.
the real fun of the workout was in the as high as possible box jumps. i do box jumps all the time, but had never challenged myself to see how high i could go! i started out at 23″ and added a little more height with each round. by the last round i was up to 31″ for twenty reps. it surprised me!
after the last round, i wanted to give 5 plates a try (35″ total)… the first couple (caught on tape) were a little sloppy.. but i did manage to do three solid ones after the video. considering i am only 61″ tall, i was pretty proud of those high hops!
those high box jumps really are just a mental battle for me. facing a super high stack trips me out and i second guess my ability. i hope we do these again soon so i can challenge myself again. so much fun!
after the workout i had my favorite ready-to-drink protein shake, a strawberry banana core power. the best.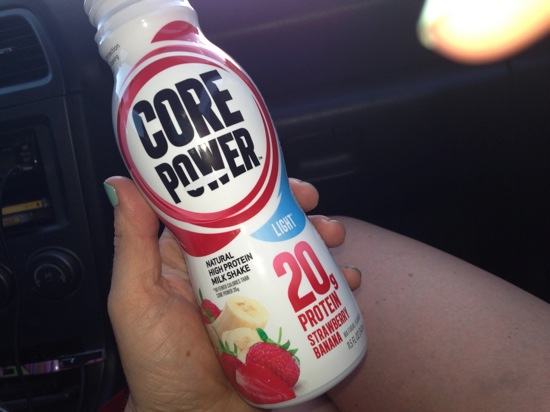 marshall and i visited his brother's house for a bit and had the pleasure of meeting their new puppy, zoe! eeeeeep!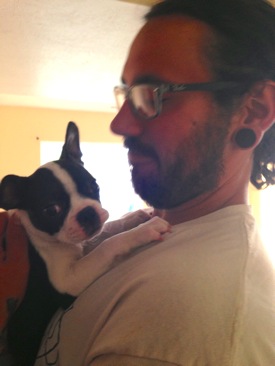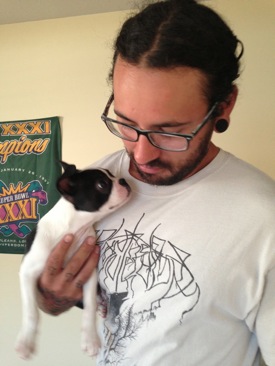 this little firecracker makes me want a new pup so bad.
i think P & R would be a little jealous of a new puppy, though. they were sniffing us like crazy when we got home–they smelled zoe right away!
in other news, we finally got a couch for our spare bedroom.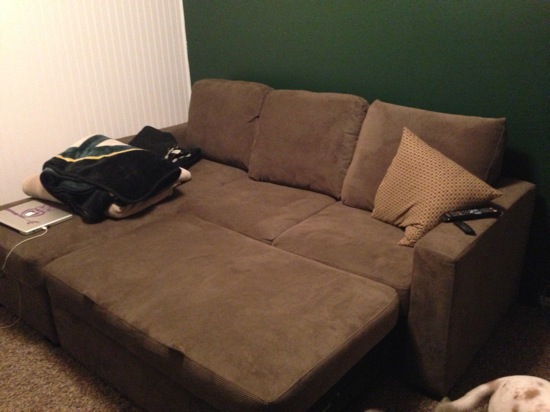 marshall has been working hard on painting the room (in packers colors, naturally) and he's slowly turning it into his video game room / movie room. the couch is super sweet because it's a chaise love seat and the chaise lifts up with a storage compartment. the love seat part pulls out to make a bed–or just to throw your feet up! (as shown in the photo.) the pups claimed it right away, of COURSE.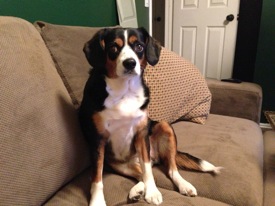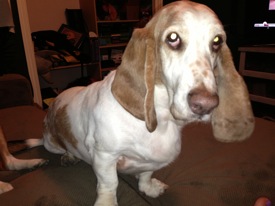 we got it at costco on saturday and it was super cheap. just a little tip for those in the market!
we made tacos and are eating them, i'm blogging, and we are watching one of our all-time favorite series…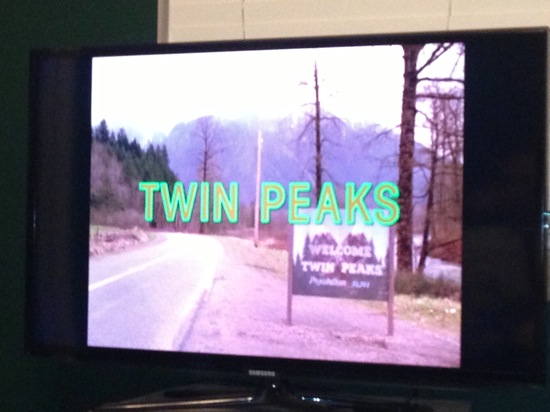 loooove twin peaks! an oldie but a goodie.
whelp, that's all for tonight. check ya later alligators!
Qs~
1. do you do plyometrics? what are some of your favorite plyo moves?
2. fill in the blank: the best oldie but goodie TV show is ____________.
xo. janetha g.