first off.. HAPPY BIRTHDAY, JESSICA! love that birthday brat.
second off.. happy first day of summer! it's a beautiful day in the SLC and i am so happy it's sunny and warm. i am loving winter less and less as i get older.. so i really look forward to the summer months.
soo.. remember last year when i did a 2012 summer bucket list? that was fun! i had thirty things on my list and i managed to check off 25 of them before summer's end. it was a lot of fun creating the list and even more fun checking the activities off, so i thought i would create one for 2013! a lot of the items are repeats from last year, but i do have some new things, too!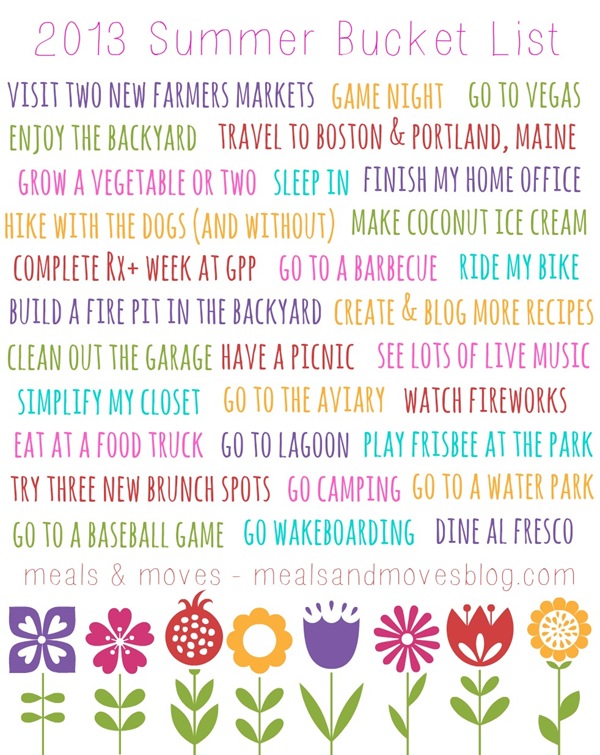 i have created a landing page and will keep track of my bucket list progress there.
i know i haven't blogged a lot lately and when i have, it's really nothing elaborate. several have asked what's up and i assure you nothing is up! i am just really busy, living life, and loving it. i used to blog every single day whether i had the time or not. i realized that if i don't have the time, energy, or content to put into a blog post.. not posting is just fine! actually my stance on blogging has changed quite a bit over the past year. my priorities have shifted a great deal. i love this blog and won't ever flat out stop blogging (at least i don't plan to) but backing off a bit has been really good for me. i hope you understand!
i have also received several questions about other aspects of life like my marriage issues, my current diet, and the current situation with my GI issues. a lot of those questions were probably the result of this instagram post. i'm happy to share more on all of those subjects, so when i get the time, i will write a post. i will say this past year has been a hard one. you wouldn't know it because i try not mention much about it here on the blog—some things are better to keep private, especially when working through said things. but life is really good in all areas at the moment, so i am smiling.
well, three cheers for the weekend! we have a lot going on. there is the arts festival and marshall's grandpa is having a big family party. his mom is in town from iowa, so i am sure we will be doing some fun stuff! i will pop in when i get a chance!
Q~
what's on YOUR summer bucket list?
xo. janetha g.