hey, there! happy monday evening to you. i hope your week started off well. i meant to blog about kristen's wonderful wedding shower yesterday, but time slipped away from me between grocery shopping, napping, and celebrating father's day! it happens.
anyway, saturday afternoon i helped throw kristen a kitchen-themed wedding shower! the shower took place in kristen's mom's beautiful backyard. the sun was shining and it was the perfect day for the event! i was in charge of decorations and party favors along with any activities (or games.. but we opted out of games because they are pretty corny.) momma b helped me out with everything, she's the best! kristen's colors are gray and green. she has also thrown a little chevron into the mix. we kept those details in mind when we decorated for the shower.
we kept it simple and decorated with balloons, fresh flower bouquets, green and gray tablecloths, and heart-shaped white confetti.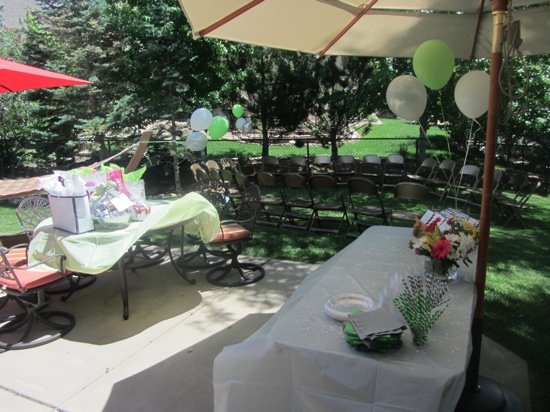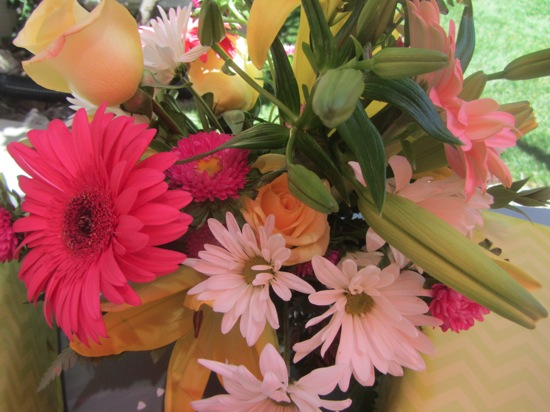 did you know about the nationwide helium shortage?? it took my mom forever to track down balloons! it's been going on for quite some time now, but seems to be getting even worse.
in lieu of games, i created an activity table where guests could get to work on filling out colorful notecards for the bride.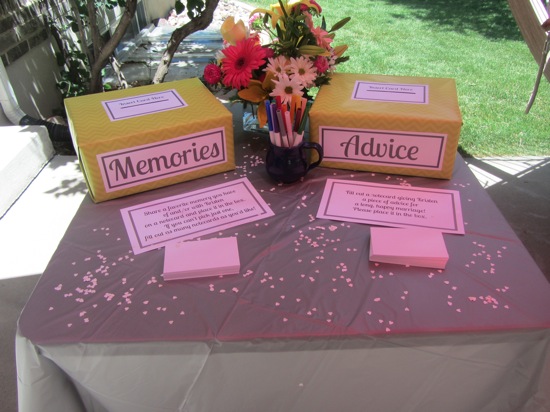 in one box the guests would place memories they had of or with kristen and in the other they would place marital advice.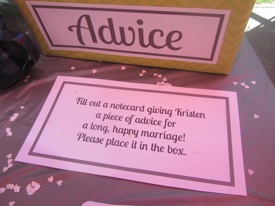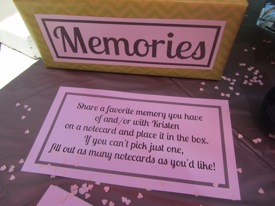 it was simple to make the boxes. i wrapped them with chevron wrapping paper and cut a slit in the top of each box. i made all the labels and directions on picmonkey.com. love that website!
i also used picmonkey.com for the favors. the favors were ruby snap cookies—they were all the "audrey" flavor.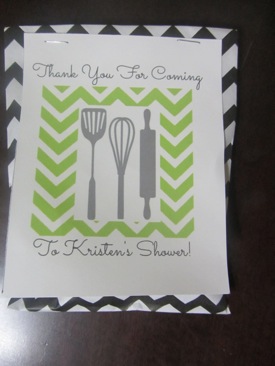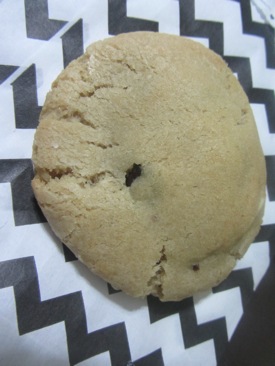 i used a kitchen utensil clip art for the front of the paper since that went with the kitchen theme. on the back of the paper, i explained how the cookie played a part in kristen and rory's engagement story. i lucked out by finding cute chevron wrappers for the cookies!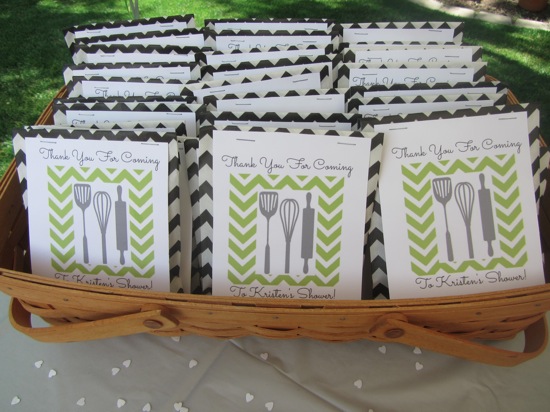 kristen's mom was in charge of the food. she is an AMAZING chef and i always look forward to anything and everything she whips up.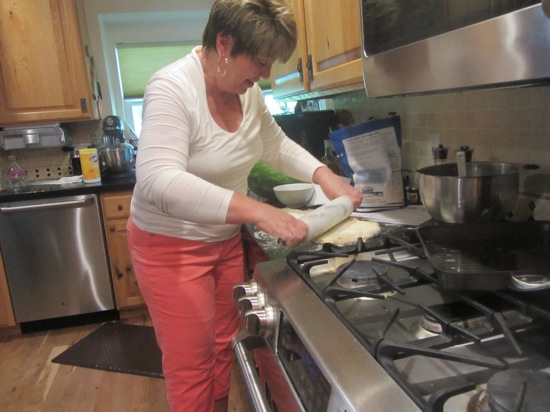 for the party she made a white sangria as well as a nonalcoholic cucumber lime spritzer. both were delicious.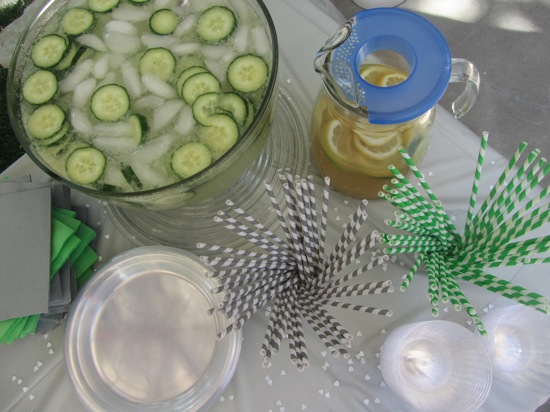 the spritzer was simply a container of limemaid concentrate, sprite zero, and sliced cucumbers.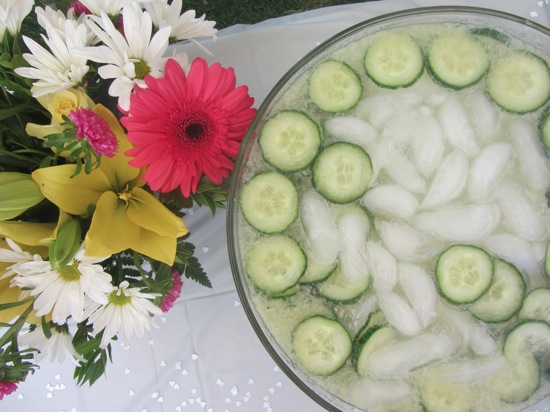 she made a cheese & cracker tray and the cheese was positioned in the shape of a wedding cake—too cute!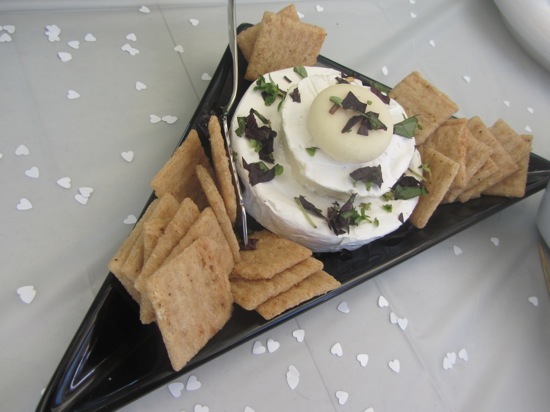 she also made bacon biscuits (SO good) and fashioned them into miniature turkey and mustard sandwiches. they were adorably delicious.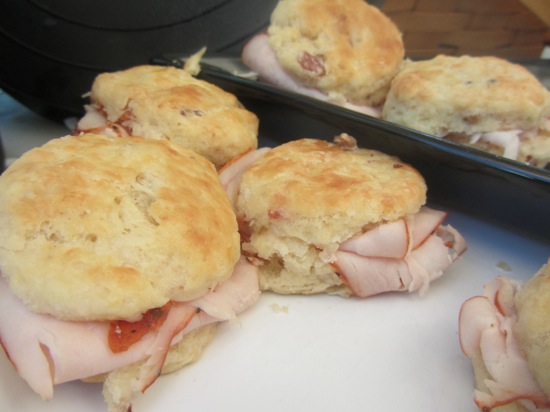 another tasty bite was caprese skewers with basil fresh from the garden. i totally need to grow my own herbs!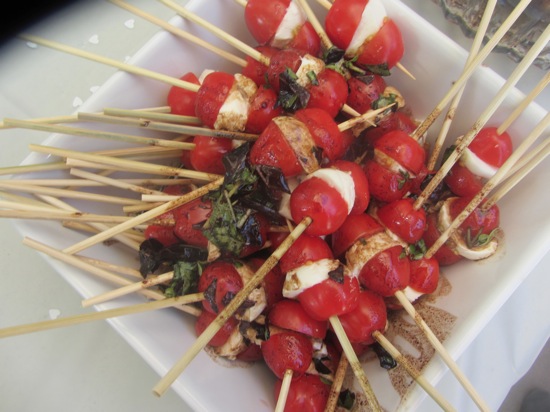 finally she made one of the best chicken salads ever. the part i loved most about this veganaise-based chicken salad was the inclusion of water chestnuts. i would never have thought to put them in chicken salad! i also loved the crisp apples and celery in there—lots of crunch going on in the salad.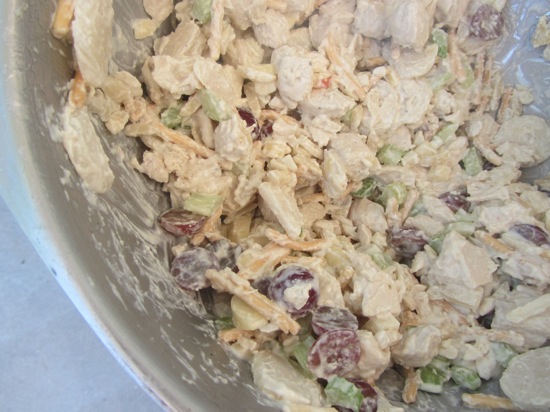 the shower started out with drinks and mingling and then we moved on to enjoying the delicious food.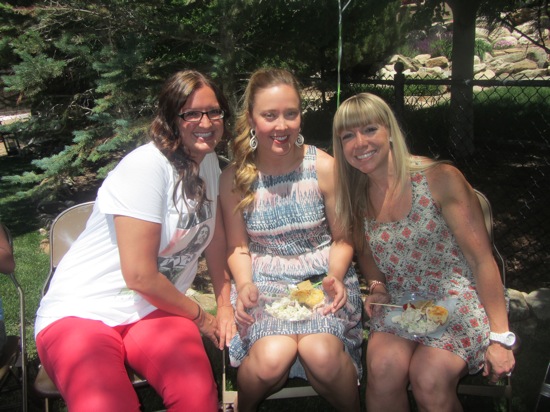 after we had all eaten, we sat down and watched kristen open her gifts. remember, it was a kitchen-themed party, so a lot of the items had to do with cooking.. but then a lot of them had to do with cleaning.  kristen is a BIG organizer and she's super tidy, so it was funny to see the excitement and glee on her face when she'd open one of the cleaning and/or organizing gifts. she loved all her gifts, but especially those that were related to the neat freak side of life. it was awesome!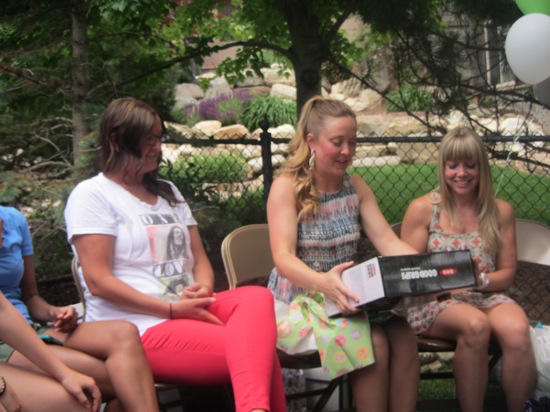 another thing all of the guests did was bring a recipe card to share a favorite recipe. several guests (including myself) wrote out a recipe and then built a gift around the recipe, including some ingredients and tools needed to make the recipe. the blank recipe cards had come with our invitations to the shower—i thought this was a super cute and clever idea!
kristen gave us bridesmaids our gift at the shower.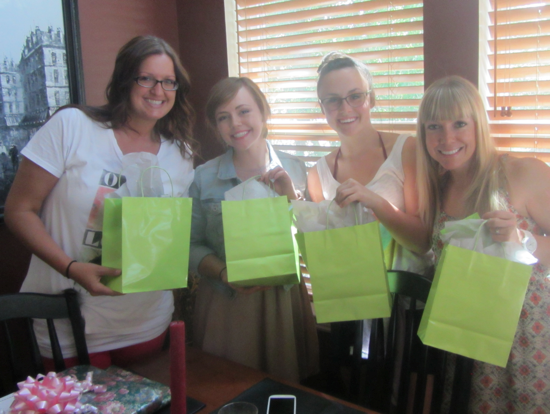 she was SO thoughtful putting this together–i cried! there was a special maid of honor champagne flute, nail polish in her colors, a cucumber face mask, a tear-jerker card, and custom-made earrings for the wedding!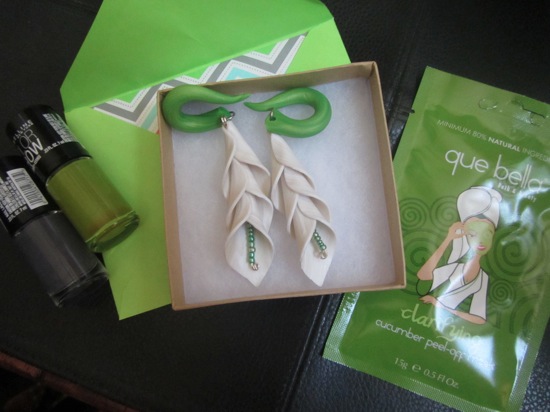 tif from peach treats made these.. i LOVE them. three of the four girls in her wedding party have stretched lobes, and the one who doesn't will wear fakers–earrings that look like you have stretched lobes, but don't! so cool.
the shower was a lot of fun! i can't believe kristen's big day is less than two weeks away. i am super excited for her to tie the knot!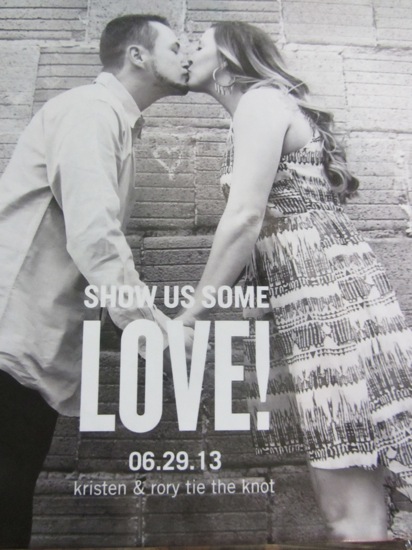 love, love, LOVE.
Qs~
1. what is your favorite party bite? i've gotta go with stuffed mushrooms or 7-layer mexican dip.
2. married gals: what were your wedding colors? single gals: do you have any in mind? mine were purple, yellow, and houndstooth!
xo. janetha g.