helllooooo and happy tuesday. holy geez, i was in rough shape ALL the day today. i got home from the concert last night and it was after 1 AM. and then, for some horrible reason, i couldn't fall asleep until 2:30 in the A-M! soooo bugged. it made my 7:18 wake up call slightly worse than usual.
anyway, enough bitching and complaining.. let's talk about today's meals & (lack of) moves! i documented everything and my dSLR is still broken, so iphone pics it is! bear with me.
first meal of the day=1 whole egg over easy plus 3 whites (and ketchup!), a slice of ezekiel toast, and some fresh strawberries that were SO good. yay for summer fruits.. i cannot WAIT for peaches.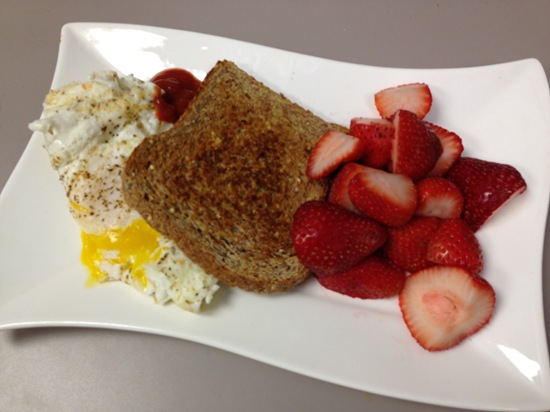 i also had coffee with coconut milk creamer. i am back to coffee every day and my stomach is A-OK with this arrangement.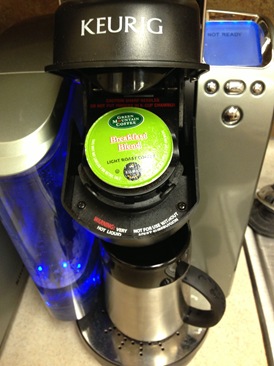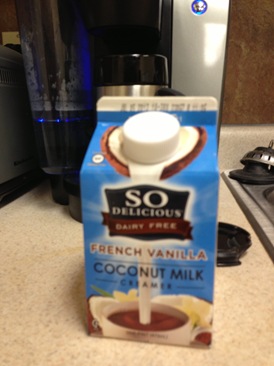 i periodically filled my contigo water bottle up throughout the day. gotta get that gallon in!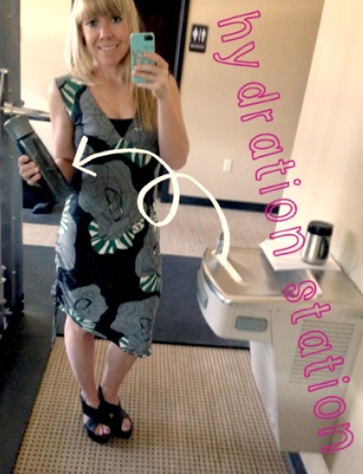 oh, and i happened to find a volcom dress in the depths of my closet and wore it to work today. this little number was purchased in 2002—yep, 11 years ago! i was a year out of high school.. pretty sure i still have some clothes from high school, too.
lunchtime rolled around and my plate was a bit on the random side. i had four ounces of cooked chicken (from trader joe's) with yellow mustard and a couple servings of raw cauliflower. i also had the last little bits of toppings from last night's greek salads: marinated artichokes, cucumbers, and tomatoes.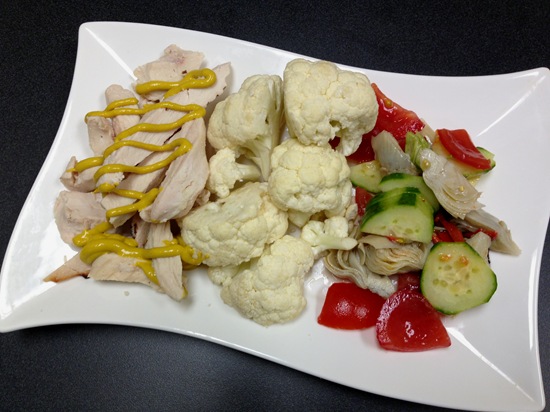 i also had an apple to finish off the lunch because i have the need to end everything on a sweeter note. i stole some of kerryne's sunflower seed butter to pair with the apple.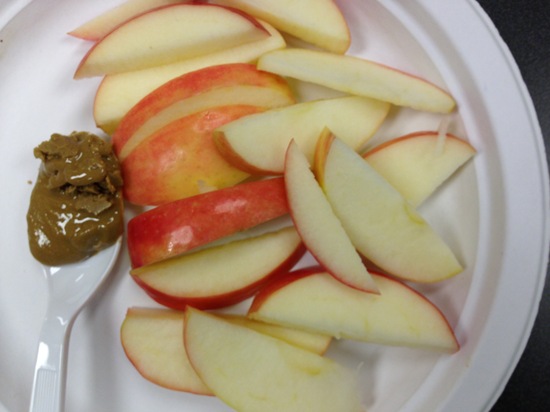 after work i was literally dozing off while driving home. i ate about a gajillion of these babies to keep me awake. i love 'em!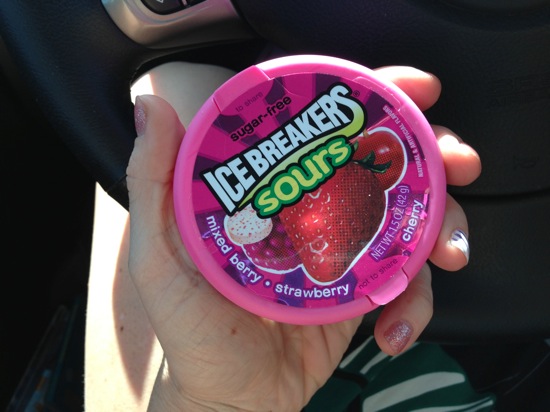 i picked the pups up from daycare and got home with only 10 minutes to spare before i would have to leave for GPP (my gym.) i decided to nix the gym. i was bummed about it because it was a heavy lifting day with squat cleans (which i LOVE) but i couldn't go do that workout not feeling 100%. in fact, i wasn't even at 50%.. my tank was on empty. instead of the gym, i made a snack.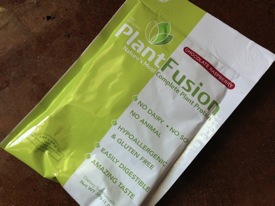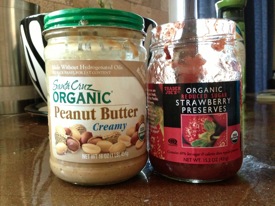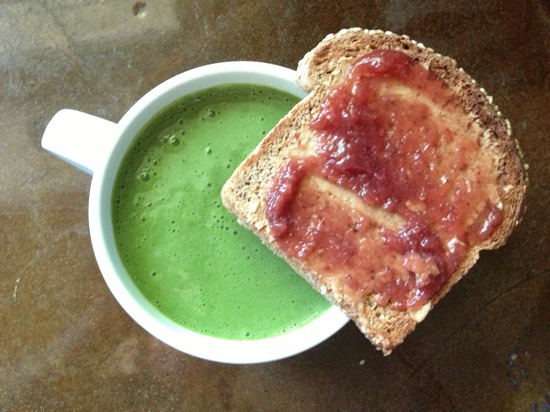 i made a protein shake with plant fusion protein powder (sample from blend retreat swag!), 1.5 cups almond milk, ice, 3  cups spinach, 1 tsp vanilla extract, and 1/8 tsp xanthan gum for thickening purposes. i also had a piece of PBJ toast. i LOVE toast almost as much as i love cereal! speaking of cereal.. i poured some attune buckwheat flakes into that protein shake after the photo. i enjoyed my snack while reading the latest issue of oxygen. i wasn't working out.. but at least i READ about working out. haha.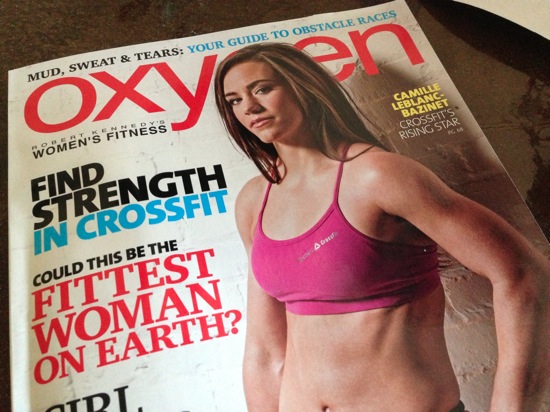 i decided a nap was in order… so at 6 PM i laid down with the pups and passed out. i NEVER take naps, in fact i don't remember the last time i took one! i feel like they make me more tired. but today, there was no choice but to sleep. i couldn't keep my peepers open. about an hour and a half later i woke up and stayed in bed for awhile more, hanging out with pen. she's the ultimate cuddlier!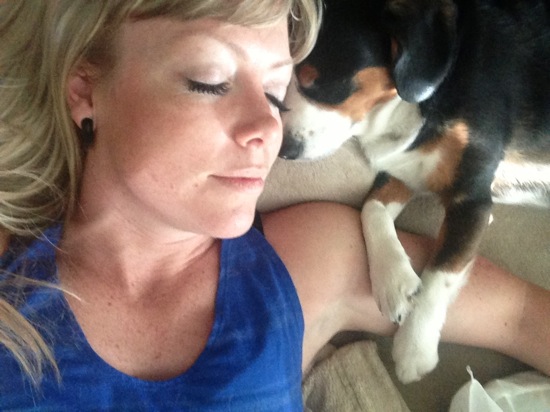 i finally got my butt out of bed (mainly because i had to pee) and decided to go to target. i needed shampoo, conditioner, make up removal wipes, yadda yadda yadda. i had a sobe life water en route. fuji apple pear is my fave!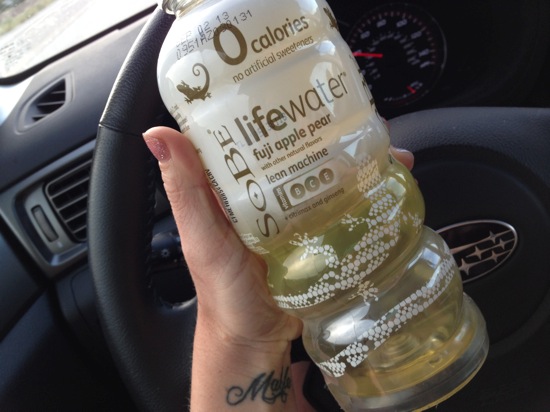 by the time i got done at target it was 9 o'clock and i didn't feel like making dinner (we were going to have spaghetti with sausage.) instead, i grabbed marshall a burger and fries from nielsen's frozen custard and called it good. i ate some of his fries before throwing together a super random meal for myself. i wasn't very hungry for some reason (probably because i was hibernating all evening) so i had a simple snack.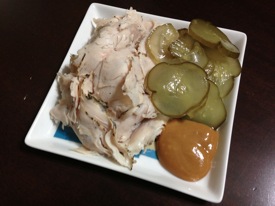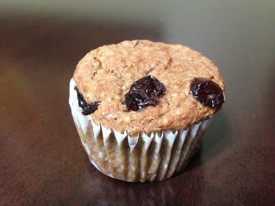 four ounces of herbed turkey breast, hot and sweet mustard, and my brother's homemade spicy sweet pickles. no, promise i am not pregnant. it just sounded good! my brother makes these pickles and throws in jalepenos for a kick.. they're soooo good! i also had a cranberry bran muffin. i know, so random.
now i am typing this up and it's 10 o'clock. i will probably have some cereal or a popsicle before heading BACK to bed. i have to go into work early tomorrow so i should probably hit the hay.
soooo, that was my whole day! pretty lazy (i only had 2000 steps according to my fitbit) and very sleepy. but that's life! i had fun staying out last night and although i paid for it today, i am happy i had a good time. the gym will always be there tomorrow, right? right.
Qs~
1. what's your favorite fruit?
2. do you still wear any of your clothes from high school?
3. do you take naps?
xo. janetha g.