yooo. how goes it?
soo.. you may have noticed that i am still not feeling the whole blog thing these days. i get an itch to blog about this or that and then i think about it a little more and decide i'd rather do something other than look at a computer screen. maybe it's the warmer weather.. or the super soft blanket marshall got me for my birthday that i have lovingly named "cloud" (yeah, probably that).. but either way, i have found myself not wanting to blog. so i haven't. i'm sure the slump will pass—it always does.
i think a lot of the reason for my absence is ever since may 20th i have had serious problems with quickbooks at work. we upgraded from the 2006 edition (i KNOW, dumb) to the 2013 edition and the glitches have been plentiful. i have spent hours and hours on the phone with quickbooks (they don't speak the best of english which makes it super convenient to communicate) and by the end of the day the LAST thing i want to do is be on the computer at all—even to blog. BUT i am happy to report i finally got my company file back from data repair services yesterday and things seem to be functioning properly. yippee! i know you don't want to read my bitching about all this, but sometimes it's nice to use this ol' blog to vent. take it or leave it.
i do miss keeping in touch with you guys, though! so i thought a mid-week check-in post would be a good idea. it's just a fun way to let you know what's going on with me this week and see how you are all doing. then, hopefully soon, i will be back with regular content including recipes, reviews, tips, and daily life rambles. i do have a lot in the pipeline that i should tackle sooner rather than later. but for now, some thursday things.
sooo.. i did a juice cleanse yesterday. the suja juice one day cleanse. i bought it with cold hard cash from whole foods and it's not exactly cheap ($8 a bottle x 6 bottles for a day), but it's convenient. sure, i could make the same stuff using my vitamix, but i am a sucker for taking the easy way out.. so i did.
you may be asking "why is she doing a cleanse? aren't cleanses to lose weight?" well, sure, some people cleanse to lose weight—or at least jump start weight loss or break through a plateau—but there are many other reasons to do a juice cleanse!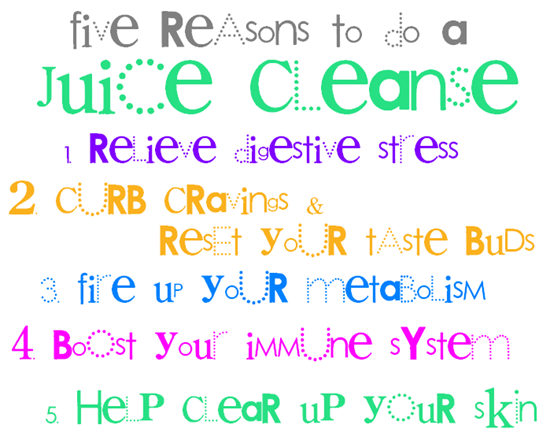 i did this one-day cleans because i have been in pretty rough shape since sunday. i need to get my butt back to acupuncture and also need to continue figuring out why my GI problems even exist.. but i, of course, am a procrastinator!
anyway, i did the cleanse to see if it would help me out. i can honestly say i feel better today even after just one short day of juice cleansing. since i have colon inertia, giving my guts a break from digesting eliminated any pain and bloating i was experiencing. i don't know if i will be ever doing the 3 or 5 day cleanse because it is tough stuff.. but the one-day cleanse was easy peasy and beneficial.
i also got my lashes done yesterday! some of you have asked how my eyelash extension thing has been going so i thought i'd tell you. it's great! i love them and love not wearing mascara.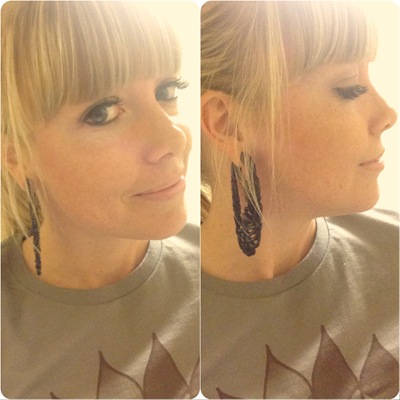 i have been getting a fill every three weeks because i like to time it so i have a fill before an event.. and so i got them filled yesterday because kristen's wedding is in three weeks (eep!) and i want to have them freshly filled for the wedding. i actually recently switched estheticians and the new gal i am going to is incredible. it takes a little longer than the old place i went, but she pays SUCH close attention to detail and she's somewhat of a perfectionist so she does a great job. the lashes she does stay on longer, too, so after the wedding i will probably switch to filling every 4to 5 weeks. if you are in or around bountiful and are looking for someone to do your lashes, eyebrows, facials, etc.. let me know and i will give you her contact info.
i rediscovered my love for selling on ebay! i buy things from ebay all the time, but back in the day, i sold EVERYTHING on ebay. i would constantly have at least 10 items up for sale. it was a nice way to make a little extra money on things i wasn't using anymore. the other night marshall was at a concert and folding laundry wasn't an option (i hate it!) so i decided to list some lululemon tops on ebay.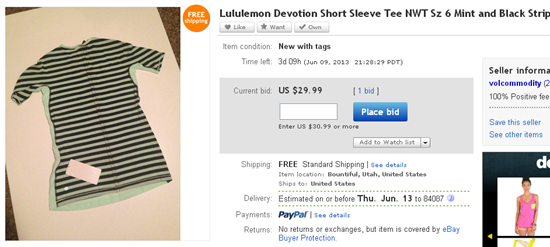 i put four tops up for sale and within two days two of them have already sold. $80 in my pocket, more space in my closet. (and, yes, i have things that are new with tags just chillin' in my closet. so dumb.) i really need to take the time to list things on ebay more often! there is actually an iphone app for ebay that i just downloaded and it makes the process even easier. i'm just gonna sell ALL THE THINGS. randy & penny better behave themselves, or i just might list them next…
jokes ;)
in other news, i went to the dentist today. I LOVE THE DENTIST! i left with a clean bill of heath and sparkling teeth. i have said it before and i will say it again, dr. adrian is the best dentist ever! it was only my second trip to his office, but i was just as impressed as the first time i went. he's located in bountiful, so if you are in the area and need a good dentist.. he's your guy.
that's all i have for now! i am off to tackle my core with side slayer at GPP.. i LOVE that workout, it makes my abs sooo sore and is super good for shaping the obliques. it's one of my favorites!
friday tomorrow.. woohoo! it is my first weekend since mid-april where i have ZERO commitments. to say i am excited is a ridiculous understatement. yay.
Qs~
1. would you do/have you done a juice cleanse.. or ANY kind of cleanse? share your thoughts!
2. do you buy and/or sell on ebay? what's your favorite website for online shopping?
xo. janetha g.