HIIII! thank you all for the happy birthday wishes! i had a wonderful birthday weekend filled with friends, family, fitness, and LOTS of food.
i actually am a big advocate for celebrating birthdays all week long, so i basically ate my way through my birthday week last week. i never had a chance to blog about any of it, so i thought i'd do a big, fat food post.
wednesday night i went out with marshall and some friends to a local mexican restaurant i'd been dying to try: chunga's. it is on 9th west between 1st and 2nd south in SLC. they have great ratings (98% on urbanspoon!) and so i knew i had to try it.
this restaurant is super authentic and they are known for their tacos al pastor. we started with chips, four kinds of salsa, and guacamole.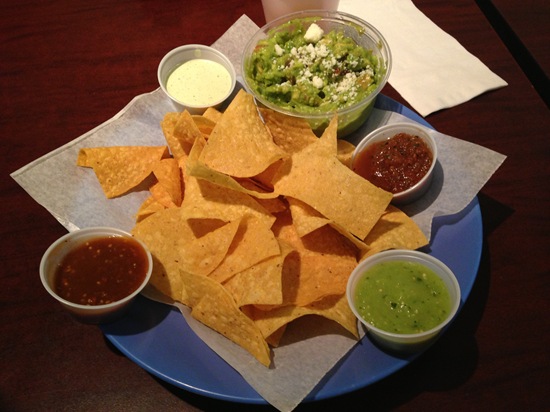 i ordered the two tacos combo with one chicken taco and one al pastor. truth be told, i should have gotten two al pastor because it was that good. the pineapple bits paired perfectly with the juicy pork and a squeeze of lime was a great garnish.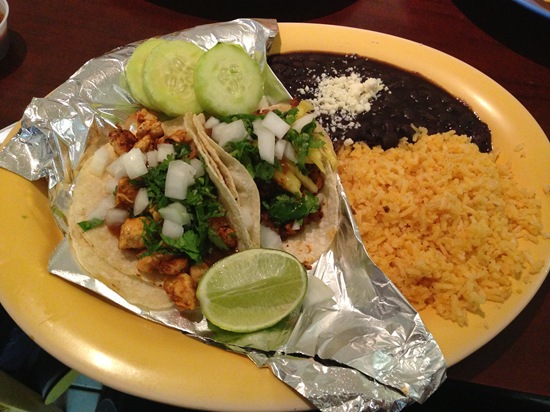 thursday i went into work and had a big surprise in my office. they had decorated! it was so cute and fun!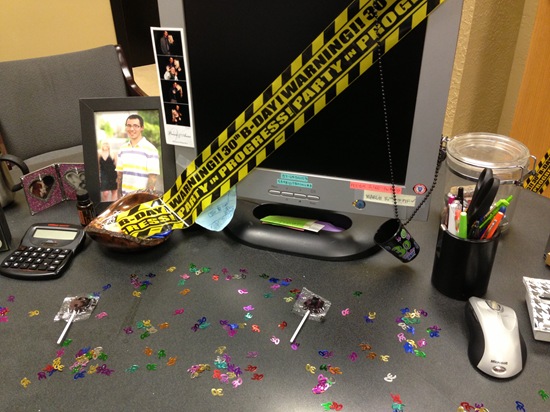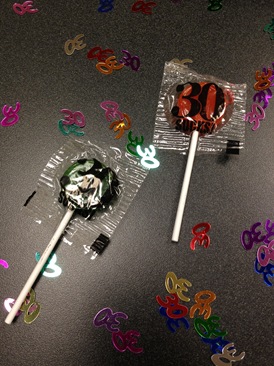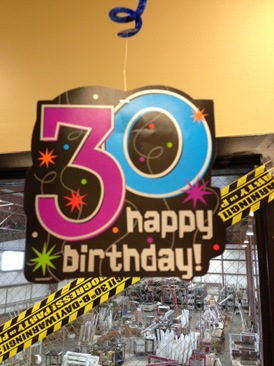 kerryne and amanda had gone to great lengths to not only decorate my office, but prepare the perfect birthday treat. they know i am not a huge cake fan and due to my whole dairy issue, ice cream is kinda out (nondairy ice cream just isn't the same!) but, these ladies know me WELL, and they surprised me with a CEREAL BAR!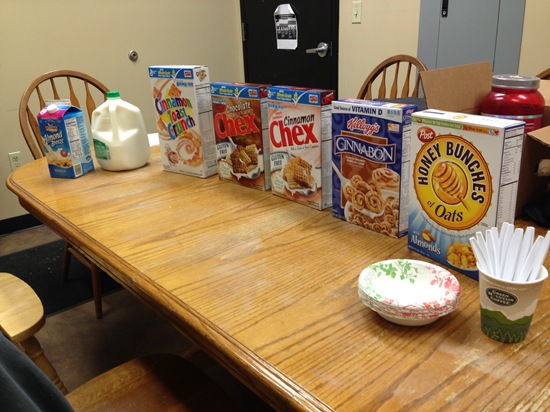 they even called marshall to ask what my favorite kinds were. he hit the nail on the head with honey bunches of oats—my all time favorite cereal. when i lived in london, my mom mailed me boxes of the stuff!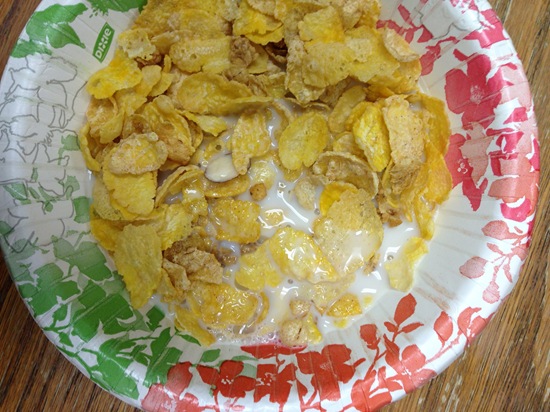 they also stocked up on THREE kinds of cinnamon cereal because they know i am a cinnamon fiend. i ended up having three bowls of cereal—cinnabon, cinnamon chex, and honey bunches of oats. it the perfect birthday treat and they're so thoughtful!
the birthday feasting festivities continued on friday with a lunch with momma b. we went to thai lotus which is on about 2nd east and 5th south in SLC. i wanted to get either ethiopian food or thai food because marshall isn't a big fan of either. i had heard good things about thai lotus and they had a great lunch menu, so that's where we ended up.
we both started with a salad that came with a flavorful peanutty, gingery dressing.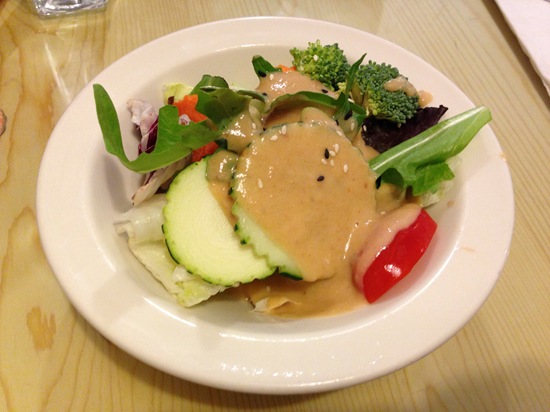 i got the pad thai for my entree and my mom got the yellow curry. i hate to say it, but her curry sucked. the chicken was VERY dry and there wasn't much sauce to offset the dryness of the chicken. the pad thai, on the other hand, was delicious!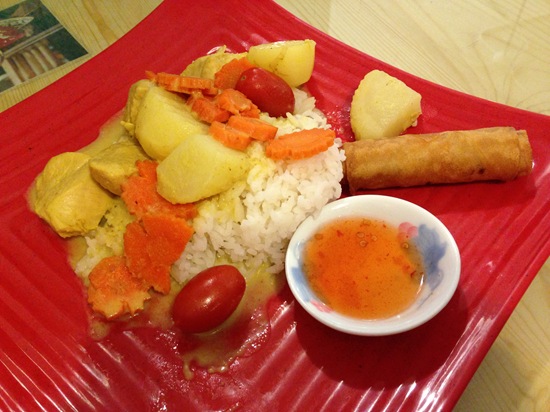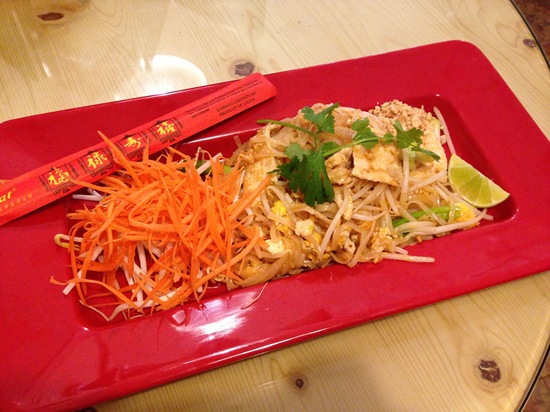 while the pad thai and salad were good, the curry and service were not.. so i probably wouldn't recommend thai lotus and i personally won't be going back. it didn't matter, though, because it was all about the company! birthday lunch with my mom is always a real treat. love her so much!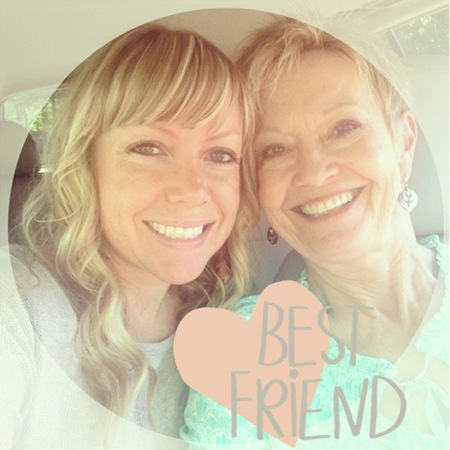 friday night i went to taste of india with marshall and his friends. it wasn't a birthday celebration per say, but i was in celebration mode so we can pretend like it was! marshall ordered the taj mahal beer and i stole a few sips. very good!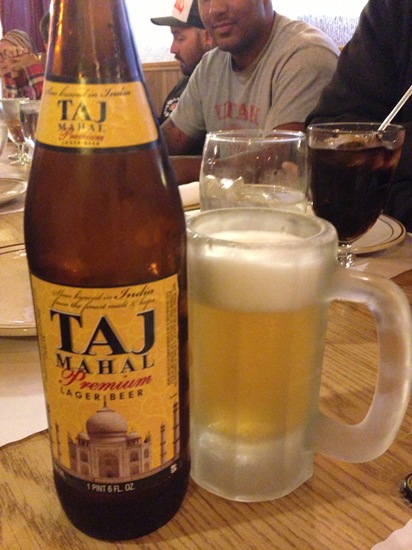 marshall and i shared the chicken vindaloo and a side of tandoori roti. the vindaloo had chicken and potatoes in a curry and vinegar sauce and it came with basmati rice.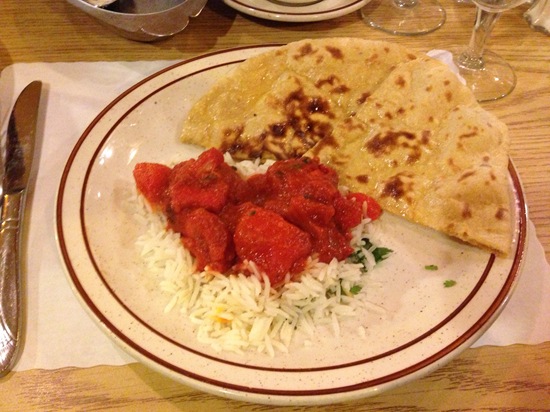 we hung out with our friends awhile after dinner and didn't get home until past midnight, which made it officially my birthday! guess what the first meal of my 30s was??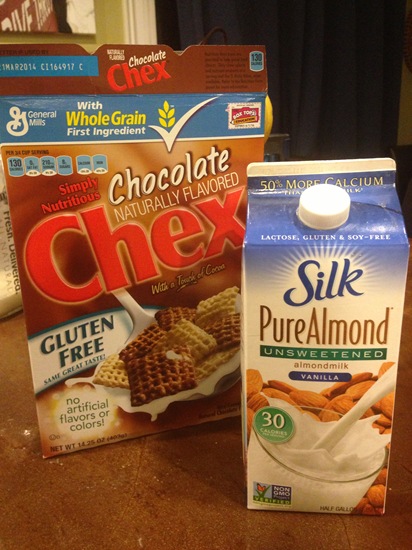 yep. cereal. LOVE the stuff! ate a big bowl and then hit the sack.
i woke up saturday morning bright and early to head to GPP. neil had created a special birthday workout in my honor!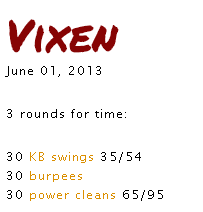 he had asked me what moves i like. i listed a few which included power cleans and kettlebell swings..but NOT burpees! that was an unpleasant addition! he had us do 30 reps of each move 3 times through since i turned 30. fun!
my cute friends came to the gym bearing gifts: balloons, vegan lavendar cupcakes, and flowers. so sweet!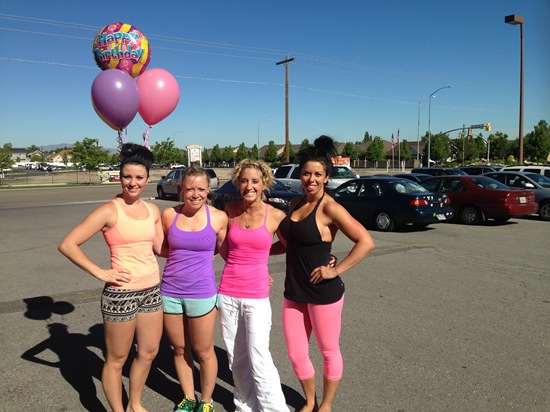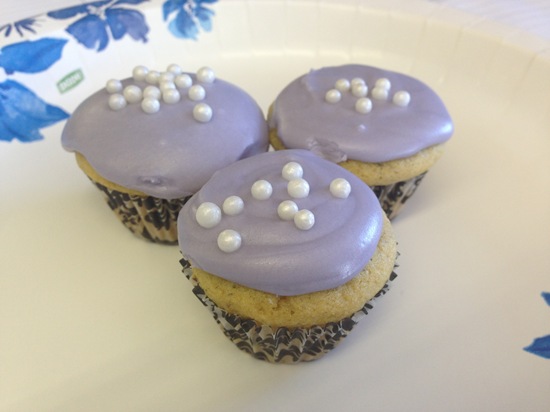 after the workout i headed to starbucks for sun-basking, coffee-drinking, and chatting with mandy and marshall. i had an iced americano with soy milk.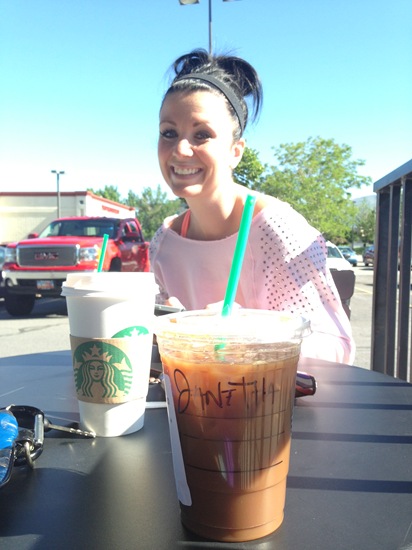 saturday was spent doing a little birthday shopping for myself. i finally got to elevation eyeworks (i'd been meaning to go forever!) and picked out some eyeglasses. i am convinced that once i get glasses i like, i will start taking my contacts out. i NEVER take them out.. so bad! i picked out a pair of coach frames and they will be in in a couple of weeks. i will be sure to show you when i get them! i also headed to dogfunk (it's a clothing website based here in utah so i can go to the warehouse to pick stuff up!) and got a couple of dresses.
after the shopping shenanigans i got ready and headed out to SLC with mandy to wander around downtown. we ended up at the green pig and i got a sweet tea vodka with water and lemon. it was the perfect refreshment on a hot (birth)day!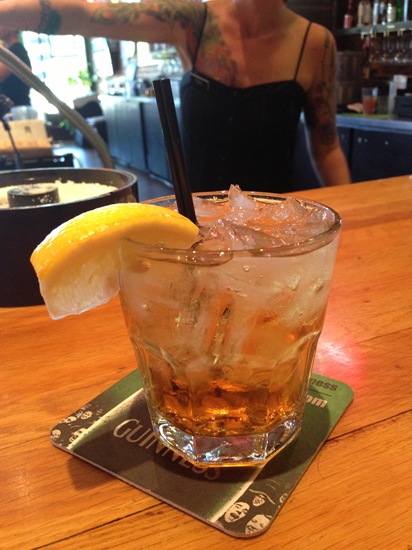 around 4 o'clock i checked into the homewood suites downtown. my friends threw me a party there rather than me throwing my own party at my house—it was so nice to not stress about cleaning for a party AND not having to clean up after a party! the first item of business was to hit the poooool!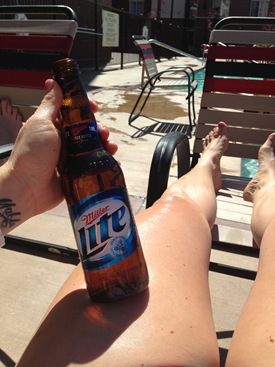 after catching some rays (and eating a whole bag of salt & vinegar kettle chips—YUM) we headed into the hotel room where i was surprised to see my mom had left 30 balloons! (well, i later found out it was 29 because one popped… yay, i am only 29!) this is her tradition she has done for us kids for as long as i can remember. the balloons stop at 30, though, so it was my last year to receive them. probably a good thing, though, because any more than 30 balloons might make me take flight.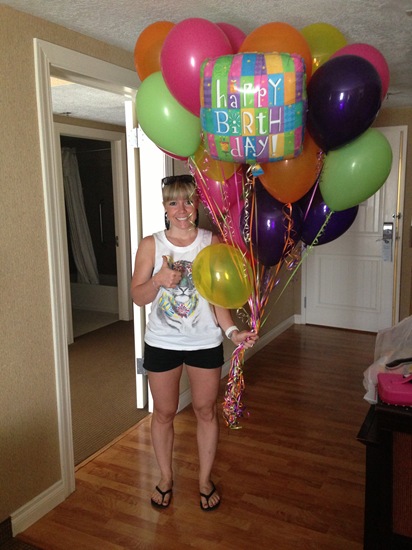 we cleaned up and the birthday party got started (or continued, i suppose…) my friends had gone to a lot of trouble to prepare a delicious party spread! on the savory side there was chips, homemade salsa, veggies & dip, salad, and THE BEST CHICKEN SALAD KNOWN TO MAN.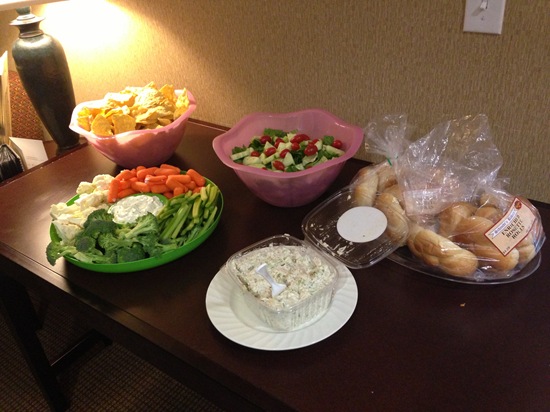 i had actually forgotten about this chicken salad. it's from the store (no, really.. the grocery store it is from is called "the store"—haha) and i used to eat it ALL the time. marshall headed out to cottonwood heights to pick some up for the party. i devoured it. if you live in or around the SLC, get your butt to the store and pick this stuff up! it's the best!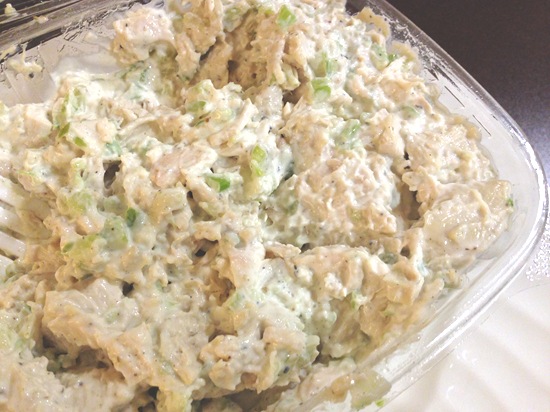 we also had a bunch of meat and a grill right outside the room on the patio!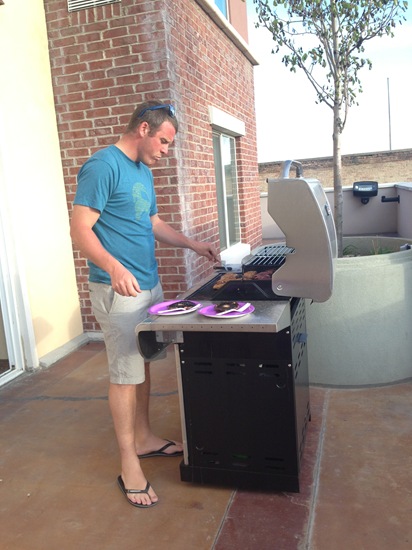 on the sweet side there was vegan lavendar cupcakes, peanut butter bars, and two kinds of muddy buddies (peanut butter chocolate and birthday cake!) i kinda failed on the photos of dessert.. whoops!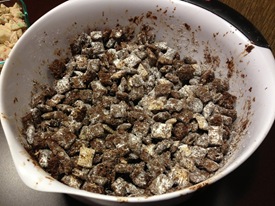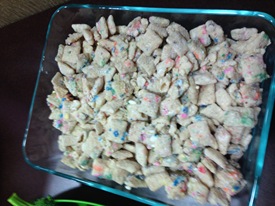 later in the evening my friends surprised me with an ice cream cake. cookies & cream ice cream cake is my all time favorite birthday dessert.. but that no dairy thing kinda made that impossible. they are so sweet and thoughtful, though—they found out that baskin robbins makes a non dairy ice cream cake and they got it for me! it was pina colada ice cream with non dairy whipped cream frosting.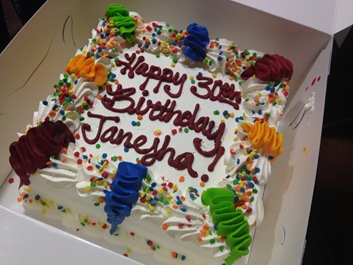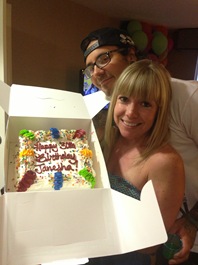 pretty sure that may say "janesha" but it's all good. janetha is a tough name, haha.
the birthday celebration was fabulous. after filling up on all the delicious food we headed to the bar for more good times. here are some photos from the night!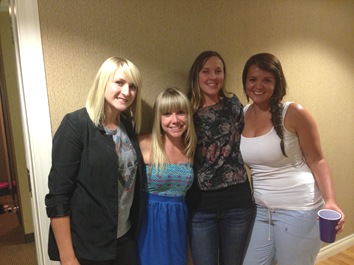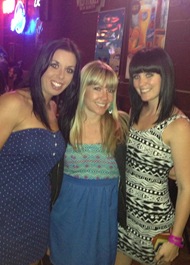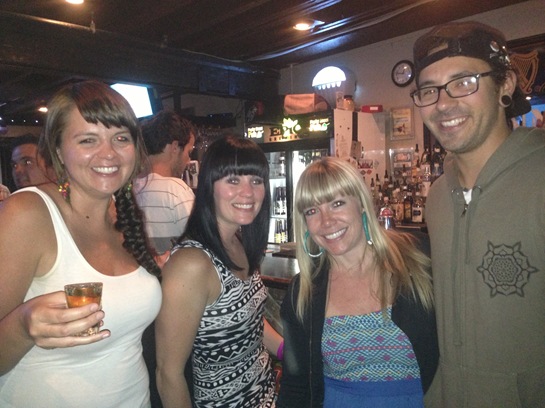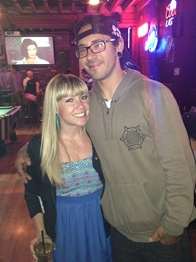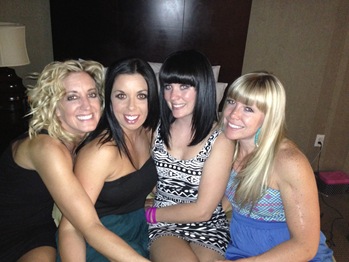 thanks for a fun time, friends!!!!!
as if that wasn't enough of a celebration, sunday brought even MORE festivities. we went to squatters for breakfast (no photo, i was photo-ed out!) and i had eggs florentine and a side of bacon.
sunday evening we headed to my brother's house (his birthday is today!) and had a BBQ. i made my greek pasta salad to share with everyone. and, since i was photo-ed out, i only managed to take one picture at the party—fruit kebabs! haha.. fail. but they were cute!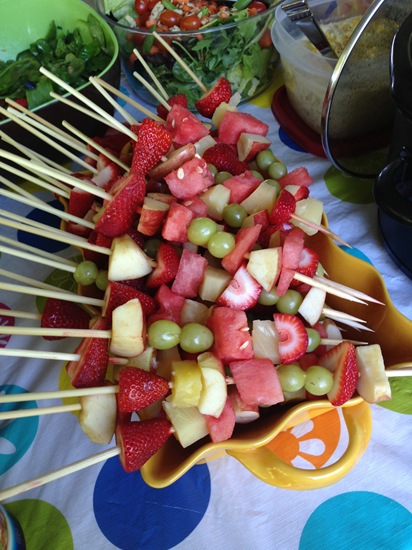 and that, my friends, sums up the birthday week eats! i know, LOTS of food. what can i say, part of enjoying my life is eating awesome food. in fact, my favorite part of traveling is eating all the new foods. obviously any sort of celebration calls for a delicious dish or tasty treat (or lots of both…) yes, i do try to eat clean and stick to healthy choices the majority of the time.. but not ALL the time! that would be so boring!
i want to thank my friends and family for making my 30th birthday (and the days leading up to it) extra special. everyone was super thoughtful and it seriously makes me the happiest girl around. thank you, thank you.
i hope you have enjoyed my enormous recap! have a great night. chat soon!
Qs~
1. what's your favorite birthday dessert?
2. what was the last restaurant you ate at and what did you order?
xo. janetha g.