hey, guys! i've missed you! i've been slacking on blogging these days (both blogging here and reading your blogs) but that thing called life has been crazy, crazy. i decided i better get my memorial day weekend recap up before i forget all the details—that tends to happen to me more often than not!
sooo.. how about we begin at the beginning? sounds like a plan. i went to st. george (which is in southern utah) for the weekend to celebrate my friend's bachelorette party.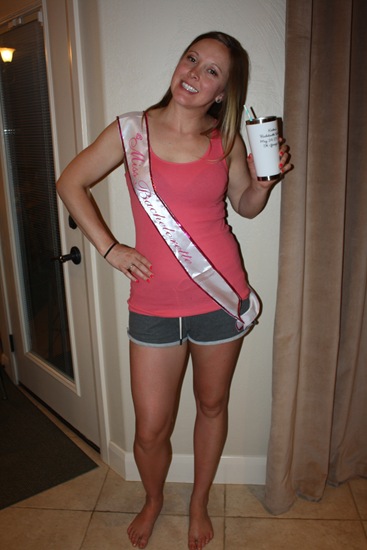 kristen (the bride-to-be), jessica (my favorite rabbit), and i hit the road last friday just a bit before noon. we managed to make it to scipio before a pitstop to pee and hang out at the random petting zoo… yeah…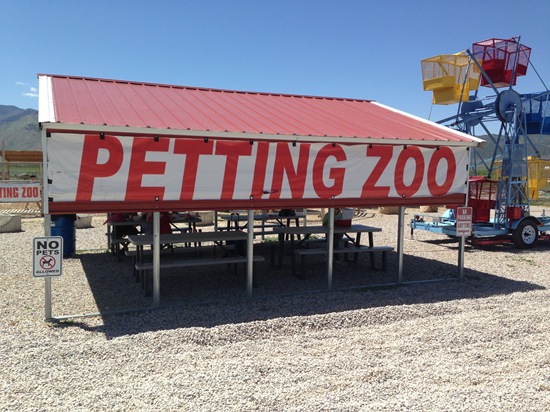 we rolled into st. george and our first stop was kristen's aunts house—she let us use it for the weekend. it was incredible! there were plenty of bedrooms, a comfy living area, an awesome kitchen, a grill, and even a pool! we were definitely spoiled when it came to accommodations for the weekend.
we wanted to get pedis, so that was the first item of business. the nail salon couldn't fit us in right away, so we decided to grab a bite to eat at 25 main. this was the cutest little cafe & bakery around!! i loved the "cupcake schedule".. haha!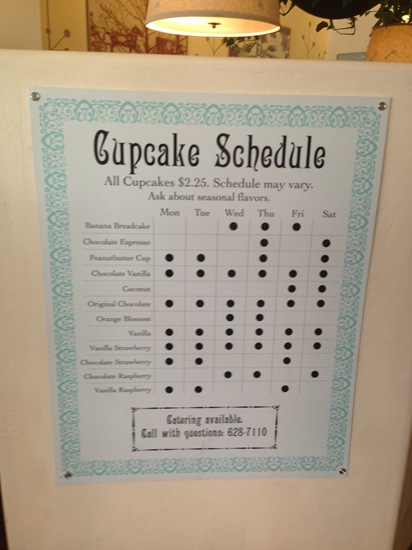 i got the greek salad and i loved the addition of penne pasta. i never put noodles in a green salad. sometimes i'll throw quinoa or couscous in one.. but never pasta. great idea! i also had an iced almond milk latte.. i love that they offered almond milk. that's hard to find!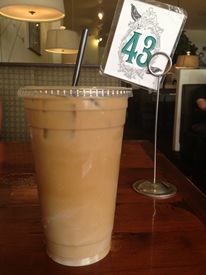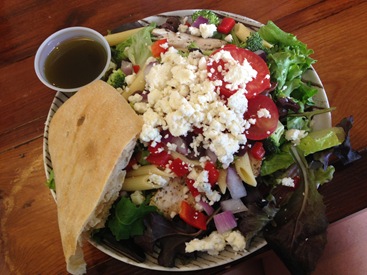 we got a couple of cupcakes to share—the coconut and the vanilla raspberry. both were delicious, but i especially loved the owl plate. OF COURSE.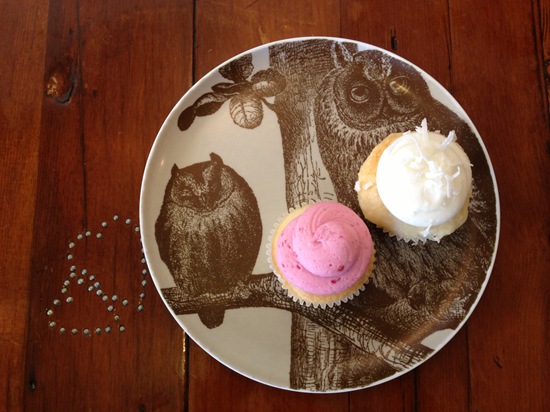 we got our pedicures (the salon wasn't the best, so i am not recommending it) and then headed home to meet a few other ladies who had arrived. we spent the evening chatting over drinks, pizza, music, and the warm evening air. it was perfect!
saturday morning started with coffee! luckily there was a cute drive thru coffee stand nearby called perks. they had every coffee concoction under the sun! i always ordered a coffee with almond milk. i was super impressed with the availability of almond milk in st. george, ha!
we spent the majority of saturday at the pool soaking up the sun and drinking mimosas!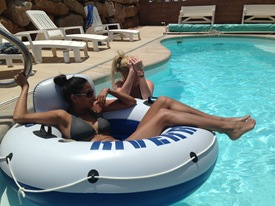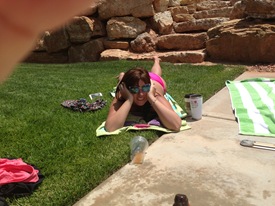 i had some personalized travel mugs made (on cafepress) in honor of the occasion and they were perfect for our poolside beverages.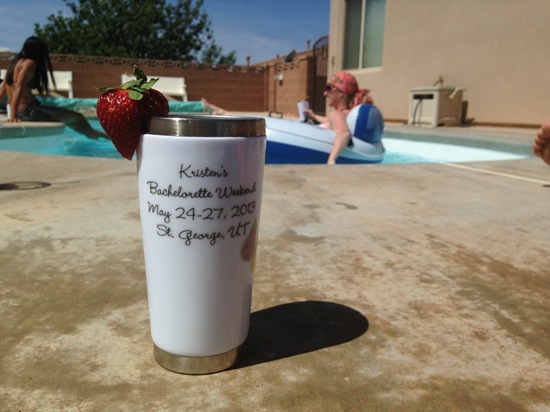 actually some of you may find this helpful if planning an event.. i had the mugs made for each attendee and then filled them with fun little items for the weekend! there was lotion, face wipes, gum, mints, chapstick, and a headband. they were fun to make!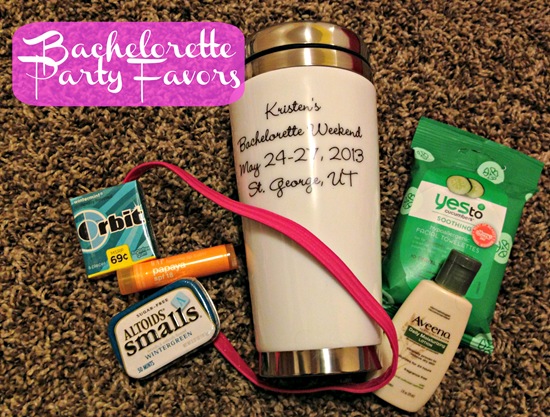 we didn't want to leave the pool, so we grabbed takeout from the tiki island grill. kristen suggested it because she'd been before and i am glad she knew about it—it was so good! i had a salad with hibachi chicken, fresh romaine heart lettuce, mandarin oranges, pineapple tidbits, slivered almonds, and wontons. i also got a side of fries.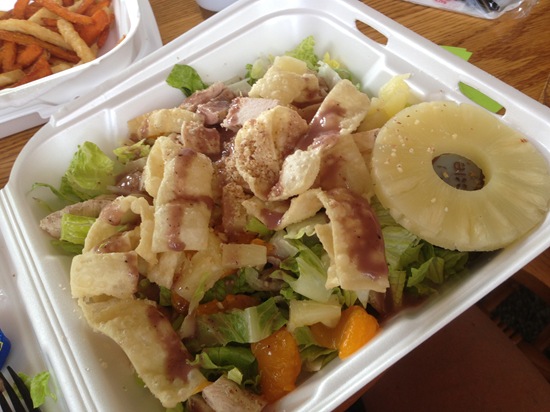 we played cards against humanity (the bootlegged edition) while eating our lunch. that game is so wrong but so much fun!!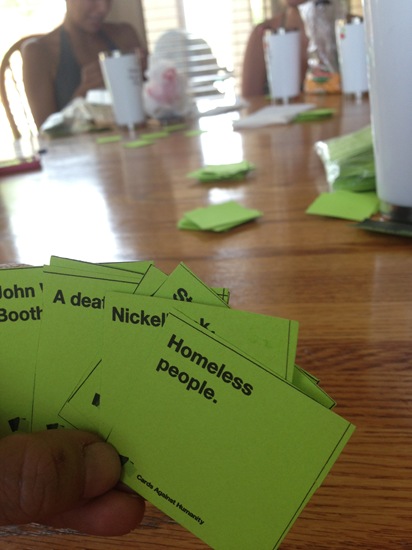 later that night we headed to cappeletti's for a delicious dinner. they brought hot, doughy rolls served with herbed butter to the table. we shared some calamari, bruschetta, and wine. for my entree, i ordered the seared salmon salad. i was glad, because after filling up on the rolls and appetizer, i wasn't too hungry.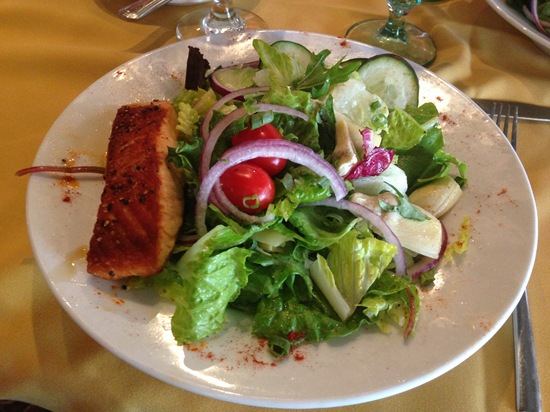 the salad was perfect, the company was better!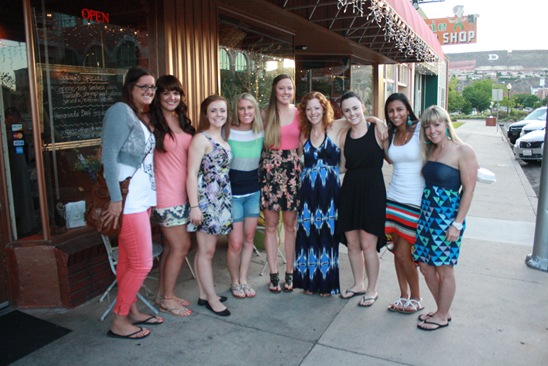 we headed home after dinner for gifts, games, and more drinks. i found a cute 20 questions game online and had kristen's fiance answer the questions. for every answer she got right, she gave a shot away.for every one she got wrong, she had to take a shot. twenty questions is a lot, so we were shooting wine!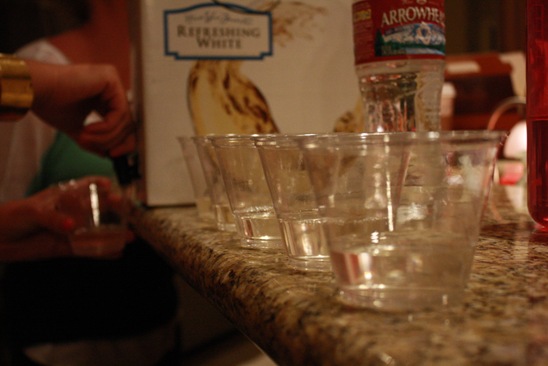 here are the questions, for those who are curious or planning a bachelorette party of your own.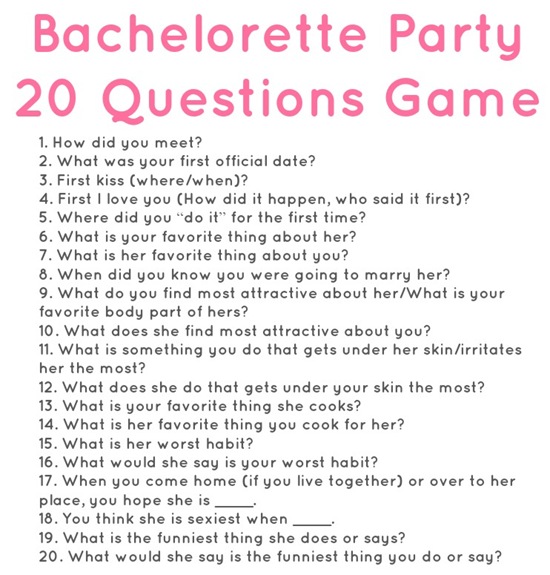 after awhile we needed dessert. kristen and her fiance have a special spot for ruby snap cookies. their engagement even included the cookies! i was stoked to find that harmon's sells frozen ruby snap cookies, so i brought a few bags down to bake fresh on saturday night. they were the perfect dessert—i will take cookies over cake every day of the week.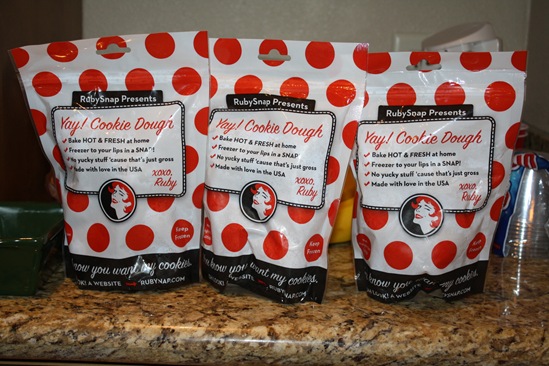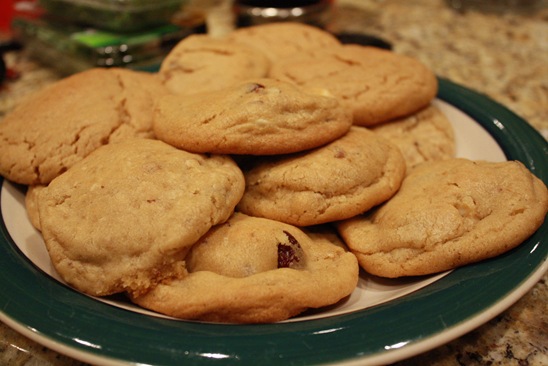 the rest of the night was spent playing more games—i especially loved telestrations. i have to buy it! so fun. we didn't get to bed until after 2 AM.. that's late for this old gal, but it was such a fun evening!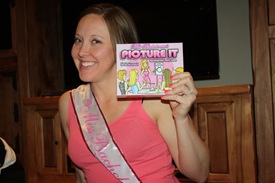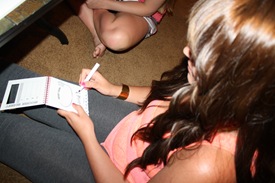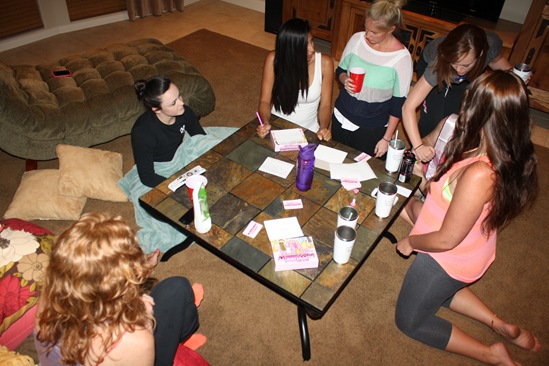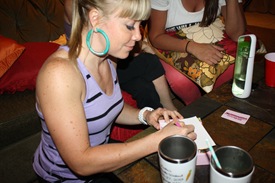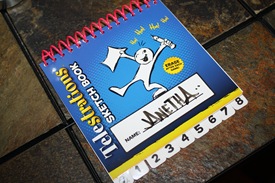 sunday morning i slept innnnn.. finally, for the first time in a month or so. we fixed brunch at the house: trader joe's cinnamon rolls, scrambled eggs, hashbrowns, bacon, and coffee from perks!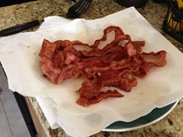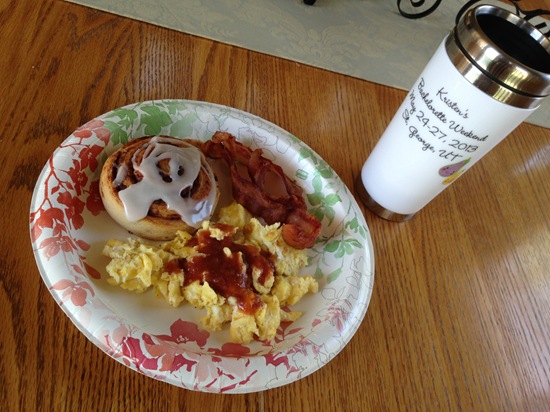 we spent the day lounging by the pool some more and just relaxed in the sun. i think i dozed off more than once. later on we grabbed some groceries for a BBQ and also snagged bridesmaids from target. it's the perfect movie for a bachelorette weekend!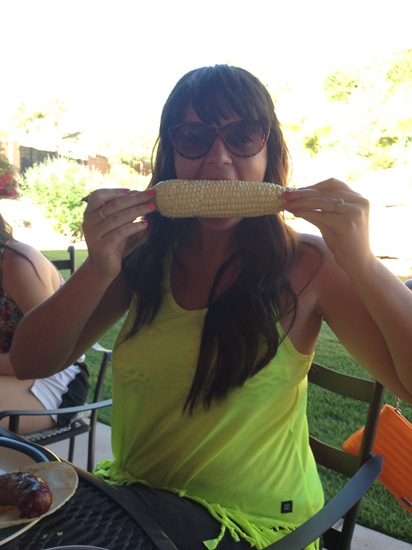 we ate our dinner on the patio (jessica really wanted corn) and then headed inside to watch the movie. it was a nice mellow evening—just what the doctor ordered after the exciting night before!
monday was spent cleaning up the house and then we headed to breakfast at the egg & i while the laundry finished. i ordered an omelet with tons of veggies, avocado, and salsa, a side of fruit, and a buttery english muffin. it hit the spot.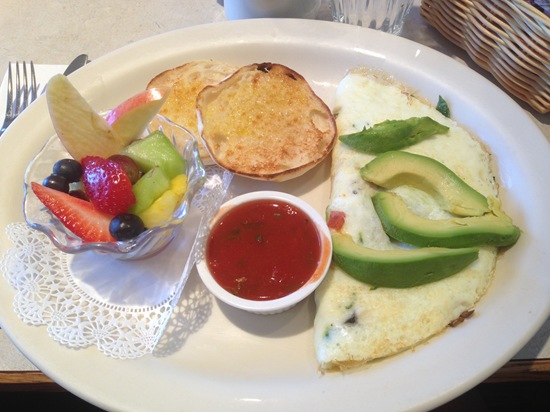 we made sure everything was neat and tidy at the house and then hit the road for home right around noon. i was home by four o'clock—with plenty of time for my weekly whole foods & trader joe's grocery store shopping. marshall was sad about our extreme lack of food at home, so i made sure to stock up on the essentials before heading to my house!
that concludes my bachelorette weekend recap. i am thrilled for kristen and rory and their upcoming wedding! it is in one month from today (exactly!) so this month should be fun putting all the finishing touches on the wedding details.
Qs~
1. what did you do for memorial day weekend?
2. what's your favorite game?
xo. janetha g.