last tuesday i had the pleasure of visiting my long-time friend, jenn. "pleasure" doesn't even capture how incredible our hang out sesh was.. i had been looking forward to it since october of 2011!
let me back up…
jenn and i "met" on the body for life forums back in 2008. this was way before i even knew about blogging! i always looked up to her and followed her as she trained and successfully competed in a figure show. i followed her blog (formerly competing to lose) religiously and we became great blog friends. after having an online friendship for over three years, i finally was able to meet jenn at the LA blogger picnic i went to while visiting deb & eden in LA in october 2011.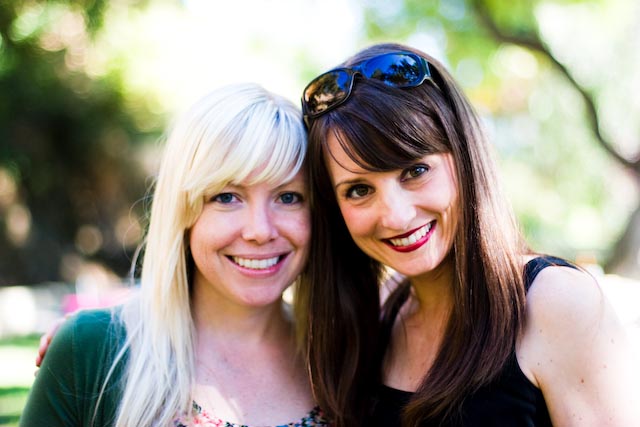 photo stolen from jenn's post

at that time, jenn, her husband brent, her two sons, her two dogs, and meow cow the cat were getting ready to set off on a grand adventure! they were hitting the road in an RV (which was renovated with the most adorable vintage decor by jenn herself) to travel the nation! their initial plan was to travel for a year, but here it is over 18 months later and they are still loving the nomad life. brent does graphic and web design (he is SO talented!) and so they are able to travel and he has an office right inside the RV. so cool!
i was thrilled when jenn finally made her way to utah. we were actually in moab the same weekend (during red rock relay) but didn't meet up. i'd been super busy with blend retreat after that, so when i finally had some time to breathe jenn suggested we come visit her and the fam on antelope island. i jumped at the chance!
fun fact: before last tuesday, i had NEVER been to antelope island in my life. yep, thirty years of living in utah and i never made the 30-minute journey. utah local fail. i was excited to finally get out there! i didn't go alone. marshall joined me and we HAD to take the dogs. jenn has had an online crush on penny since the beginning of time. and, as it turned out, randy ended up melting her heart and gave sweet penny a run for her money! he tends to do that. momma b also joined us—she and jenn have also been online buddies for quite some time. in fact, jenn once featured me and momma b on her girl heroes blog! it was an honor.
jenn and brent made us the most delicious dinner. i keep thinking about it, actually. it was that good. the menu included grilled orange glazed chicken kebabs, a savory rice pilaf with mushrooms, a salad with kalamata olives, feta, tomatoes, and balsamic vinaigrette, and grilled garlic bread. pretty freaking gourmet, especially considering the "roughing it" situation!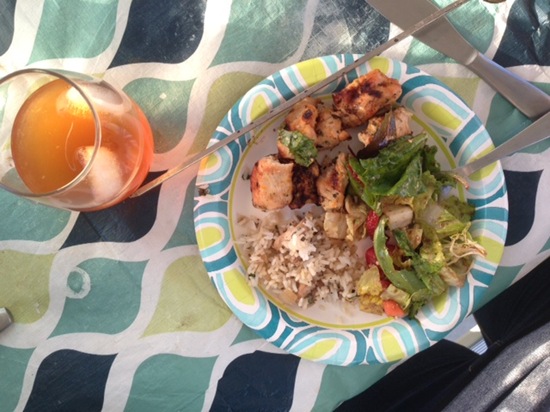 we enjoyed chatting and eating while watching the gorgeous sunset over the great salt lake. i see these sunsets from home, but being right at the lake was truly breathtaking!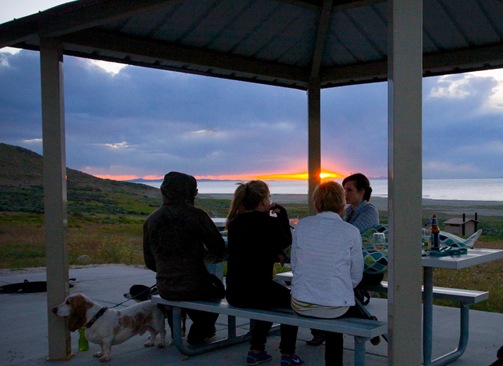 photo from jenn
antelope island have lots of buffalo roaming around (although i have learned that they aren't really buffalo, they are bison, but all the signs say buffalo, so whatever…) and we actually had a couple of them right up close and personal while eating dinner!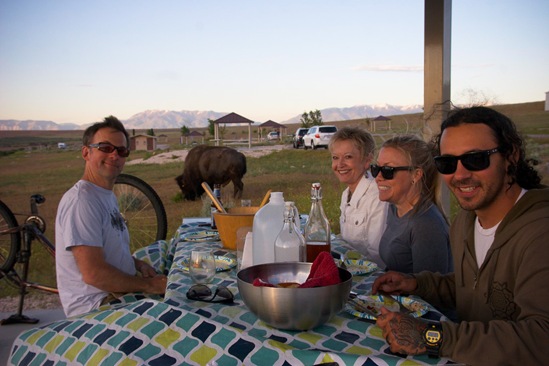 jenn's photo, i love that she titled it "don't look behind you!"
the buffalo were just roaming around, minding their business. it was semi-scary but actually pretty cool! they were as big as my car!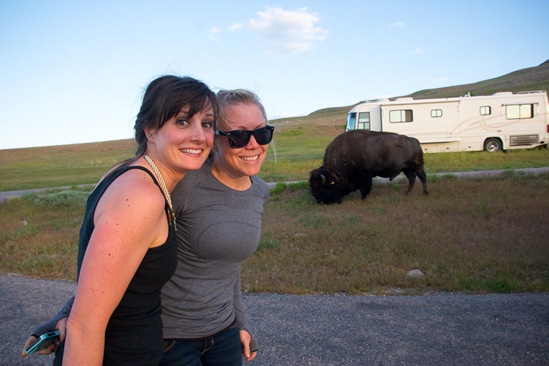 jenn's photo with the title: "Eeeek it's a bison Janetha and Jenn" hahaha
penny and randy were tied up—didn't want them running after those big beasts!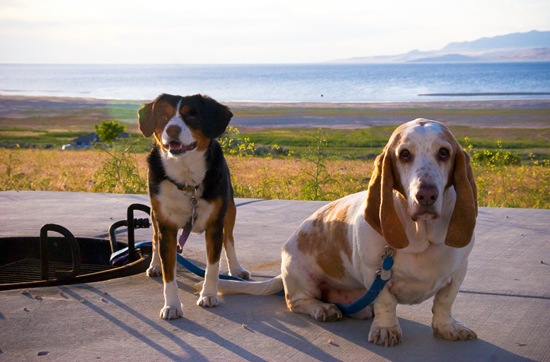 jenn's photo.. LOVE this shot!
after eating we moved inside their RV where jenn gave me the best gift EVER… my own scoby and kefir grains to make kombucha and kefir water!  i had tried it at the picnic in LA and have wanted to make my own since.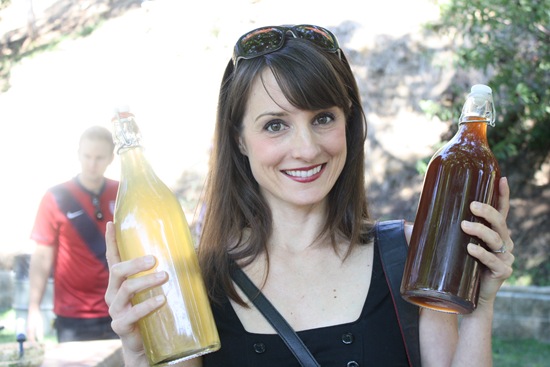 jenn with her kefir water & kombucha at the blogger picnic
i am so excited to make my own.. i am a little nervous, but i have read jenn's tutorials (kombucha, kefir water) at least three times each, so i think i can pull it off!
we sat and talked in the RV for hours. before we knew it, it was 11 PM! as much as i wanted to stay and chat the night away, we had work the next day and had to go. luckily home was just thirty minutes away. it was sad to say goodbye, and i wish i could put jenn in my pocket and never let her leave, but it was SO great to spend the evening with them. i am definitely envious of their adventurous life and if i had some skill to allow me to work and live on the road, i would pack up in a heartbeat.
the next day, it was back to real life (i have been having horrible problems this week because i updated my quickbooks and there were many, many glitches) and i smiled at this text exchange with marshall…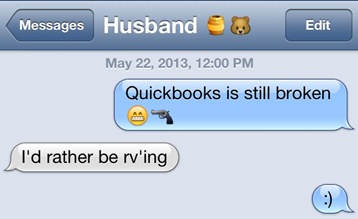 me too, marshall, me too.
big, huge thanks to jenn and brent for their hospitality! it was the perfect evening and i am so glad we were able to connect during one of their many stops across the nation.
you can follow jenn's journey on her travel blog, newschool nomads. she also posts amazing kettlebell workouts and other fun fitness & food posts on girl heroes.
Qs~
1. would you ever hit the road and live in an RV?
2. have you brewed your own kombucha or kefir water? or beer?
xo. janetha g.