hey, guys! as this post publishes i am probably on the road, heading to sunny st. george for kristen's bachelorette party! i am so excited for a long weekend of relaxation in the sun.
this month has been a whirlwind for me. between the red rock relay, blend retreat, and now this weekend away, i have been away from home quite a bit. and, when i have been AT home, i have filled the minutes, hours, and days with planning. i am all planned out, haha. but i have to say, planning blend retreat 2013 was well worth the work.
last year's retreat was in colorado, but this year's was right here in park city, utah. that meant this year's retreat was much more hands-on for me in terms of the planning. by the time the retreat started, i just wanted to have a good time and not worry about taking photos and documenting the whole experience! very bad-blogger of me, but i'm not too worried about it.
i am stealing lots photos from the GOOD bloggers for my recap. sharing is caring, right? i will share the highlights of each day with you! this post is going to be long, but i kinda like the idea of having the whole weekend summed up in one post (lindsay had the right idea!) grab a snack and enjoy!
thursday.
thursday was the day before the retreat started, and our #1 priority was to get the swag (from nearly 50 sponsors) from momma b's house up to the retreat venue—about forty minutes away. katie, lauren, lindsay and her husband travis got into town and we got to work! my sister, marisa also flew in on thursday so we had the help from her and my mom. marshall was there helping and i also put my friends nikki and mandy to work. my sister in law, lindsay, came up to help thursday evening—pregnant and all! i can't thank everyone enough who helped with the swag transport and stuffing process!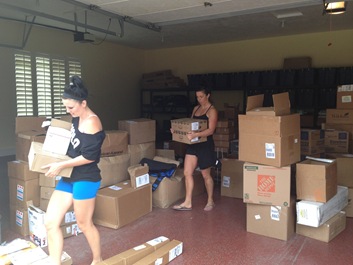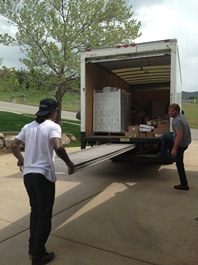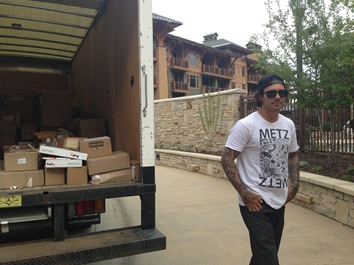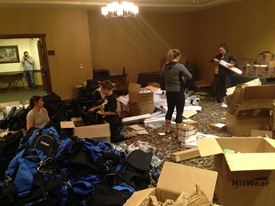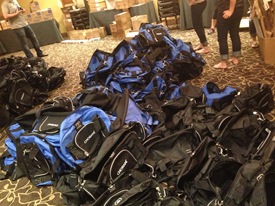 friday.
registration started at noon, but i was up about 7:30 to get things going. mandy came up to help with all last minute things. we did manage to take a break and try a new breakfast spot—good thymes bistro. i got a scramble and she got the breakfast burrito. that place was amazing!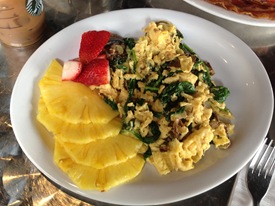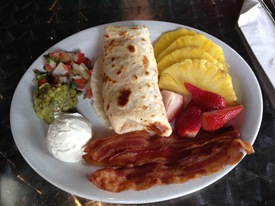 the hours between noon and 5 PM were somewhat of a blur. everyone arrived, checked in, and picked up their shirts and swag. it was a party! it was fun to see familiar faces and also meet new ones for the first time.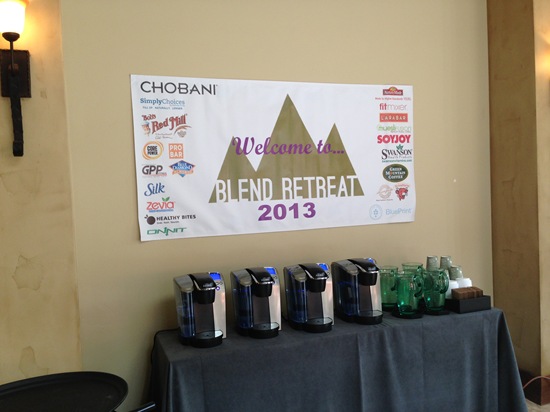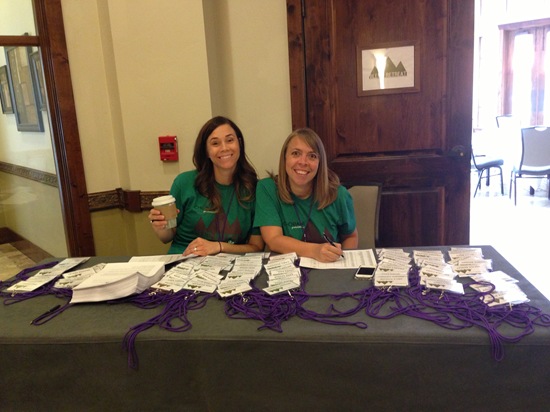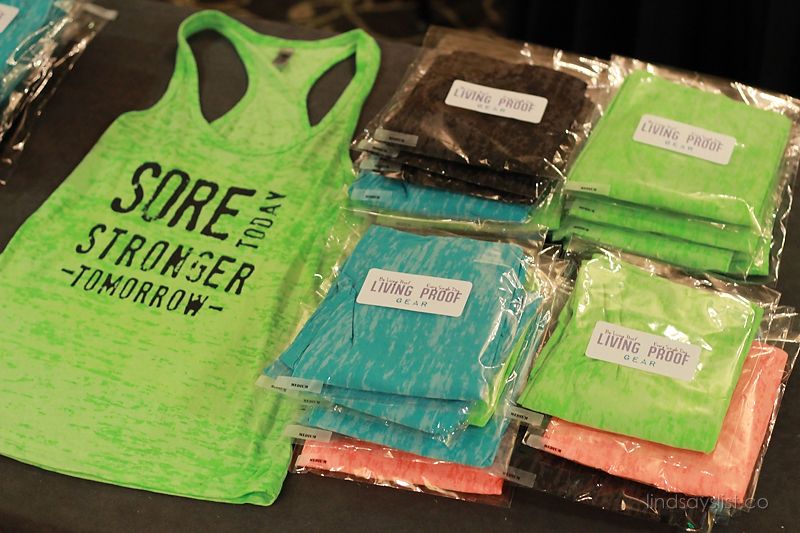 miranda gave every attendee a living proof fit gear tank!
between 3 and 4 there was a snack break provided by attune foods and justin's peanut butter. pretty sure attune graham crackers are the best. i've had them many times before and i love that they contain no HFCS or hydrogenated oils.
friday night we kicked the retreat off in style with a cocktail party sponsored by silk.
silk blended up three tasty beverages for the event. you can read more about them on lauren's blog—she was there representing silk! my favorite was the ginger refresher.. can't wait to make that at home.
there was also an array of tasty hors d'oeuvres at the cocktail party: vegan summer rolls with thai peanut sauce, spicy black bean cakes with roasted tomatillo salsa, and vegetables with herbed chobani dip.
we moved from the cocktail party into the ballroom for a gourmet buffet dinner. after a short and sweet speech, we sat down and enjoyed the meal. it included hand picked artisan green with chobani basil dressing, bulgur wheat salad with shaved summer vegetables and preserved lemon vinaigrette, carrot ginger soup, all natural seared chicken breast with thyme roasted baby potatoes and natural jus, grilled wild caught alaskan hailbut with brown rice pilaf and citrus nage, pan seared quinoa and spring vegetable cake with roasted pepper and tomato coulis, and roasted spring vegetables.  i am so glad we went the buffet route this year so everyone could try a little (or a lot!) of everything.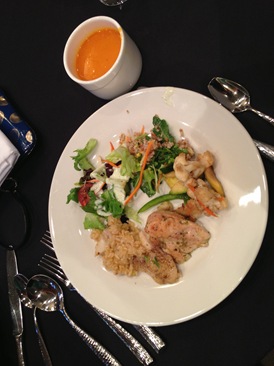 for dessert we had three choices: warm apple cobbler, spring berry tart, and the most AMAZING chobani panna cotta.. my FAVORITE bite of the night!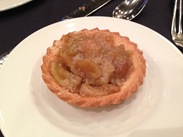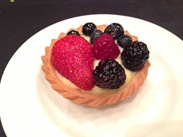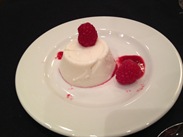 the highlight of friday was definitely the photo booth. there were so many fun props and the service was lightening fast.. i think i was in there nearly a dozen times throughout the evening. so much fun! amanda, kerryne, and i have decided we have to rent one for our company christmas party!



saturday.
saturday started bright and early with a workout sponsored by GPP. i roped neil into becoming a blend retreat sponsor quite awhile ago and i was so excited to have him share his philosophy and workouts with everyone. the workout consisted of twenty ten meter sprints followed by hit the deck. i think everyone really enjoyed the workout!
breakfast on saturday was brought to us by the laughing cow and muesli fusion. there was a nice spread of bagels paired with smooth sensations cream cheese as well as several flavors of muesli fusion with almond milk.
brittney, the laughing cow rep, was so much fun to hang out with all weekend! (sorry your eyes are closed, britt!)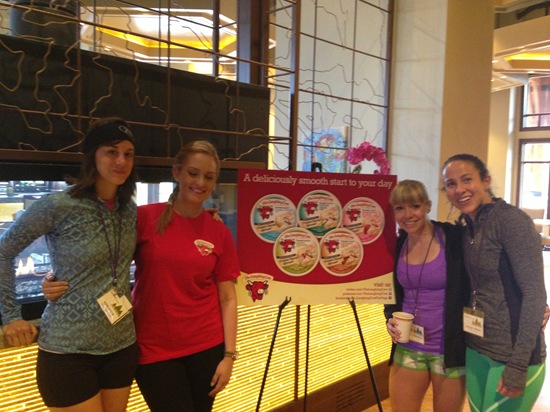 immediately after breakfast we changed for the PROBAR hike. it had been raining through the night and into the morning, and it was still sprinkling when hike time came. many people didn't want to hike in the drizzly weather, but amanda and i decided a little mud wouldn't hurt us.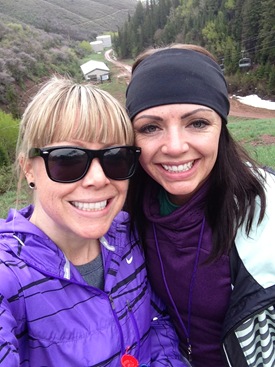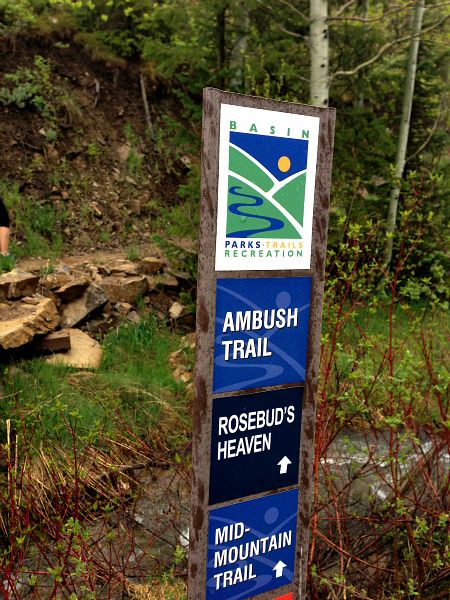 we set out and hiked a very muddy four-ish miles on ambush trail. we actually had quite a good turnout for the hike!
when we got back, my special visitors had arrived! marshall, penny, and randy came up and checked into the hotel. i was so excited they could come and hang out with everyone!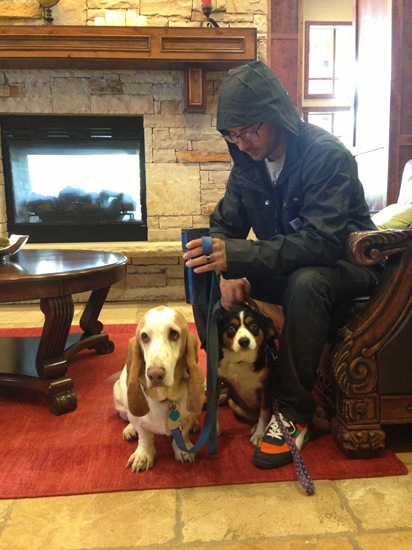 we put the pups in the room for a bit so we could head to the onnit snack break. you guys know i LOVE onnit products and i was thrilled to have them as one of our sponsors. marshall is actually the one who first introduced me to onnit and then i reached out to them and now they are part of the blogging community! pretty cool how it all came together. they brought miss united states, whitney miller, with them to chat with all the attendees. onnit rep orlando blended up some delicious hemp FORCE shakes and we were able to sample their new nut butters—i'm a huge fan!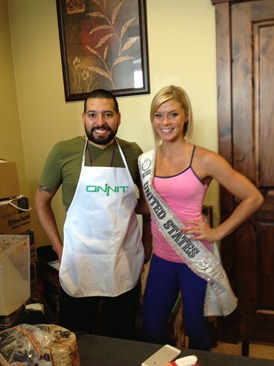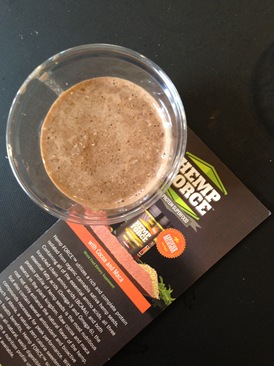 saturday evening we went with a group of about 25 to red tail grill, which was walking distance from the venue. i'm not gonna lie, i didn't love the experience or the food and i won't be back.. but the company was unbeatable and that's all that mattered!
we saved some room for dessert because my mom was planning on whipping up multiple batches of utah scones for everyone. several attendees piled into her suite saturday night and everyone was able to sample the amazingness that is a utah scone. you can get the recipe HERE. we served them with honey butter, peanut butter, and my mom's homemade raspberry jam.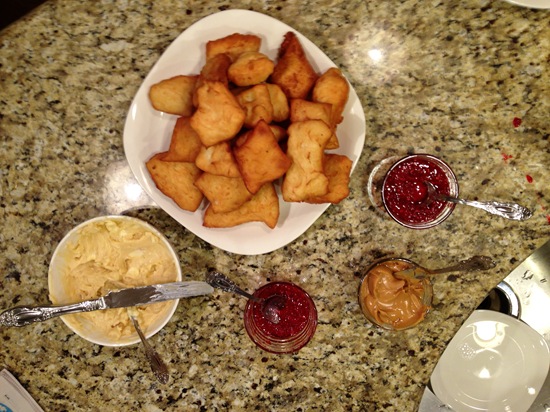 it was really cool how the impromptu scone party really brought everyone together!
we spent the evening talking about everything under the sun and moon.. but i mainly talked about dogs. some people tried to talk about kids for a bit, but my good friend maren (who FINALLY started a blog!) quickly directed the conversation back to pets. atta girl! she was extra classy with her wine and moccasins that night.
sunday.
saturday morning there was another GPP workout at 7 AM. i had slept in marshall's suite with the pups and it was pitch black. i managed to somehow turn off TWO alarms and when i woke up it was 6:51 AM! WHOOPS! i hauled butt to my old room (where all my stuff still was) so i could change and then i zipped downstairs to the workout. leave it to me to oversleep ALWAYS.
the workout was a lot of fun! it was a mashup of OTC (on the trainer's count) and an adaptation of the GPP workout "jump!"  i was actually quite surprised at how far i was able to leap during that portion of the workout. these short legs have a little spring in their step, apparently!
i had to duck out of the workout early in to make sure everything was in order for chobani's breakfast sunday morning. i have to say that the went above and beyond the call of duty with their breakfast! there were two kinds of smoothies blended up for people to sip on while waiting in line for the pancake station complete with a plethora of toppings, the oatmeal bar with a million mix-ins (amd served in cute little mason jars), and the build-you-own omelet station. there was also plenty of chobani yogurt to choose from: original, flips, and bites!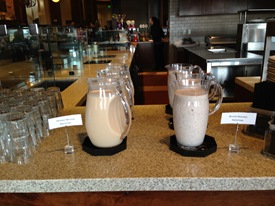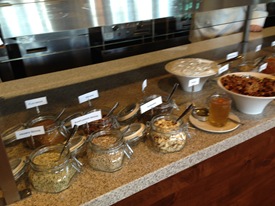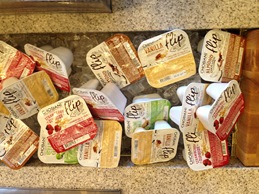 i LOVE all of the chobani girls. we had the pleasure to hang out with em (who i had met before), amy, and karen. special thanks to chobani for being our official sponsor for a second time. without them, the retreat would never have been possible!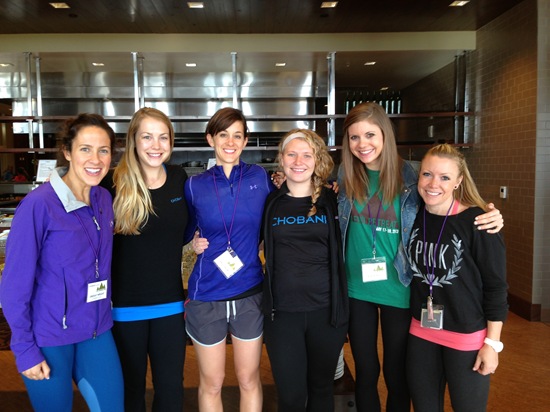 lindsay, amy, katie, em, karen, janetha
i spent a lot of breakfast trying to chat with those i didn't get much time with and snap as many photos as possible!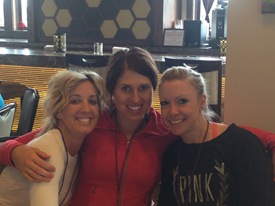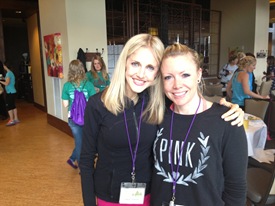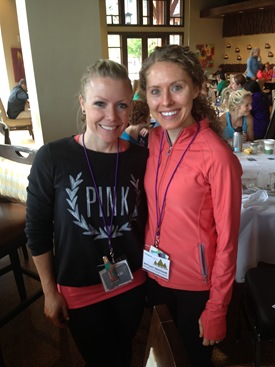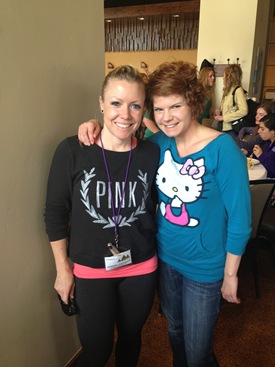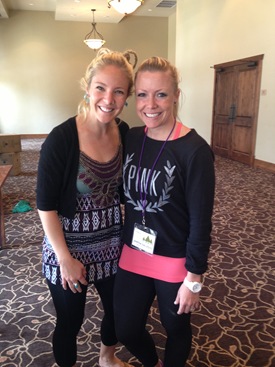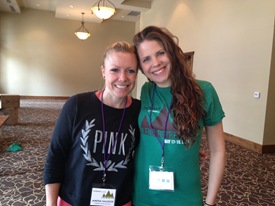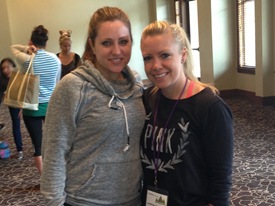 the final event was the closing ceremony sponsored by blue diamond. we all gathered on the ballroom floor for a raffle where EVERYONE was able to walk away with a prize. our sponsors spoiled everyone this year.
we managed to cram everyone in for a group photo and then we all said our goodbyes! the weekend really flew by!
i am so grateful for the blogging community and for all those who traveled to blend retreat this year. it truly is a unique event that brings so many like-minded individuals together for fun and relaxation. it was also SO cool to have my family and local friends be able to join in the fun.. and penny & randy, too! GIANT thanks to all of our sponsors that made it possible to put the retreat on and for supplying so many awesome goodies. and, finally, i want to especially thank my co-hosts.. katie and lindsay.. they are both amazing ladies.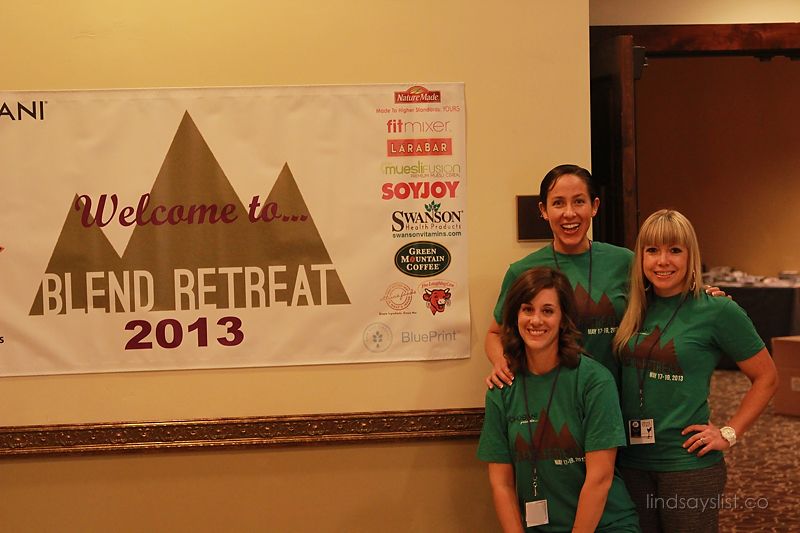 like i said before, the work put in was definitely worth the end result and i couldn't be happier about the way blend retreat 2013 turned out!
Qs~
1. if you were at blend retreat, what was your favorite part?
2. have you been/would you go to a blogging conference? which one(s)?
xo. janetha g.
photos stolen from lindsay, lauren.