wow. what a whirlwind the past four days have been. i left you all on thursday morning and have been working on and attending blend retreat up until sunday afternoon. blend retreat was an incredible, amazing, fantastic event. i am taking a big sigh of relief that it all went off without a hitch! there were a few snags here and there, but i think i can confidently say that the retreat was a success! everyone had tons of fun, ate delicious food, enjoyed group fitness activities, and made life-long friends. that last one is what it's all about.
i would be lying if i told you i wasn't stressed to the max in the days (even weeks!) leading up to blend. i was definitely stressing over the last details and the fact that i had red rock relay the weekend before didn't help the stress level (or the to-do list, for that matter.) sooo.. i have decided i am going to take a day or two before i recap the retreat, simply because i need some time to take a load off and decompress. after two weekends out of town in a row, i have a few days before gearing up for my next one! this friday i will be heading to st. george for kristen's bachelorette party. i swear my may is the craziest ever! sure, it's a little stressful, but luckily it is all super fun stuff.
coincidentally, i was assigned to state farm's better state of mind campaign recently. guess what they asked me to talk about? stressing less! i know, right?? i laughed, because that is something i definitely need right.this.very.minute.   so, while i take a load off and let the fabulousness of blend retreat soak in before recapping it, i am going to leave you with MY stress-less secrets and ways i keep the stress level down in my own life.


when there is stress on the high seas, you really need to take a step back and decide where your priorities lie. as much as you want to do ALL the things ALL the time, sometimes you just can't. when the going gets tough, you need to decide what to cut out of your life so you don't go absolutely crazy trying to do everything.
for me, this blog is not my #1 priority. it's a hobby for me and something i definitely enjoy and LOVE. but i have a full-time job, a family, friends, and other activities that come before the blog. unfortunately, that means publishing posts gets pushed aside. sometimes i am on top of things and will arrange guest posts.. but most times i just abandon ship, and i am okay with that! worrying about blog posts was the last thing on my mind this past weekend.
if you have a lot on your plate, see what things don't absolutely, positively have to have your attention… and let those things go. they will always be there when you have spare time again.

ohmygosh i love a good list! i make lists of lists that i need to make. i am the crazy list lady, for real. but i love them! i use the list! app on my iPhone to keep track of my life.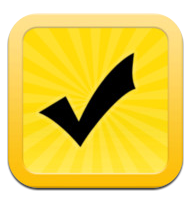 here is a screen shot of my lists.. they don't even all fit on the screen!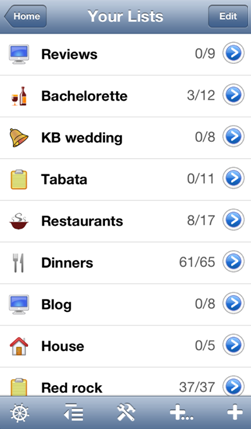 for some reason, when i list everything out that i need to do, i feel a lot less stressed. just making the list alone and not even checking anything off yet makes me feel better. there's something calming (and, okay.. sometimes overwhelming) about knowing exactly what items you need to get done. and, come on, the satisfaction of crossing things off your list is one of the best stress-less activities around!

you know i hate folding and hanging up laundry. it stresses me out. bad. but you want to know something so dumb? when i am doing my laundry, i will sort it into two piles: hanging up and folding. then i will sort the piles into piles: t-shirts, long sleeves, tanks, gym pants, gym tops, etc… and THEN, after sorting the sorted, i will finally fold it all. WHY DO I DO THIS TO MYSELF? it's so, so dumb!
i am the master procrastinator, and my sorting habit is just another way for me to procrastinate the folding and hanging of the laundry. the smart thing to do is touch each piece of clothing once.. no sorting, no piles. just pick it up and fold it! it would save time AND save me the stress and anxiety i feel when i see a huge mound of clean laundry.
last night i unpacked my bags from the retreat. instead of letting the bags sit on my floor for a week, i threw everything that needed to be washed in the washer. i unpacked all the electronics and toiletries immediately. i knew that i would be having a super busy week, and nixing the procrastination of unpacking from one trip would really alleviate the stress of packing for the next trip. sure, i was super tired last night and just wanted to pass out on the couch, but i am SO glad i didn't procrastinate unpacking. that alone peeled off a thick layer of stress and i felt so much better when it was complete!
one last way to nix procrastination is to reply to emails right away. this is one i really need to work on—replying to emails is a big stress in my life. i will read them right away because they are on my iPhone, but then i don't always reply to them in a timely manner. it would be so much easier (and smarter!) to just reply to each email immediately after reading rather than putting it off. not only does it make the to-do list longer, but it also adds stress because, in the back of my cluttered head, i am always thinking about those emails. yesterday (after unpacking my bags) i sat down for an hour and replied to many emails. i didn't get to them all, but at least i carved a big chunk of them out of my work load and felt better afterward.
i challenge you to cut back on procrastination if it's a bad habit for you, and i will do the same. then we can both stress less!

life gets busy, stress piles up. you don't have to be superwoman all the time and do it all. recruit help! the blend retreat to-do list was 573 miles long and there is NO WAY katie, lindsay, and i could have done it without recruiting the help of many of our family members and friends. it's okay to ask for help!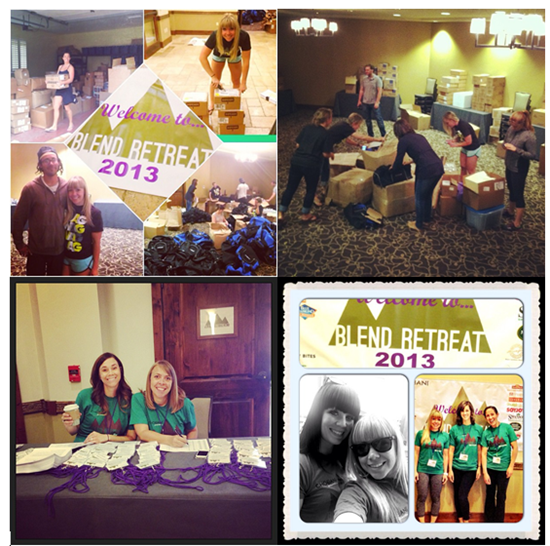 relying on others will help cut back on stress. you can also rely on convenience. i like to make my meals at home for the most part, but i am no stranger to convenience items. sometimes relying on takeout and pre-packaged foods can really help you stress less. the last thing i wanted to do last night was make dinner, so i went to target and bought some frozen tortellini and jarred pasta sauce and called it dinner. cereal works well in this situation, too. i am a pro at making cereal for dinner!
those are my stress-less tips for you tonight. like i said, i am going to take a timeout from blogging (well—continue my timeout, i guess, since i have already been MIA since last thursday) and when i return i will tell you all about my experience at blend retreat. i am sure you have seen many, many recaps on other blogs. i am truly grateful for everyone involved in the event and, without a doubt, all the stress involved was definitely worth the experience we all had!!
Qs~
1. what are YOUR stress-less tips?
2. what is your worst habit? me=procrastination station for SURE!
xo. janetha g.


There to help you. That's getting to a better State.
Disclosure: Compensation was provided by State Farm via Glam Media. The opinions expressed herein are those of the author and are not indicative of the opinions or positions of State Farm.