i'm back! i was in moab all weekend for the red rock relay. we left friday and got back sunday. it was a quick trip, but we packed a lot stuff in and i am here to tell the tale.
friday!
friday we left the SLC bright and early around 11 AM. because we weren't taking off too early, i took my mom to breakfast for mother's day breakfast. she had never been to sunshine cafe, so i treated her to the deliciousness. i had the garden scramble and she had the denver omelet. i got her a lulu tank and some quest bars along with two funny cards—because one is never enough!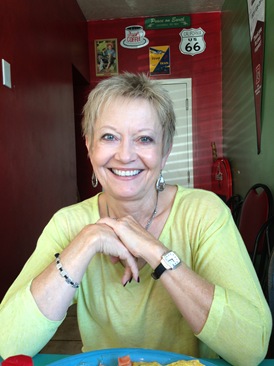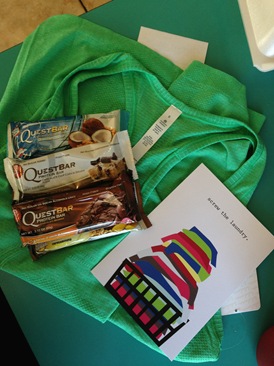 after breakfast i packed up the car with all my junk for the trip and then met my ladies at GPP. my boss was nice enough to lend us his suburban. we played tetris to get everything situated in the vehicle and then hit the road!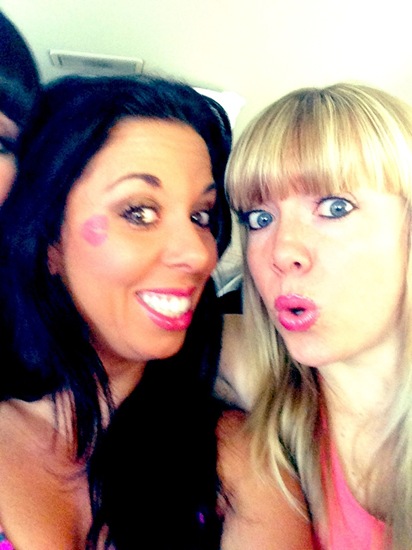 i was chugging my water like it was my job and i also snacked on this, that, and the other. we all had to pee soo bad by the time we made it to price. it was bad. we abandoned the boss bus immediately upon entering the gas station parking lot. mandy fled so fast that she actually ended up with two different flip flops on her feet. i was laughing at it so hard from my stall. two right feet!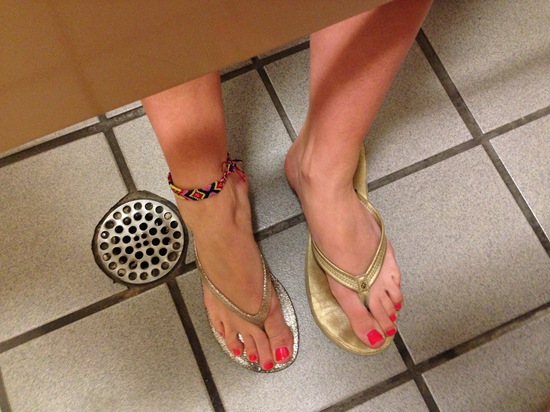 we decided to have a picnic in the parking lot. we had SO MUCH FOOD between the six of us! i had some bacon wrapped chicken, sweet potato fries, a hard boiled egg, cucumbers and hummus, and half of a peanut butter sandwich. my non-blogging friends help me be a better food blogger ;)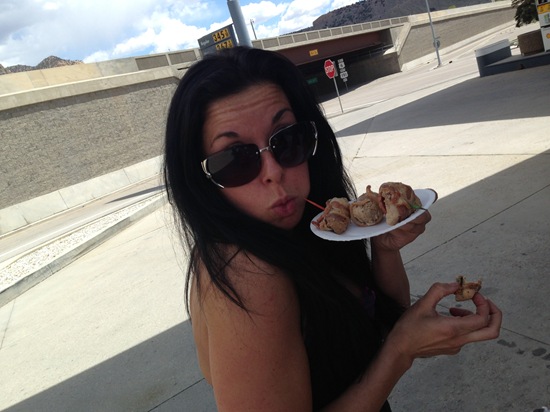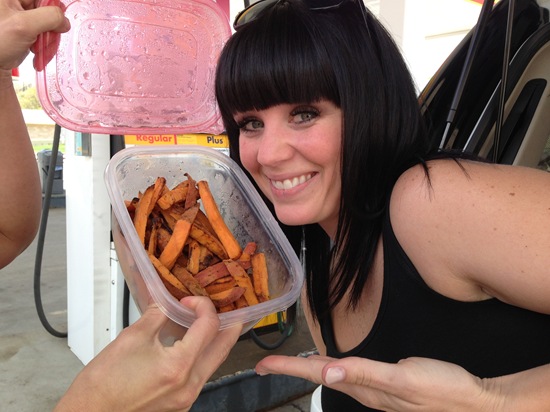 i filled up the gas tank and then we were back on the road!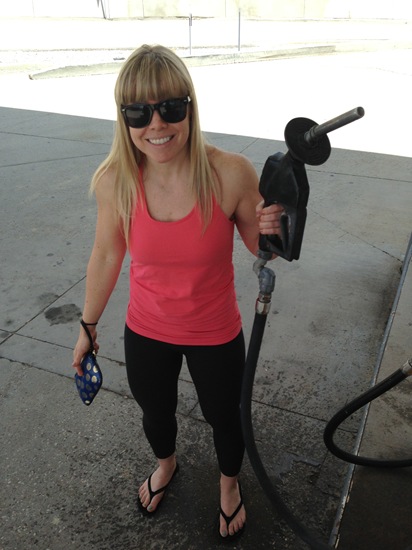 we had a lot of fun on the way down! maybe too much fun, in fact, because we got distracted and ended up lost. whoops! i guess we missed a turn somewhere along the line. of course we all had to pee again and there was no gas station in sight.. so we took it to the wilderness. the good news was we were close! only 20 miles from moab.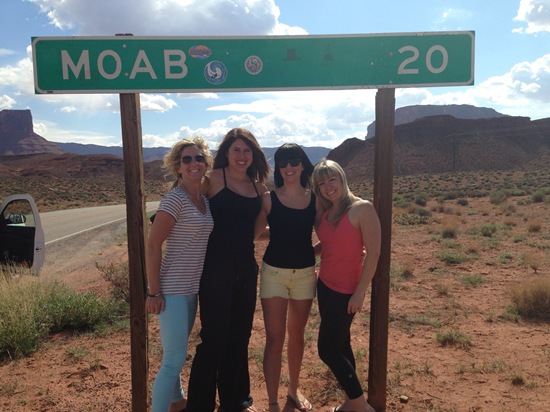 we got to moab right before registration started for red rock relay. that's a good thing, since we were the people in charge of working registration.. haha. we arrived and got right to work! we checked people in and handed them their race bags. it was a lot of fun and there was tons of energy among all the participants!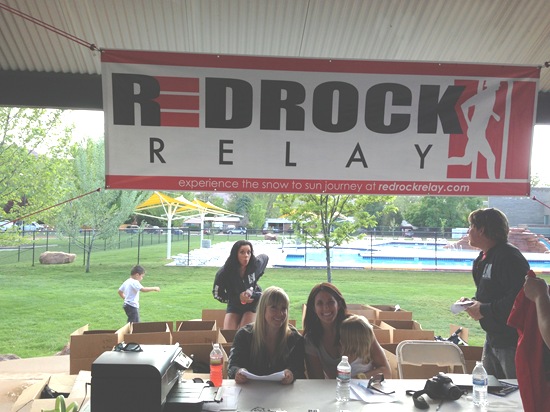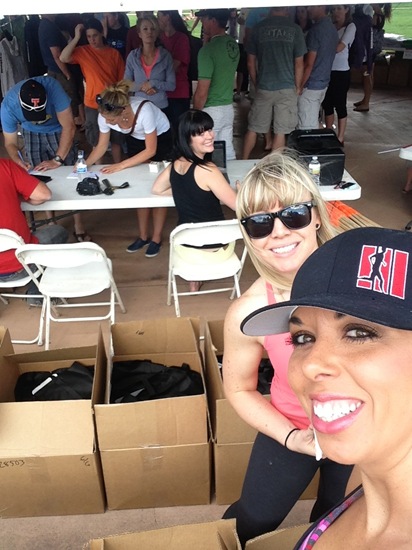 after awhile we took a break, tagged the sign with our team name (the GPP barbies) and had some more bacon wrapped chicken at the car for dinner.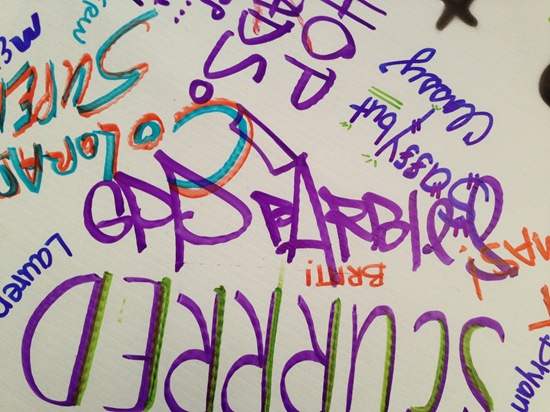 we went back to registration to finish things up before it closed at 9 PM. after registration we checked into our hotel. hi candice!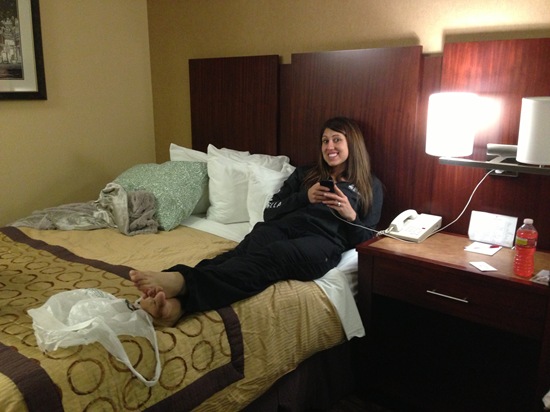 even though we had a race to run in the morning, we wanted to go out for a bit. a few of us decided to go to eddie mcstiff's for a snack and some socializing.  we split the mediterranean skewers and they were delicious. i also had a mojito—not quite as amazing as the ones in costa rica, but it was still good.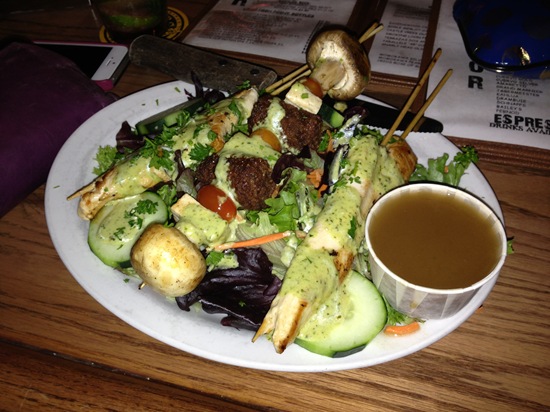 we wandered next door for a bit to check out the local scene. turns out a band was playing at woody's so we tuned in for a bit.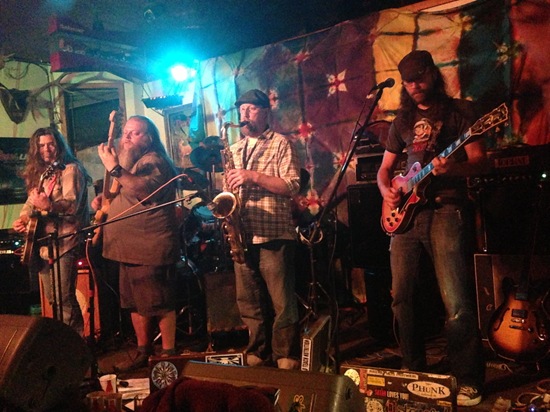 it was a good time, but we knew our wake up call would come early, so we went back to the hotel after just a little bit. even after the long day of driving and working, it was hard to fall asleep. maybe it was nerves from knowing the race was the next morning.. but i think i finally dozed off around 1 AM. that definitely made the 7 AM alarm seem extra annoying…
next post will be the actual race recap! this one was already pretty long, so i decided to split it up!
have a great night.. i am off to work on final touches of blend retreat. can't believe it's on friday! eeee!
Qs~
1. where was your last road trip destination?
2. what did you do over the weekend? missed you guys!
xo. janetha g.