hey, guys! busy me.. i am packing tonight then going to see the appleseed cast with marshall (i am a concert-goin' fool) and then tomorrow i am off to moab to run the red rock relay this weekend. instead of a post from me tonight, i have a guest post for you that i found very inspirational and useful. i hope you agree!
Promoting a Healthy Lifestyle While Balancing Your Priorities
May is National Physical Fitness and Sports Month, so it's a great time to get motivated! Living a balanced life is the key to health and happiness. Although it is important to eat a proper diet and exercise, there are many other things that you should do to ensure your life has a healthy balance. Between work, social and family responsibilities, it can be hard to keep your life balanced. Therefore, the following tips are offered to help you find a healthy balance without depending upon diet and exercise to get you through your day.
Set Goals
One of the most important things you can do to find a healthy balance in your life is set goals. Ideally, you should have a combination of short and long-term goals that will provide you with a way to develop your priorities. When setting goals, focus on creating ones that are simple to accomplish and easily measured. This way, you will be able to track your progress over time.
Spend Time Socializing
Spending time with family and friends is a fun way to keep your life balanced. According to Medical News Today, engaging in social activities can help to improve your mental health. To ensure you get the most benefits from socializing, plan events with friends and family members who have a positive effect upon your attitude. Then, you will always feel refreshed after your engagements.
Maintain a Positive Attitude
Staying positive in the face of adversity can be challenging. However, when you focus on the good things you have in your life, you will feel more balanced. For some people, keeping a gratitude journal can be a great way to focus on what matters. Additionally, simply smiling and making the determination to be joyful can help you to keep a positive attitude no matter what life may throw your way.
Learn How to Relax
It sounds so simple, yet many people find it hard to relax. This is especially true during stressful times that require a person to become overworked. Therefore, learning simple relaxation techniques can enable you to quickly find your balance anywhere you may be at the time. Practicing deep breathing, engaging in a few yoga poses or scheduling a massage are all effective ways to enhance your relaxation.
Once you learn how to find and maintain a healthy balance without diet and exercise, you will begin to experience many benefits in your life. Those who strike a healthy balance report that they feel less stress and have more energy to stick to their goals. By learning how to relax and enjoy time with your friends, you will be able to look forward to doing the things that bring you joy in life while enjoying a higher level of physical and mental health.
Using an "inspiration board" format can help you outline your goal. Make sure what is on the board is what you really want.  Taking the time to create and maintain a fitspiration board is a fun yet powerful way to keep you motivated on the path towards the fit lifestyle you're yearning for.  Here is an example: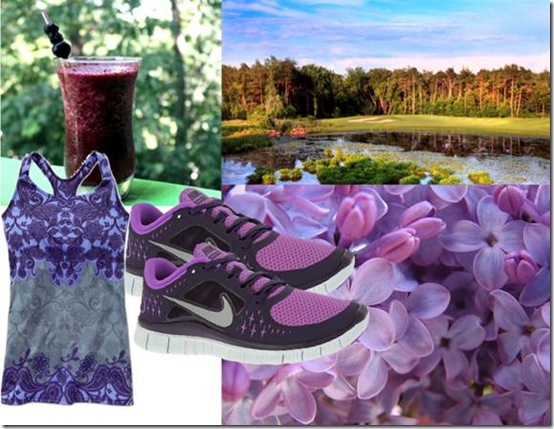 Photo credit: thebar10der.co.uk| turningstone.com | athleta.gap.com|store.nike.com| www.flickr.com
Everyone has his or her own source of inspiration, but to me the color purple makes me really happy, so I'm using this color as the source of my inspiration. Not only is it my favorite color, but whenever I see the color it boosts my mood! And a mood booster is what I need to improve the healthy balance in my life. Last spring I started learning more about gardening. I enjoy the being in the garden and watching blooms take life as the warmer weather approached. Lilacs are one of my favorite flowers, plus the smell wonderful!
Nutrition is also something I need to work on for sure. Eating poorly is taking an effect on my energy levels during the workday. Crash diets are not for me, because those I feel those are an unhealthy approach. I'm looking for a long-term improvement, not a temporary fix. I'm looking to experiment with healthy recipes and swapping bad snacks for healthier options. As part of improving what I eat, I plan to cut back on those tempting sugary cocktails, and opt for a "mocktail" version instead. I found a great mocktail recipe from Bar10der. Makes for a fun alternative to water or soda. I may even try them as an afternoon pick-me-up, or a power breakfast. An easy way to feel motivated is to buy some bright colored workout gear. If you feel good wearing it, you'll be more excited to wear it when you exercise. I love this purple print tank from Athleta. A little out of my price range, I could probably find something similar at a Target. As part of my initiative to spend more time doing activities outdoors, I've started to learn to golf at a Syracuse golf course near my work. I don't usually golf all 18 holes but it's nice to be able to spend most of the time walking. What I like about it is that it's a leisurely sport, nothing too strenuous.
About the author: Michelle Pino has provided these tips in hopes to educate others on how to lead a more motivating and less stressful life.  Michelle believes more focused approach put on our health will result in more balanced life.  Her hobbies include gardening, reading and learning about healthy lifestyles.  Michelle is thankful to have had the opportunity to work with Janetha and together share their ideas on meals & moves.
OH! by the way.. the winner of the velata set is #139, makenna, and the winner of the dynamo dog treats is #10, andrea! congrats!
Qs~
1. How to you maintain balance in your life? Do you have any tips to share?
2. What would go on YOUR inspiration board?