ohhhhh.. it's only wednesday? crazy, crazy. but i have friday off from work, so i guess it's really like thursday for me!
i am going to be straight up with you. i have been so flipping busy getting ready for red rock relay, blend retreat, and kristen's bachelorette party that i really have nothing in terms of a high-quality blog post tonight. but bits & pieces are fun.. and i didn't want to just NOT post, because i like checking in with you all and at least saying hello!
tonight after work i went to GPP for a brand new workout. i still can't decide if i loved it or hated it. i LOVE single arm snatches (SAS).. but it was a LOT of reps, which made the workout pretty brutal.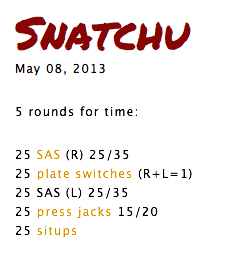 click the pic to get the workout with demos of the exercises in case you wonder. i managed to Rx this in 18:54. some people have asked what "Rx" means when i talk about my workouts. it simply means you complete the workout as written–total reps for the total weight and rounds and whatever else is prescribed. if you do more rounds or heavier or extra.. we call that Rx+.  now you know.
dinner tonight was burrito bowls! these never get old.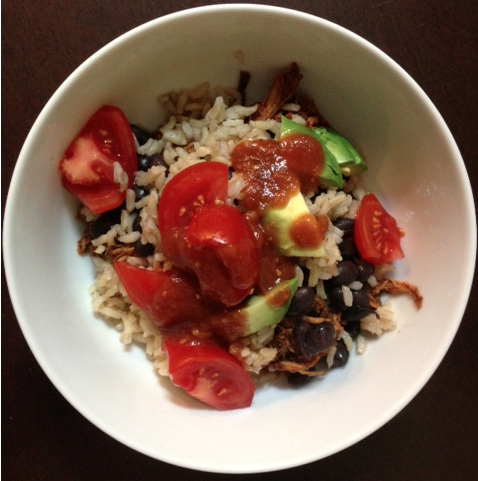 i made the crock pot chicken a little different tonight. i used frontera barbacoa slow cooker sauce and, to be honest, wasn't the biggest fan. it was tasty, but not anything to rave about and i will stick to my old recipe in the future.
i am working on my playlist for the relay race! i have two legs–one is 3.25 miles and the other is 5.5 miles (both uphill, i am going to die, you guys) and so i need a plethora of tunes to get me through it. some of my favorite bands to listen to while working out are face to face, the format, the sounds, metric, and MGMT. i saw janae's post today and will probably nab some off her list. do you guys care to share your favorite running songs?
let's see.. what else? oh! i have been planning my travel food for this weekend. it is in moab, which is about 4 hours south of salt lake city.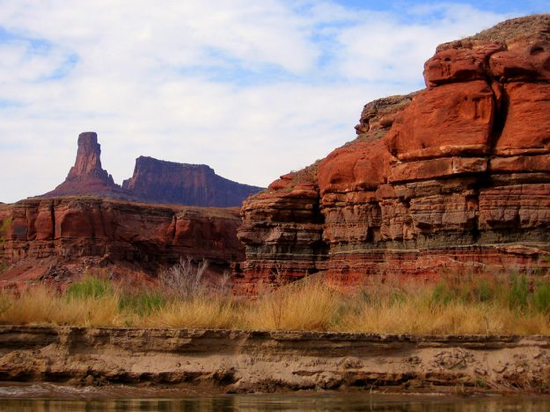 we will be running from sun up to sun down on saturday, so we will need a lot of road food! we will also need it for the drive down friday and the drive home sunday. here is the list i have drummed up. most of it is grab-and-go, but a few require prep so i plan to do some cooking tomorrow before we head out friday morning.
mini veggies frittatas
ezekiel flax bread PBJs
chocolate protein muffins
hard boiled eggs
trader joe's turkey jerky
raw veggies
fruit
core power protein drinks
greek yogurt covered freeze dried strawberries
pre-cooked chicken
turkey deli meat
lots of water
lots of gum.. i am always chewing gum!!
i definitely have my hands full between packing up my gear and packing up the food for this trip!
well.. i think i have rambled enough. it's 9:45 and i want to hang out with marshall and the pups. i am going to miss them this weekend!
have a great night tonight and day tomorrow!
Qs~
1. what are your favorite travel snacks?
2. what's on your running playlist?
xo. janetha g.