one of the cool things about going to GPP is that i have been introduced to so many new friends! i have really enjoyed all the new relationships i have made over this past year. i have become friends with this cute couple, jana and brian, and they are so much fun! they come to GPP together and even bring their cute kiddos along to storm the workouts. i love this fit family!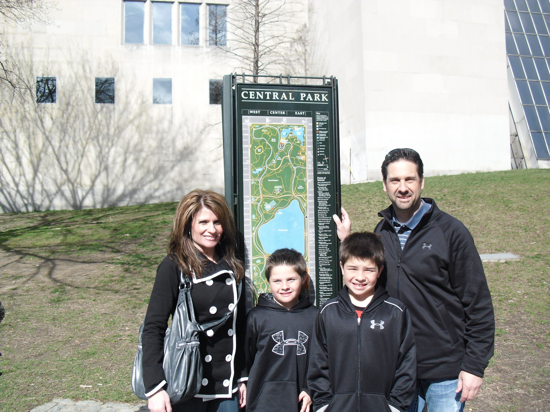 i had the opportunity to go to their home awhile back because they wanted to buy some windows (and i work for a window company, as you may or may not know.) of course our conversation went from windows to FOOD because, well, let's be real.. food is way more exciting than windows!
as it turns out, jana is really involved in scentsy. you probably know what that is–the wickless candle warmers with a plethora of smell-good scents. but, did you know that scentsy has branched out into the FOODIE world?! i didn't know until jana clued me in while we were chatting. as it turns out, they recently developed velata, which is a FONDUE warmer!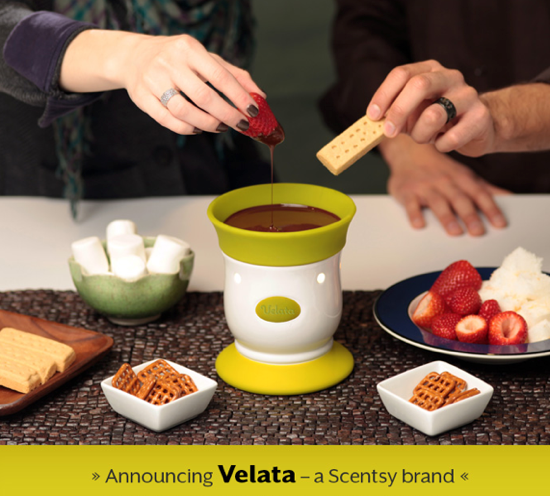 i think fondue is so much fun! not only is it delicious, but it's interactive. it's great for parties or even romantic evenings for two. it really takes appetizers and desserts to a whole new level!  they offer a whole line of gourmet cheeses and premium chocolates and caramels for your dipping pleasure. you can read the velata story here.
jana has offered to guest post about velata tonight and is donating for a giveaway at the end! what's even cooler is she has generously donated to the blend retreat, so if you are coming to blend.. be on the lookout for velata goodies!!
here's jana :)
***********************
Are you familiar with Velata? Well, you should be! It is a fun, great treat that you will absolutely love!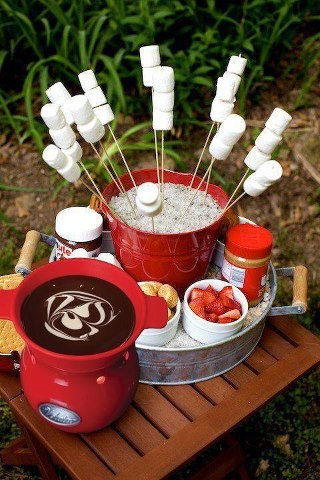 It is so easy to use the Velata warmers. Simply open the pouch and pour the chocolate or caramel right into the special Velata warmer dishes and let the chocolate warm up to the perfect smooth and creamy consistency.
Here is what the makers of Velata have to say about their product:
We set out in search of the world's most perfect, blow-your-mind chocolate. Our journey took us to (where else) Belgium–the world capital of fine chocolate. We found the perfect chocolate with the purest ingredients and the velvetiest (sometimes you have to invent a word) consistency. The kind of chocolate fondue you want to dip into, heart and soul.
Perfect chocolate needs a perfect melt! So we invented a patent-pending silicone dish heated by a light bulb in a hip, fun, smart fondue warmer. Who else but Scentsy could find a hip, fun, smart way to use a light bulb?
Whether you are a foodie, a trendsetter, or just someone who thinks of chocolate as its own food group, Velata fondue products are for you. Take a dip in indulgent Velata chocolate. Once you're hooked, make sure to take a look at the Velata opportunity. You never know, you may make a life out of your love of chocolate. 
Like Janetha said, I am donating for a giveaway today!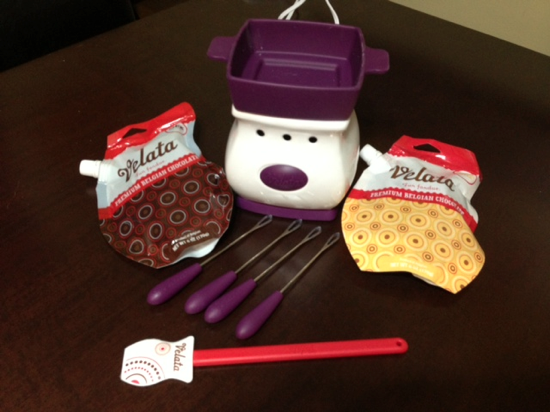 I am giving away a Velata warmer and forks along with two kinds of premium chocolate, one kind of gourmet cheese (straight from Wisconsin!), and a cute matching spatula. All you need to host your own fondue party at home! (Pretend like there is a cheese in the photo above!)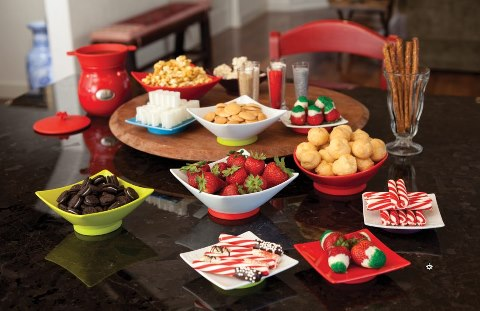 To enter:
Leave a comment below with what your favorite fondue dippers are.
Extra entries:
Follow Jana on Twitter and tweet: "I want to win a Velata fondue set from @scentsifiedchat and @janeeetha http://wp.me/p1B7vY-di2"
Like & post on Jana's Facebook page saying meals & moves sent you!
Pin and image from this giveaway to Pinterest.
Leave an additional comment for each extra entry!
I will pick a winner next Thursday, May 9th. Good luck!
If you would like to learn more about Velata or how you can purchase Velata for your upcoming summer events, you can contact Jana Bennett for more information.