hello and a happy wednesday to you!
i worked out in the morning AGAIN today. twice in a row, yikes. i had a groupon for gel nails to cash in with amanda after work, so i had no choice but to go to GPP in the morning. my legs are SO SORE from friday, saturday, monday, and tuesday.. so when i saw that today's workout was all upper body, i was relieved!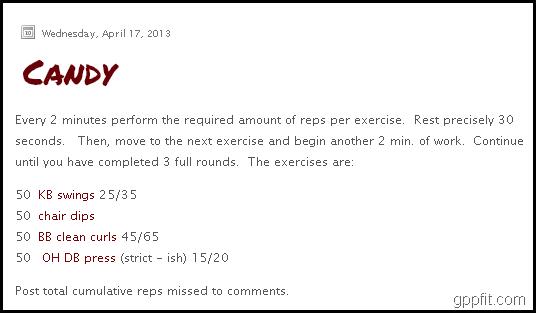 candy wasn't named after snickers or skittles.. it was named after the lovely candice! she coaches at GPP and actually she coached my class this morning. love her to bits. 
my work day was filled with the usual stuff.. eggs, toast, coffee, veggies, chicken, more toast, lots of water, and a meeting where we decided we need a part timer. anyone in the SLC area looking for a job? it would be monday through friday 1:00-5:00. let me know!
like i said i had a gel manicure after work. it was to a place called nails 4 u and if i didn't have the groupon, i wouldn't have gone there. i won't be going back.. yeah, less than impressed. good to know! speaking of groupons, you can still snag the GPP groupon and come work out with me! do it.
dinner tonight was all thanks to my crock pot. taco soup!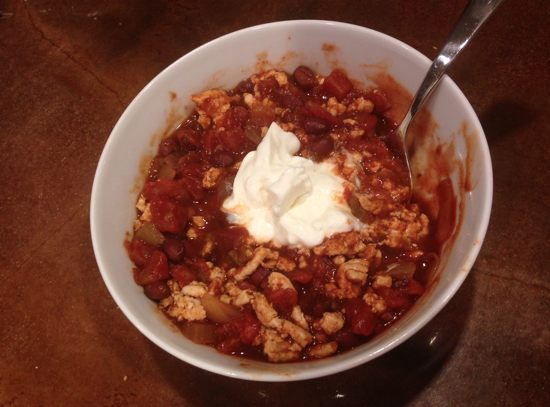 don't mind the less than stellar photo.. we didn't eat dinner until 9:16 PM and super sweet photography was the last thing on my mind. 
it's been chilly here the past few days, so i thought a nice hot bowl of soup would be the perfect dinner. i was right. i didn't have tomato juice to thin it, so it was more like taco chili.. but it's all good. and now i have leftovers for lunch!
soo.. about the post title!
yesterday i saw an article on fitsugar that featured graphic tees with sayings… that were all about running. sooo.. yeah.. they weren't really appealing to me since running sucks, but i LOVED the idea because i LOVE workout tops with sayings on them. i thought i'd do my own post to share some favorites. everyone loves a motivational statement, right?!
sore today, stronger tomorrow from living proof fit gear.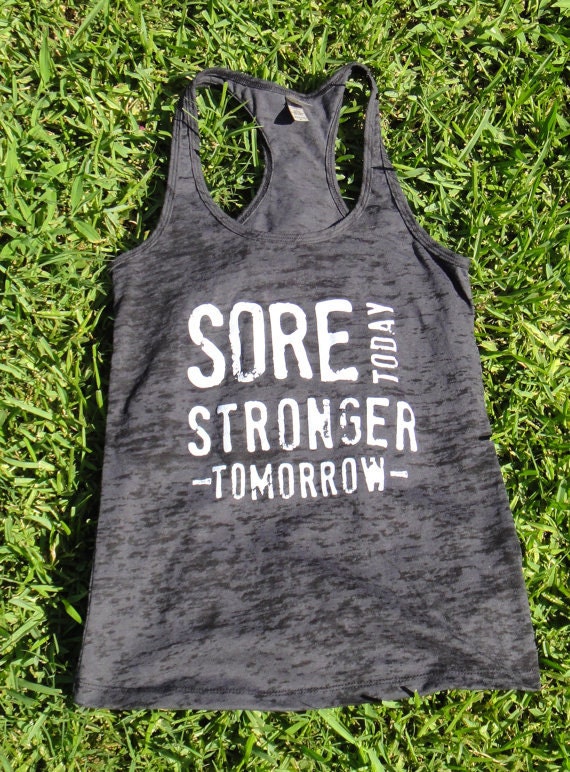 pssst… if you come to blend retreat, you will get one of these awesome tanks in your swag bag!
stronger than yesterday from life as rx.
i have this in a T and in a tank top.. i love the phrase because it just pushes me to be a little better than i was the day before.. not to be the best. just to be better.
i have this one in gray and i LOVE it. i actually found it at ross years ago for seven bucks. score! i love shopping at tj maxx and ross for workout gear.
suck it up, buttercup by gymdoll.
i don't have this one yet.. but it's on my list! they only have XS and XL in stock at the moment, unfortunately.
every damn day just do it by nike.

i originally saw this on pinterest and wanted it SO bad.. i scoured the interwebs and eventually found it on ebay where i bought it for just $14! score.
i have this in blue. it fits so cute and i love the kettlebell instead of an O!
Qs~
1. what is one of your favorite motivational statements/sayings?
2. favorite workout apparel brand?
xo. janetha g.