hello.
first of all, i know there have been countless blog posts devoted to the tragic events that occurred in boston, but i won't be following suit—nothing can be said to make it more bearable or less sickening. i will say i have been and will continue to pray for those affected. my heart aches for the individuals involved as well as their families and loved ones. scary, sad stuff.
so.. it's been awhile since i've done a tuesday's entirety post. there's no time like the present.
i started my day with GPP. i couldn't go tonight, so i had to get it done in the AM! i am not and never will be a morning worker-outer, but if it's my only option i will usually suck it up. how does that saying go… work out in the morning before your brain knows what your body is doing? yeah, that was me this morning!
it's HELLth week at GPP, which comes once a year. HELLth week consists of an intense six days of brutal workouts. today was workout numero dos and it definitely sucked a whole lot.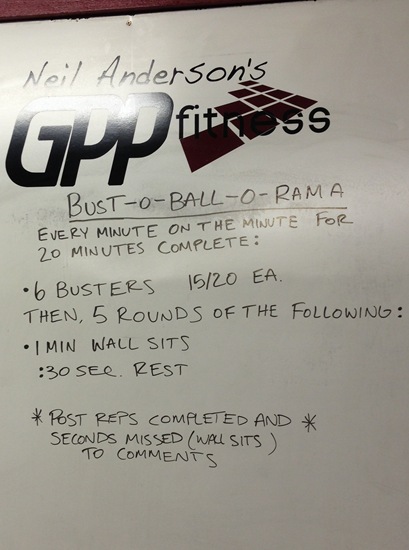 don't know what a buster is? click here to see what they are and then think about doing 120 of them in 20 minutes. cringe.
i remember doing this same workout (minus the wall sits) last year during HELLth week. i had just started GPP a couple weeks earlier and i thought i was in great shape. this workout kicked my butt. i actually did it in katie's garage because i was in colorado for the first blend retreat! i had to halve the weight used just five rounds in and even still barely powered through it.
today, however, i was able to Rx the workout and even had time to spare each minute for enough rest to prepare for the next round. i guess there must be something to this GPP programming after all, aye?
mmmk, enough workout talk. after the sweat fest i headed home, showered, and got ready. my morning routine is pretty quick thanks to minimal makeup needs and my ceramic blow dryer.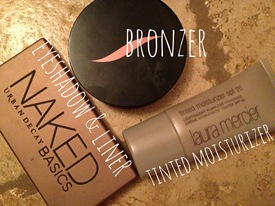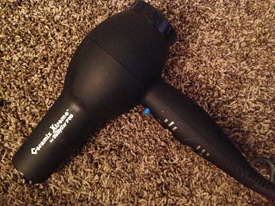 seriously, if you don't have a ceramic blow dryer, GET ONE. it dries my hair in three or four minutes! i love it. it was a gift from momma b, so i am not sure where it came from.. but i am sure they aren't hard to find.
once i was ready i loaded the kids up to go to daycare. they were reluctant to leave the house and were still a little sleepy.. awww.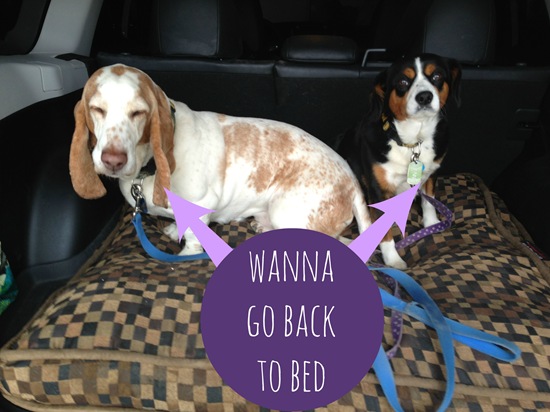 i got to work and was so flipping hungry! working out in the morning isn't the norm for me and my appetite was raging by the time i made breakfast. i have been having the same breakfast for about two weeks now.. i shifted from the protein shakes and have been loving eggs and toast. because, remember.. i love toast! coffee, too. it's back in my life and not bugging my belly. score.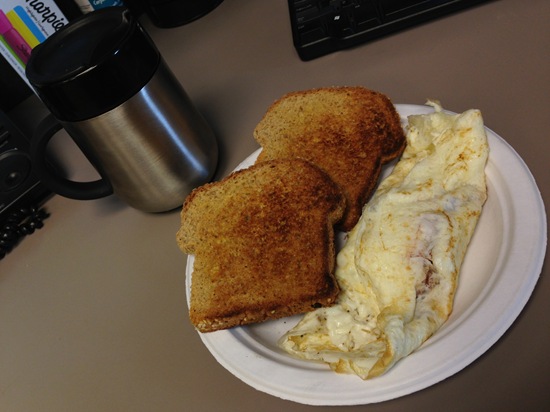 i always have one full egg plus three whites, but i would rather have my egg over-easy than scrambled. i just make one big over-easy egg with the whites. sometimes it's a challenge to flip in one piece, but today it was super successful! i cooked it over easy then folded it up with a little ketchup inside.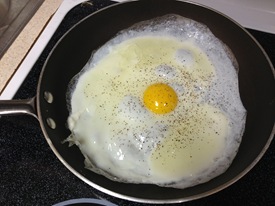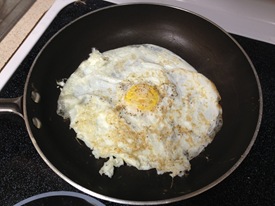 after working for awhile it was lunch time. i channeled gliding calm and made a snack plate.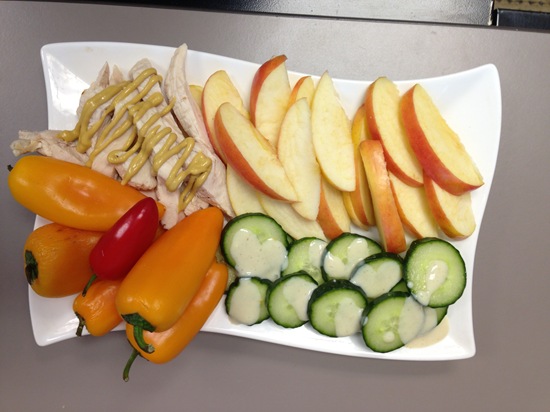 this was 4 oz chicken with mustard, half an english cucumber with vegan caesar dressing, some baby bell peppers (been eating these like crazy lately!) and finally a pink cripps apple for something sweet. i had some pb2 on the side for the apple.
during the day i checked in on the pups and saw that their daycare had posted photos of a birthday party they attended! lucky dogs. (can you spy my two rascals waiting for cake?)
i had an appointment a bit after 5 PM, so i blended a protein shake before leaving the office and took it on the go. it had a cup of almond milk, a scoop of cookies'n'creme plant fusion protein powder, a cup of frozen strawberries, lots of spinach, and a little bit of vanilla bean paste. don't mind the green—it tasted like strawberries & cream!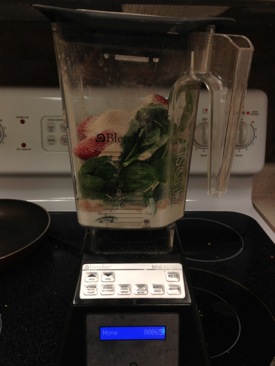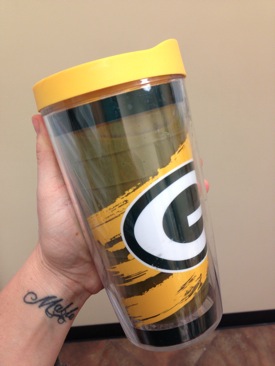 my appointment was an eyelash fill! i told you guys awhile back that i got eyelash extensions. yep—i'm a fake. i had LOTS of questions about them when i first mentioned them.. so i will tell you now.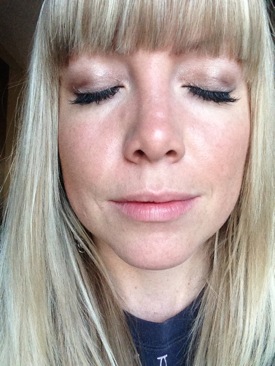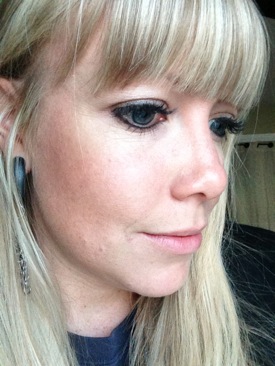 i LOVE having them. not having to wear mascara is awesome and i love how long and thick the extensions are.. since my real lashes are pretty lacking in those departments. i get a fill every couple weeks. it takes about 35-40 minutes to get a fill and it's $27. i go to ivy nails in north salt lake and a girl named ida does them.
the only downside is you can't rub your eyes much and you have to be careful when washing your face. other than that they are amazing! i plan to keep them on through summertime. marshall isn't the biggest fan, but i am.. and, well, they're my eyelashes, haha.. so they'll stick around for a bit.
after my appointment i went for a walk with mandy. our legs are soooo sore and we were hoping to loosen them up a bit. we were talking about the relay race coming up in a few weeks because our team recently divvied out the legs. i decided to look my legs up online and then proceeded to FLIP OUT!!  i had picked my legs based on distance. i am not a big distance runner, so i picked two shorter legs. ummm.. well.. turns out BOTH legs are HARD and UPHILL. check them out: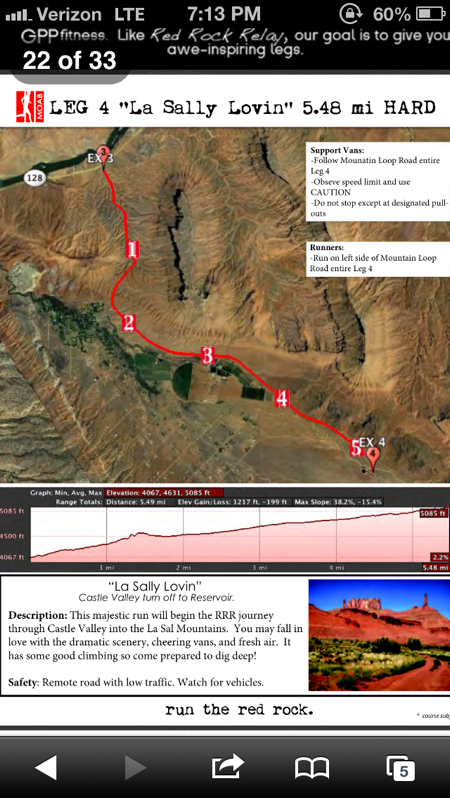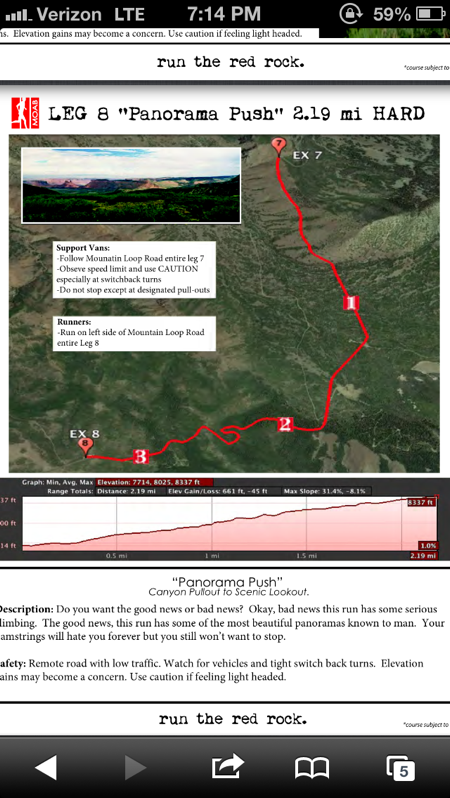 uggghhh.. i am so screwed!
after 40 minutes of suuuuper slow walking and me flipping out, we called it quits.  i ran to the store because my boss asked me to make him breakfast ad lunch all week so i had to get groceries. i made a batch of chicken enchiladas tonight and also got stuff for spaghetti, chicken caesar wraps, ham & egg sandwiches, and sausage scrambles. he's spoiled.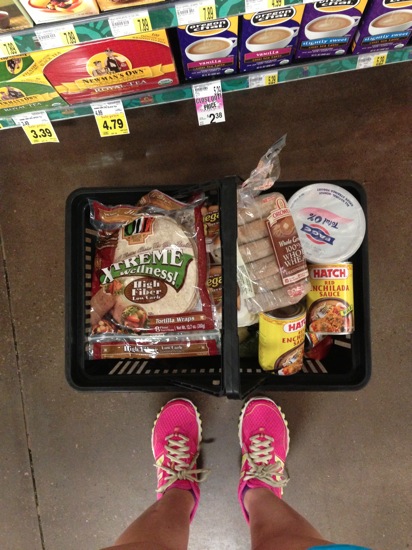 i got home and by that time it was 8:30 so i decided dinner would be a good idea. i had been marinating some chicken in oil and spices so i quickly cooked it, made some tzatziki, and threw together greek salads.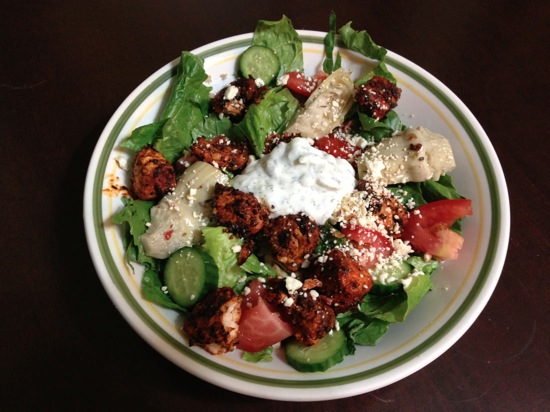 good stuff.
i just finished cleaning the kitchen and now marshall and i are watching the history of the '80s on the national geographic channel. we watched it last night, too. it's super interesting! i was born in '83, so it's nice to learn about the decade. speaking of the '80s… jessica posted a link to these toys today and it made me smile real big.
well.. that's enough out of me. if you made it through this monstrosity of a post, good work. go have dessert. i will be doing the same here shortly…
Qs~
1. would you rather run short distances uphill or long distances on flat ground?
2. what year were you born? what were some of your favorite childhood toys?