yo! hooooly long day! just now sitting down for the first time and it's 10 PM. i packed a lot in to my day today and wanted to share!
things started bright and early-ish with a shower. even washed my hair. after getting ready i made my way to downtown salt lake city to meet some friends for amy's birthday brunch. we were originally going to go to gracie's, but realized we may need IDs since it's a bar. not everyone had theirs, so we made a quick change of plans and went to market street grill.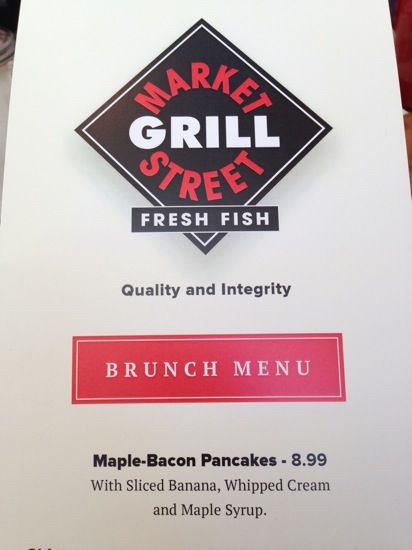 market street's brunch is known for their ooey-gooey orange cinnamon buns.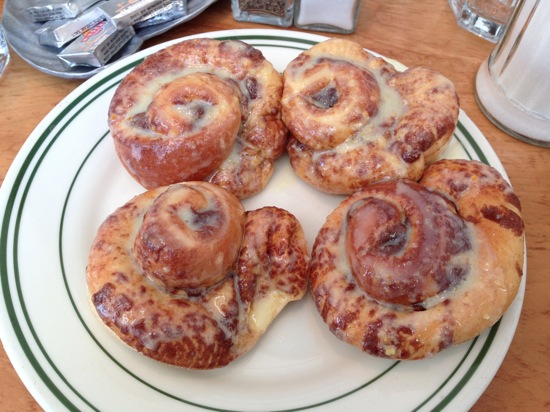 while sipping on coffee and snacking on buns, we gave amy her gift.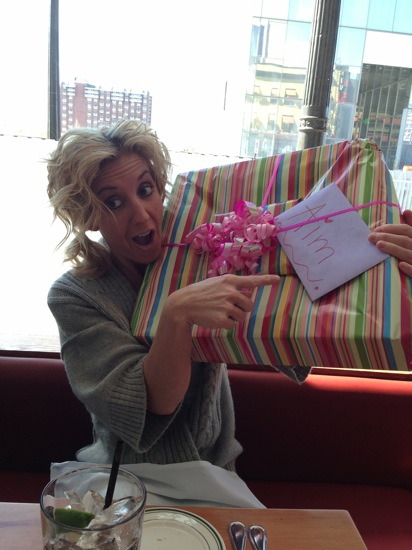 as you may know, i work at a window company and we thought it would be funny to wrap up a vinyl window as a joke. we ended up making it cute and put photos in the grid sections. don't worry, we also got her a gift card for her "real" present!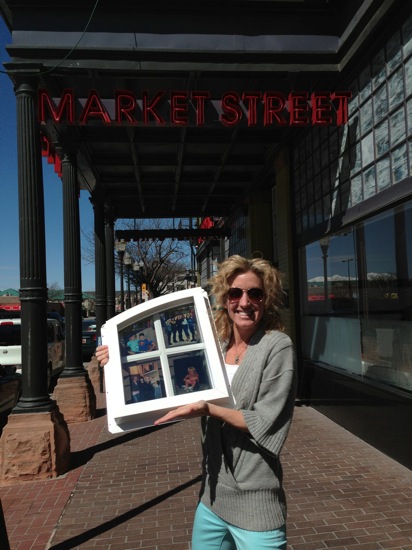 i ordered two eggs over medium and got the only side that didn't have cheese–sliced tomatoes. kind of boring and they wouldn't even sub in fruit (not even if i paid more).. they're very strict on substitutions! but we decided that my breakfast could be called a BELT (rather than a BLT)–bacon, egg, lettuce, tomato. ha!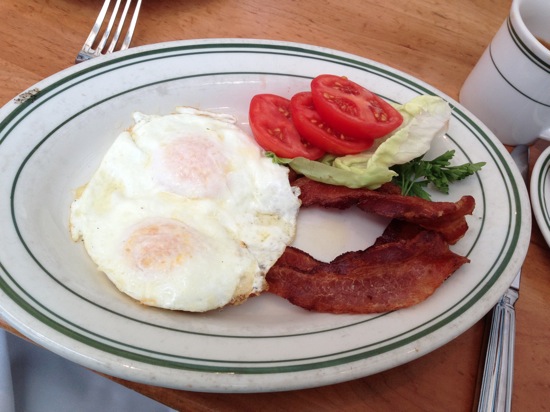 happy 25th birthday, amy!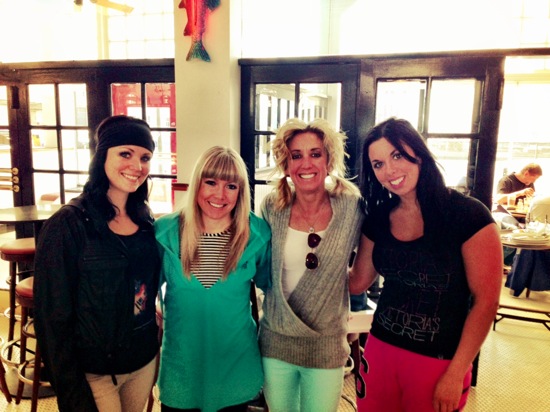 after brunch i headed to do my sunday grocery shopping. mandy wanted to join me and we decided to make a pit stop at lululemon before whole foods. i beat her there, so i basked in the sun while i waited. it may have been sunny, but it was also pretty chilly today! it was in the 40s.. i wish utah would warm up already.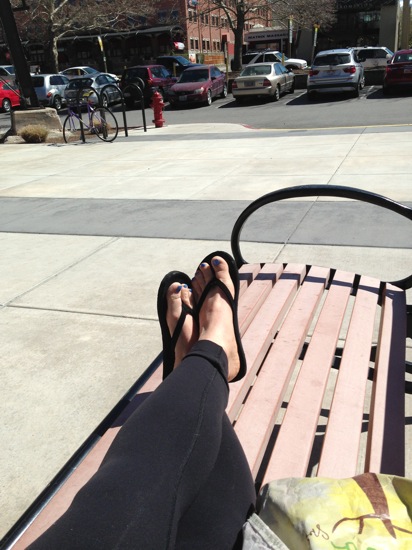 i am not going to show you my grocery haul this week, but i hit up whole foods and trader joe's and got all the necessities. i will share this week's dinner menu:
sunday: burgers & fries
tuesday: stuffed peppers, baked sweet potatoes & green beans
wednesday: taco soup
thursday: spaghetti, asparagus & garlic bread
friday & saturday: play it by ear
after putting away all the groceries, marshall and i spent some time tidying up the house. it's a wonder that just two humans and two dogs can manage to mess the place up so bad. our clean house is always a work in progress.. haha. 
after our chores, we took the pups over to the nearby park for a little exercise. (for them, not us.. we both took the day off from the gym today.) randy wasn't interested in getting his photo taken…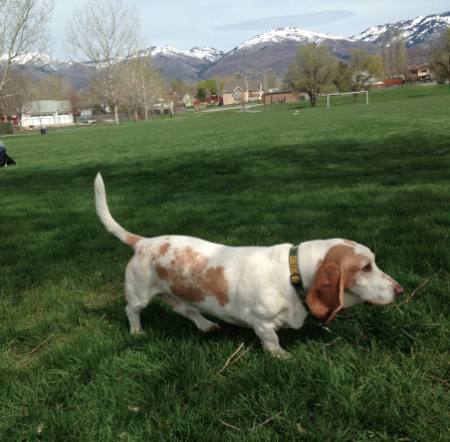 but i did manage to get the BEST PHOTO EVER of miss penelope jane! hahaha.. i am dying.
after the park i whipped up a healthy dessert recipe that had been bouncing around in my brain for a few weeks. i will share it tomorrow.. it's really good and REALLY easy!
next we headed up to my niece's house to wish her a very happy 7th birthday and give her a card. for my nieces and nephews, we give them a dollar for every year they are. it is fun for them to get money and it's easy for me since i really don't know what kids love these days. happy birthday, izzy! she wanted cookies and punch for her celebration instead of cake–atta girl!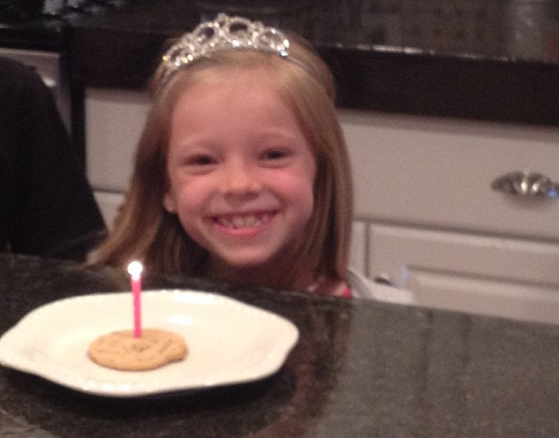 (stolen from momma b's instagram!)
next up was another trip to downtown SLC. marshall and i met up with kristen and rory to help them wrangle their three pups while they got their engagement pics! it had really cooled off by this time and i felt so bad because kristen was in a breezy summer dress. burrrr!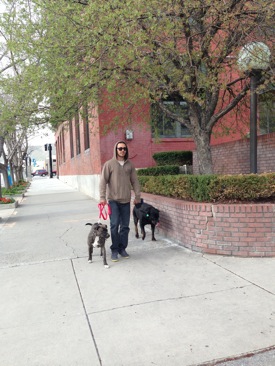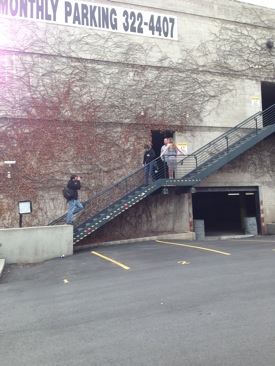 the dogs were super cooperative and i am sure the photographers got some great shots. i can't wait to see. and i really can't wait for the wedding! i am so excited for them both. 
we made it home a bit past seven and i was going to get started on dinner, but i realized there were a few key ingredients i had forgotten at the store earlier. i made a quick run to smith's for the essentials and then came home and got to work on our very late dinner. 
we had burgers, waffle fries (frozen alexia ones) and marshall had a side of annie's mac & cheese. we had to eat our burgers sans buns, though… when i went to grab the sourdough bread to toast for the burgers, it was nowhere to be found. oh.. guess what?? randy managed to snake it from the counter while we weren't home! uggghhh.. that rascal! he's been really good lately thanks to daycare and trips to the park, but the bread must have been within paws reach and it probably smelled too good to resist. we were bummed, but laughed about it and had our burgers over salad instead. it was 9 o'clock by the time we ate, so i really just inhaled my dinner and didn't bother with a picture.
i cleaned up the kitchen (like i said, a never-ending work in progress to keep this place clean!) and then FINALLY sat down to blog. 
and now, here we are. whew.. what a day. but a very, very great day filled with friends, family, and good food!
hope your sunday was fabulous. here's to another wonderful work week!
Qs~
1. is it warming up where you live or are you still stuck in winter?
2. what's on the dinner menu this week?
xo. janetha g.