my longtime friend, sarah matheny of peas and thank you, recently published her second cookbook.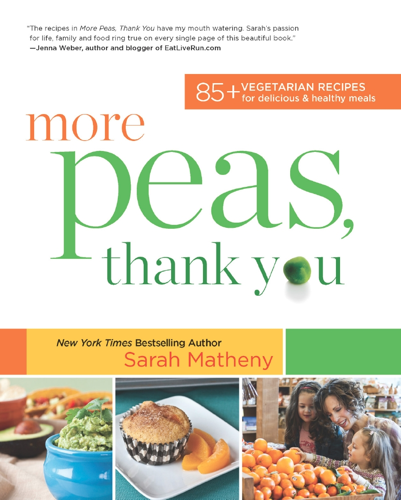 that's right.. second! her first one is one of my favorites and i know that more peas, thank you is going to be just as big of a hit. i am so proud of her!
the latest cookbook is full of life musings, fun family stories, and–of course–mouthwatering meatless recipes. while i am not vegan nor vegetarian, i have found that all of her recipes are right up my alley. meatless meals are fun for everyone. plus, meat biscotti would be weird, right?
i am thrilled to be participating in mama pea's virtual book tour today. i selected a recipe from the book to feature here on meals & moves: almond raisin biscotti.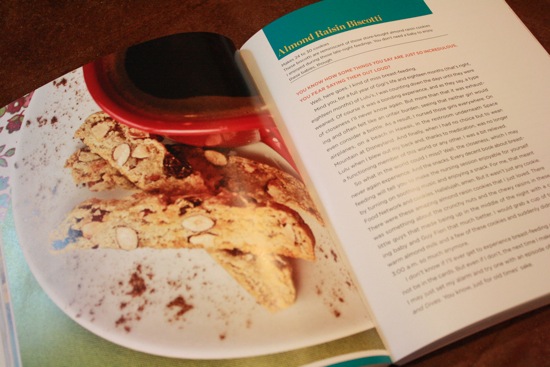 now, going into this i was a little nervous. i have never baked biscotti because it's a wee bit intimidating. you have to bake it twice and, i dunno, it just seems extra fancy. well, i have news for you.. baking biscotti is basically like baking cookies. easy peasy.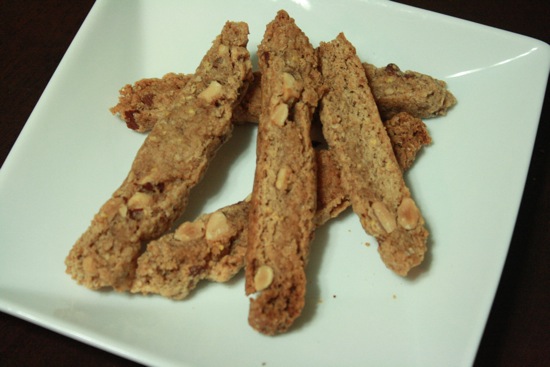 almond raisin biscotti
from more peas, thank you by sarah matheny
prep time: 15 minutes; bake time: 40 minutes
yield:  24 cookies
ingredients:
1 cup all purpose flour
1/2 cup whole wheat pastry flour
2/3 cup pure cane sugar
1 TB cornmeal
1 tsp baking powder
1/2 tsp salt
1/4 tsp aniseed (i omitted)
1/2 tsp cinnamon (i did a full teaspoon)
1/4 cup vegan margarine or coconut oil (i used earth balance)
1/3 cup unsweetened applesauce (i ended up using about 1/2 cup)
2/3 cup roasted almonds, chopped
1/4 cup raisins (i omitted.. i don't love raisins)
directions:
preheat oven to 325* F. line a baking sheet with a parchment paper or cooking spray.
combine flours, sugar, cornmeal, baking powder, salt, and spices in a bowl.
cut in margarine or coconut oil using a pastry blender OR pulse in a food processor.
stir in applesauce until dough forms. fold in almonds and raisins.
shape dough into a log and place on baking sheet. bake for 30 minutes or until log is firm and has started to brown.
allow log to cool for several minutes and then slice diagonally into 1/2″ thick cookies.
gently place cookies on one cut side down on baking sheet and bake for an additional five minutes. flip the cookies and bake for five minutes more. store in an airtight container.
soo.. my tweaks to the recipe.. i left out the aniseed because i didn't want to buy it for only 1/4 tsp. i left out the raisins because they aren't my favorite. and the added applesauce? well.. i didn't know what else to do because i needed moisture. after mixing the 1/3 cup called for in, my "dough" looked like this: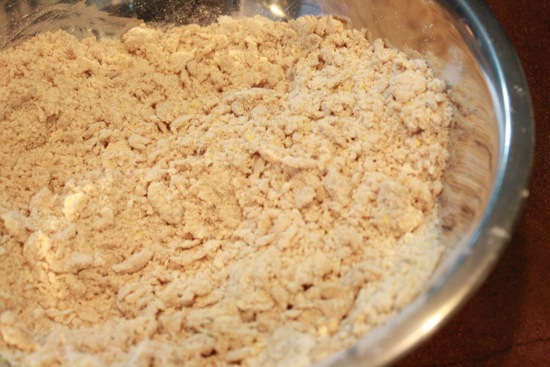 i added a bit more applesauce, and i was ready to roll. literally! the dough formed and i was able to roll it into a log. the only problem was, because i am a biscotti newbie, i wasn't sure how long, wide, or flat the log was supposed to be. i just guessed!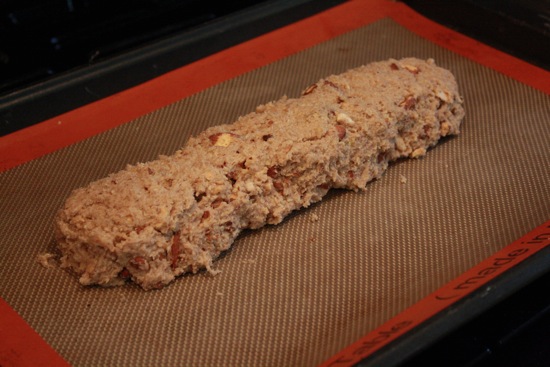 i was a little off–i was only able to get twenty 1/2″ cookies out of my log.. but they ended up a little longer than the photo in the book. it all worked out.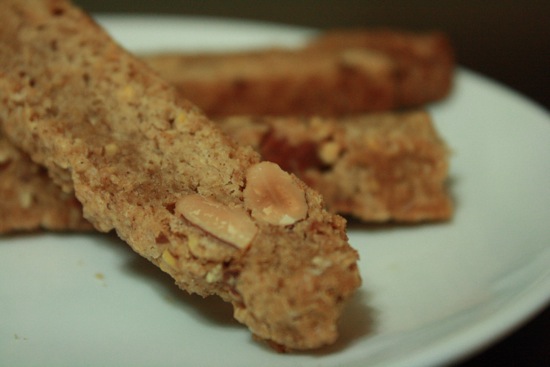 these biscotti cookies were super simple and i can't wait to enjoy them with my coffee this week!
as part of the more peas, thank you book tour, i am giving away a peas prize pack courtesy of peas & thank you!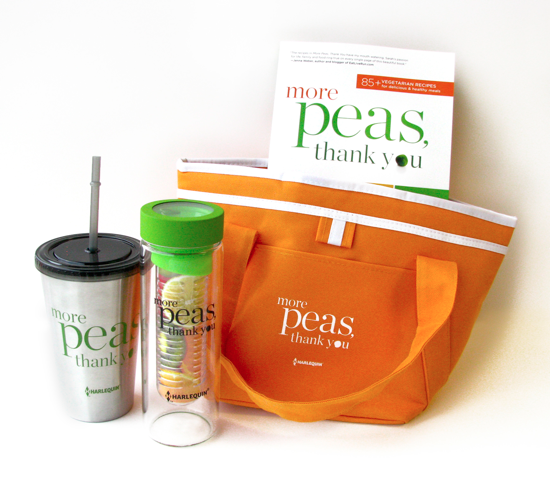 to enter, simply leave a comment telling me a food or recipe you are intimidated by so you've never made it at home. 
for extra entries:
pin this giveaway to pinterest
tweet about the giveaway tagging @mama_pea and @janeeetha
post this giveaway to facebook
here is a short link to the post for posting purposes: http://wp.me/p1B7vY-ddQ
leave an additional comment for each extra entry.
good luck!
xo. janetha g.