hey! welcome to the end of the weekend… they sure do fly by.
i wanted to first thank you for all the input in my last post. it's great to hear all of your thoughts on the matter!
my weekend has been a mixture of lazy and busy and full of good food and fun.
friday night i tried meditrina for my first time with kristen. we really enjoyed the small plates! we shared four different plates.. but the two desserts we shared were by far the best part. we had the caramelized apple tart filled with apple custard in a graham cracker crust and caramelized bananas with nutella mousse. YUM. then on saturday night we had some friends over for pizza and games, so marshall and i spent a large chunk of saturday cleaning the house. nothing like company coming over to kick your cleaning butt into high gear! the pizza party was a lot of fun!
i skipped the gym yesterday, so i switched rest days and headed to gold's today to do the workout that i missed. all that pizza (and popcorn, and cookies, and chips & salsa…) i ate last night must have slowed me down, because i did this workout five minutes slower than the last time i did it. oh well! something is better than nothing.
after the gym i hit up the grocery stores for my usual sunday shopping. i accidentally wandered into lululemon before hitting whole foods. i made a few purchases…
after my retail therapy, i headed into whole foods to get the items on my list (plus a few impulse buys.. hehe.)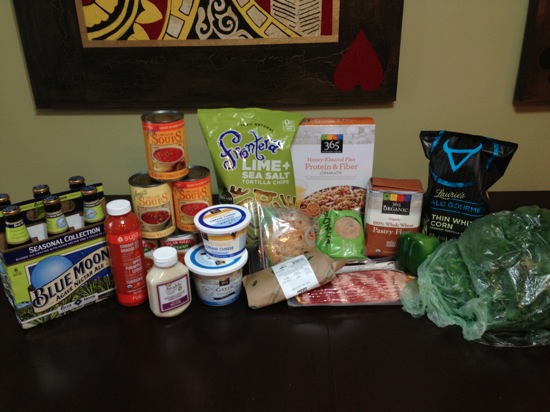 kale
cilantro
bacon
ground beef
green pepper
2 kinds of corn chips
whole wheat pastry flour
cereal (not on the list)
apple cinnamon bread (not on the list)
greek yogurt
cream cheese
3 kinds of soup
vegan caesar dressing (not on the list)
pressed juice (not on the list)
beer (not on the list)
spaghetti squash (not pictured)
almonds (not pictured)
avocado (not pictured)
trader joe's is just around the corner from whole foods.. quite convenient! i headed there and got some more of the items on my list.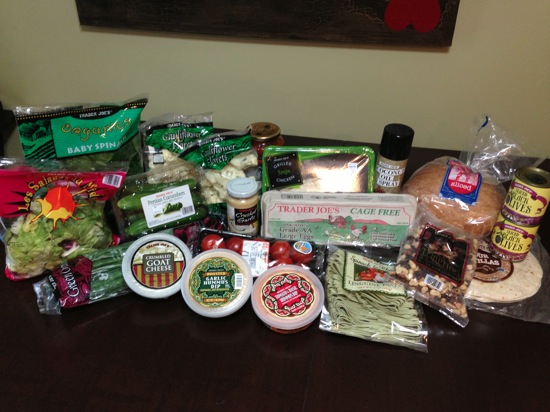 lettuce
spinach
cauliflower
green onion
cucumbers
garlic
goat cheese
2 kinds of hummus
tomatoes
chicken
eggs
coconut oil spray (new item! excited)
linguine
trail mix
tortillas
olives
sourdough bread
spaghetti sauce
finally i rounded out the shopping spree with a trip to costco. there were a handful of items i needed and i am proud to announce that i made no impulse purchases at costco, yay!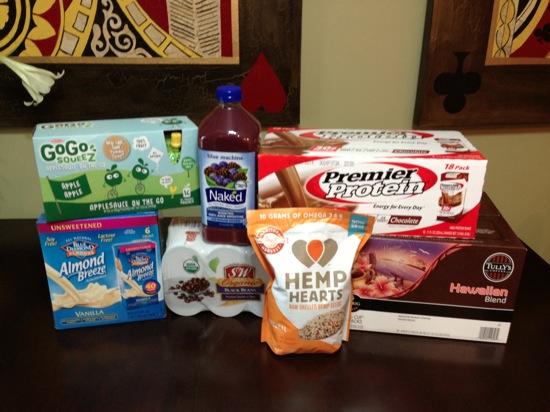 almond milk
black beans
hemp seeds
coffee
protein shakes
applesauce
naked juice
i planned my dinners this week around a lot of ingredients i already had on hand.. here is the plan:
sunday: cobb salads
monday: spinach linguine with meat sauce, spaghetti squash, broccoli, and garlic bread
tuesday: green pepper, olive, goat cheese, and pepperoni pizza and side salads
wednesday: chicken enchiladas and black beans
thursday: red pepper tomato soup and chicken pesto paninis
friday & saturday: out to eat or find something in the fridge!
marshall and i just finished up our cobb salads (such a speedy meal!) and we are about to go see the evil dead. it looks flipping scary and i hate that but i don't want to make marshall go all alone.. haha.
hope you have a great monday.
Qs~
1. what's on your dinner menu this week?
2. what was the best thing you ate over the weekend?
3. do you work out on sundays?
xo. janetha g.