hello and happy april to you! i love starting a month off on a monday for some reason. it's like a fresh start. it's a mental thing. 
i decided to document my whole day because, well, why not? 
things kicked off this morning with a very early wake up call (5:45 AM sucks.) i had my monday morning meeting at work and then got down to business with an april fools' prank that amanda and i have had in mind for WEEKS.
kerryne comes in later than me and amanda, so we decided to cover her desk in post-its! it was fun and funny.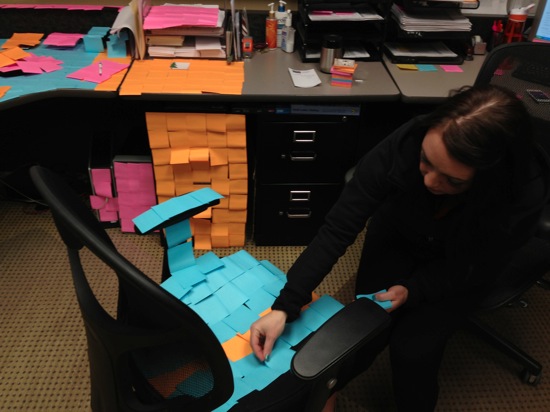 she had a good laugh about it when she got to the office. and, believe it or not, she just left them up and is going to pull one off every time she needs one! she is a good sport, haha. (oh, and she also kicks some serious bikini butt.. she took 2nd in the NPC bikini comp this past weekend! congrats, friend.)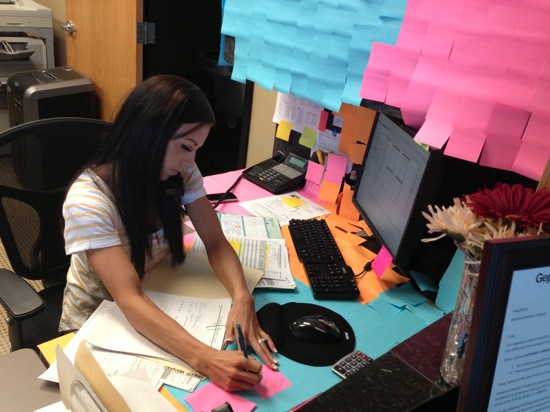 after the post it shenanigans, i made myself some coffee + french vanilla coconut creamer. yeeeah.. back on the coffee every day wagon. my belly is handling it nicely, though. maybe it's the probiotic? or maybe it's a miracle. i don't know. what i do know is that i love coffee a whole lot.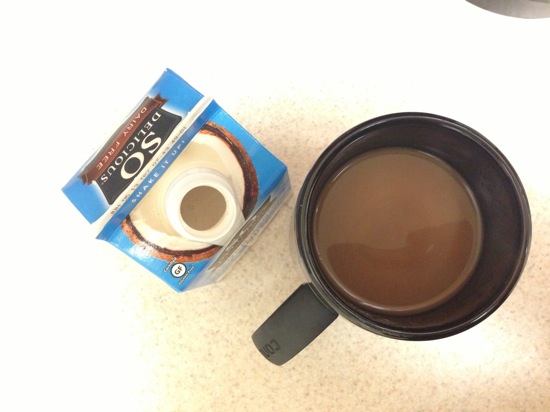 breakfast was the usual.. a protein shake.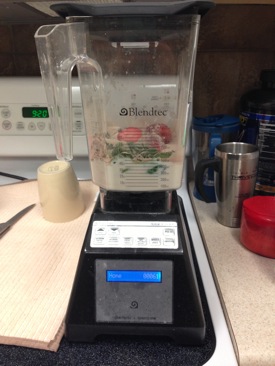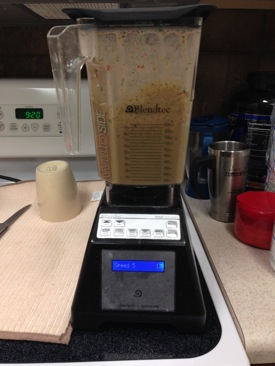 this had 12 oz of almond milk, a scoop of cookies & creme plant fusion protein powder, 2 cups of frozen strawberries (i get them at costco) and the last little bit of my spinach. looks bad, tastes good.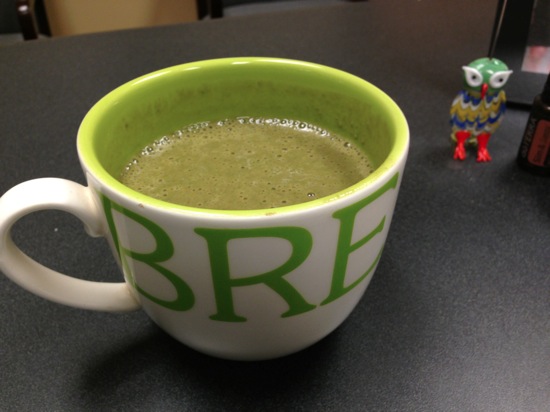 speaking of plant fusion, the winner of the giveaway is lucky #13! no, seriously. picked off random.org. julia, you win. thanks for playing! 
a few hours later i fixed some lunch. it wasn't very colorful (aside from the freakishly fluorescent trader joe's egg salad) but it got the job done.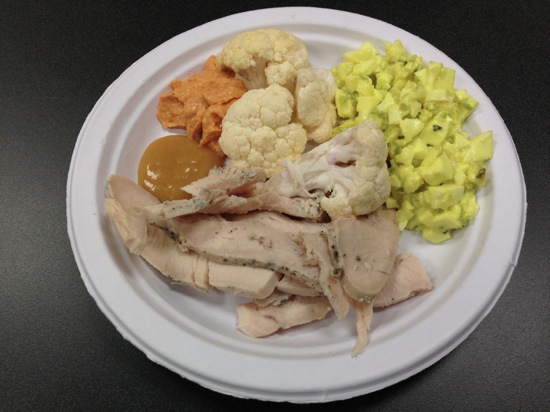 my whole lunch was provided by trader joe's, ha! along with the egg salad i had about four ounces of roasted turkey breast and some cauliflower. i had tomato basil hummus and spicy sweet mustard for dipping.
other random things that entered my mouth today were many, many cough drops and a couple pieces of lemon gum.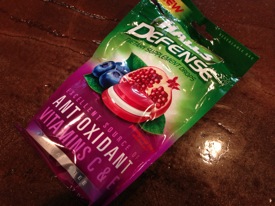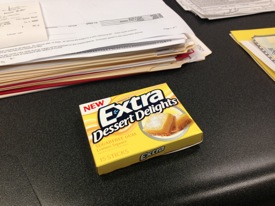 i get off early on mondays (since i go in super early) so i had my snack at home rather than at the office. it's national sourdough bread day today! we LOVE sourdough bread here in our house. we actually have two loaves on hand at the moment…
naturally, i had to celebrate. side note: the trader joe's salted peanut butter is suuuper salty. like, saltier than most salted PBs. i like a little salt in my peanut butter, but it was overpowering. don't think i will be buying that again.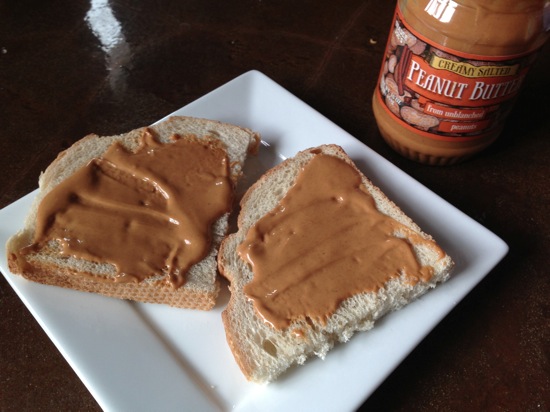 the pups got to celebrate, too. lucky dogs. they love bread and peanut butter.. they know what's up.
i had a bang trim at 4:45 and my workout at 5.. so i had a little something pre-workout around four o'clock.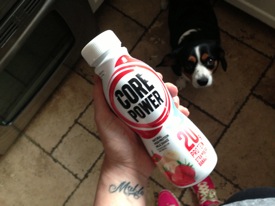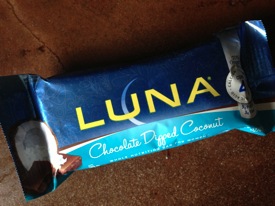 i love these strawberry banana core power drinks.. i was turned onto them at blend retreat last year. they are a sponsor again this year! you guys should all come to blend.. it's not too late to sign up. doooo it. anyway, these drinks are delicious and they are lactose-intolerant-friendly so i don't have to worry about the dairy thang. i also had a chocolate dipped coconut luna bar AKA the healthier version of a samoa cookie. 
i had my shroom tech sport prior to my workout.. but forgot to take it 45 minutes before, so i don't know if they really helped a ton. whoops!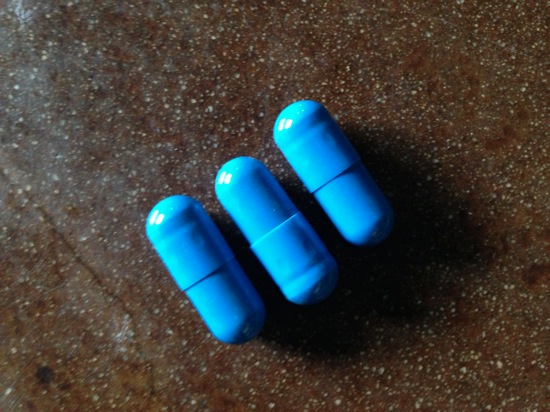 my workout was ROUGH. it was my first day back at GPP since last tuesday. i took almost an entire week off because i was sick. i still have some sickness lingering–mainly a runny nose and congestion–but i was well enough to work out. the workout was curves and it had a little bit of everything!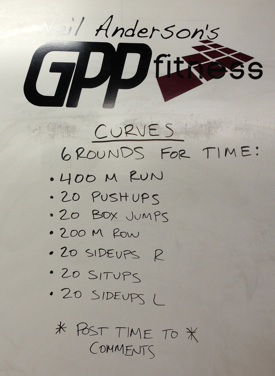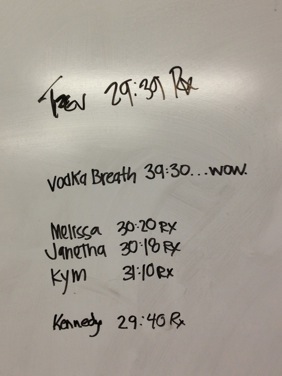 OH! i have BIG news about GPP! they are going to be offering classes at the gym at city creek! SLC locals, this is huge! you can read more about it in this post and i will share more details as they come.
after the workout i hit the treadmill for about 20 minutes of walking at a 3.0 speed/3.0 incline to squeeze in my 10,000 steps for the day. my fitbit hadn't seen more than 3,000 steps a day since i've been sick! it felt good to get moving.
i came home and fixed dinner while watching the jazz game with marshall. we had steak, baked potatoes, and steamed veggies. wanna know what's funny and strange? we had this same dinner LAST april 1st! my timehop app told me. it was totally not planned. i love finding things out like that.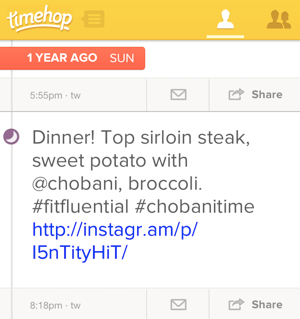 wanna know what else is funny? looking at your four-ounce steak next to your husband's 11-ounce steak. that boy and his metabolism. although he works really hard all day at a physically demanding job–he needs all the steak he can get.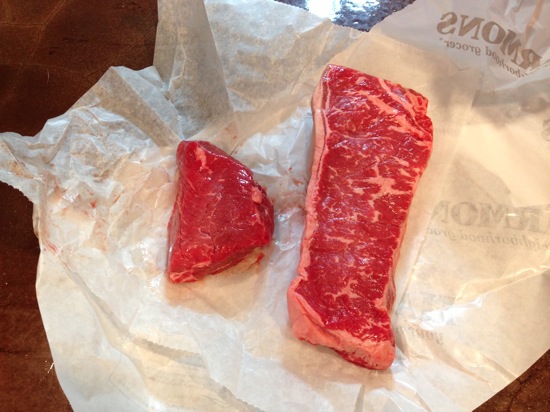 the baked potatoes took awhile to cook, so we didn't end up eating dinner until nearly 9 o'clock despite the fact that i started making it before 8. but i did use the baking-of-potatoes time to type the majority of this post.. so that's a good use of time. we are used to eating dinner way late, anyway. this was super good! i kept my potato topping simple with butter and salt and had some stubb's for my medium-rare steak, but i didn't really need it because it was so flavorful.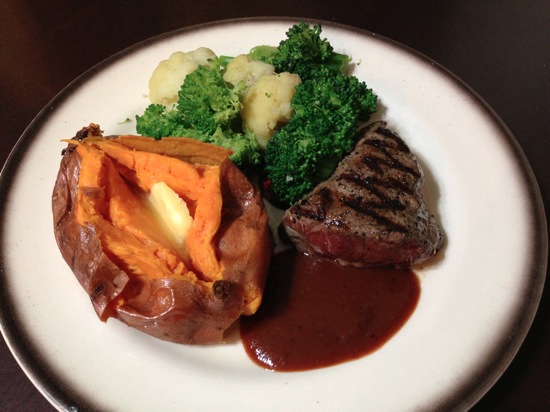 i am going to let my dinner digest a bit and then i will probably have a carrot cake vitatop with mighty maple peanut butter on top for dessert. that's my jam these days!
that concludes monday's meals & moves. hope yours was just as tasty & terrific!
Qs~
1. any good april fools' day pranks to share with the class? 
2. what is your favorite kind of bread?
xo. janetha g.