as a glam publisher, i have been asked to share my current running routine and how i plan to incorporate new balance running shoes into my running plan. all thoughts and opinions are my own. 
so.. you know how i am not a big, huge fan of running?
i say it here a lot. i don't love to run. i never have. i am kind of afraid that i never will. is that something i should be afraid of? probably not. it's probably okay that i am not some passionate runner. but it would be nice to like it a little–to at least enjoy it–since i do end up running fairly often.
i don't know what it is about running that i dislike so much. i think it just bores me. it's repetitive. i can hang with a 5k, but after that it just gets old. and never once have i experienced the "runner's high" i hear everyone raving about. sugar high? yes. cereal high? you betcha. i actually think i've even had a weight lifting high before.. so i kind of see what a runner's high is all about. i just haven't been bitten by the runner bug.
i have, however, been bitten by the pushover bug. i am easily convinced into participating in race after race–even when i have said, "that's it! no more races for me!"
need proof?
after a 5k in june of 2011, i blogged about how i just don't like to run.. and i was done with races for good. i just re-read the post, and i still have all the same feelings about running that i wrote in that post. but guess what? i love my friends. and i love doing things with them. as a result, i have completed several races since announcing my retirement (haha.) and by several, i mean six. that's a lot!
i did one 5k.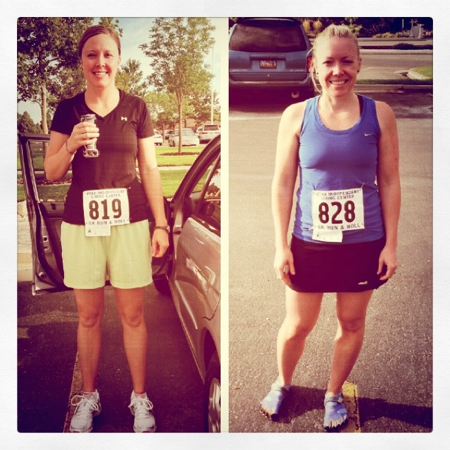 i did one 10k.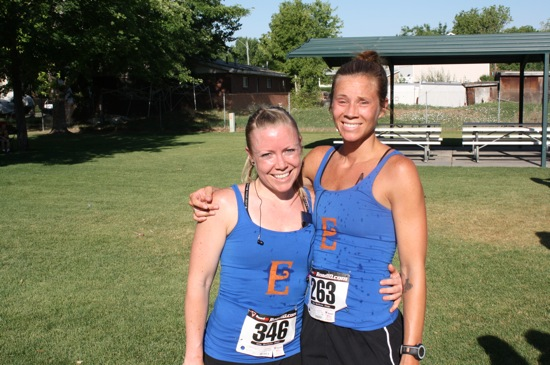 i did a zombie chase.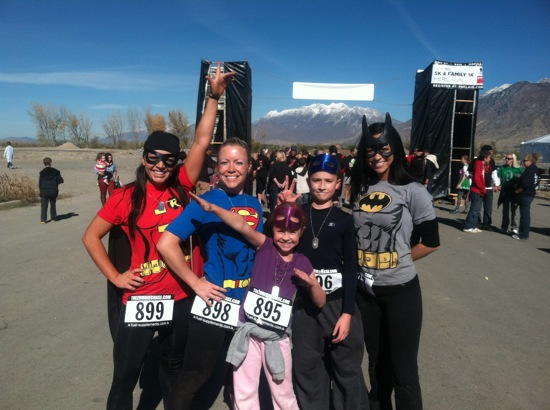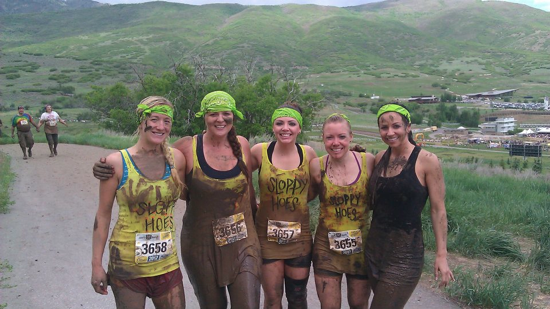 i even did a tough mudder, which was honestly the most challenging race ever.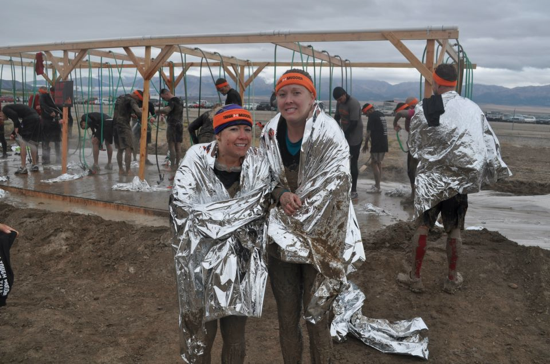 and, although i didn't love the running part in ANY of these races, i loved participating in the races with my friends and family. that part, i admit, was fun.  but after the tough mudder i said "okay.. for real.. this time i am done with races."
haha, yeah right, janetha. you should know better. of course you are not done with races.
here we are again, i am faced with another race. some of my friends run the red rock relay in moab every may, and a spot on their team happened to open up….
…and they happened to tell me they needed me on their team. oh.. fine.. twist my arm. they knew i wouldn't say no! i am a pushover, everyone knows it.
so, yep.. i am signed up for yet another race. however, i have never done a relay race before, so i am secretly a little bit excited for it. i like to try new things.. might as well cross a relay race off the ol' bucket list, right?
the only thing about this relay race is that it's pretty hardcore. up until now i have never done any training prior to a race. i have just done my regular workouts and hoped for the best come race day. however, now i have five other people relying on my running abilities! that is a little bit of pressure, guys. plus, this race is a tad physically demanding. it is a 65 mile course that each team of six splits up into twelve legs. the race goes from sunrise to sunset. the legs range from medium difficulty to very hard–nope, no easy legs at ALL. check it out: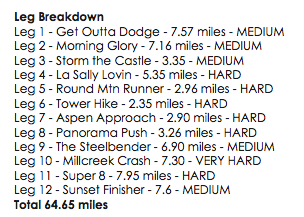 i can't wait to see what legs i end up with.. ha!
anyway, what i am getting at is that i think i should actually do a little bit of training prior to red rock. i usually run on a treadmill or on flat ground, and never more than a mile at a time. my workouts usually consist of 400m or 800m runs with 1 mile every so often. so, in order to prepare for the relay race, i think i should try running more than one mile at a time. i think i should try running up hills.. and down them. i think i should take running seriously for once. i recently mentioned that i want to start running longer distances, and red rock relay is my motivation behind that desire.
an important aspect of running is, obviously, the shoes you wear. in the past, i have been a die hard minimalist shoe wearer. however, i learned (the hard way) that minimal shoes may not be the answer for longer distances (for me.)  i wore my new balance minimus zero shoes for tough mudder (which was around 12 miles) and ended up with perennial tendonitis. ouch. this was dumb of me and i should have worn a more supportive shoe for the race, but i didn't know better. i am not experienced in long distances!
i have been trying a few different running shoes lately to see what my body likes best for longer runs (and by longer, i mean four miles.) when i was asked to participate in this new balance campaign, i was stoked because i have multiple pair of new balance shoes and i really like all of them. my favorite pair of new balance shoes are the minimus zeros that i wore for tough mudder. i love how light minimal shoes are and, while i love the feel of more supportive, cushioned shoes, they i do feel a bit weighted down. i have been looking for something between super supportive and minimalist,  and i think i have found the pair that i prefer the most.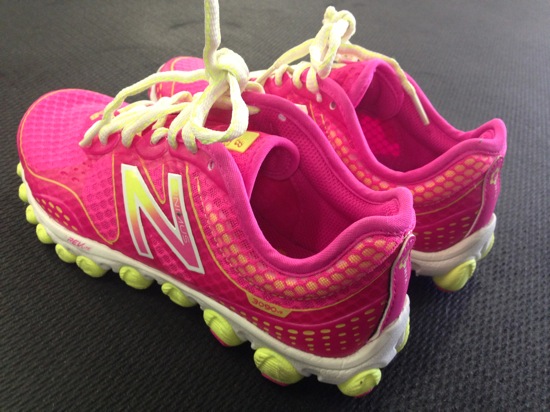 as part of the new balance campaign, i was able to select the pair of shoes i received, so i picked the new balance minimus ionic 3090v2. i chose these shoes because they are still a minimal shoe, but have a little added oomph and support. there is a EVA (ethyl vinyl acetate) foam footbed for cushioning. they weigh about double what my other new balance minimus shoes weigh.. so they definitely have more to them. they are designed for cross training and running, so i can use them for my training runs as well as my GPP workouts.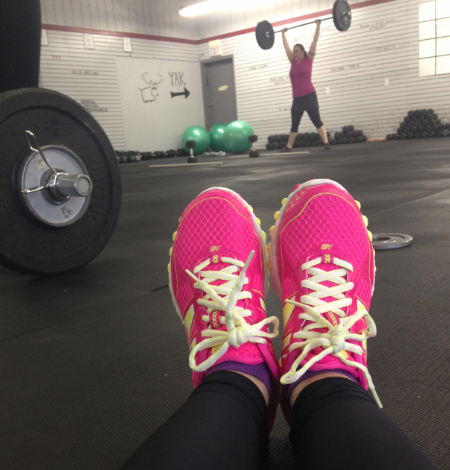 so far i have tried these running shoes three times. once inside, twice outside.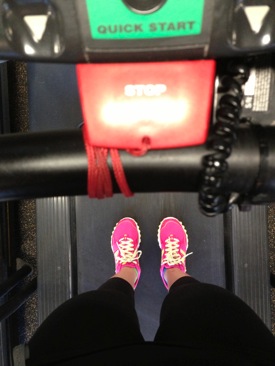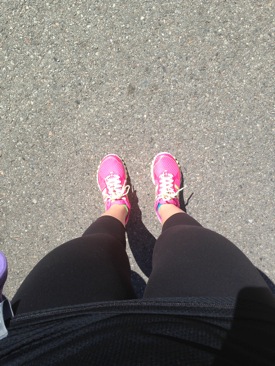 i like the added support from the cushioning and i don't feel weighted down at all. they still have the minimal feel, just with added foot support. i also love the unique sole of the shoes and it provides great shock absorption–something my other pairs of minimalist shoes lack.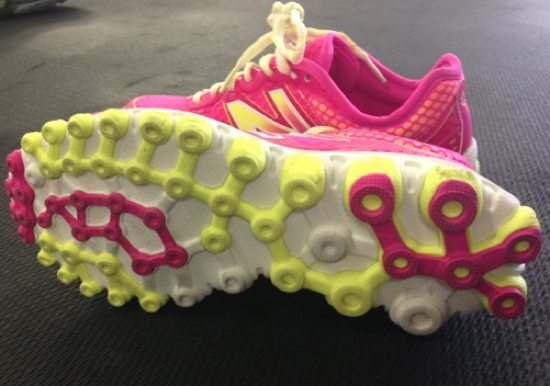 i haven't made it to higher mileage yet, but i plan to! my plan between now and race day (may 11th) is to do two longer outdoor runs each week. and by longer i mean start with four miles and work up to seven. that is what i consider "long"! i want to choose terrain that is more challenging than just flat ground. i live in a pretty hilly area, so it should be simple to find a few routes that will help me gain the running skills i need for the relay race.
and, who knows, i might end up liking running after all.
but i won't hold my breath. ;)
Qs~
1. do you like participating in races? what is your favorite type and/or length?
2. what are your feelings about running? have you ever experienced the "runner's high"?
xo. janetha g.
_______________
New Balance has the following mission: Demonstrating responsible leadership, we build global brands that athletes are proud to wear, associates are proud to create and communities are proud to host. New Balance is currently the only athletic shoe company that manufactures footwear in the U.S. with 25% of our U.S. footwear shipments produced at five New England facilities.  To learn more about how New Balance Makes Excellent Happen, visit http://www.newbalance.com
Disclosure: Compensation was provided by New Balance via Glam Media.  The opinions expressed herein are those of the author and are not indicative of the opinions or positions of New Balance.