hey! i am happy to share a tasty recipe post with you guys today while i'm still nursing myself back to health. i LOVE chicken.. i LOVE mushrooms.. and i LOVE mexican food, so this recipe is right up my alley. an added bonus? it's relatively healthy and great for sharing. enjoy!
**************************
March Madness is officially in full swing.  The NCAA basketball tournament is wrapping up the 2nd round and many fans are bemoaning their luck as several upsets have busted up everyone bracket.
If you're like me, you have spent part of the last couple of days rooting on your favorite team hoping they take another step towards the National Championship.  Many of you probably have been loading up on party foods, junk food, or snacking on whatever is available.  While these types of snacks may taste great and are convenient for the game, the pounds they pack on are not convenient, and most of us no longer have the metabolism of a college athlete.
A recipe that I like to whip up when I'm watching basketball, football, or whatever is something I was turned onto at  Bobby Flay's Mesa Grill in Las Vegas: Easy Chicken Mushroom Quesadillas.
These are a great little appetizer prior to a meal at the Mesa Grill and the perfect snack food during game day.  In addition, total prep time is about 30 minutes so you will not have to worry about game prep cutting into your actual game.  Thanks goes to the Food Network for providing the recipe for this tasty and healthy treat.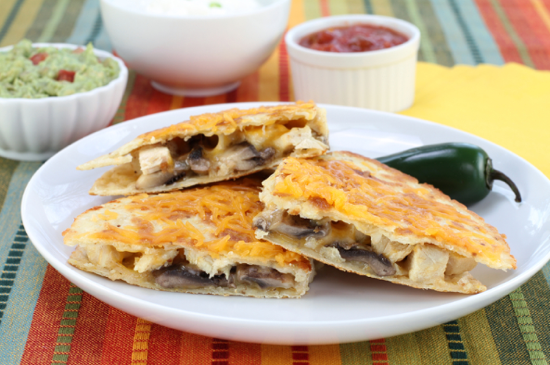 Easy Chicken Mushroom Quesadillas
Prep time: 10 minutes, Cook time: 15 minutes
Yield: 4 servings
Ingredients:
1 tablespoon canola oil
1 large onion, chopped (about 2 cups)
8 ounces white button mushrooms, (about 3 cups)
3 cloves garlic, minced
2 cups cooked chopped skinless, boneless chicken breast (1 breast half)
1 teaspoon ground cumin
1 teaspoon chili powder
1 teaspoon dried oregano
2 cups baby spinach leaves, sliced into ribbons
1/2 teaspoon salt
1/4 teaspoon fresh ground black pepper
4 (10-inch) whole-grain flour tortillas
1 cup shredded Mexican cheese mix or Cheddar
1/2 cup salsa
1/4 cup reduced-fat sour cream
Directions:
Heat the oil in a large skillet over a medium heat. Add the onions and mushrooms and cook until the mushroom water is evaporated and they begin to brown, 5 to 7 minutes. Add the garlic and cook for 1 minute more. Add chicken, cumin, chili powder and oregano and stir until all spices are incorporated. Add spinach, salt and pepper and cook until spinach is wilted, about 2 minutes.
Lay 1 tortilla on a flat work surface and sprinkle with 1/4 cup shredded cheese. Spoon 1/2 chicken and vegetable mixture on top of cheese, then top with an additional 1/4 cup cheese. Top with another flour tortilla. Heat a large nonstick skillet with cooking spray over medium heat.
Carefully place 1 quesadilla in pan and cook 3 minutes. Using a large spatula, gently flip quesadilla and cook an additional 3 minutes until lightly browned and cheese is melted. Repeat with second quesadilla. Slice each quesadilla into quarters. Place 2 quarters on a plate with 1 tablespoon sour cream and 2 tablespoons salsa.
Enjoy!
Stats Per Serving: Calories: 441; Total Fat: 16 grams; Saturated Fat: 7 grams; Protein: 23 grams; Total carbohydrates: 46 grams; Sugar: 8 grams Fiber: 8 grams; Cholesterol: 51 milligrams; Sodium: 1,157 milligrams
This post was provided by James Guill in collaboration with Rachel Adams of Zenit Media.
Qs~
1. Do you like March Madness? What is your favorite spectator sport?
2. What is your favorite appetizer?