happy friday (and easter weekend!)
i made it through a few hours of work before heading home for the day, downing some nyquil at 1 PM, and passing out for a couple hours. i am going to kick this sickness in the butt, one nap at a time!
i woke up with a scratchy throat and just wanted something cold and soothing. i knew exactly what would fit the bill…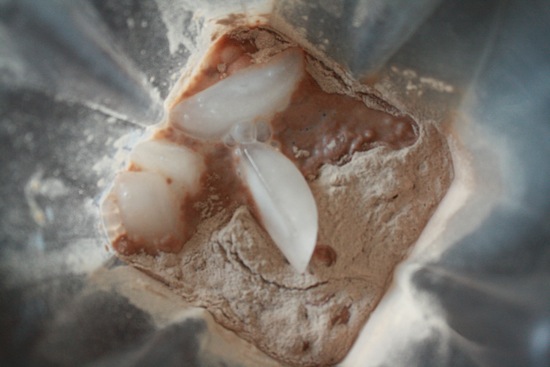 i have been sucking down protein shakes two to three times a day ever since the onset of my sore throat.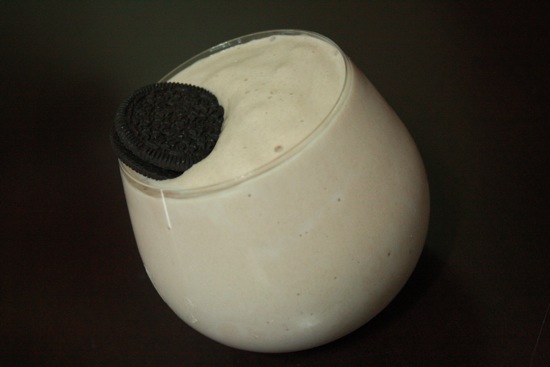 but even when i am not sick, i drink one protein shake a day.. typically for breakfast, but sometimes prior to a really tough workout. i am often asked what protein powder is my favorite. my reply, every time, plant fusion.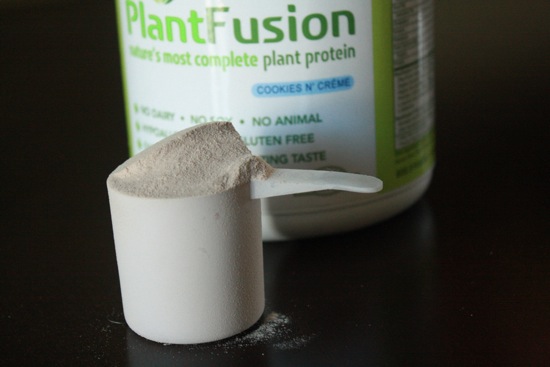 i started using plant fusion protein powder over a year ago when i first read about it on teri's blog. that was back before i had quit dairy, but i preferred this plant-based protein powder to all the whey varieties i had previously tried (and, believe me, i have tried a LOT of protein powders!)
i usually buy vanilla bean flavored plant fusion because it is like a blank canvas. any fruit i add shines through, or i can add cocoa powder to it to make chocolate, or i can add extracts like maple, almond, or even lemon to whip up a creative, unique flavor. it's also good on its own.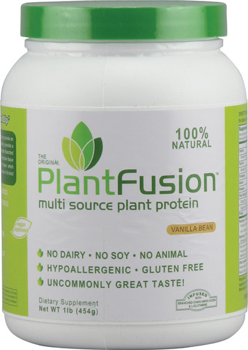 vanilla bean plant fusion is also great for baking and i have used it to make things like scones and cookies.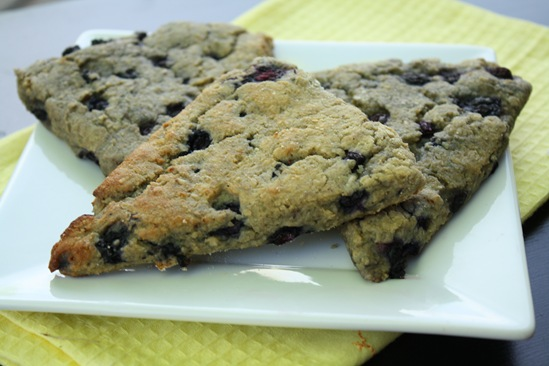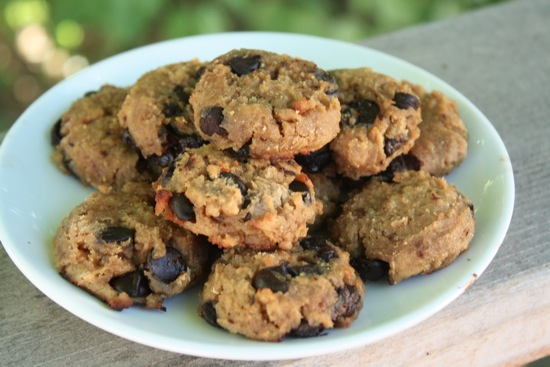 awhile back, i started ordering the chocolate raspberry plant fusion for a change. i rarely order flavored protein powders (other than vanilla) because the taste falls short and i am usually unimpressed. the chocolate raspberry, however, is incredible. it is delicious blended with some almond milk–sometimes i add berries to make it a bit more substantial, but they are not needed for flavor. i have gone through two tubs already.. so sad to see this second one go!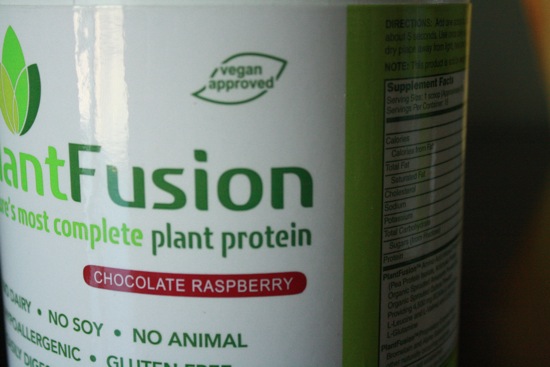 plant fusion reached out to me because they saw me blogging about their product and realized how much i love it. they offered to send me their NEW flavor, cookies & creme.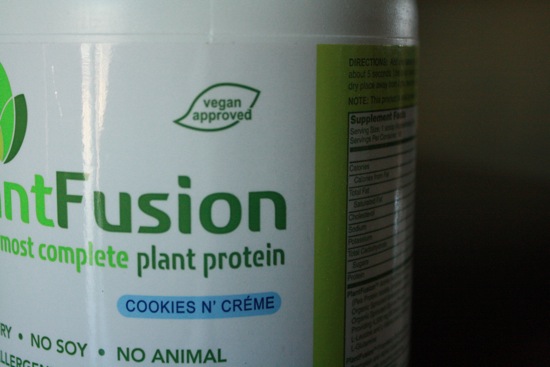 ummm.. did you guys know that my FAVORITE kind of ice cream is cookies & creme? very, very favorite. so when i learned about this new flavor of plant fusion, i was ecstatic! i have been mixing a scoop of the cookies & creme powder with almond milk and ice–nothing else–and it creates the most creamy, dreamy shake.
my taste buds are in love. it is very, very, VERY rare that you can mix a protein powder straight up with water or milk and enjoy the flavor. you usually have to add this or that to make it delicious–NOT the case with plant fusion! it is so delicious on its own! (okay, and even more delicious with a chocolate joe joe for garnish.. so sue me.)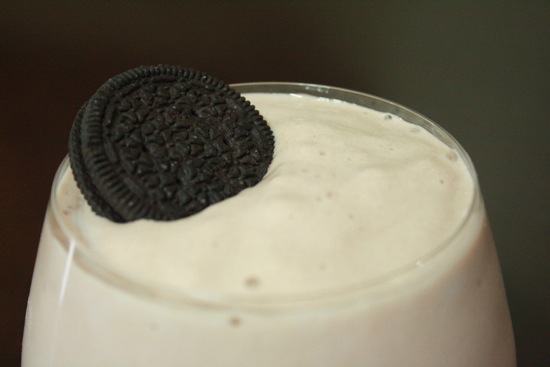 when i was given a few dietary restrictions from my doctor, i had to give up some of the foods i love. but i was thrilled that i didn't have to give up my favorite protein powder! plant fusion is nature's most complete plant protein and contains no soy, dairy, or animal products. it contains four plant proteins (pea, artichoke, amaranth, quinoa) and is highly digestible. it also contains no artificial sweeteners and each serving has only four grams of sugar. additionally, each serving has around 22 grams of protein to support lean body mass and muscle recovery and growth. each serving also contains 4.5 grams of branch chain amino acids, which are the building blocks of protein.
plant fusion comes in five flavors: vanilla bean, chocolate, chocolate raspberry, cookies & creme, and unflavored. i have tried the three i mentioned above, and i can honestly tell you it is the best tasting protein powder around. i LOVE it.
now that you have read my rambles on how much i love plant fusion, i want to offer up my favorite protein powder to you guys! plant fusion has offered to give one winner TWO tubs of plant fusion: one chocolate raspberry and one cookies & creme.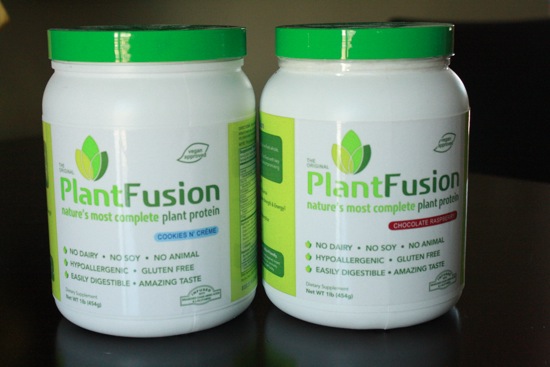 to enter, simply leave a comment telling me your favorite protein-packed snack. 
extra entries:
follow @PlantFusion on twitter and tweet "i want to win @PlantFusion from @janeeetha! http://wp.me/p1B7vY-dbN"
visit plant fusion on facebook and write on their wall, telling them meals & moves sent you.
pin this giveaway to pinterest.
leave an additional comment for each additional entry.
this giveaway is open to the continental USA and will close at 11:59 on sunday, march 31. good luck!
xo. janetha g.
*disclaimer: giveaway items and two 1-lb tubs of protein powder provided by plant fusion for review. this is not a compensated post. i spend many, many dollars each month on this delicious protein powder. it's just that good.