i made these last night.

don't mind the typo.. it was early when i made the sign…
they caught my eye because my favorite thing to order when out to breakfast is the french toast combo with bacon. i love smothering the whole dish in maple syrup. i am definitely a food-mixer. it can all touch on the plate and mingle in my mouth.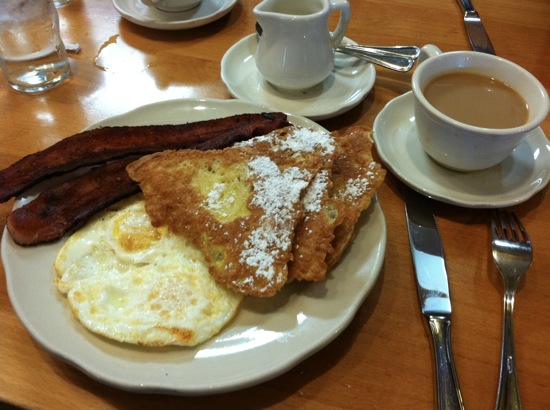 so when i saw the ingredients in the recipe, i knew i would enjoy them. what's not to love?!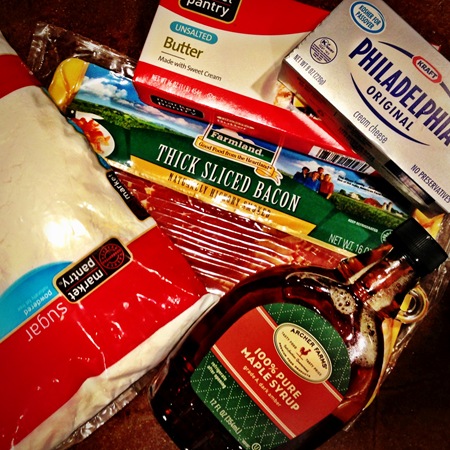 the cupcakes muffins (they were way too dense to be called cupcakes!) were a hit.. with my co-workers and with my taste buds.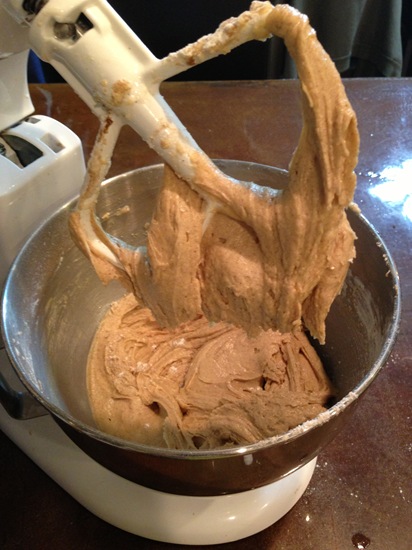 the photos aren't fancy, sorry 'bout that. i wasn't planning on blogging these bacon-filled beauties…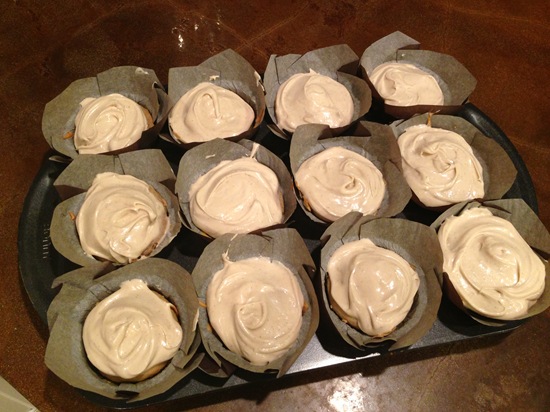 …but they turned out way too good not to share!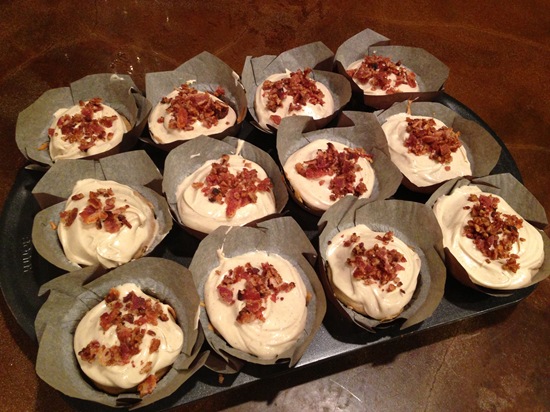 maple french toast bacon muffins with maple vanilla bean cream cheese frosting and bacon sprinkles.
(yes..longest name ever. and they were definitely more like a muffin than a cupcake. super dense.)
recipe very slightly adapted from the food network
prep time: 30 minutes, cook time: 30 minutes
makes 12 muffins
ingredients
for the muffins:
1 cup all purpose flour
1 cup cake flour*
1 (3.4 oz) box instant vanilla pudding mix
1 tsp baking powder
1 TB cornstarch
2 tsp cinnamon
1/2 tsp salt
1/2 cup unsalted butter, at room temperature
1/4 cup packed brown sugar
1/4 cup evaporated cane juice or white sugar
2 tsp vanilla bean paste or extract
1 tsp maple extract
4 large egg whites, at room temperature
1/4 cup pure maple syrup
1/2 cup half & half, at room temperature
1 cup warm water
6 strips of bacon, cooked & crumbled
for the topping:
8 oz cream cheese, at room temperature
2 TB salted butter, at room temperature
2 cups powdered sugar
2 TB pure maple syrup
1 1/2 tsp vanilla bean paste or extract
1 tsp maple extract
4 strips of bacon, cooked & crumbled
*if you do not have cake flour, simply replace 2 TB of one cup of all purpose flour with cornstarch and sift a few times. BAM, cake flour.
directions
preheat oven to 325* F and line a muffin tin with 12 liners.
combine flours, pudding mix, baking powder, cornstarch, cinnamon, and salt in a bowl.
in a separate bowl, using a stand or hand mixer, cream together butter, sugars, and extracts.
add egg whites and mix.
with mixer at a low speed, add the flour mixture to the mixing bowl, one-third at a time.
after adding the first third of the flour mixture, add half of the maple syrup and half of the half & half. repeat once more, then finish with the final third of the flour mixture.
the batter will be very thick. thin it out with the warm water.
fold in the bacon crumbles.
distribute batter into prepared muffin tin.
bake for 30 minutes or until a toothpick comes out clean.
meanwhile, prepare the frosting: using a stand or hand mixer, whip the cream cheese and butter together and slowly add the powdered sugar. add the syrup and extracts, whip to combine.
frost cooled cupcakes with frosting and garnish with the crumbled bacon.
enjoy! store any extras in an airtight container in the fridge.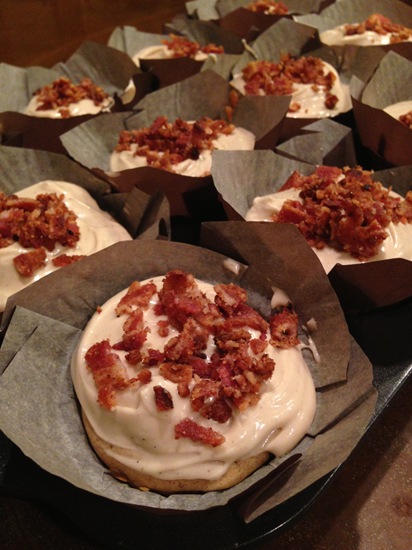 these are like all the delicious things about breakfast packed into one tight bite. i highly recommend serving them alongside some coffee or a tall glass of milk.. they are super dense. and super delicious.
oh.. and today happens to be national spinach day.. so go eat some of that green stuff, kay?
also.. muesli fusion is giving away some good stuff on the blend blog this week. click!
Qs~
1. are you a food-on-your-plate mixer or do you strictly separate them?
2. do you think you would love or hate these muffins?
xo. janetha g.