hi! happy sunday.
i just finished putting away my groceries. while i love grocery shopping with a passion, i absolutely hate putting it all away! kinda like laundry–hate putting that away, too. because i was reluctant to get it done, i took my sweet time putting it away and snapped some photos so i could share my purchases with you. i went to brunch at porcupine with some friends and then stopped at trader joe's and whole foods on my way home. i didn't have a list made out or any meals planned for the week, so that lead to some unnecessary impulse buys and a lot of random items ending up in my cart! 
produce.
pineapple
kale
spinach
strawberries
apples (pink cripps and braeburn)
cucumbers
sprouts
cauliflower
asparagus
onions (red and yellow)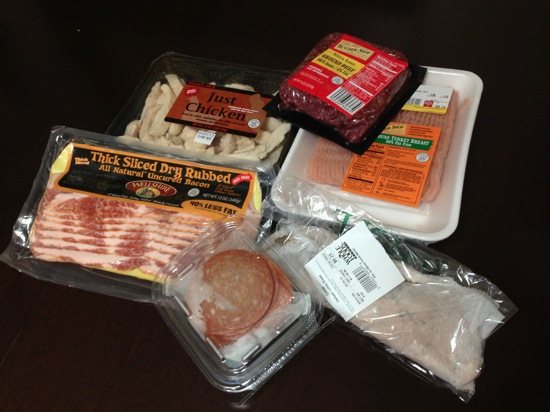 meats.
bacon
precooked chicken breast
ground beef
ground turkey
pepperoni
herbed deli turkey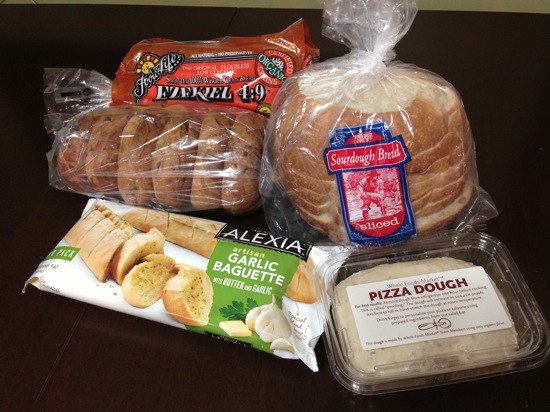 breads.
bagels
sourdough bread
ezekiel bread
alexia frozen garlic bread 
pizza dough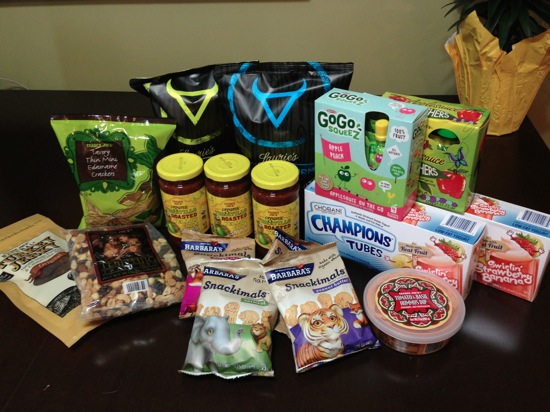 snacks.
tempting trail mix
edamame crackers
animal crackers
tortilla chips
salsa
applesauce
chobani tubes
hummus
jerky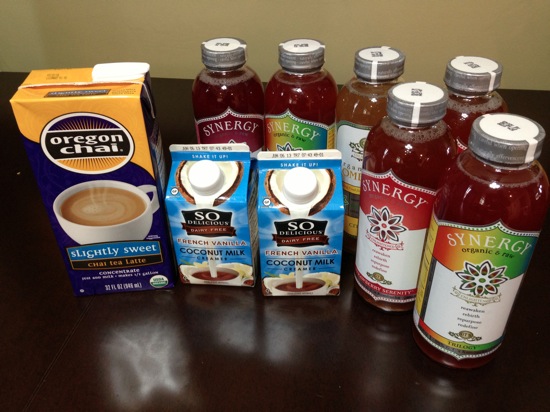 beverages.
kombucha
simply sweet chai concentrate
french vanilla coconut milk creamer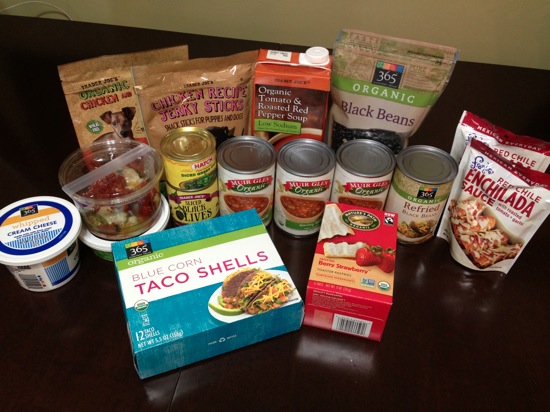 everything else.
red pepper tomato soup
lentil soup
enchilada sauce
olives
diced green chiles
marinated mediterranean vegetables
taco shells
refried black beans
dry black beans
cream cheese
egg salad
poptarts
dog treats
since i didn't make time to plan out any new dinners this week, i defaulted to five of our favorite things. this menu is super typical for us. i usually try to throw one or two new things into the week, but sometimes it is nice to fall back on what i know we like. 
dinner meal plan.
sunday: crunchy tacos (made with ground beef & frontera key lime cilantro skillet sauce) and refried black beans
monday: pizza with pepperoni, mediterranean vegetables, and goat cheese and a side salad
tuesday: spinach linguine (trader joe's brand) with turkey marinara and steamed asparagus
wednesday: BFD! bacon, eggs, and potatoes
thursday: turkey & goat cheese paninis and soup
friday: wing it.. maybe we will go out. maybe we will eat fruity pebbles.
saturday: out to eat.. we are going to see adam carolla and dr. drew!
that's the plan. we shall see if i stick to it. i usually stray a little.
hope you all have a great last week of march! 
Qs~
1. what are you having for dinner this week?
2. would you rather put groceries away or laundry away?
xo. janetha g.