it's friday. i'm happy.
i spotted these peanut butter m&m's SPECKLED EGGS last night at the grocery store, and immediately knew i had to make some friday treats with them!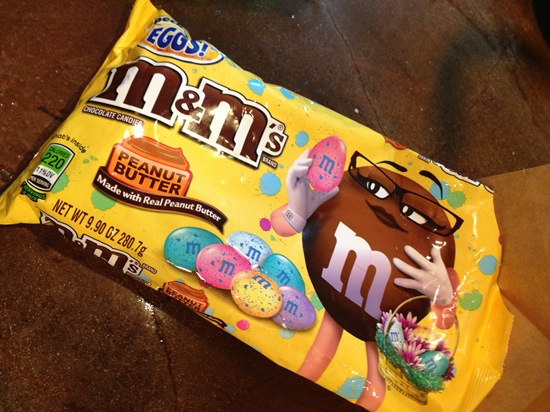 i already had marshmallows and rice krispies in my kitchen, so i decided to whip up some quick & easy peanut butter treats with the m&m's stirred it for some fun spring flare (since the snow outside is doing nothing for us in terms of spring flare…)
these treats are super speedy since they don't require baking. i used the rice krispie treat recipe from my brain (it's a life requirement to have that memorized!) and simply added a couple ingredients to fancy them up a bit.
peanut butter krispie treats with peanut butter m&m's
total time: 10 minutes
makes one 9×13 pan of treats (about 18 squares)
ingredients:
3 TB salted butter
1 TB vanilla bean paste or extract
1 bag (10 oz) marshmallows
2/3 cup creamy peanut butter
6 cups rice krispies
1 bag (9.9 oz) peanut butter m&m's + more for the top (if you want)
directions:
in a large pot over medium heat, melt butter and vanilla together.
add marshmallows and stir until they are melted.
add peanut butter and stir until it is melted together with the marshmallows.
add rice krispies and mix well.
fold in m&m's.
transfer everything into a 9"x13" greased pan and press down with your fingers.
top with additional m&m's, if desired.
slice into squares and enjoy! keep any extras in an airtight container.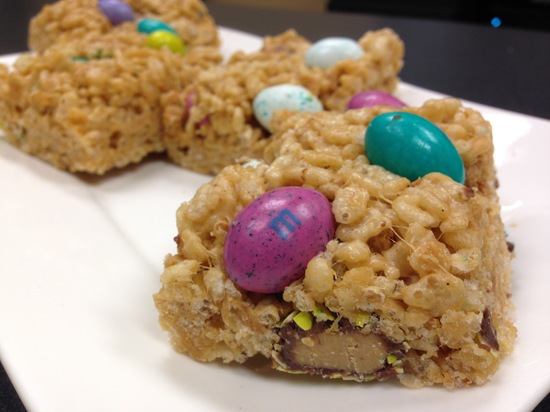 have a wonderful weekend!
Qs~
1. what is your favorite kind of m&m?
2. what was the last treat you ate?
xo. janetha g.