only wednesday?
this week is dragging for me. not sure why. maybe it's the lack of sleep and the fact that i feel a stye in my eye coming on and the weather can't decide if spring is almost here or not and the fact that i have three loads of laundry to fold but don't want to. <—i excel at run on sentences.
anyway, yeah, this week is dragging.. so a list of random things seemed like a good idea for a post tonight. lists are always a good idea! and if you disagree.. well.. you're wrong.
1. we had cobb salads last night. we eat them often, but for some reason i always have a hard time recalling the exact makeup of ingredients to make a cobb salad.
but, guess what? i discovered a super easy way to remember the ingredients EVERY time—with an acronym! (thanks, wikipedia.)
behold: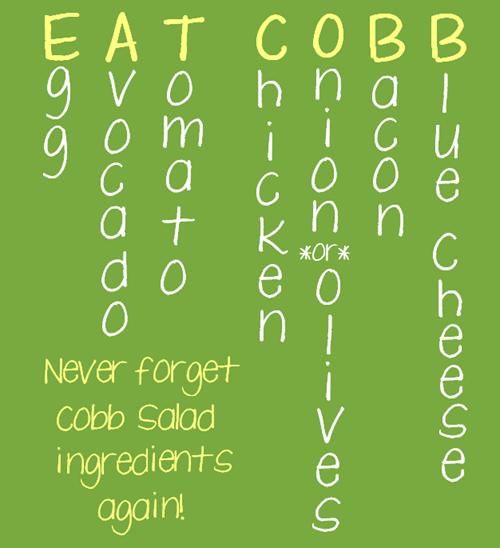 ahh! isn't that awesome? granted, i am way more into acronyms than the average joe or jane, but you have to admit that's a pretty sweet mnemonic device.
we didn't have blue cheese, so we used feta and goat cheese. and we took advantage of BOTH the "o" options with green onions and olives.
2. i related to every single thing on this list. i guess that means i am a grown up, right? at least kind of, sort of? ewwww. sad.
3. this punography list i saw on facebook had me laughing. i love a good pun!
4. i had a lunch date today. we were going to try cafe supernatural, which is a new spot with an entirely plant-based, gluten-free menu. that plan didn't roll over too well with the homies, so we went next door to our default, desert edge pub.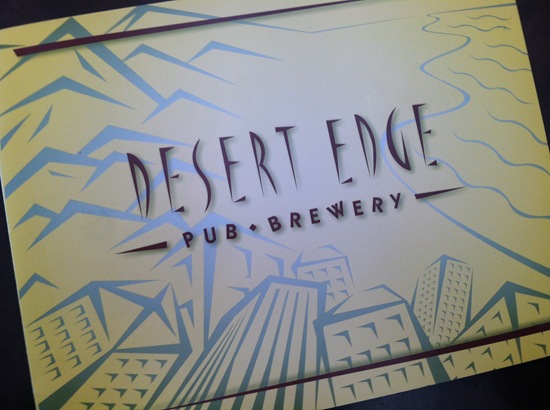 i had a caesar salad minus the caeser (it had dairy).. and plus a whole bunch of other stuff. this was the most loaded caeser salad in town. polenta, potatoes, broccoli, croutons.. this thing was delicious. also had a side of focaccia bread.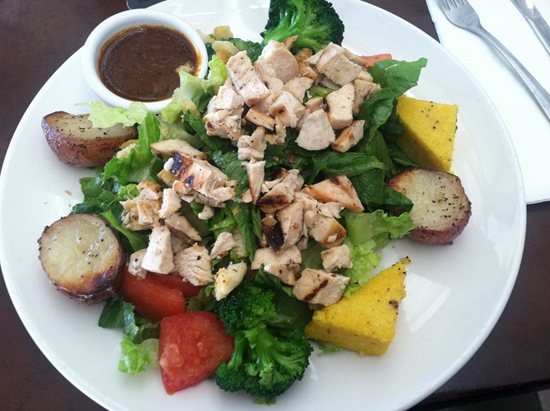 5. the only downfall to not eating at cafe supernatural is that i didn't get to try one of the fresh pressed juices on the menu. i had really worked up a beet juice craving, so i stopped at luna berry on my way back to the office and snagged a juice to go. extra beets, please and thanks. i like beets. and they taste like dirt. craving satisfied!!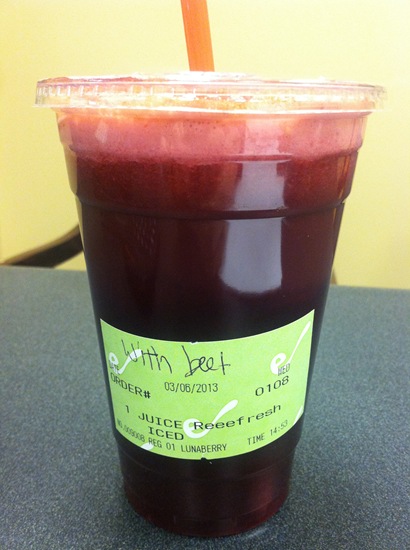 6. i said i like beets and that they taste like dirt. do you think the fact that i ate dirt as a kid has anything to do with me loving beets? hmmm. maybe so.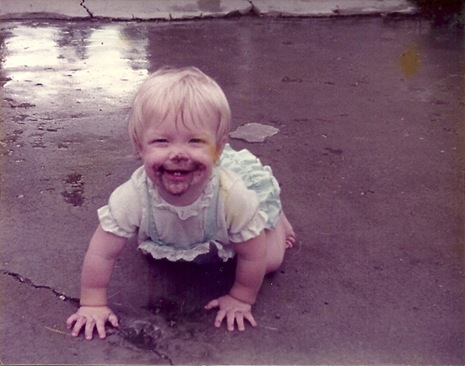 yum.
7. sooo… i have decided to give the new clothing line, ellie, a chance. i have seen so many of you talking about how much you LOVE the clothes.. and so now curiosity has gotten the best of me! i am a sucker for workout clothes and i can't stay away! (FYI, ellie used to be pv.body (read my review here) and then switched.) while i was a little irritated at the sudden switch at first, i think that the new concept is legit. back when it was pv.body, you filled out a style profile and items were shipped to you according to your preferences. the downside to that was you didn't get to pick the pieces, so you may end up with something you don't dig.. which lead to returns and waiting and a lot of blah blah blah.
however, the deal with ellie is you get to PICK a top and a bottom from the collection of the month. this takes the risk out of wondering if you're going to like what you receive or not. the price is still $49.95 a month for two pieces (which retail between $35-$60 each). another cool thing is if you don't want a monthly subscription, you can just purchase individual items from the website like regular shopping. i like the way it works!
i ordered off the february line but haven't received my outfit yet. i am already eyeballing the march line–it looks super cute. the theme is "the little black collection", so everything is black. oh! my favorite color to wear. yay.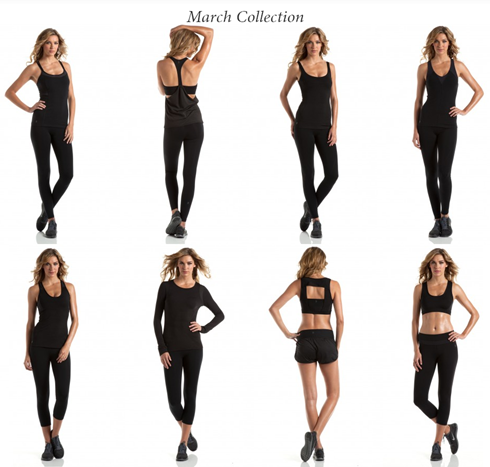 if you are interested in trying out ellie yourself, you can click here to get 20% off your order. once i try ellie on for size, i will let you know the verdict!
8. you know how i said that the weather can't quite decide if it's almost spring or not? well.. it was pretty flippin' nice today. so nice that we ran outside for the workout, sprung.  i think neil named it that with the phrase "spring has sprung" in mind.. but i think he's getting a little too ahead of himself. there's snow in the forecast. i guess i won't break out the tank tops and flip flops just yet. whomp, whomp.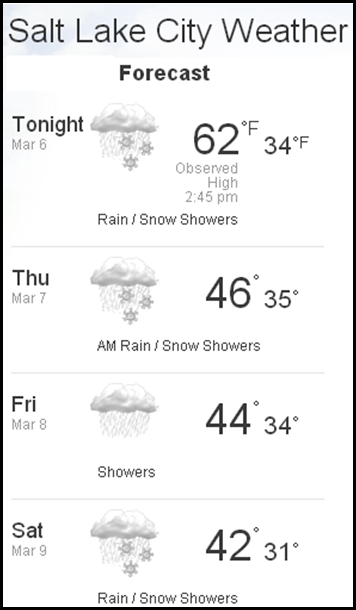 9. these are GOOD. seriously. i impulse bought them at harmon's the other day and dove head first into the bag tonight while making dinner (i couldn't wait!) anyway.. try them. or don't.. you'll eat the whole bag.
10. i received a special shipment from my friends at chobani today. the package included the new flip cups and a cute spoon to eat them with. i have been looking for these flips for forever! i can't wait to try them.. particularly the key lime and almond coconut flavors. yum and yum.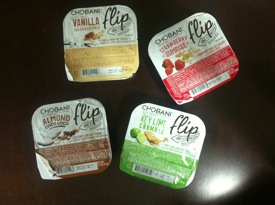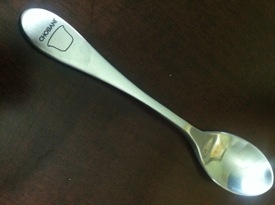 thanks, chobani!
11. DAYLIGHT SAVINGS TIME IS THIS WEEKEND. didn't that just creep right up on us? no? just me??
Qs~
1. did you eat anything out of the ordinary as a child? glue? dog food? dirt, like me?
2. what was (is?) your most recent craving? 
xo. janetha g.
p.s. just saw that marshall folded the laundry. what a keeper.