no, i am not talking about the chicken variety of nuggets. i am talking about random bits and pieces of info that are floating around in my brain and i have decided to type them all out into a blog post. a random blog post.
first of all, happy march! and not only is it march.. it's also a palindrome day.
I LOVE IT. well aware of my nerdiness on loving numbers and palidromes (and acronyms and alliteration, for that matter..)
also, exactly three months from today marks thirty years of my life here on earth. eep. i still feel 24.
second item of business: my brother lives an extreme life and has brushed shoulders with death time and time again (snowboarding, wakeboarding, etc) but yesterday he had a scary near-death experience that he didn't even see coming!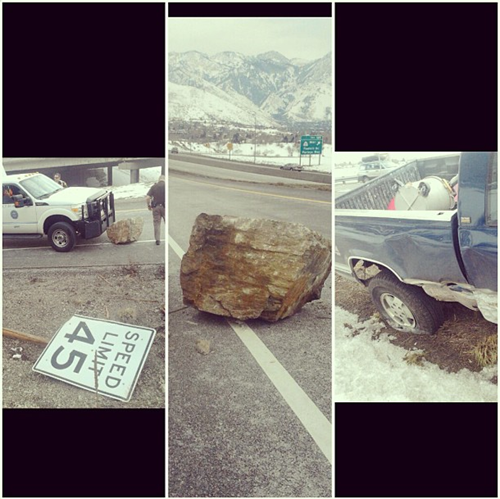 umm. yeah. he was driving down parley's canyon and a BOULDER fell off the MOUNTAIN and hit his truck while he was driving! i mean, i have heard of that sort of thing happening, but i've never actually known anyone it happened to. the giant boulder first smashed into the speed limit sign (knocking it down) and then right into the extended cab of his truck. scary! so, so glad he is ok!
so.. riddle me this: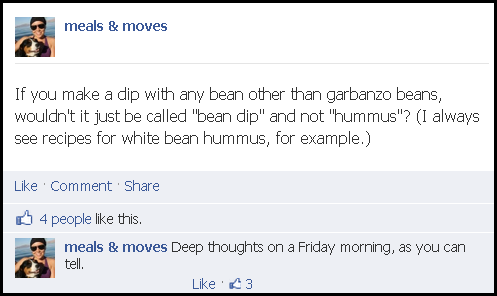 thoughts?
moving on..
it's national peanut butter lover's day! i know a couple of peanut butter lovers. they live with me.
they aren't picky, though.. it doesn't have to be peanut butter. they will go for almond butter or sunflower seed butter or even straight up butter!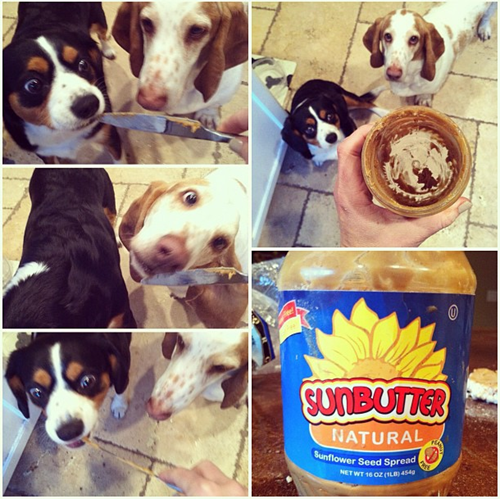 speaking of my little monsters.. they really made it hard to get out of bed this morning. i mean, doesn't this just melt your peanut butter lovin' heart?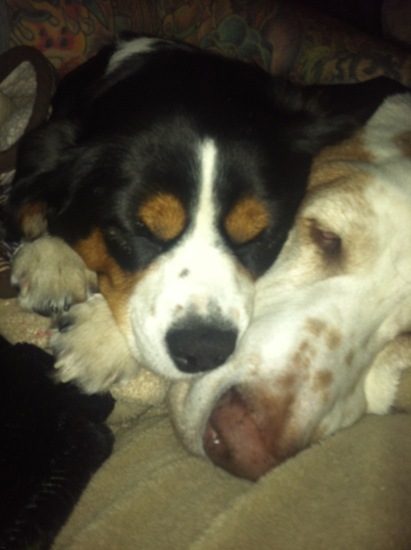 i decided to make optimal use of randy's big basset hound ears. may as well.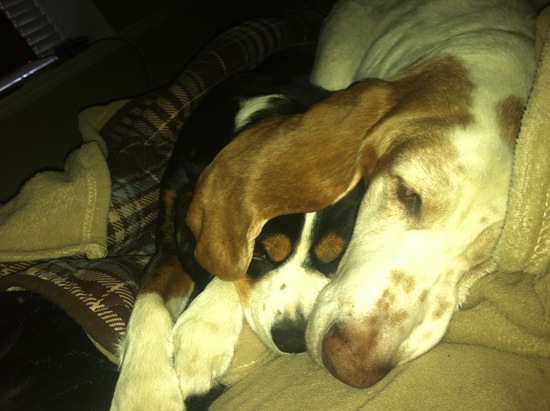 softest blanket ever. with a built-in heater. although it woke pen up and she wasn't amused.. you can see it in her eye.
are you in the market for a kettlebell? well, good news. my fave supplement company, onnit, just released a whole line of high quality KBs!

the cool part is they are super affordable. if you are just starting out with kettlebell training or are thinking of testing the waters, you can snag this starter kit for only $64.95 and you get THREE kettlebells! that's amazing.

they also have some awesome kettlebell tutorials and workouts on their site.
this is old news, but in case you are late to the party.. you gotta watch this post-oscars interview with jennifer lawrence. she's so damn cute.
haha. makes me laugh.
you know what else makes me laugh? this parody about instagram. YES. ALL OF IT. so accurate. and i am so guilty. i PROMISE it is worth clicking over. you'll die. thanks to candice for sharing it with me.
well, that includes my random nugget brain dump. oh, wait! make sure you enter to win that bike! you have until sunday night to do so.
ok, THAT concludes it.
three cheers for the freakin' weekend! i need it! and luckily i don't have any plans. ahhh.. the best kind of weekend, for sure.
Q~
what is a random nugget (or two) floating around in your brain?
xo. janetha g.